A 2:20 minutes long clip of a televised episode of DNA, the prime time show of Zee News, is viral on social media. According to viral claims, thousands of Hindus have disappeared and 45 Hindus were killed in a small village in "Kolkata". The posts blame Rohingya Muslims for the attack. Below is a post by 'भारत रक्षक संगठन' that drew 40,000 views.

The same video was viral in July in the aftermath of the assembly elections in West Bengal and the violence that followed.
दुखद..😥😥😥

कलकत्ता के एक छोटे गांव से एक हजार हिन्दू आदमी छोटे बच्चे तथा बड़े मिला कर
गायब हो गए हैं

45 शव बरामद किए हैं रोहिंग्या मुसलमानों ने हिंदूओं का कत्ल कर दिया

न्यूज की खबर सुने pic.twitter.com/GWs6IiYRvR

— Deepak Soni अमेठी (@DeepakSAmethi) July 14, 2021
The video was massively viral on both Twitter and Facebook. Alt News also received multiple requests to verify the claim on its WhatsApp helpline number (+91 76000 11160).
This slideshow requires JavaScript.
Another Hindi caption has been edited and superimposed on the viral video. The caption reads, "Drown yourself if you find water somewhere. It is a slap to those Hindus who keep shouting about brotherhood."
Old video from Myanmar's Rakhine State
In the first 20 seconds of the clip, anchor Sudhir Chaudhary mentions that his correspondent visited a village in Rakhine which is in Myanmar. It is clearly established that the report is on massacres in Myanmar and not a small village in "Kolkata".
We did a keyword search and found the full episode of DNA on YouTube uploaded in September 2017.
According to Reuters, authorities found 45 Hindu villagers in mass graves in the north of Rakhine. The mass graves were discovered after information about the massacre filtered back from Hindus who had escaped the violence and sought refuge in Bangladesh.
As per the government, the violence erupted in August 2017 when Rohingya Muslim insurgents attacked 30 police posts and an army camp, killing about 12 people. Later, these insurgents of the Arakan Rohingya Salvation Army (ARSA) came to the Hindu village of Ye Baw Kya, gathered up about 100 people, marched them away through their fields and killed them with knives.

Reuters reporters in Bangladesh interviewed a group of Hindu women from the village who said that their male loved ones were killed by Rakhine Buddhists. However, three of the same women later told Reuters that the Muslims who had brought them to Bangladesh had ordered them to say that it was Buddhist vigilantes who had done the killings.
"Some villagers have said the insurgents suspected Hindus of being on the side of the government and acting as government spies," continued Reuters.
In 2018, Amnesty International published a detailed report revealing that new evidence shows the killings were carried out by Arakan Rohingya Salvation Army (ARSA) fighters.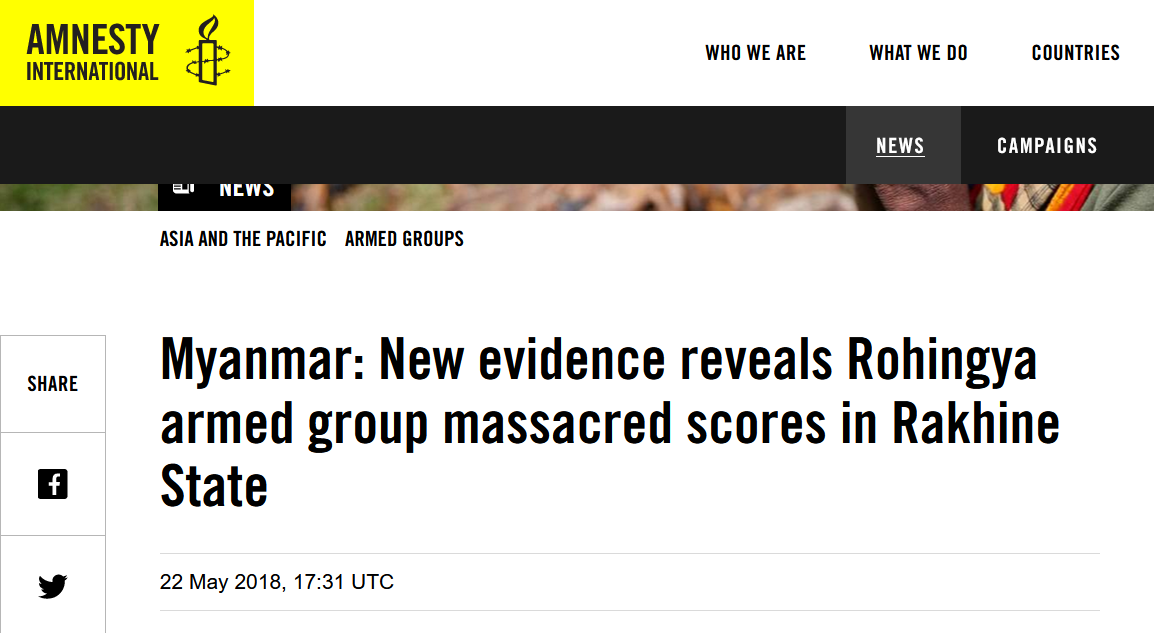 ASRA was formed in the aftermath of violence between Buddhists and Rohingya Muslims in Rakhine State in 2012. Former crisis response director at Amnesty Tirana Hassan said, "ARSA's appalling attacks were followed by the Myanmar military's ethnic cleansing campaign against the Rohingya population as a whole. Both must be condemned – human rights violations or abuses by one side never justify abuses or violations by the other."
A news report by Zee News about the killings of Hindu villagers by a Rohingya armed group in the Rakhine State of Myanmar in 2017 was shared as violence perpetrated against Hindus in a village in Kolkata.
Donate to Alt News!
Independent journalism that speaks truth to power and is free of corporate and political control is possible only when people start contributing towards the same. Please consider donating towards this endeavour to fight fake news and misinformation.