A 15-second long video clip where a group of men can be seen brandishing guns is viral on social media. It has been shared with the claim that it is from Kanpur, where violence recently broke out after protests were carried out by Muslims against remarks made by a BJP spokesperson on Prophet Muhammad.
Twitter user @VISHNUK35030487 shared this video with a Hindi caption that suggests that the video is from Kanpur. He further went on to say that these "jihadis" are firing indiscriminately with state-of-the-art weapons, and the police are merely using teargas against them.
*ये हैं कानपुर के जिहादी जो खुल्लम खुल्ला अत्याधुनिक हथियारों से कर रहे था अंधाधुंध फायरिंग और पुलिस सिर्फ आंसू गैस के ही गोले छोड़ रहीं थी,इनका इलाज हैं सीधी गोली एक बार अगर दस बीस उड़ गए तो फिर ये लोग जल्दी से हिमाकत नहीं करेंगे😡* pic.twitter.com/MOMMh054WG

— VISHNU KUMAR MISHRA (@VISHNUK35030487) June 10, 2022
Many pro-BJP users and BJP members have shared the video clip on Twitter, including Major Surendra Poonia, with captions suggesting that the video is from Kanpur.
This slideshow requires JavaScript.
The video clip is also viral on Facebook with similar claims.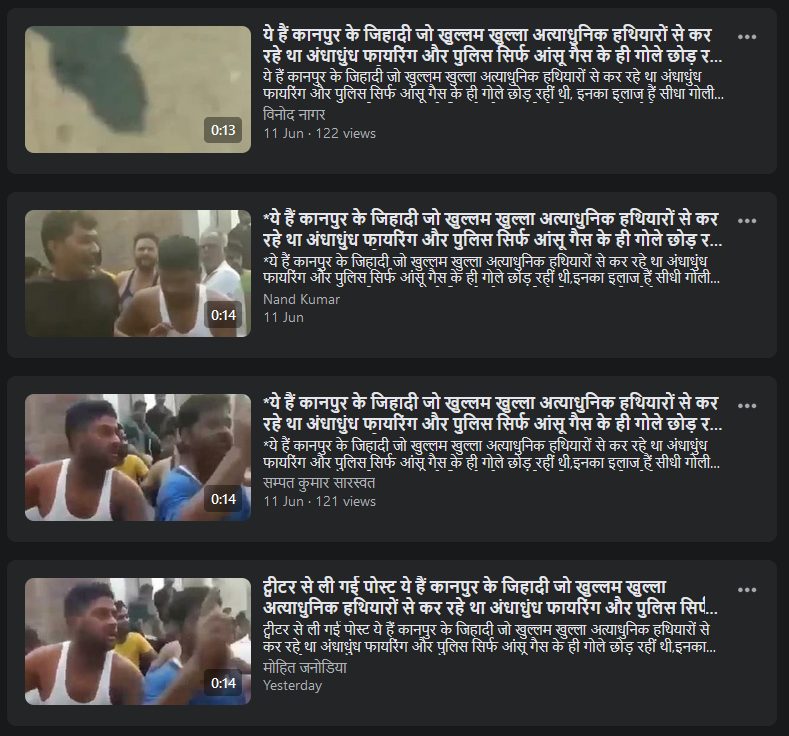 Old video
We broke down the video into keyframes and ran a reverse image search on one of the stills, which led us to a tweet from May 2021. As per the caption, the violence broke out in Dhaura Tanda village over cow meat. Clearly, the video is not recent and has nothing to do with the violence in Kanpur.
धौरा टांडा में गौ मांस को लेकर हुआ विवाद पुलिस ने की बड़ी कार्रवाई वीडियो वायरल @dgpup @igrangebareilly @bareillypolice @JitendraBlock @dadda_ramesh @ArunKum38709726 pic.twitter.com/c1dygj4SuK

— श्रमजीवी पत्रकार कल्याण एसोसिएशन (@Mohamma44011537) May 10, 2021
We further performed a keyword search and came across a news report by Amar Ujala. As per the report the altercation took place between Jaleesh Ahmed and Salim Qureshi, residents of Dhaura Tanda village in Bhojipura, Bareilly, UP.
Jaleesh Ahmed had given his shop on rent to Salim Qureshi on the condition that meat will be sold in the shop "legally". On the day of the altercation, it was alleged that Qureshi allegedly inflated the price of cow meat to Rs 250/kg from Rs 150, which led to a dispute. Ahmed asked Qureshi to vacate the place, and the people of the Banjara community physically assaulted Qureshi, after which Qureshi's family members reached the spot with licensed as well as illegal weapons. They fired in the open, causing a stampede. Ahmed belonged to the Banjara community.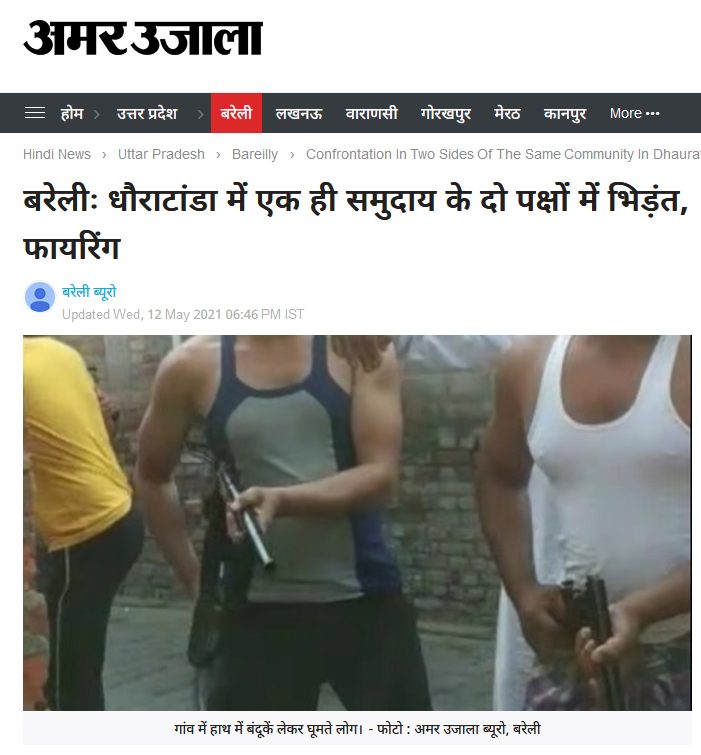 We also found a police statement on the matter. As per the police, the altercation was due to the difference in the price of the meat.
#bareillypolice
थाना भोजीपुरा क्षेत्रान्तर्गत दो पक्षों में मांस खरीदने को लेकर हुई मारपीट/घटना के सम्बन्ध पुलिस अधीक्षक ग्रामीण, जनपद बरेली की बाईट । #UPPolice @Uppolice @dgpup @adgzonebareilly @igrangebareilly pic.twitter.com/Zfk7TESC5p

— Bareilly Police (@bareillypolice) May 9, 2021
To sum it up, a year-old video from Dhaura Tanda village where two parties of the same community fought over the prices of meat was falsely shared as a video from Kanpur and linked to protests against Nupur Sharma.
Donate to Alt News!
Independent journalism that speaks truth to power and is free of corporate and political control is possible only when people start contributing towards the same. Please consider donating towards this endeavour to fight fake news and misinformation.