A video where a group of Muslim men are licking utensils and cutlery is floating across social media platforms and messaging applications. It is being claimed that they intend to spread the coronavirus infection. Alt News has received multiple requests on its official mobile application to fact-check the video.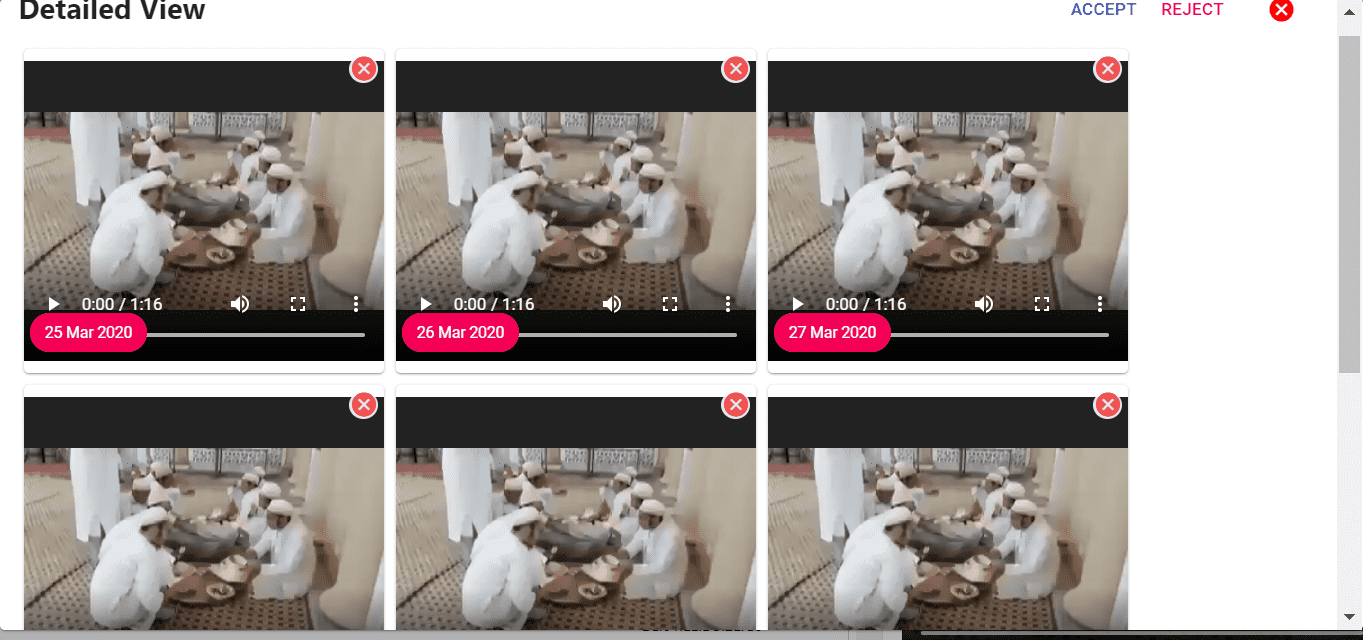 The message shared along with the video alleges, "14 China Muslims hidden at Bihari mosque has been taken to corona virus test by Bihari police. Erode police has caught Thailand Muslim mullahs infected with corona virus. Today Salem Police has caught 11 Indonesian Muslim mullahs at Salem mosque. This video shows that they are applying and putting saliva on spoons, plates and utensils and also they are in the intention of spreading corona virus disease. Nobody knows what's happening in the Nation."
The clip has also been shared with a message claiming that the incident took place in Nizamuddin. "Stay aware, stay safe. Coronavirus is not spreading in India but it is being spread in the country. An example of this is Nizamuddin. (सतर्क रहें सुरक्षित रहें भारत में कोरोना फैल नहीं रहा बल्कि फैलाया जा रहा है। इसका ताजा उदाहरण निजामुद्दीन से मिले.)"
सतर्क रहें सुरक्षित रहें
भारत में कोरोना फैल नहीं रहा बल्कि फैलाया जा रहा है। इसका ताजा उदाहरण निजामुद्दीन से मिले
👇👇

Posted by Ashish Shoury Geetkar on Tuesday, 31 March 2020
Nizamuddin has been identified as a coronavirus hotspot after several preachers of Tablighi Jamaat tested positive in three different locations across the country. The organisation led a congregation at its headquarters (Markaz) Banglewali Masjid in Delhi's Nizamuddin area in mid-March, for which the Delhi government has now filed an FIR against a mosque preacher. Tablighi Jamaat maintains that its gathering was not illegal because it was held before Prime Minister Modi announced the first lockdown (Janata curfew) on March 22. However, the Delhi government claims that the congregation breached its order banning large gatherings on March 13. Ironically, this was the same day when the Health Ministry declared that COVID-19 was not a health emergency. The March 13 order, however, did not extend to religious gatherings and only a subsequent order passed on March 16 did. If reports are to be believed, the congregation was held between March 13 to 15.
Old, unrelated video
One of the messages shared with the video claims that 14 Chinese Muslims hiding in a mosque in Bihar were apprehended by the police and taken for coronavirus testing. Alt News had earlier debunked a similar claim. A video of Kyrgyzstan citizens in Patna was widely circulating with the false claim that they were people from Iran and Italy hiding in a mosque to evade testing.
A keyword search on Google – 'Muslims licking utensils' – threw up several results including a Vimeo link from July 31, 2018, which carried the same video. According to the description, these are Dawoodi Bohras licking leftover food from utensils to not waste even a morsel.
The description also says that the men were following orders of "Syedna". Syedna Aali Qadr Mufaddal Saifuddin is the 53rd and current Da'i al-Mutlaq (highest authority in the faith) of the Dawoodi Bohras.
We found that the video was shared even earlier, on July 30, 2018, on Twitter where the user wrote, "Bohras eat together in a big "thaal". This one is from a jamatkhana where on several occasions there is food served. What's happening here is taking not wasting food at an extreme level."
Bohras eat together in a big "thaal". This one is from a jamatkhana where on several occasions there is food served. What's happening here is taking not wasting food at an extreme level. 🤣🤣 https://t.co/irxJePHlZ3

— Yusuf Unjhawala 🇮🇳 (@YusufDFI) July 30, 2018
Speaking with Dainik Bhaskar, religious leader of the Bohra community in Bhopal, Burhanuddin, said, "It is a custom in Bohra community that not even grain of food is wasted. For this purpose, grain committees are set to teach kids to not waste food. This video is of one such committee where utensils are being cleaned after the meal."
Therefore, a video of Bohra Muslims licking plates and spoons to not 'waste' leftover food has been shared as people from the Muslim community spreading coronavirus infection.
Note: The number of positive cases of the novel coronavirus in India is over 1,700. This has caused the government to impose a complete restriction on movement apart from essential services. Globally, more than 8 lakh confirmed cases and close to 42,000 deaths have been reported. There is a growing sense of panic among citizens, causing them to fall for a variety of online misinformation – misleading images and videos rousing fear or medical misinformation promoting pseudoscience and invalid treatments. While your intentions may be pure, misinformation, spread especially during a global pandemic, can take lives. We request our readers to practice caution and not forward unverified messages on WhatsApp and other social media platforms.
Donate to Alt News!
Independent journalism that speaks truth to power and is free of corporate and political control is possible only when people start contributing towards the same. Please consider donating towards this endeavour to fight fake news and misinformation.