A 2-minute video of a mob attacking a white car with sticks is viral on social media. Some in the mob can be seen holding BJP flags. At 1:17, the mob beats up a man in a red shirt who was earlier seen driving the car.
Several users have shared the viral video that has the following embedded in it: "मध्यप्रदेश में धर्म के नाम पर वोट मांगने गए भाजपा के विधायक और समर्थकों की जनता ने जोरदार कुटाई कर दी…भारत की जनता जाग रही है, महंगाई, बेरोजगारी, भ्रष्टाचार और महिलाओं के साथ बलात्कार से क्रोधित जनता ने भाजपा को सबक सिखाना शुरू कर दिया है।" (Translation: In Madhya Pradesh, BJP MLA and his supporters who went to seek votes in the name of religion were thrashed by the public…The people of India are waking up, angry with inflation, unemployment, corruption and rape, the public has started teaching a lesson to the BJP."
The assembly elections are scheduled to be held in the BJP-ruled state later this year.
A YouTube channel called 'Chandan Creation' uploaded the viral video titled 'मध्यप्रदेश में भाजपा के नेता धर्म के नाम पर वोट मांगने गय || तो क्या हुआ 😱 #news #politics #भाजपा' (Madhya Pradesh: BJP leader went to seek votes in the name of religion. So what happened #news #politics #BJP).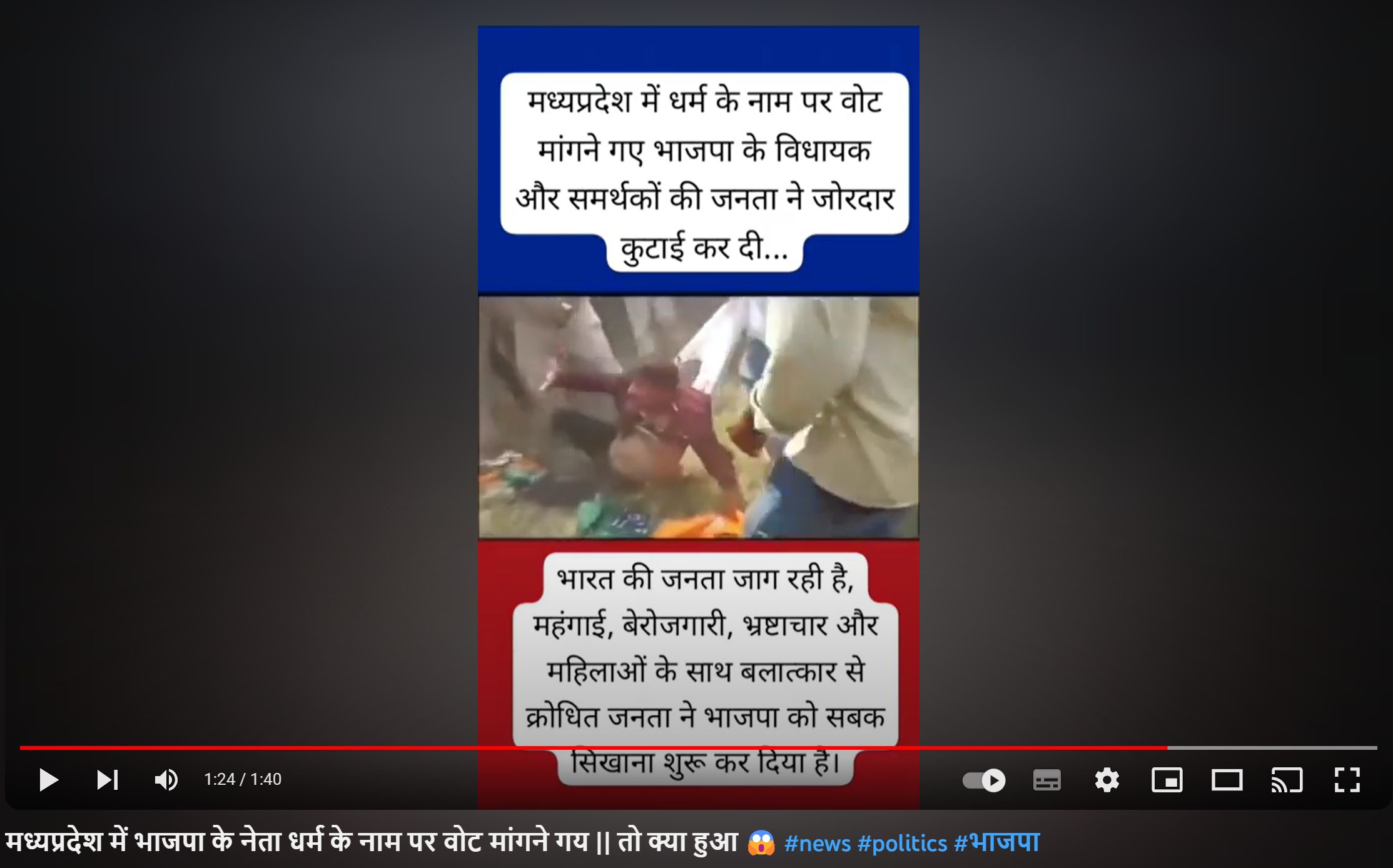 X (formerly Twitter) user Darryl (@Trendsetting123), whose bio describes him as an AIPC member and 'hardcore Congress supporter', shared the video with the caption, "Are u not aware of your party activities & performance or do u want me to spell it out… Go ask @JPNadda your party president to send you the poll results for the last 1 year, all your doubts will get cleared…And this is called Ragarna, Take a look @VijaysMusings @RanjitOne". The video has received over 5,000 views. The tweet was later deleted by Darryl. (Archive)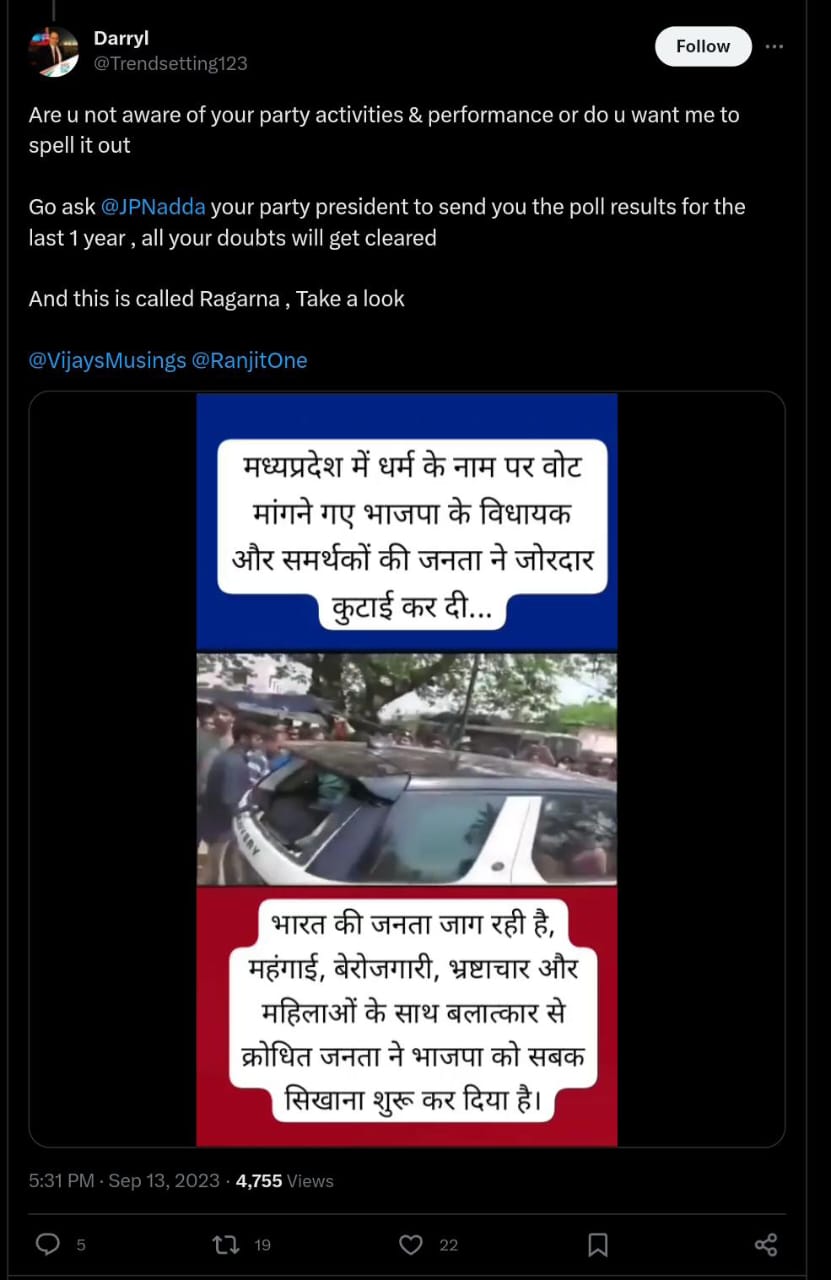 X user Avi Dandiya (@avidandiya), who claims to be the social media chairman of Indian Overseas Congress, and has over 88,000 followers on the platform, posted a screenshot of the video. The tweet has received over 800 reposts, 2,495 likes and 45,500 views.
यह तो होना ही था पर मैंने कुटाई करने के लिये नहीं सभा छोड़ने के लिए बोला था अगर आप से वोट धर्म के नाम पर माँगे। #झींगुरों फिर बोल रहा हूँ क़ायदे मे रहोगे तो फ़ायदे मे रहोगे आज विधायक जी का नंबर लगा है कल तुम्हारा भी लगना तय है।
बाक़ी तुम्हारी मर्ज़ी।
जय सिया राम ! pic.twitter.com/YaQZC3T35o

— 🇮🇳 Avi Dandiya (@avidandiya) September 13, 2023
Alt News received requests on its WhatsApp helpline to verify the claims made in the video.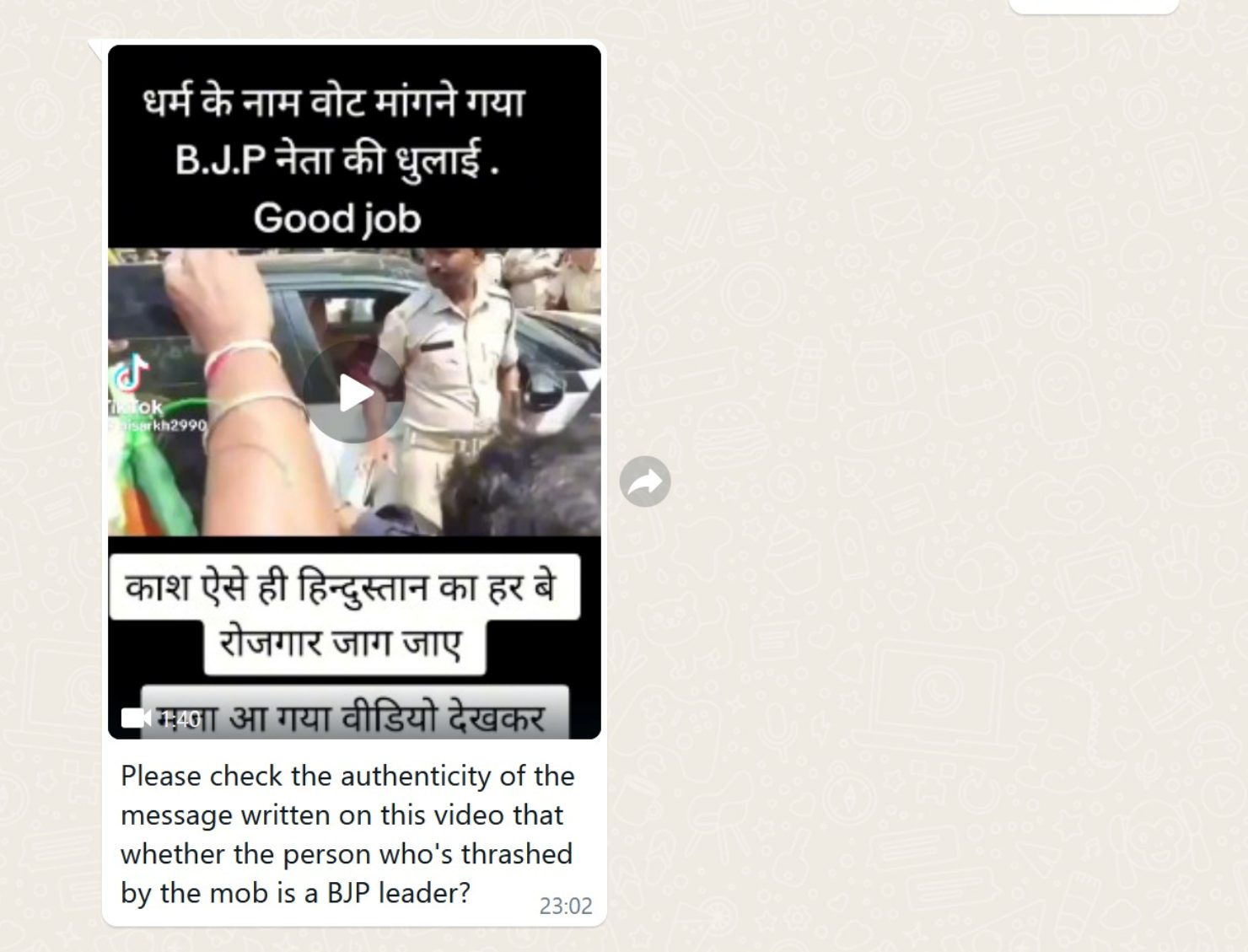 Fact Check
First, we broke down the video into key-frames and reverse-searched one of them on Google. We came across a news report by Kalinga TV, uploaded on YouTube on March 12, 2022, titled, "'Lakhimpur Kheri' In Odisha: Over 20 Injured As Chilika MLA Prashant Jagdev's Runs Car Over Crowd'. At the 0:38 mark, we can see the man driving the car. He is identified as MLA Prashant Jadgev.
The white car in the viral video is an SUV with the word 'Discovery' written on its back. The same can be seen in the Kalinga TV clip. The number plate held by a man in the crowd reads OD-02AY-5775 in the viral video. This, too, can be seen in the video uploaded by Kalinga TV in 2022.
This slideshow requires JavaScript.
A keyword search led us to a 2022 report by Hindustan Times headlined "Suspended BJD MLA rams SUV into BJP procession injuring over 20 in Khurda; Odisha govt orders probe". It says that over 20 people including police personnel were injured after a suspended Biju Janata Dal (BJD) MLA allegedly rammed his car into a crowd at Banapur block in Khordha district of Odisha. "Following the incident, the crowd assaulted Prashant Jagdev and vandalized his vehicle. Severely injured in the attack, he was then admitted to a hospital in Bhubaneswar and is undergoing treatment. As per preliminary information, 15 BJP workers and one from BJD along with seven cops got injured due to the incident, said police. A probe has been initiated," the report added.
In 2021, BJD president and Odisha chief minister Naveen Patnaik had suspended Prashant Kumar Jagdev from the party for allegedly assaulting a local BJP leader, Niranjan Sethi.
The Indian Express had also reported on the incident. It said, "On March 12, Chilika MLA Prashant Jagdev, 52, rammed his SUV into a large crowd comprising mostly BJP workers outside a block development office in Odisha's Khurda district. The incident left 22 persons, including seven police personnel, injured. The irate crowd dragged and assaulted Jagdev and vandalised his car." An FIR was registered against Jagdev under IPC sections 307, 323, 324, 325, 326, 332, 333 and 353. Jagdev was arrested on March 22, 2022, and was granted conditional bail by the Supreme Court in July 2022. Jagdev was also prohibited from addressing any public rally or political congregation comprising of not more than five persons for one year.
To sum up, the claim made in the viral video that the crowd had beaten up a BJP MLA in Madhya Pradesh, ahead of the MP Assembly Elections 2023, is false. The viral video is from 2022, when a suspended BJD MLA from Odisha, Prashant Jagdev, rammed his SUV into a large crowd comprising mostly of BJP workers, and was subsequently beaten up by a mob.
Abira Das is an intern at Alt News.
Donate to Alt News!
Independent journalism that speaks truth to power and is free of corporate and political control is possible only when people start contributing towards the same. Please consider donating towards this endeavour to fight fake news and misinformation.