A video of a bloodied man lying naked is widely circulating on social media with the claim that he is a member of Tablighi Jamaat in a coronavirus isolation ward.
देखिए 14 दिन के एकांतवास में भी इन तबलीगी जमात के लोगों ने अश्लीलता और आतंक मचा रखा है pic.twitter.com/GsbYEozhj3

— राज शर्मा कानपुर💯%FB (@RajShar41438261) April 7, 2020
Several handles have shared a longer version of the video where the man can be seen smashing glass windows with his head and bare hands. [Warning: Visuals are gory and obscene in nature. Viewer discretion is advised]
The video has been shared in the backdrop of several news reports claiming that Jamaat members were roaming around nude and misbehaving with staff in a Ghaziabad hospital.
Facebook Page HindustanKi Awazlive posted the video with the message, "देखिए 14 दिन के एकांतवास में भी इन तबलीगी जमात के लोगों ने अश्लीलता और आतंक मचा रखा है…… कोरोंनटाइन में जमकर किया हंगामा#सरम नाम की सारी हदें कर दी पार#खेला नंगा नाच.वीडियो हुवा वाइरल# प्रशासन है इन लोगो से परेशान# (See these people from Tablighi Jamaat indulging in obscenity and wrecking terrorism in 14 days of isolation. Creating a commotion during quarantine. They have crossed all limits of shame. The naked dance is at a public display. Video has gone viral. The administration is upset with these people -translated)". This has garnered more than 1,400 shares so far. An archived version of the post can be accessed here.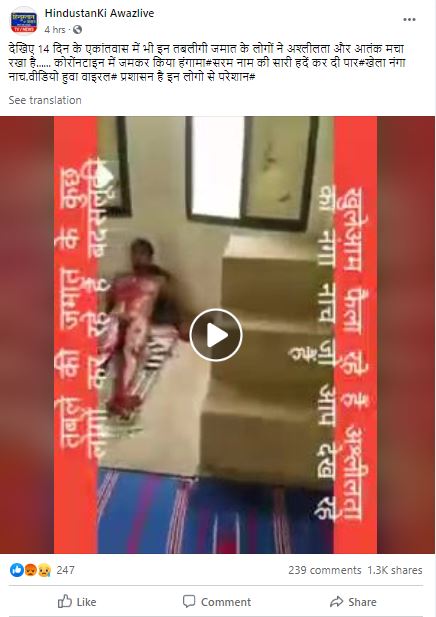 Alt News has received several requests on its official Android application to fact-check this video.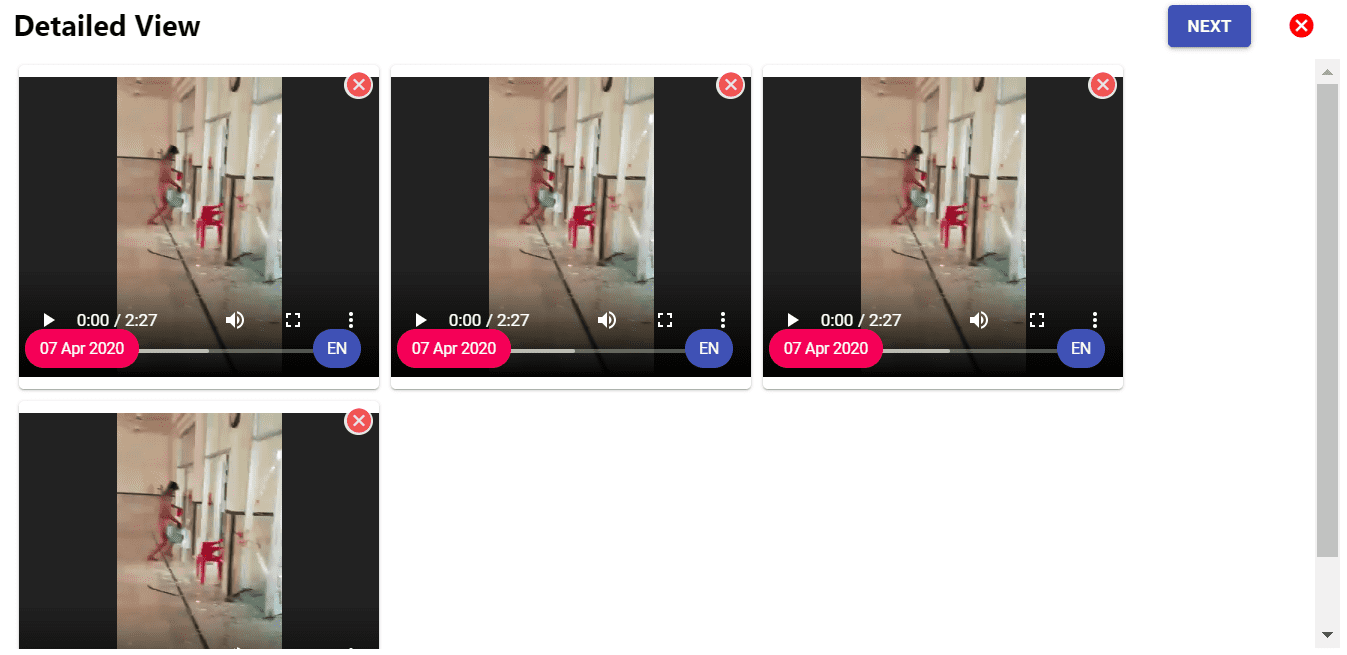 The clip is also circulating on WhatsApp. Several other individuals on Twitter and Facebook have shared the video with the same claim.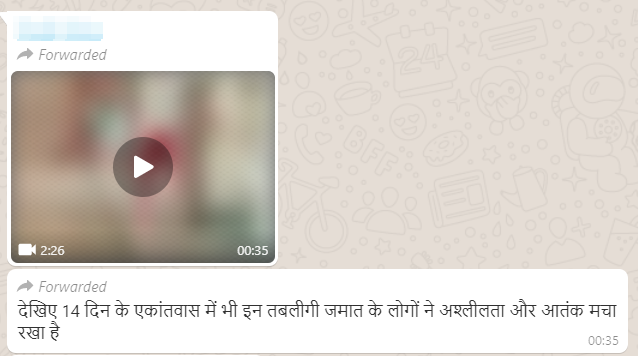 Old video from Pakistan
With a keyword search on YouTube, Alt News found an extended video of the same incident posted on August 26, 2019. From 21 seconds onward in the video below, one can see the same visuals viral on social media. The video is titled, "Naked man entered in Mosque, Gulshan e Hadeed Karachi."
According to the clip's description, the video is from Pakistan's Karachi and the incident took place at a mosque in "Gulshan e Hadeed". We looked up several mosques on Google maps located in this area and found that the said incident took place at Jamia Masjid Khalid Bin Waleed. In the comparison posted below, we have matched a frame from the video with an image of the mosque available on Google. The matching similarities are as follows:
Glass windows on the second floor.
Grilled windows on the first floor.
The blue colour name board.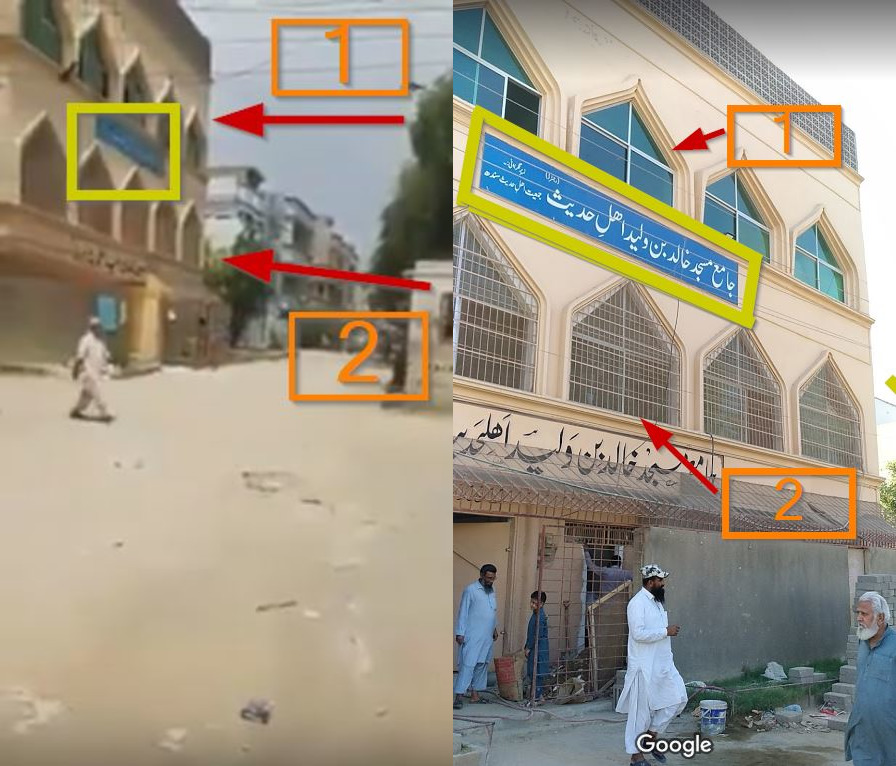 Moreover, we found that the same video was posted in inverted colours at least three days before the video that is cited above, i.e., on August 23, 2019. According to the description, the man was identified as Shafiq Abro who was later arrested by the police. It also said that the man is the son of a police commando and he is mentally-challenged.
Therefore, an old video shot at a mosque in Pakistan's Karachi was shared as members of Tablighi Jamaat running around naked in isolation wards and causing destruction to public property. This is yet another attempt to demonise the Muslim community with misinformation and specifically those who tested positive after attending a religious gathering at Delhi's Nizamuddin in mid-March. Earlier this week, UP's Saharanpur police called-out misreports by two national dailies which claimed that members of Tablighi Jamaat defecated in the open after they were refused non-vegetarian food.
Note: The number of positive cases of the novel coronavirus in India exceeds 5,000 and more than 150 deaths have so far been reported. The government has imposed a complete restriction on movement apart from essential services to tackle the pandemic. Globally, more than 14 lakh confirmed cases and over 80,000 deaths have been reported. There is a sense of panic among citizens, causing them to fall for a variety of online misinformation – misleading images and videos rousing fear or medical misinformation promoting pseudoscience and invalid treatments. While your intentions may be pure, misinformation, spread especially during a pandemic, can take lives. We request our readers to practice caution and not forward unverified messages on WhatsApp and other social media platforms.
Donate to Alt News!
Independent journalism that speaks truth to power and is free of corporate and political control is possible only when people start contributing towards the same. Please consider donating towards this endeavour to fight fake news and misinformation.