As the nation observed '9PM-9Minute' blackout on April 5 after Prime Minister Modi's appeal, fire-crackers were lighted across India, resembling a mini-Diwali. Soon after, videos and images were shared claiming fires broke out in several areas. A report also emerged from Maharastra's Solapur that dry grass on the airside of the city airport caught fire.
Later at night, social media users began sharing a video supposedly of the fire incident. TV9 Marathi broadcasted the visual on April 5 claiming that it depicts the fire at Solapur airport. The channel has now taken down their broadcast video from YouTube.
Massive fire at solapur airport due to firecrackers.

Gid please save this world from andhbhakt pic.twitter.com/zYpmJ0iP0U

— Maaz patel (@maaz_patel1) April 5, 2020
News 18's Marathi channel Lokmat correspondent Sagar Surawase tweeted the video with the same claim. Alt News co-founder Mohammed Zubair had retweeted Surawase's tweet but undid the same clarifying that the clip is old.
सोलापूर ब्रेकिंग :
– सोलापूर विमानतळ परिसरात पुन्हा लागली आग.
– दिवे लावण्याच्या वेळेदरम्यान लागली भीषण आग.
– आगीचे कारण अद्याप अस्पष्ट मात्र फटाक्यामुळे आग लागल्याचा स्थानिकांचा आरोप@News18lokmat @meemilind @manojkhandekar @MaheshMhatre @solapurpolice pic.twitter.com/EeE7BTuXjL

— sagar surawase (@sagarsurawase) April 5, 2020
Journalist Rajdeep Sardesai and Congress's Srivatsa were among the prominent individuals who claimed that a fire broke out in Solapur but later took down their tweets.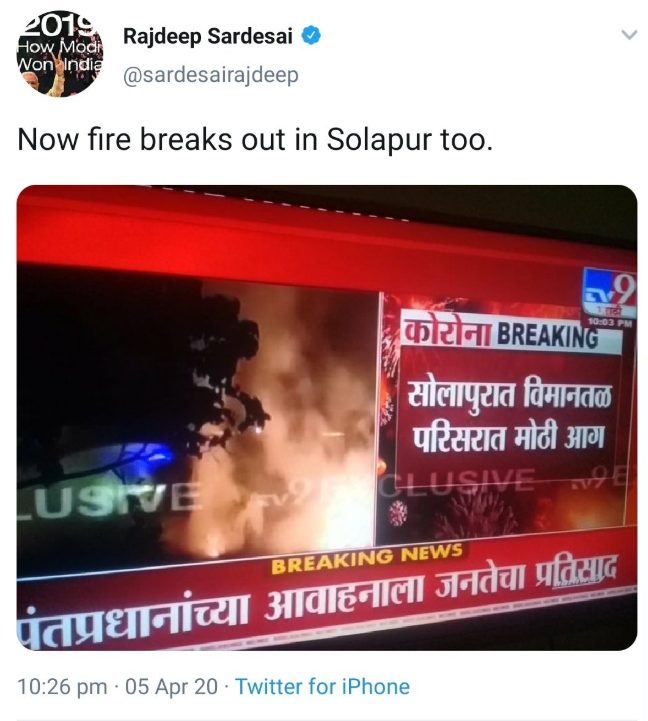 Fact-check
A fire indeed broke out near the Solapur airport after PM Modi's 9pm-9minute event. According to The Hindu, "Dry grass along the airside of Solapur airport caught fire on Sunday night. The blaze is believed to have been caused by firecrackers in the vicinity." However, the video tweeted by several individuals is old and unrelated to the recent incident. With a keyword search on YouTube, we found an ABP Majha broadcast from February 3, 2020, which carried the same video.
A primary comparison of a screengrab from the ABP Majha broadcast (top) with the TV9 Marathi broadcast (bottom) from April 5 shows that both the videos are same.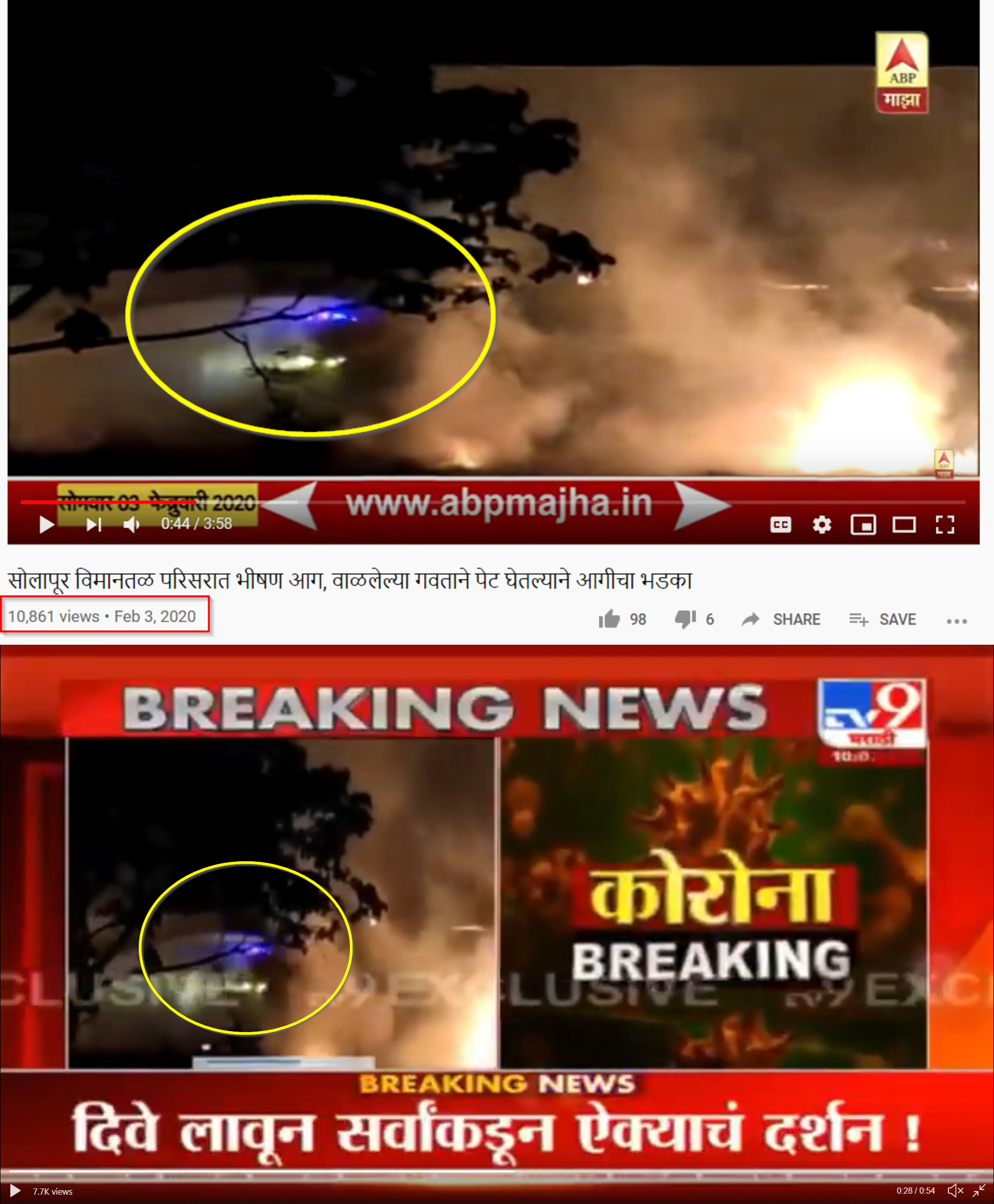 In conclusion, a two-month-old video was shared as the recent fire incident at Solapur airport after the PM's '9PM-9Minute' blackout call was observed and subsequent reports of fire-crackers being burnt in various places across the country emerged.
Donate to Alt News!
Independent journalism that speaks truth to power and is free of corporate and political control is possible only when people start contributing towards the same. Please consider donating towards this endeavour to fight fake news and misinformation.