A video of a crowd of Muslim men is circulating with the claim that a huge protest rally from Kadamtala in Dharmanagar, North Tripura district was taken out against the violence targeting Muslims in the state.
Today there is a huge protest rally from Kadamtala in Dharmanagar North Tripura district#SaveTripuraMuslims #SaveTripuraMosque pic.twitter.com/aV5ClH6Frw

— Maheboob Bagwan (@BagwanMaheboob1) October 28, 2021
The video has been shared on both Twitter and Facebook.
कल गुजरात हुआ और हम सोते रहे
फिर मुज़फ़्फ़रनगर हुआ फिर भी हम नींद से नहीं जागे
कश्मीर का नंबर आया तब भी हमारी ग़ैरत नहीं जागी
और आज #त्रिपुरा के मुसलमान आज सड़कों पर निकल अपने ऊपर हो रहे ज़ुल्म के ख़िलाफ़ एहतिजाज कर रहे हैं, क्योंकि दंगाइयों द्वारा उन्हें, उनके मकानों, उनकी दुकानों और उनकी इबादतगाहों को निशाना बनाया जा रहा है।
क्या हम अपनी बारी आने का इंतेज़ार कर रहे हैं ?
त्रिपुरा के मुसलमानों के लिए आवाज़ उठाने को
आपका #मुस्लिम होना ज़रूरी नहीं , बल्कि आपका #इंसान होना ज़रूरी है।

#SaveTripuraMuslims
#TripuraMuslimsUnderAttack

Posted by SyeD FaiZaN on Wednesday, 27 October 2021
Facebook user Md Irfan who identifies as a member of AIMIM also shared the video with the same claim. It drew close to 3 lakh views and over 14,000 likes before he took it down.
Fact-check
Several people commented on Irfan's post stating that he has shared the video with a false claim. One of them said that the video is from UP. Another user said that the video shows a funeral procession.
This slideshow requires JavaScript.
A keyword search based on these clues took us to an India Today broadcast from May 10, 2021 on COVID-19 guidelines flouted during the funeral procession of a religious leader in UP's Budaun.
The location in both videos matches.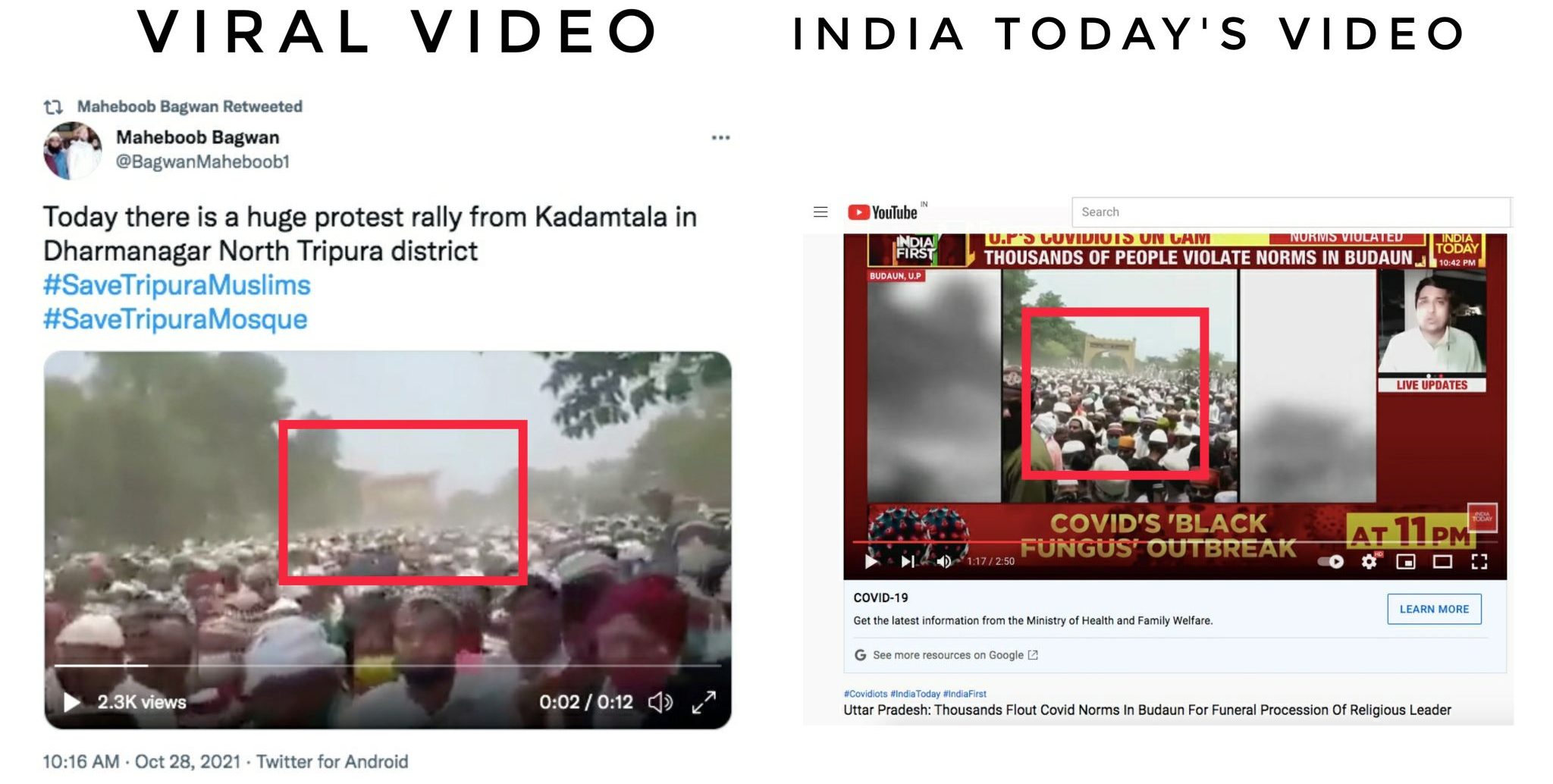 According to India.com, the funeral procession was organised for Islamic cleric Abdul Hameed Mohammed Salimul Qadri. The police filed FIR against unknown persons after a video showing large crowds went viral on social media.
An FIR has been lodged against unidentified people for violating #COVID19 protocols during the funeral procession of a religious leader in Badaun. FIR was lodged under IPC 188 and other relevant sections of IPC: Sankalp Sharma, SSP pic.twitter.com/FRAF9b46W6

— ANI UP (@ANINewsUP) May 10, 2021
A video of a funeral procession held in May this year has been falsely shared as the Muslim community in Tripura coming out in large numbers to protest the recent communal violence in the state. The video is from UP.
Donate to Alt News!
Independent journalism that speaks truth to power and is free of corporate and political control is possible only when people start contributing towards the same. Please consider donating towards this endeavour to fight fake news and misinformation.