A video is viral on social media claiming that it is from France. The Islamic call to prayer (adhan) can be heard in the background and hordes of people can be seen offering prayers on the streets, in a large area surrounding a mosque.
This video has been shared on Twitter by Sagar Kumar of Sudarshan News with a caption in Hindi that reads, "This is Paris on Fridays…This will be India's picture tomorrow if we don't wake up."
यह पेरिस में शुक्रवार है देखो और रोओ।

यह कल भारत की तस्वीर है अगर तुम नहीं जागे तो। pic.twitter.com/ucOXLa3s8S

— Sagar Kumar "Sudarshan News" (@KumaarSaagar) September 1, 2022
A couple of other users also shared this clip with a Hindi caption and called for bringing laws for population control. Another Sudarshan News journalist tweeted, "This is the "street" of Paris! The population of "jihadis" in Paris has been increasing steadily over the years. The population of Jihadis in our country is also increasing continuously. That's why population control law is necessary."
ये पेरिस की "सड़क" है !
कुछ वर्षों में पेरिस में "जिहादियों" की आबादी लगातार बढ़ रही है । अपने देश में भी जिहादीयों की आबादी लगातार बढ़ रही है ।
इसलिए जनसंख्या नियंत्रण क़ानून ज़रूरी है । pic.twitter.com/WFZ0IbYauv

— ALOK JHA (@STVAlok) August 29, 2022
User @jag_ind shared the video with a caption in English.
It's Friday in Paris Look and cry . This is India's picture tomorrow if you don't wake up cc @KapilMishra_IND pic.twitter.com/QKBXGlIWyg

— Jagat D (@jag_ind) August 29, 2022
Viral since May
The video is viral on social media since May of this year. Back then it was shared with a Hindi caption that read, "There remains no space on the streets for ordinary French citizens to walk because 25 years ago, France was preaching "a liberal mindset" to its citizens. Now they are learning a lesson." The captions even then claimed it to be from France and had used cryptic language that is along the lines of population replacement conspiracy theory.
25 साल पहले फ्रांस 'लिबरल-मानवता' का पाठ रट रहा था…अब उसे 'सबक' मिल रहा है..

आम फ्रांस के नागरिकों के पास चलने को रास्ता नहीं है. pic.twitter.com/dDsYxLDFqW

— Madan Singla (@msinglabjp) May 8, 2022
The video has been shared on Facebook as well.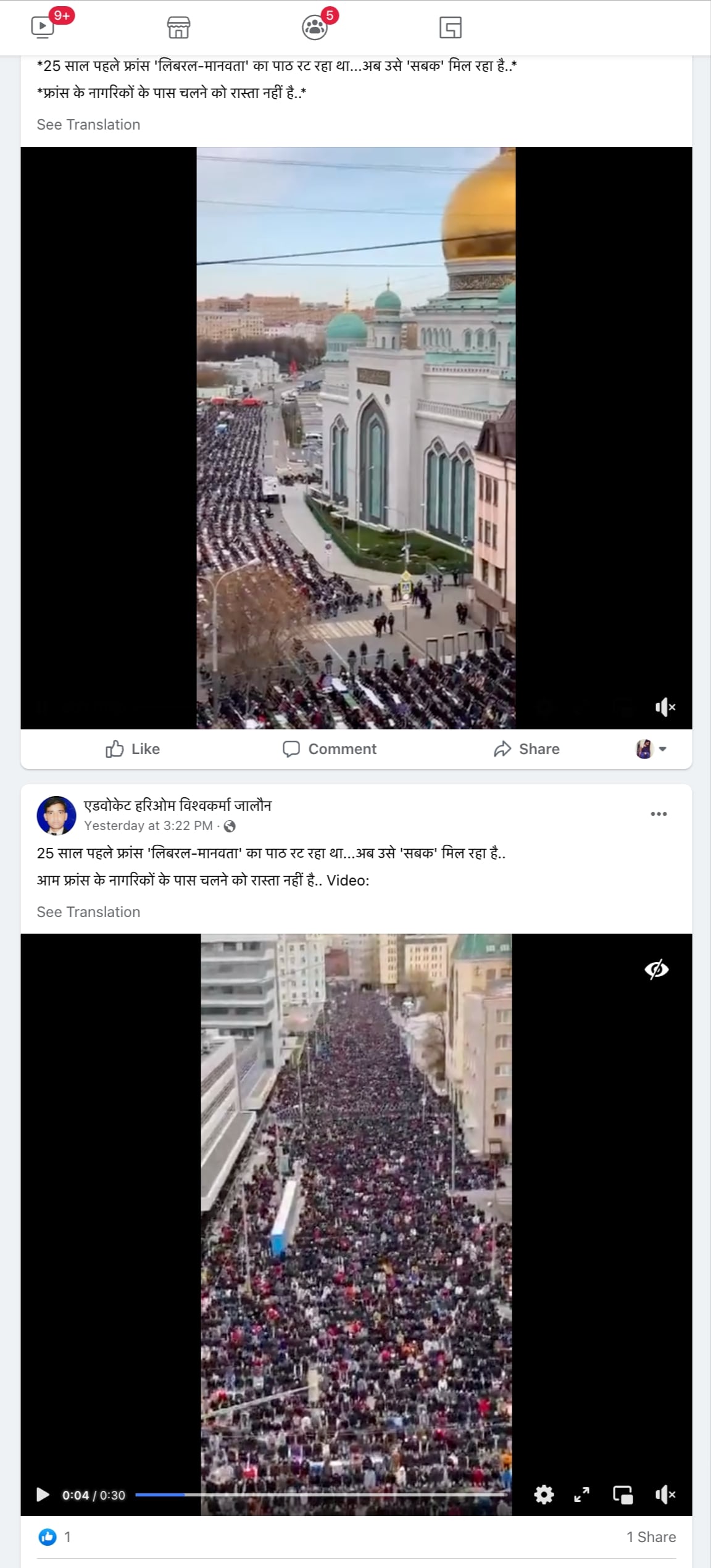 Fact-check
We performed a reverse image search on Yandex using keyframes from the viral video. It yielded multiple results including a tweet dated July 17, 2015, where the same mosque with the gold and green minarets can be seen, surrounded by visually similar-looking structures when compared to the viral video. The tweet is linked to a report by a Russian news agency on Muslims celebrating Eid-al-Fitr in Moscow in 2015.
Мусульмане отмечают Ураза-байрамhttp://t.co/KDfERJJAUg pic.twitter.com/377jfGKVx4

— Первый канал (@channelone_rus) July 17, 2015
Here is a comparison of one of the keyframes from the viral video and the image linked to the news report where the same building behind the same mosque can be spotted.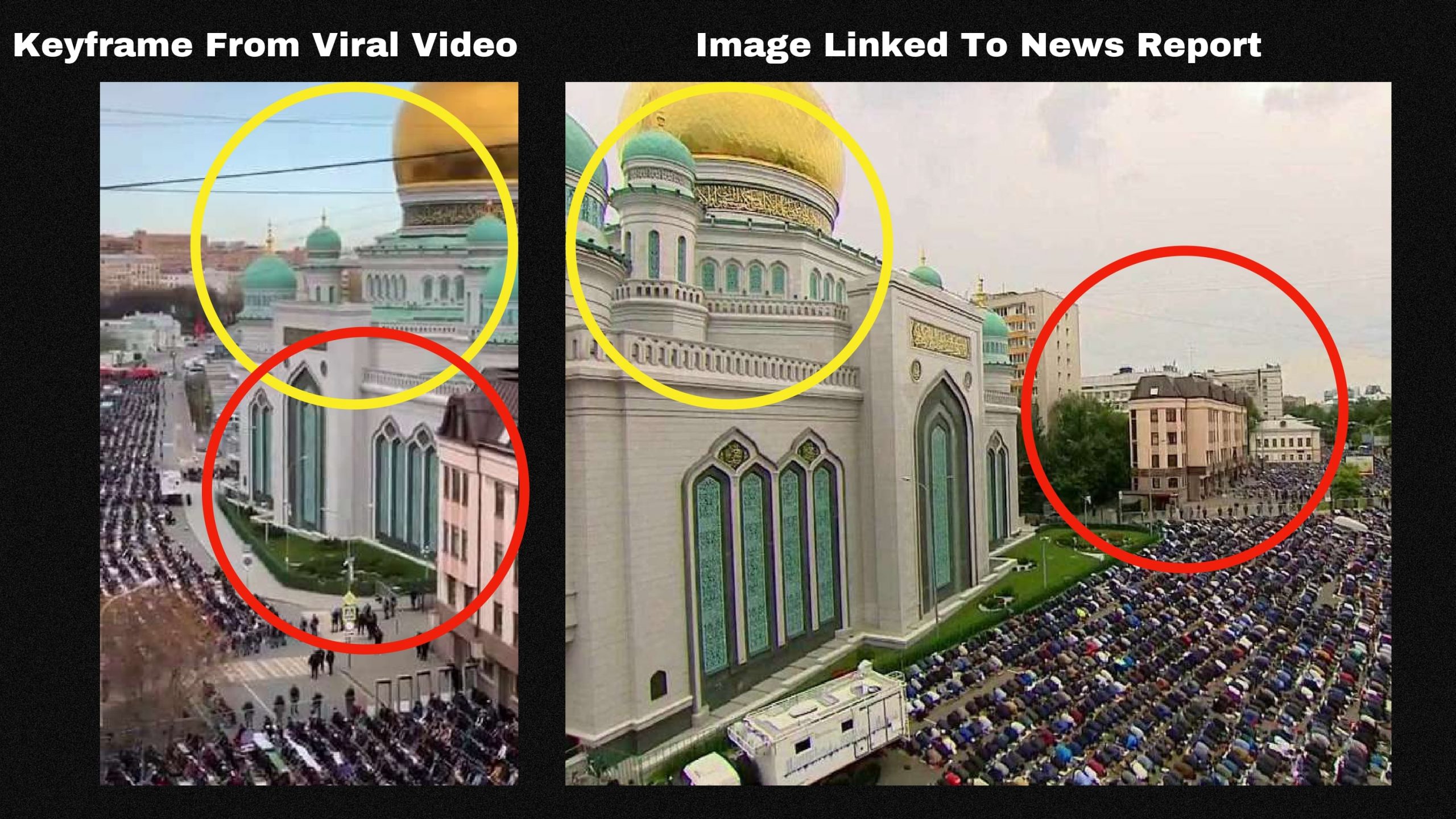 Upon cropping out the image of the mosque and performing a reverse image search on Google, we were able to confirm that the mosque in the viral video is the Moscow Cathedral Mosque situated at Pereulok Vypolzov, 7, Moscow, Russia, 129090.
Further, we viewed the Moscow Cathedral mosque using Google street view and found the same building (circled in red above) behind the mosque.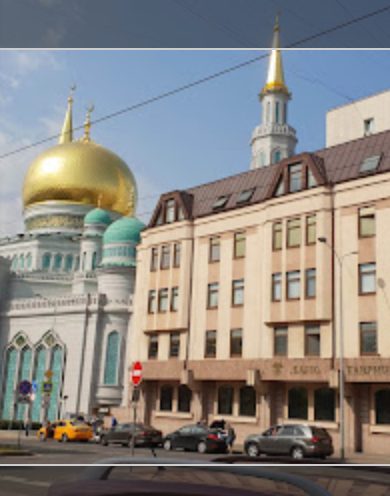 Thus we were able to establish that the mosque in the viral video is situated in Russia and not France.
We also found many images and videos showing crowds offering Eid prayers in the area surrounding the mosque from different time periods that indicate it is a recurring event. This video report (below) dated June 5, 2019, also captures the same event. The brown building behind the mosque can also be spotted in this video at 0:08/0:54.
To sum it up, a video of a crowd offering prayers in Russia has been shared time again as a video from France. Every time the video circulates on social media, it is shared with cryptic captions that are along the lines of the population replacement conspiracy theory, a western conspiracy theory that has been moulded using languages that fit the local context.
Donate to Alt News!
Independent journalism that speaks truth to power and is free of corporate and political control is possible only when people start contributing towards the same. Please consider donating towards this endeavour to fight fake news and misinformation.