A video of a huge rally is being shared widely on social media. As per a banner visible in the video, the rally was organised in protest of the privatization of railways. It is being claimed on social media that these protests held by railway employees have been going for the past seven days. Facebook user Amanjeet Singh posted this video on July 28 with the caption, "पूरे देश मे लगातार 7 दिन से लाखों "रेलवे कर्मचारी" निजीकरण के खिलाफ आंदोलन कर रहे हैं लेकिन देश को पता ही नही चल रहा है….क्यों ???" The post was viewed by over 18 lakh users and shared 50,000 times. (archive)
पूरे देश मे लगातार 7 दिन से लाखों "रेलवे कर्मचारी" निजीकरण के खिलाफ आंदोलन कर रहे हैं 🤷

लेकिन देश को पता ही नही चल रहा है….

क्यों ???

Posted by Amanjeet Singh on Tuesday, 28 July 2020
Facebook users Kulvir Gill and Deepak Khatri, along with Facebook page Bhavani ki Awaaz also shared the video with the same claim.
This slideshow requires JavaScript.
The video was also shared on Twitter by user Vishesh Yadav, who made the same claim. This was viewed over 12,000 times. (archive)
पूरे देश मे लगातार 7 दिन से लाखों "रेलवे कर्मचारी" निजीकरण के खिलाफ आंदोलन कर रहे हैं 🤷

लेकिन देश को पता ही नही चल रहा है….

क्यों ??? pic.twitter.com/y0jawrkQ1G

— Vishesh Yadav (@Yvishesh1) August 23, 2020
Facebook page 'Big Fan Of Ravish Kumar' posted a picture of this rally which was shared over 1,500 times.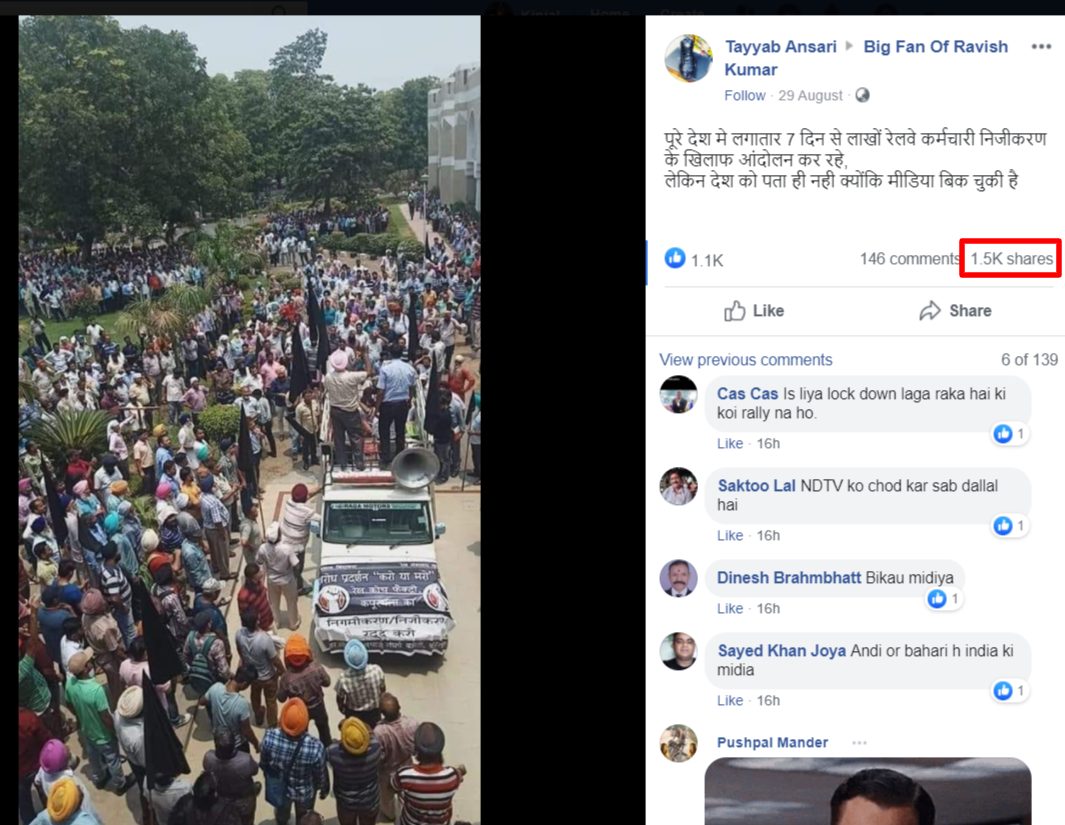 Fact-check
The video does not represent a recent event which is evident from the fact that no person can be seen wearing a mask. Additionally, the banner visible in the video has "Kapurthala" written on it. Kapurthala is a city in Punjab.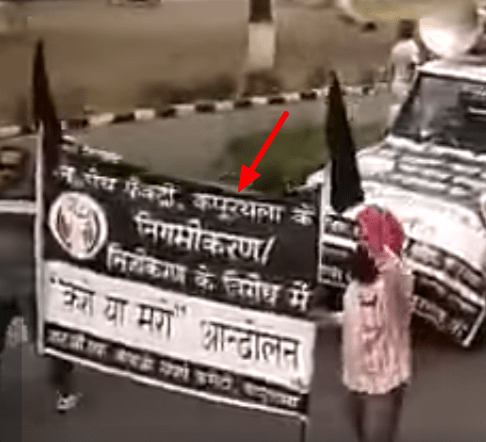 Upon conducting a keyword search, we found that this video was posted on July 9, 2019, by The Tribune. As per the news outlet, this was a protest against privatization of railways by workers of the rail coach factory. Apart from this, a Facebook user had shared this video on July 7, 2019, along with the same message which has gone viral now.
Moreover, the viral picture was also shared on the Rail Samachar website on July 12, 2019, along with a few more pictures of the same event. Maharashtra cabinet minister Nawab Malik had tweeted a few pictures of this rally on July 15, 2019, which includes the viral picture.
देश भर लाखों रेल कर्मियों का निजीकरण के खिलाफ आंदोलन मीडिया क्यों अनदेखा कर रहा है।
क्या लोकतंत्र का चौथा अस्तम्भ ढह गया है। #railandolan pic.twitter.com/RZBcuBOEFG

— Nawab Malik نواب ملک नवाब मलिक (@nawabmalikncp) July 15, 2019
As per Dainik Jagran's report from July 5, 2019, the rally was organized by railway employees in protest against privatization of the rail coach factory. The employees raised slogans against the government which is clearly audible in the video. The report also mentioned that the employees, along with their family members, rallied across the factory's Ramleela Maidan, where others around also joined in.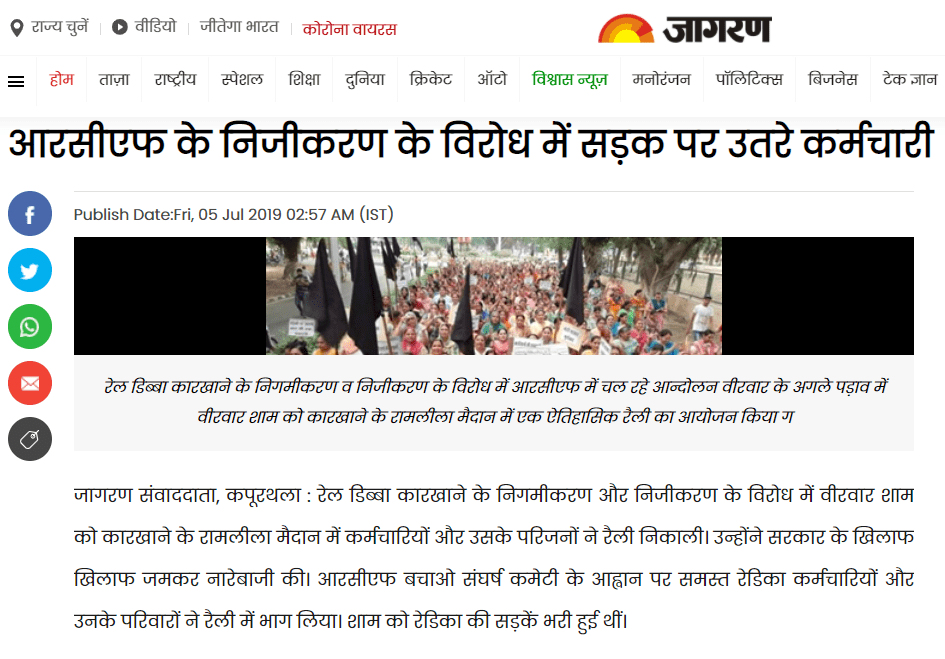 In order to confirm whether there has been any recent protest in Kapurthala against the privatization of railways, we conducted another keywords search. As per Dainik Jagran's report from January 7, 2020, railways employees organised a protest rally on January 6, 2020. The report mentioned that the RCF Bachao Sangharsh Committee organised this rally in support of the central labour organisations' rally which was to be held on January 8. The main objective was to protest the railway ministry's plans of privatisation and introduction of the contracting system in factory production. After January, no rallies have been reportedly held in Kapurthala. However, protests continue in other parts of the country, most significantly in Ludhiana and Dhanbad.
An old video of protests by railways employees in Punjab's Kapurthala was misrepresented as a recent video with the false claim that these protests are going on since the past seven days.
Donate to Alt News!
Independent journalism that speaks truth to power and is free of corporate and political control is possible only when people start contributing towards the same. Please consider donating towards this endeavour to fight fake news and misinformation.