After three bills on agricultural reforms were introduced in the parliament and two of them passed with a voice vote, opposition parties have been boycotting parliamentary proceedings. The bills are facing protests from farmer groups for months now over concerns that the legislation will not ensure Minimum Support Price (MSP) on agricultural produce.
Amid the protests, a graphic video has been shared with the claim that farmers in UP were burned alive by goons for protesting land grabbing. Twitter user @d_k1357 posted the video and wrote, "If farmers and labourers die, let them. They aren't Sushant after all. Farms, barns, and homes get ruined, let them…they aren't Kangana's office/ home after all." The user claimed that the video is from Amethi, Uttar Pradesh. The handle has tagged Amethi and UP police in the tweet. The tweet drew over 1,000 retweets.
[Translated from: उत्तर प्रदेश के अमेठी की यह घटना है, एक गरीब किसान ने अपने जमीन के जबरन कब्जे का विरोध किया तो गुंडों, मवालियों, निशाचरों ने उस दलित गरीब, किसान, मजदूर को जिंदा जला दिया।]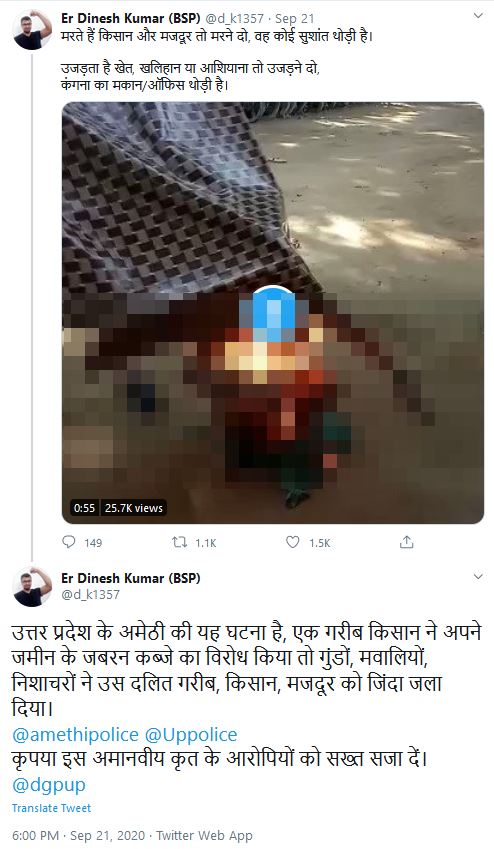 (Disclaimer: Alt News has not attached the video or related links due to its graphic nature.)
The clip has also been shared with the same claim on Facebook.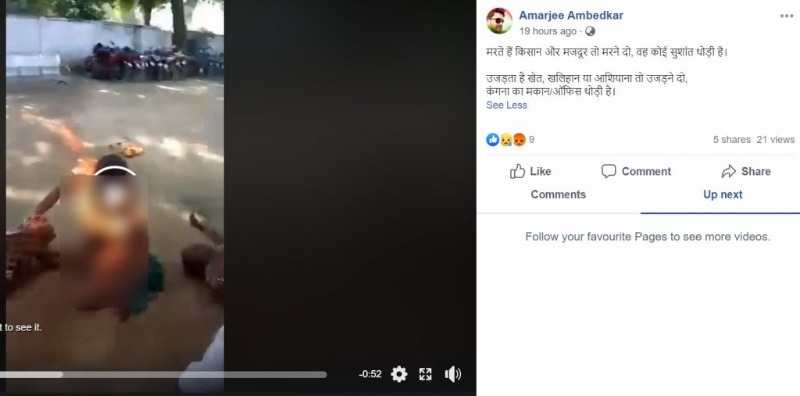 Old video shared with false claim
Alt News performed a reverse image search using video verification tool InVid and found the context behind the video in a report by The Times of India (TOI) in August 2019. The report includes a screenshot from the video. As per the report, a married couple set themselves on fire at Surir police station in Mathura district, Uttar Pradesh after police failed to take action against 23-year-old Satyapal Singh, a local muscleman, who had been harassing them for long. The video was recorded by their minor son.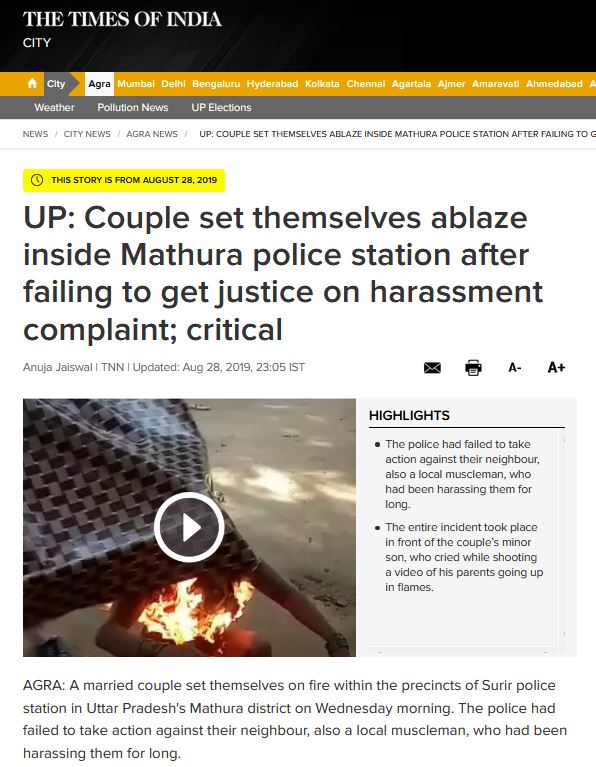 The report added, "Talking to TOI, the couple's son said that their neighbour had not only been humiliating his parents publicly but had also misbehaved with his mother several times by tearing her clothes off and literally stripping her.
SSP Mathura told TOI that an FIR was registered against Satyapal. The report said, "SSP also suspended three policemen — inspector Anoop Saroj, in-charge of Surir police station, and sub-inspectors Deepak Nagar and Sunil Singh — for failing to take timely action against the accused. The suspended policemen have been booked for non-recording of First Information Report (FIR) in this case under section 166 (A) of IPC."
A report in Hindustan Times identified the victims as Jogendra Singh, 40, and his wife Chandrawati, who poured kerosene on themselves outside the police station and were taken to the hospital after locals, including cops, rescued the couple.
Mathura police had put out a tweet on August 29, 2019, where the SSP briefed the media regarding the incident. He stated that the accused was arrested and an FIR was filed against the policemen who were complicit. In the latest development, both the victims tragically succumbed to their burn injuries.
थाना सुरीर पर आत्मदाह का प्रयास करने वाले दम्पति के साथ दि0 23.08.2019 को हुई घटना मे वांछित चल रहे अभियुक्त सत्यपाल की गिरफ्तारी व दोषी पुलिसकर्मियो के विरुद्ध अभियोग पंजीकृत करने के सम्बन्ध में Ssp-Mta द्वारा दी गई बाइट। pic.twitter.com/kIyl8VR84z

— MATHURA POLICE (@mathurapolice) August 29, 2019
Alt News had debunked this video last year when it was viral with the claim that local BJP leaders and the police tried to forcibly acquire the land of Dalit farmers and later burned them alive. SSP Mathura had informed us, "There is no truth [to these claims]. The accused does not have any political connection. Both the accused and the victims belong to the Thakur community. They were neighbours and had a quarrel regarding a drain flowing outside their house. Satyapal (accused) is already in custody and hunt is on for two other accused."
Thus, a 2019 video of a couple committing suicide by self-immolation in Uttar Pradesh after police inaction on harassment by a local goon has been revived as Dalit farmers burned alive.
Donate to Alt News!
Independent journalism that speaks truth to power and is free of corporate and political control is possible only when people start contributing towards the same. Please consider donating towards this endeavour to fight fake news and misinformation.