A video of a woman rigging votes has been shared with the claim that this was the reason the Mamata Banerjee government won the West Bengal elections. The video shows a woman holding voters' hands and pressing EVM buttons.
TMC की जीत का बडा कारण ये है।
फिर ममता क्यो नहीं जितेगी😡😡

आप भी देखे बंगाल मे EVM कैसे हैक हो रही थी…👇👇 pic.twitter.com/OkH03VbG7i

— pankaj kaushik (@pankajk61414973) May 5, 2021
The video has been shared by several Twitter users.
Video was viral during West Bengal elections as well
BJP member Keya Ghosh had shared the video on April 8, when the State elections were ongoing.
Got from WA. This is how TMC has been doing rigging. @ECISVEEP pic.twitter.com/GqQ6Xruwjr
— Keya Ghosh (@keyakahe) April 8, 2021
Several people had posted the video on Twitter and said they received it on WhatsApp.
Got from WA. This is how TMC has been doing rigging. @ECISVEEP pic.twitter.com/GMHxVzka9N

— 𝐒𝐨𝐦𝐧𝐚𝐭𝐡 𝐒𝐚𝐦 (@SomnathSam4) April 8, 2021
Alt News also received multiple requests to verify the video on our helpline number +917600011160 or on our mobile application (Android, iOS). A few people had asked if the video is from poll-bound Assam.
This slideshow requires JavaScript.
The video has also been shared without any claims about the location.
Is this a joke??? @ECISVEEP
Is this how you conduct fair elections? pic.twitter.com/Cv1Hr1ucRq

— 🄷🄰🅁🄸🅂 🄱🅄🅃🅃🤚 (@Harris_4Inc) April 9, 2021
National convenor and in charge of social media training at Indian Youth Congress Deepak Khatri shared the video while tagging the Election Commission.
Will the Election Commission give any clarification on this ??? @ECISVEEP pic.twitter.com/KYhv45xigh

— Deepak Khatri | दीपक खत्री 🇮🇳 (@Deepakkhatri812) April 9, 2021
Old video
The video is not from the recent assembly elections. It is at least two years old and was previously viral in May 2019 around the time of the general elections.
Hindustan Times political editor Vinod Sharma had posted the video on May 15, 2019.
Another achievement #ElectionCommission. Shocking to say the least. pic.twitter.com/yT4k9yEtMG

— Vinod Sharma (@VinodSharmaView) May 15, 2019
News Central 24×7 had reported on the viral video but couldn't ascertain where the incident took place. However, similar incidents of booth capturing were reported by Alt News in 2019. (1 and 2)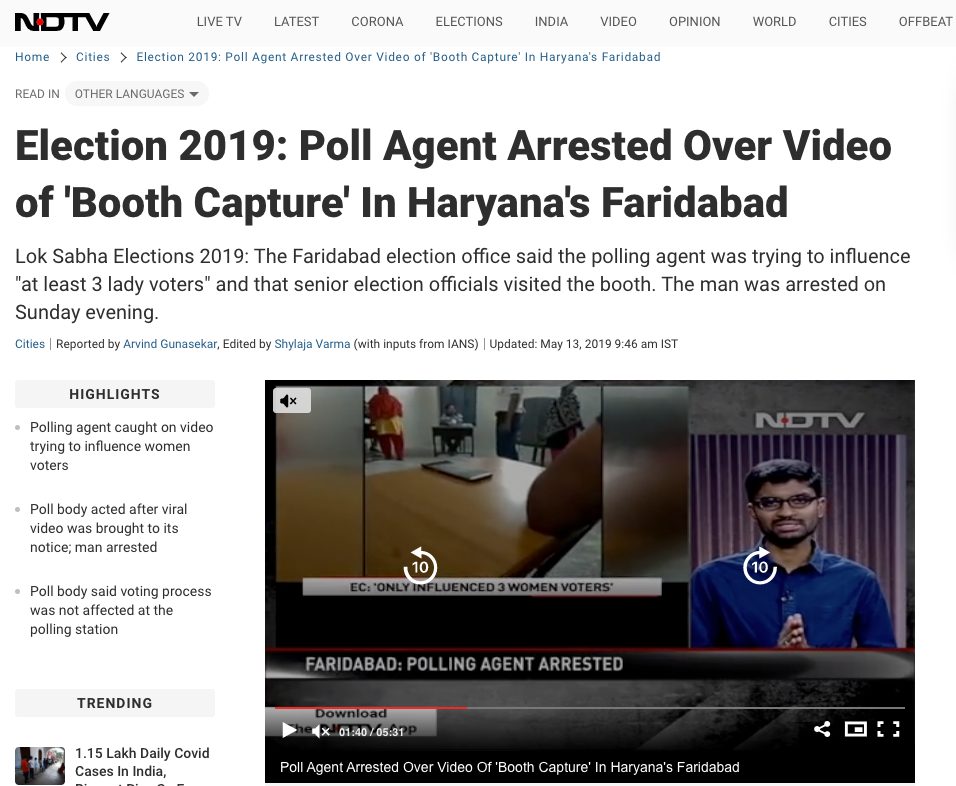 A 30-second clip at least from 2019 shows a woman rigging votes. It has been falsely linked to the ongoing West Bengal assembly polls.
Donate to Alt News!
Independent journalism that speaks truth to power and is free of corporate and political control is possible only when people start contributing towards the same. Please consider donating towards this endeavour to fight fake news and misinformation.