A video where a man can be seen scooping some food on a ladle, taking it close to his mouth and blowing on it is viral on social media. According to the accompanying claim, this is how members of the Muslim community involved in relief work during the lockdown are trying to spread coronavirus infection by spitting on the food. A post by Facebook page by Namo Always has amassed over 8,200 shares.
गरीबों के लिए राहत कार्य में जुटे हमारे देश के इस्लामिक भाई कैसे कोरोना वायरस को आगे फैलाने की कोशिश की जा रही है जरूर देखें और अपनी बंद आंखों को खोलने की कोशिश जरूर करें?????

Posted by Namo Always on Wednesday, 1 April 2020
The complete message reads, "Watch how our country's Islamic brothers involved in relief work for the poor are trying to further spread coronavirus. Try to open your closed eyes. (गरीबों के लिए राहत कार्य में जुटे हमारे देश के इस्लामिक भाई कैसे कोरोना वायरस को आगे फैलाने की कोशिश की जा रही है जरूर देखें और अपनी बंद आंखों को खोलने की कोशिश जरूर करें.)"
Many other users on Facebook and Twitter shared the video with the same claim.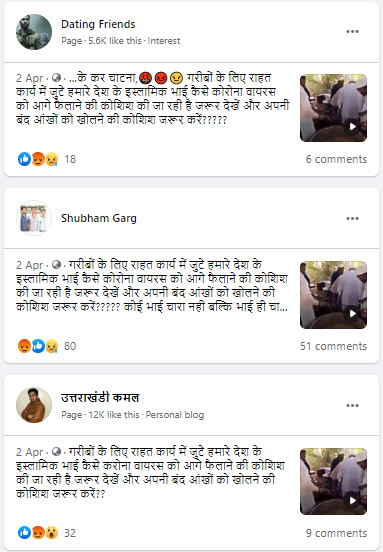 Old, unrelated video
With the help of digital verification tool InVid, Alt News broke the video into multiple key-frames. We then reverse searched one of the key-frames on Google and found the same video posted on YouTube on December 15, 2018. The caption of the video says, "Those who understand Barkat in Islam shouldn't eat the food they have spat on."
Thus, it is clear that the video is unrelated to the recent coronavirus outbreak.
We contacted an Islamic scholar to know what exactly is happening in the video. The scholar said, "It's called 'Fatiha Jalana'. It's done after the food is cooked. Some Quranic verses are read over the food to either pray to Allah to cure diseases or make a wish to Him. Some blow air and some don't. It's Fatiha where you take out some food and ask for Barkat (good fortune)." He further added that we see a lot of people gathering outside mosques with sick children after the prayers are said. Worshippers who step out of the mosque after reading namaz are asked to blow air over these children as it is believed that it has Barkat bestowed by Allah. It may be noted that this is an archaic practice followed by very few people.
This video explains how a person can recite Surah Al-Fatihah: "You can recite certain Ayat, Ayat Al-Kursi or Surat Al-Fatihah or whatever you can read of the Quran on the water then drink it. Make wudu or shower."
While Alt News couldn't independently verify the origin and context of this video, suffice to say that the video is unrelated to the recent nationwide lockdown.
Donate to Alt News!
Independent journalism that speaks truth to power and is free of corporate and political control is possible only when people start contributing towards the same. Please consider donating towards this endeavour to fight fake news and misinformation.