Manmohan Singh's birthday on September 26 sparked the usual rhetoric circulated to target the former Prime Minister. Several photographs were shared to portray that he was sidelined by the Congress party during his tenure as PM and was also publicly disrespected by the Gandhis. Below is a tweet by BJP supporter Rishi Bagree.
The Man in Blue turban was the Indian Prime Minister for 10 years. pic.twitter.com/QqEZpVfkwI

— Rishi Bagree (@rishibagree) September 26, 2021
The same photographs were shared by Bagree in 2018 and 2020. Apart from the pictures, some users shared a 15-second video clip that shows Sonia Gandhi passing by Singh without greeting the ex-PM or acknowledging his presence.
Wishing former PM Manmohan Singh a very happy birthday. pic.twitter.com/pV0IMlnUyP

— Ajit Datta (@ajitdatta) September 26, 2021
This video has also been circulating for the past few years. It was shared by the official handle of @BJP4Karnataka and BJP supporters Ritu Rathaur and Mahesh Vikram Hegde.
Indians can never forget those days ! pic.twitter.com/JigXzNdjJo

— BJP Karnataka (@BJP4Karnataka) August 19, 2021
When Manmohan Singh was India's Prime Minister, watch how Sonia Gandhi insulted him!

When Manmohan Singh isn't in power, watch how India's powerful man MODI respected him!

That's what Bharatiya Sanskaar teaches you! pic.twitter.com/UX1vNNF1rf

— Mahesh Vikram Hegde 🇮🇳 (@mvmeet) November 10, 2019
Fact-check
Image 1
This photograph was taken when Congress President Sonia Gandhi, former PM Manmohan Singh and other Congress leaders met Sri Lankan Prime Minister Ranil Wickremesinghe on November 23, 2017.
#Delhi: Congress' Sonia Gandhi, Rahul Gandhi, Manmohan Singh, Anand Sharma met Sri Lankan prime minister Ranil Wickremesinghe, today pic.twitter.com/ItoQy4HLV6

— ANI (@ANI) November 23, 2017
Manmohan Singh was not the Prime Minister when the meeting was held. Sri Lankan PM Ranil Wickremesinghe met opposition leaders. Sonia Gandhi was the President of the Congress party at the time. (She took over as the President again in August 2019.)
Image 2
This picture was taken when Congress President Sonia Gandhi and ex-PM Manmohan Singh met with Bangladeshi PM Sheikh Hasina on October 6, 2019. Alt News had debunked this earlier when it was shared with the similar narrative that Singh was sidelined by Sonia Gandhi when he was the Prime Minister. According to Hindustan Times, the Congress party stated that the meeting had taken place due to a "special bond of friendship" between the Awami League and the Congress party. Singh was present at the meeting in the capacity of a senior Congress leader.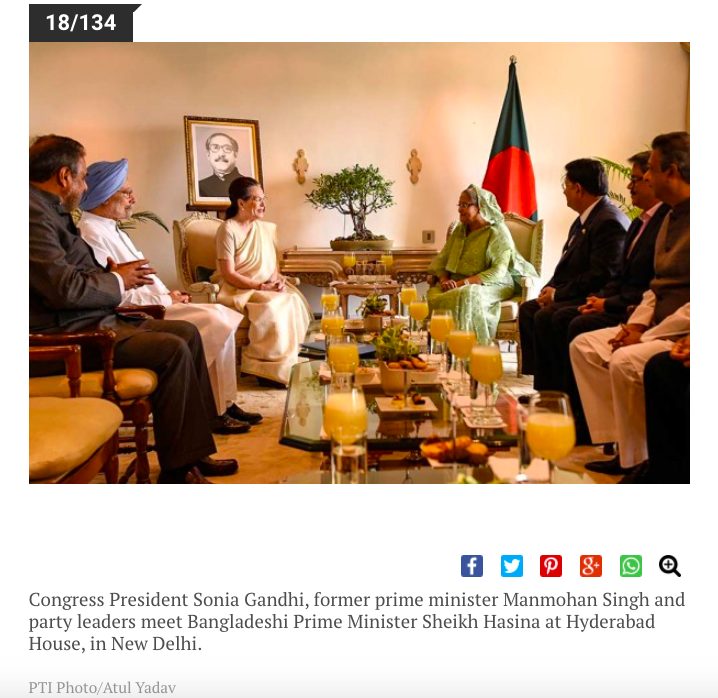 Image 3
This photograph was taken on July 19, 2012, in Parliament during the Presidential elections. We found two photographs on AP Images and Getty. Manmohan Singh is casting his vote.
This slideshow requires JavaScript.
We also found a video of the moment when Sonia Gandhi, Manmohan Singh, Pranab Mukherjee and other opposition leaders were seen casting presidential votes. At 1:02 seconds, security personnel can be seen gesturing Pranab Mukherjee to cast his vote next, while Pranab Mukherjee can be seen gesturing Sonia Gandhi to cast her vote after Manmohan Singh.
Alt News had also penned an article when L K Advani's picture was shared with a similar misleading narrative.
Image 4
This photograph was taken at Talkatora stadium after the flag-hoisting ceremony during the AICC session in New Delhi on January 17, 2014. With a keyword search, we came across the full video of the event shared on YouTube by Zee News. At 3:36, Dr Manmohan Singh can be seen greeting Sushil Kumar Shinde standing next to Rahul Gandhi when he was looking the other side. A photograph taken at this very moment is misrepresented as Gandhi ignoring Singh's greeting when in fact, Singh's gesture was meant for Shinde.
Video
A clipped portion of the video that shows Sonia Gandhi passing by Manmohan Singh has been circulating for years to portray that she ignored Manmohan Singh when he was trying to greet her. Gandhi merely walked to the stage after her arrival. This can be watched at 20 seconds in the above video. Any suggestions that she purposely ignored Singh are only based on biased assumptions. There isn't a way to check intention. However, at around the 3:20 mark, she greets Singh and other Congress leaders when she descends from the stage.
Therefore, several visuals were taken out of context or shared with misleading messages to falsely portray Manmohan Singh being disrespected by Congress leaders Sonia Gandhi and Rahul Gandhi when he was the Prime Minister.
Donate to Alt News!
Independent journalism that speaks truth to power and is free of corporate and political control is possible only when people start contributing towards the same. Please consider donating towards this endeavour to fight fake news and misinformation.