'Head cut open', 'castrated' and 'boiling oil poured on face' are some of the provocative messages that are doing the rounds on social media to describe 21 year old Paresh Mesta's death in Uttara Kannada district of Karnataka. Mesta's decomposed body was found in a lake in Honnavar town, days after he had gone missing following communal clashes in the region. A picture of his body was used to claim torture and mutilation, and the mob which had gathered to protest his alleged murder turned violent, destroying vehicles and resorting to stone pelting. The vehicle of IGP Western Range Hemant Nimbalkar was set on fire in Kumta.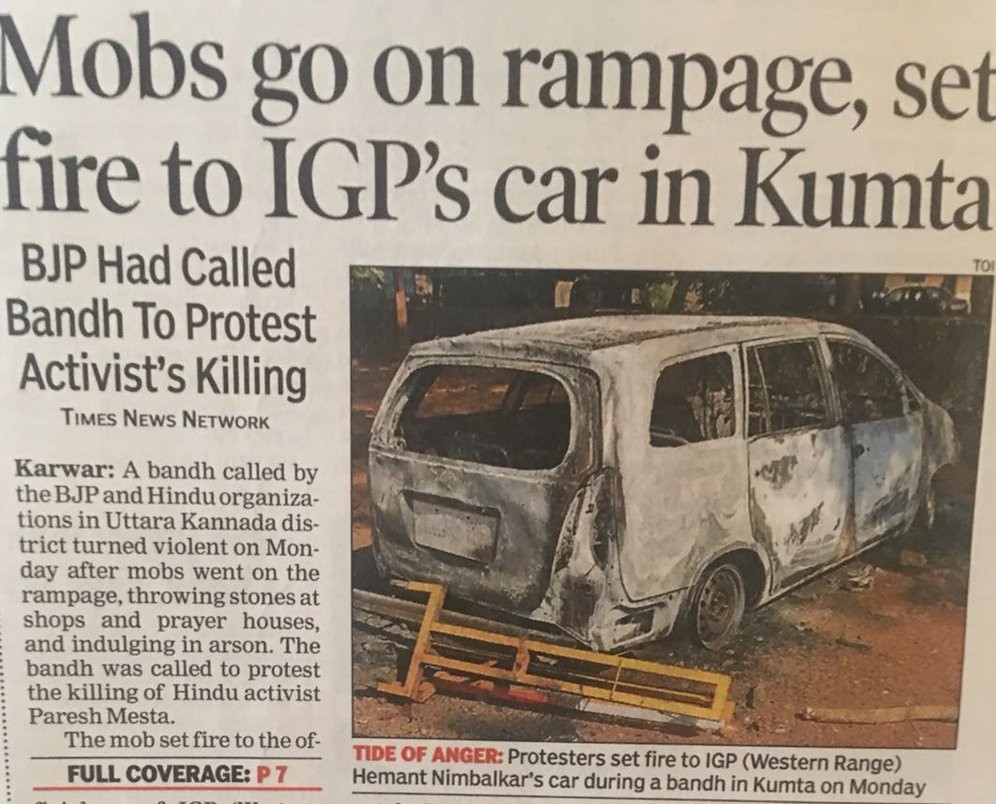 Communal violence had been raging in Uttara Kannada district for the past week after a minor altercation escalated rapidly. The situation continued to flare with Hindutva organisations hitting the streets in protest after Mesta's body was found. On December 9 at 10:06 am, Karnataka BJP issued a press release on its website wherein it quoted BJP MP from Karnataka Shobha Karandlaje who reportedly said, "Hot oil has been poured on his body resulting in his body turning completely black. This is a heinous murder carried out by jehadi elements". The press release added that Karandlaje had said that Mesta's hands on which he had inscribed 'Jayarama' had been chopped off.
The allegation of brutality spread like wild fire, egged on by prominent BJP leaders who parroted that Mesta had been tortured and killed by 'jehadi' elements active in the coastal Karnataka region.
SP under #SiddaramaiahRule has declared this as 'Samaanya Saavu'
Hindu boy 21 yr old Paresh Mesta goes missing.when he was found, he was mutilated,castrated.burnt by boiling oil poured over his head & his head split dastardly with a weapon. pic.twitter.com/tmxkK6r2GS

— Shobha Karandlaje (@ShobhaBJP) December 10, 2017
'Boiling oil poured on his head, castrated, his head split open'. Ghastly murder of 21-year-old Paresh Mesta
sparks tensions in coastal Karnataka. #HinduLivesMatter

— Arvind Limbavali (@bjparvind) December 12, 2017
Fake news websites and communal rabble rousers like Postcard.news put up inflammatory posts.
Boiled in oil, castrated and head split open. Ghastly murder of Paresh Mesta, apparently by a particular community as mentioned in the article https://t.co/J5SdErwgEB

— Freelance Masakadzas (@Nesenag) December 11, 2017
Meet Paresh Mesta #AnUnfortunateHINDU
He was kidnapped & Murdered in Karnataka by the pissful Sulla Pigerals.
True that they castrated him, poured boiling oil over his head&burnt his face?

Filthy Liberals Busy hiding this heinous crime along with congress CM @siddaramaiah pic.twitter.com/2FdsieoYyr

— Ritu Rathaur (सत्यसाधक) (@RituRathaur) December 10, 2017
Genitals cut, hot oil poured on eyes and face, head split into two, condition of Hindu-Dalit activist Paresh Mesta, will the secular gang speak up? https://t.co/5LTyVpLSR3 via @postcard_news

— Tapan Ghosh (@hstapanghosh) December 11, 2017
He is Paresh Mesta he is from Honnavar.
He belong to Hindu community he had tattooed Jai Shri Ram in his arms and it was chopped
He was brutally tortured to death by Jehadis & his body was found dumped in lake

Will award wapsi gang question Siddaramaih govt?#HinduLivesMatter

— Mahesh Vikram Hegde (@mvmeet) December 12, 2017
The 'report' was carried prominently by the India Today channel which reiterated the allegation that Mesta had been subjected to torture and his body flung in a lake. The channel described the graphic details of the 'assault', claiming he was castrated and his head was split open.
Boiling oil poured on his face.
Castrated.
Head cut open.
Flung into a lake.
Will 21-year-old Paresh Mesta's murder shake India?
5IVE LIVE with @ShivAroor @ 5.30PM. pic.twitter.com/lAgwJd0Lsj

— India Today (@IndiaToday) December 11, 2017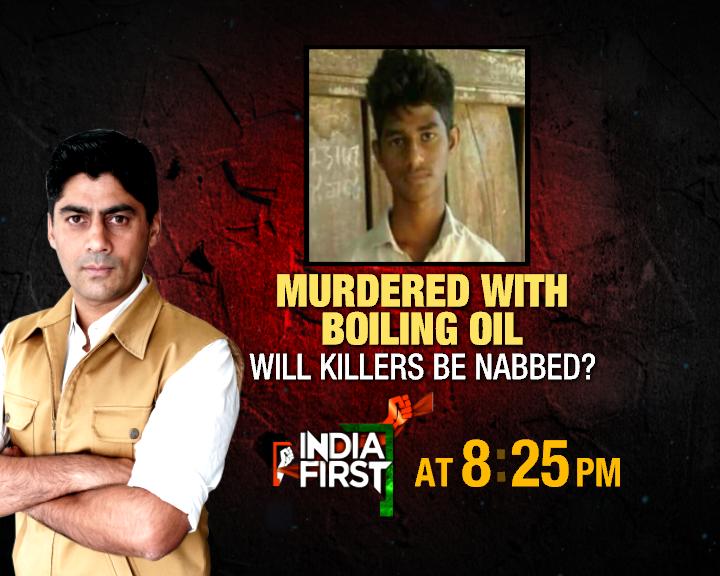 This overdrive by top BJP functionaries, fake news websites and sections of mainstream media had the cumulative effect of spurring fresh violence in the volatile region.
So, was Paresh Mesta brutalized and murdered by 'jehadi' elements as was claimed by the BJP and Hindutva groups? Was hot oil poured on his body and were his hands chopped off? The Karnataka police released the following document from the Department of Forensic Medicine in Manipal which conducted the autopsy of Paresh Mesta. Here is what it said: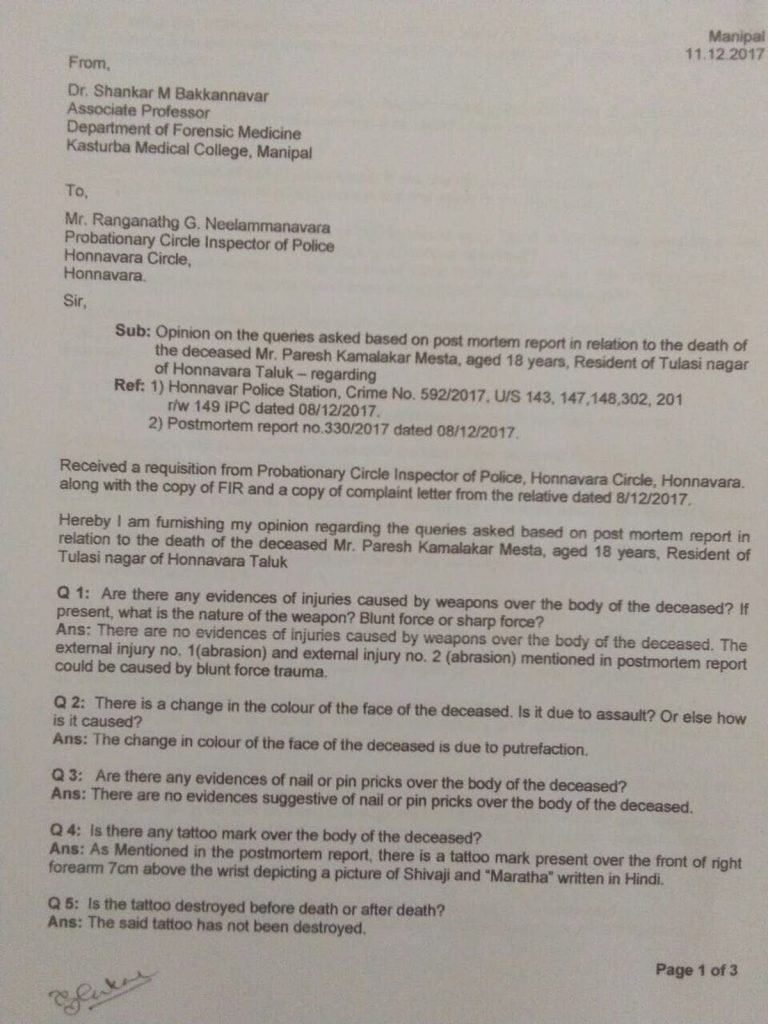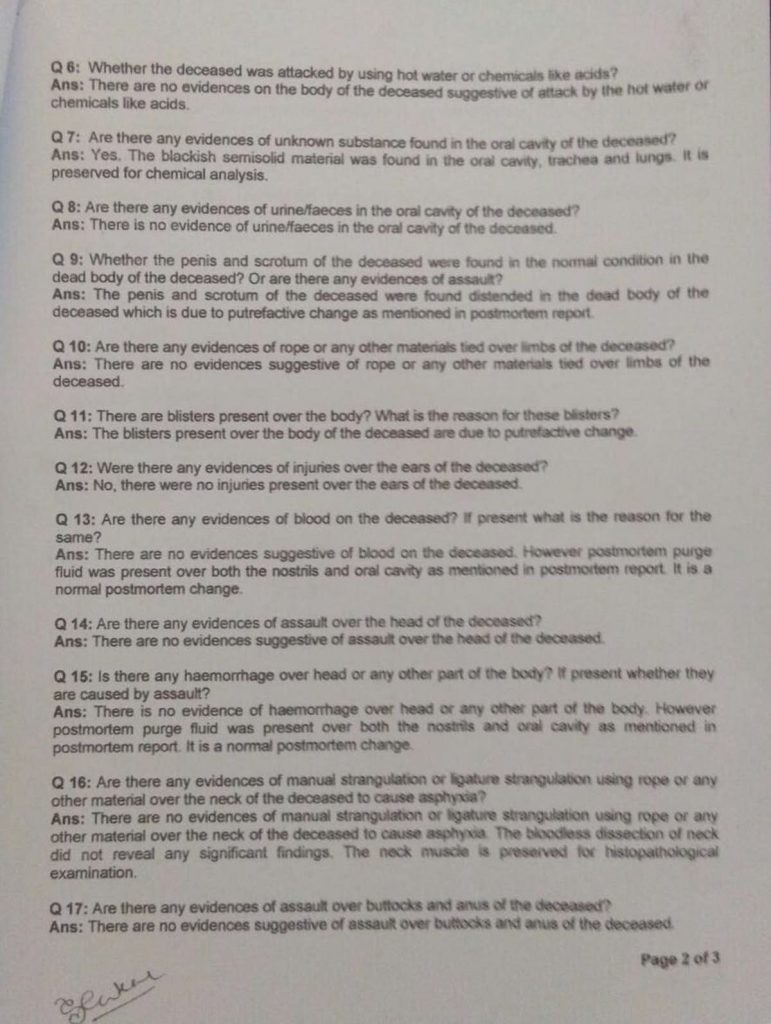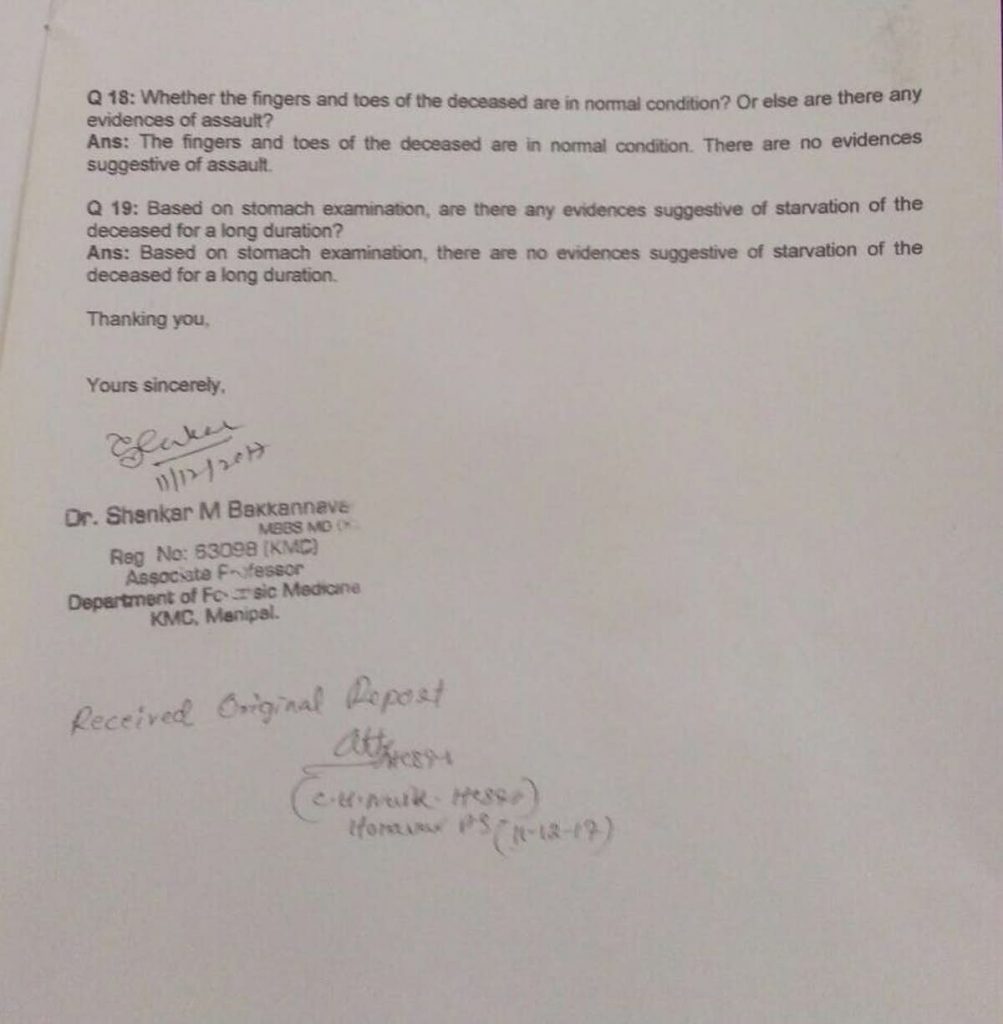 There are no evidences of injuries caused by weapons over the body of the deceased
The change in the colour of the face of the deceased is due to putrefaction
There is no evidence of castration or mutilation
There is a tattoo mark present over the front of right forearm above the wrist depicting a picture of Shivaji and 'Maratha' written in Hindi. The said tattoo has not been destroyed.
The actual post-mortem report has not been handed over to Karnataka Police yet. Karnataka Government has now handed over this case to CBI.
Alt News spoke to Inspector General (IG) of Western Range, Hemant Nimbalkar who told us, "There is a deliberate attempt to create divide in the society by circulation of false news as well as rumours through press notes, social media, and particularly whatsapp for personal gain. We are booking all those people who are trying to circulate false news and rumours through social media and already 20 cases are booked. Anybody who is abetting or circulating false news without authentication shall have to face the law."
It is usual for right wing groups to try and vitiate the peace by spreading hateful propaganda, but India Today as a mainstream media house succumbed to fake information without verifying the story and broadcasted it on prime time, oblivious to the potential ramifications of such provocative news. It took a statement from Karnataka police and the autopsy report for the channel to eventually retract, but by then the damage had been done.
Coastal Karnataka has been a hotbed for Hindutva organisations who have been trying to stir communal trouble in the state with the intention of penetrating and consolidating their presence in the southern part of India. Sporadic instances of violence have occurred with regularity particularly in the coastal districts over the past decade. There is usually an organised pattern and a set technique for fomenting violence through provocation along religious lines as has been witnessed numerous times in the past. In this case, the putrefied cadaver of Paresh Mesta was used to create unrest, division and communal hatred. There is a powerful vested interest which seeks to keep the communal pot boiling in the region, with assembly elections coming up in the state in 2018.
Donate to Alt News!
Independent journalism that speaks truth to power and is free of corporate and political control is possible only when people start contributing towards the same. Please consider donating towards this endeavour to fight fake news and misinformation.