A photograph of a father being taken away in a police van consoling his son through the grilled window has been linked to CAA-NRC. It has been shared with the claim that the man is being taken away to a detention camp built by the BJP. "My father is going to a detention camp. A detention camp made by the BJP. We don't know how 12 lakh Hindus, 2 lakh Gorkhas, 5 lakh Muslims are alive in these detention camps. This is what BJP will do in West Bengal if they win. Do not fall for their false speeches. They will separate mothers, fathers, daughters and sons. Bengalis beware," reads the complete message.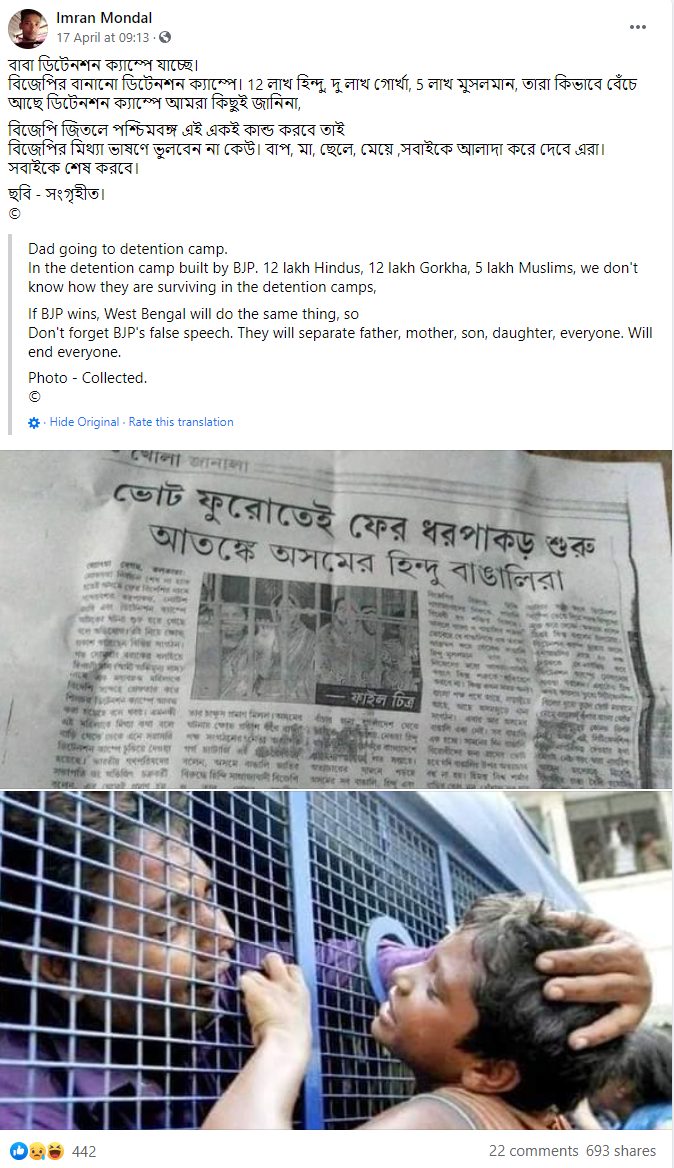 A newspaper clipping has also been shared along with the image. It says that Bengali Hindus in Assam were in a state of panic as soon as polling ended. The clipping is dated '2019/05/11' thus the article may have been published during the 2019 Lok Sabha elections. (1, 2)
This slideshow requires JavaScript.
The images are viral on Facebook.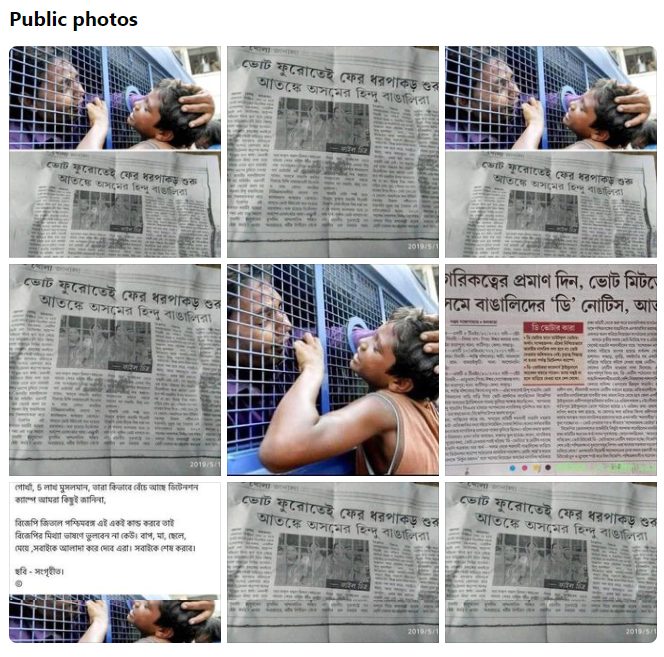 Fact-check
A simple reverse image search takes one to a report on NCB where the photograph has been captioned, "A convict consoles his son while being taken to prison after a court verdict in a 2002 religious violence case, in Ahmadabad, India, Aug. 29, 2012. The court in western India found 32 people guilty of charges ranging from murder to rioting for their part in the deadly religious violence. The religious violence began following a train fire on Feb. 27, 2002, that killed 60 Hindu pilgrims. Muslims were blamed for the fire, leading to weeks of rioting in which Hindu mobs rampaged through towns and villages burning Muslim homes and businesses." The image is credited to Associated Press (AP) and was found on its website. It was taken on August 29, 2012.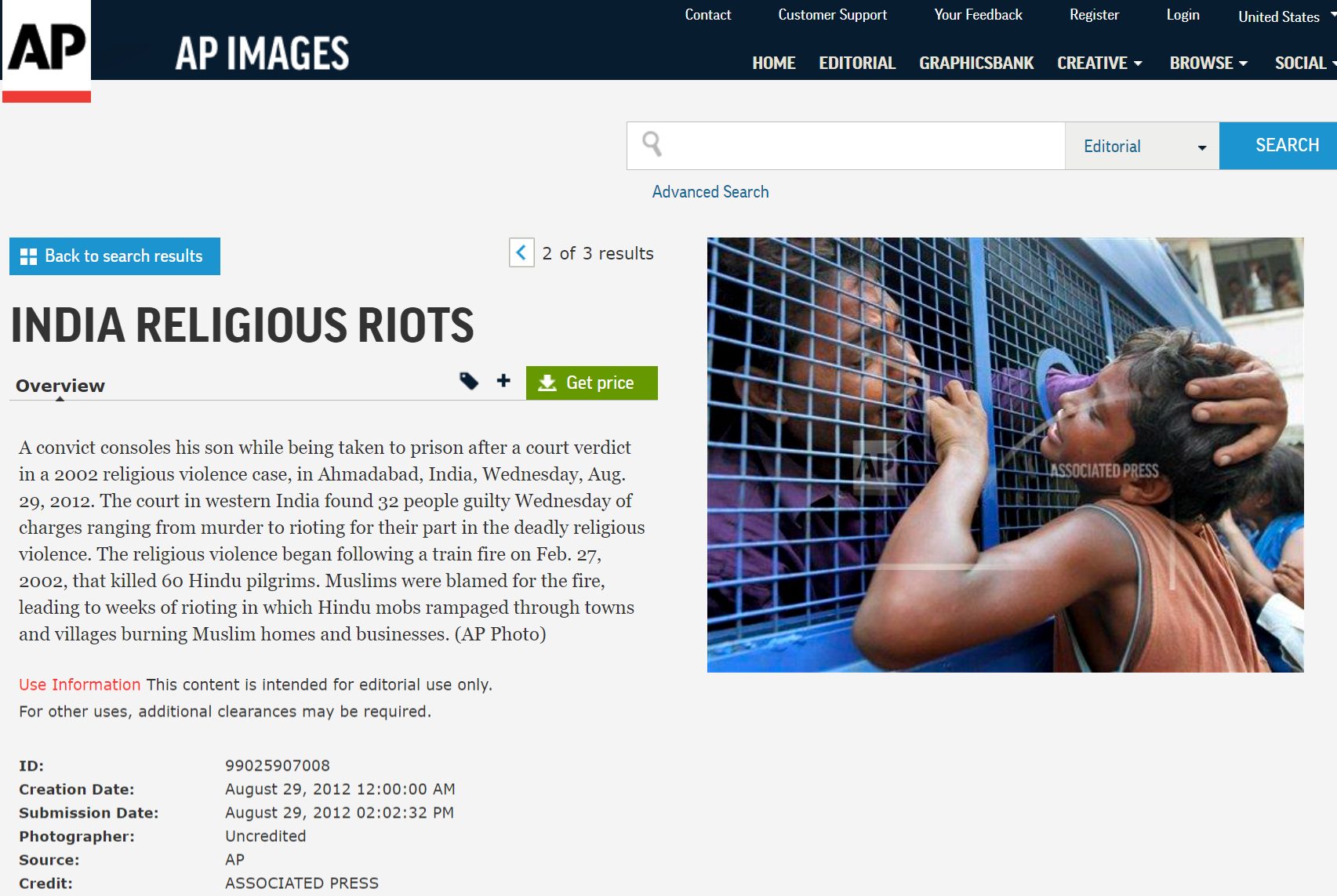 Alt News found the exact article viral with the above image published on a Bengali blog named 'Banglar Chokh' (Bengal's Eyes) in May 2019. It states that several Assamese Bengalis were deemed 'foreigners' and sent to Bangladesh or detention camps before the end of the 2019 elections. Twenty people, including six Bengali Hindus were sent to Bangladesh, says the report. While we were unable to find other reports stating that people deemed 'foreigners' were sent to Bangladesh, there are ample reports from May 2019 on the Assam police detaining over 125 people and taking them to detention camps. A retired army officer, who served for three decades, was also sent to a detention camp. "The acceleration in arrests coincided with Chief Justice Ranjan Gogoi's statement that many who had been declared foreigners were still free," reported Scroll. "Why are there not thousands" housed in detention centres, he had questioned Assam's SG.
The photograph of the father consoling his son, however, is unrelated to the National Register of Citizens (NRC) updated in Assam or the Foreigners Tribunals declaring Assamese Bengalis 'foreigners. The image shows a man convicted in the 2002 Gujarat riots case being taken to prison.
Donate to Alt News!
Independent journalism that speaks truth to power and is free of corporate and political control is possible only when people start contributing towards the same. Please consider donating towards this endeavour to fight fake news and misinformation.