Trigger Warning: Domestic Violence/Abuse. Graphic Imagery
Three pictures of a heavily injured woman have gone viral on social media. Right Wing political activist Sadhvi Prachi shared the images on Facebook with a caption that says, "….a Hindu communist girl named Ankita Vijay fell in love with Abdul and wanted to go to paradise. But Abdul showed her the view of hell. This is the love of Abdul Muslim…."
A Twitter user named Azzat Alsaleem shared these images with a similar claim: "A communist Hindu girl named Ankita Vijay fell in love with Abdul and wanted to go to heaven, but Abdul showed her hell while she was alive. This is the love of a Hindu-MusIim!Why people don't learn a lesson from what is happening? An Abdul lS Abdul, no difference!".
The tweet was later deleted, but not before it was retweeted close to 3,000 times and viewed nearly 1,80,000 times.

On Twitter, these images were shared by Right Wing influencer पुष्पेन्द्र कुलश्रेष्ठ. The tweet has over 1,30,000 views at the moment.
कन्वर्ट होकर मरना अच्छा है ना?
प्यार में मर जाए तो पानी में नहीं डूबता🤣
अंकिता विजय नाम की कम्युनिस्ट हिन्दू लड़की को अब्दुल से प्यार हुआ और स्वर्ग जाना चाहती थी लेकिन अब्दुल ने जीते जी नर्क दिखा दिया ये है हिन्दू मुस्लिम का प्यार ! जिंदा हो या मरे हिन्दू लड़की नर्क भोगती है pic.twitter.com/nZpVDbyCyy

— पुष्पेन्द्र कुलश्रेष्ठ (@shripushpendra1) April 18, 2023
Several other Twitter and Facebook users have shared these images with the same claim. These can be viewed in the slideshow gallery below:
This slideshow requires JavaScript.
Fact Check
By reverse-searching these images on Google, Alt News found media reports from March 2023 of Hindustan Times and The Indian Express. These reports are about Malayalam actor Anicka Vikhraman, who posted pictures of bruises on her body on Facebook and accused her ex-partner of mental and physical abuse.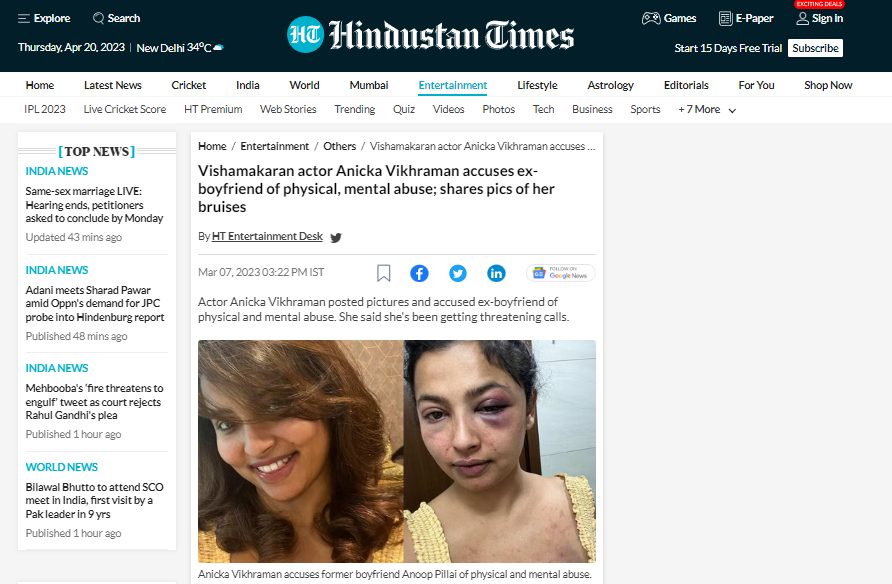 The Facebook post is no longer available or the privacy setting has been changed, but part of the post can be read in the aforementioned media reports.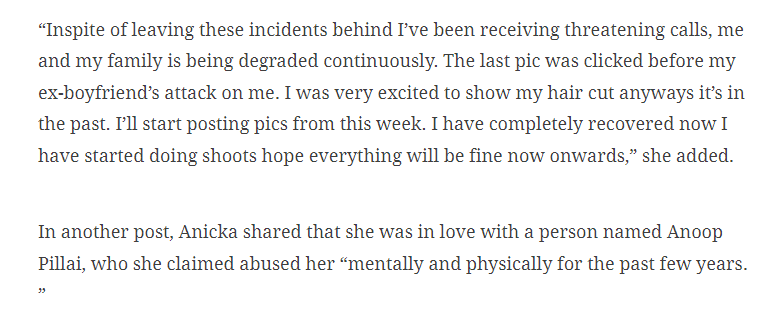 According to the news reports, Anicka had posted images of herself on Facebook with severe injuries, black eyes, and bruises. She wrote about her experience in detail and explained how, despite ending the relationship and moving on, she continues to get "threatening calls."
CNN News18 also covered the incident. The clip of the same can be seen in their tweet below. The caption reads "Actor Anicka Vikhraman Accuses Ex Anoop Pillai of Assaulting Her, Shares Pics of Bruises".
#BreakingNews | #Malayalam Actor Anicka Vikhraman Accuses Ex Anoop Pillai of Assaulting Her, Shares Pics of Bruises@reethu_journo shares details with @aayeshavarma pic.twitter.com/EVcdhbWBpK

— News18 (@CNNnews18) March 7, 2023
Therefore, the woman injured in the pictures is not some Hindu communist girl named Ankita Vijay. She is actually a Malayalam actress named Anicka Vikhraman. According to media reports and her own admission, former partner Anoop Pillai had tortured her mentally and physically, and the bruises are a proof of that. No Muslim individual is involved in the case. Social media users have shared these disturbing images with communal claims, which are baseless and false.
Vansh Shah is an intern with Alt News.
Donate to Alt News!
Independent journalism that speaks truth to power and is free of corporate and political control is possible only when people start contributing towards the same. Please consider donating towards this endeavour to fight fake news and misinformation.