A two-dimensional image of the globe has gone viral on social media. It shows nine cities highlighted in Chinese text. Along with the viral image, users have claimed, "Strange eerie coincidence that all worst affected Corona Virus [Covid 19] cases are along the same Latitude 40° from left: France, Italy, Iran, Wuhan, South Korea, Japan, Seattle, Washington, NewYork… Isn't it quite ridiculous & mind-boggling?"
On March 12, Kiran Mazumdar Shaw, chairperson and managing director of Biocon, tweeted the viral image (archive link). She also added in her tweet that "southern hemisphere seems to be unaffected" from the coronavirus so far.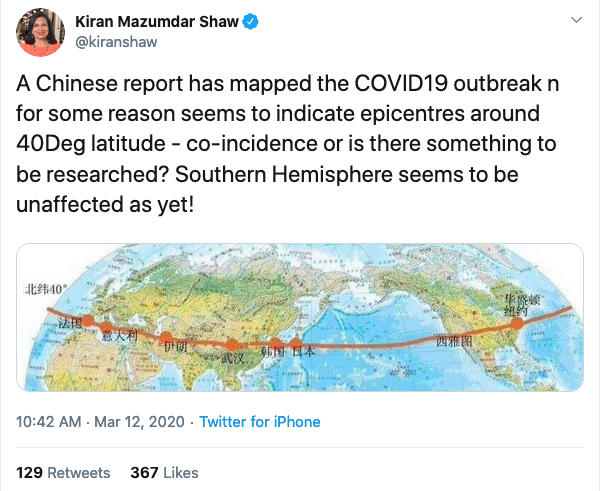 Several users have shared the on Twitter and Facebook. Alt News has received several requests to fact-check the images on WhatsApp (+91 76000 11160) and on our official Android application.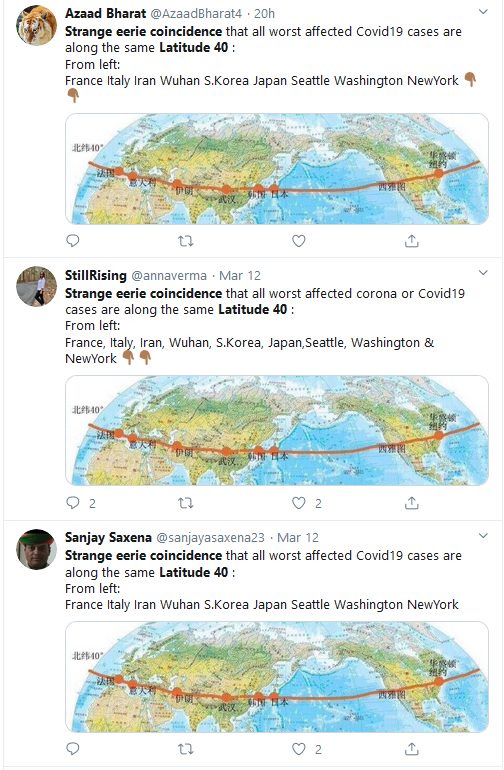 Claim is ridiculous
The viral claim lists four cities – Wuhan, Seattle, Washington and New York along with five countries – France, Italy, Iran, South Korea and Japan while claiming that "all worst affected coronavirus [Covid 19] cases are along the same Latitude 40°."
It is important to keep in mind that, as per the US Geological Survey, at 38 degrees north latitude one degree of latitude is around 69 miles (111 kilometres). Therefore, large countries cannot be represented by a single latitude.
Most affected cities in the above-listed countries.
Alt News identified the most severely affected cities in the countries mentioned in the viral message using data from respective government websites.
As of March 13, data from Santé publique France, national public health agency, revealed that the Grand Est. an administrative region in northeastern France, had the highest number of cases reported.
Similarly, Bergamo, a city in the Lombardy region, is the worst affected as per Ministero della salute, Italy's Ministry of Health.
On the same date, an infographic published by the Islamic Republic News Agency (IRNA), the official news agency of the Islamic Republic of Iran, illustrated the national capital Tehran as the most severely affected.
A March 12 report by the Korea Centers for Disease Control and Prevention stated that Daegu Metropolitan City, the third-largest after Seoul, and Busan is the worst affected region.
Nippo, a Japan-based media platform reported that Hokkaidō was reported most numbers confirmed virus carriers as of March 12. Nippo's report was created based on data by Japan's Ministry of Health, Labor, and Welfare.
Are these cities along Latitude 40°?
The latitude coordinates of every place mentioned in the viral post are as follows:
Channel News Asia (CNA), Singapore-based news channel, has built an interactive map that is keeping a track of confirmed cases, reported deaths and patients recovered across the world. The 12 most affected countries as of March 16 doesn't include Japan, which is one of the places shown on the viral map image.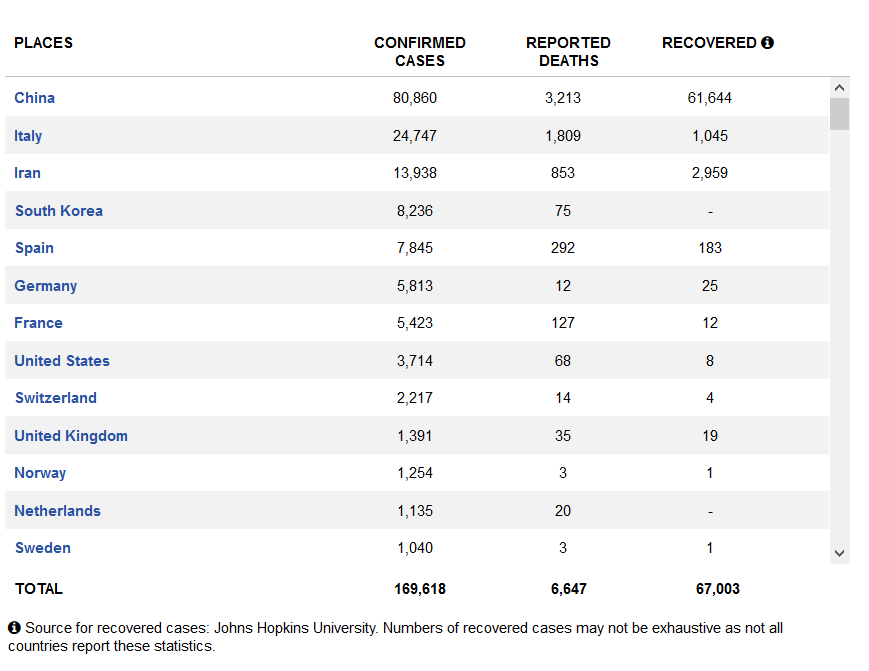 While it is true that countries listed above are from the northern hemisphere, Shaw's statement that "southern hemisphere seems to be unaffected" is false. The screenshot from CNA's interactive maps shows some of the countries affected in the southern hemisphere. Data for each country can be viewed by zooming in in the interactive map.
Therefore the claim that the cities worst affected by coronavirus cases are along latitude 40° is false. If you would like to learn how GPS coordinates work, watch this explainer video by Brainstuff.
Donate to Alt News!
Independent journalism that speaks truth to power and is free of corporate and political control is possible only when people start contributing towards the same. Please consider donating towards this endeavour to fight fake news and misinformation.