A photograph of a man with a wound on his arm has been circulating with the claim that a Jain monk was attacked by Muslims in Karnataka. The claim adds that the attackers chanted 'Congress zindabad'. "This is the fate of the Hindus who vote for Congress," reads the message.
[Complete message in Hindi: कर्नाटक में जैन मुनि को मुसलमानों ने मारा कहा कांग्रेस जिन्दाबाद के लगाये नारे अब कांग्रेस अपने असली रूप में आ गई कांग्रेस को वोट देने वाले हिन्दुओं इसी तरह का प्यार तुम्हें कांग्रेस देती रहेगी । इस फोटो को ईतना भेजो की कल तक नरेंद्र मोदी जी और योगी जी के पास पहुंच जाऐ। आज मौका मिला है कुछ पुण्ये का काम करने का। कोई मुसलमान ही होगा जो इस वीडियो को शेयर नहीं करेगा आप सभी को भगवान की कसम।]
Alt News has received multiple requests for the claim.
This slideshow requires JavaScript.
Earlier this year, we had received verification requests for this photo along with pictures of a man and a woman with head injuries. They were shared with the same claim.
This slideshow requires JavaScript.
Old images, false claim
Image 1
The photo of the man with an arm wound was also widespread in 2018 ahead of elections in Karnataka. "Very sad news, yesterday in Karantaka Jain muni attacked by muslim youth …. No one is safe in Siddaramaiah's Karnataka [sic]," was the message circulating back then.
Mahesh Vikram Hegde, founder of fake news site Postcard News, and Gaurav Pradhan, who has been found spreading misinformation on several occasions, also put out this claim on their Twitter accounts.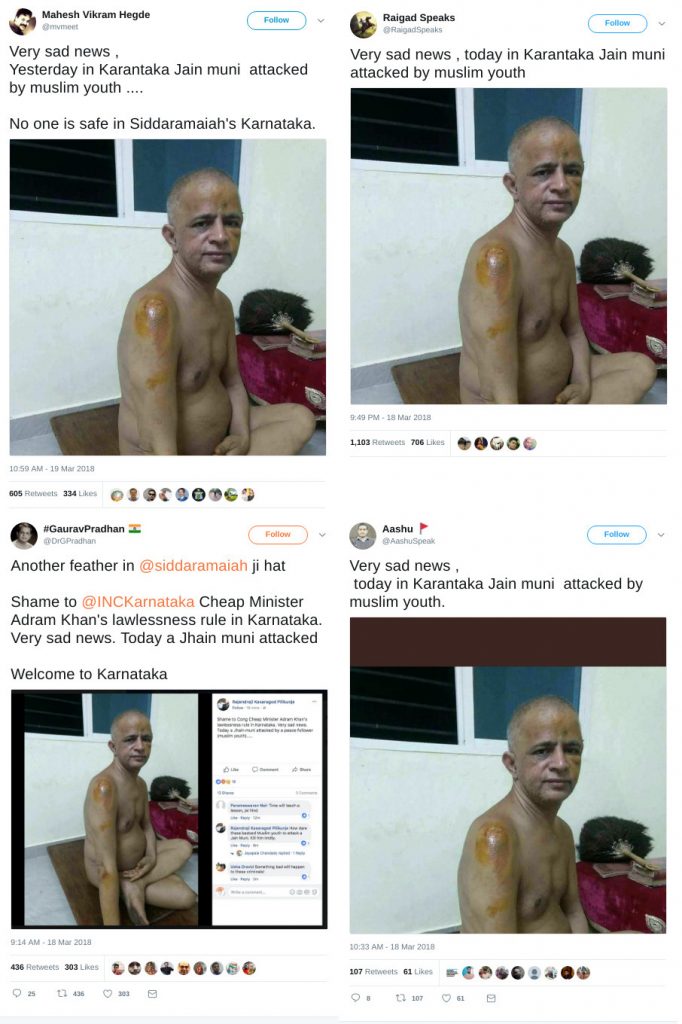 One of the firsts to share this information on Facebook was a person named Deepak Shetty whose post was shared over 6000 times.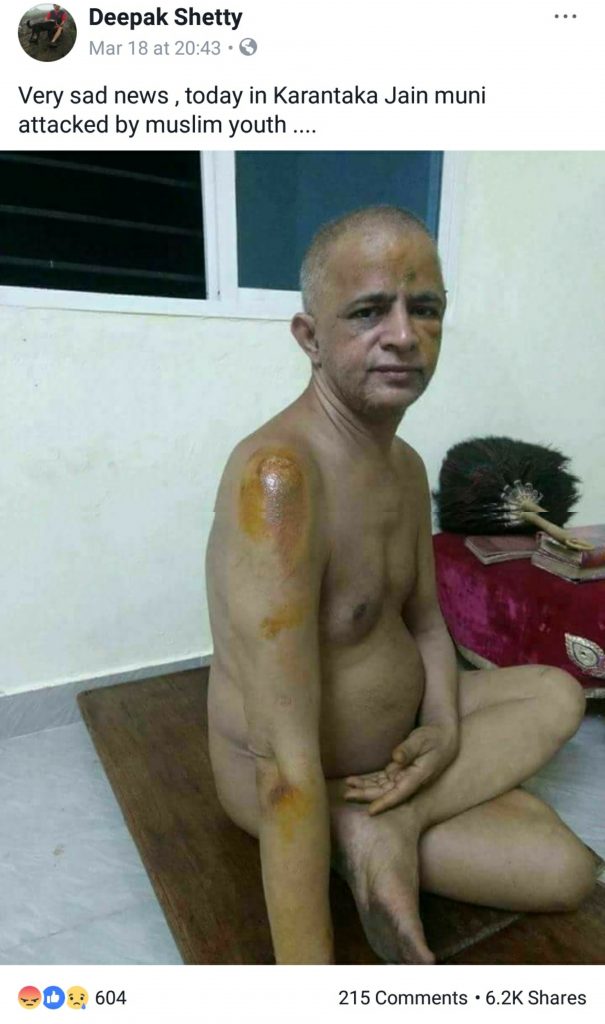 This was also shared on the Facebook page of Postcard News.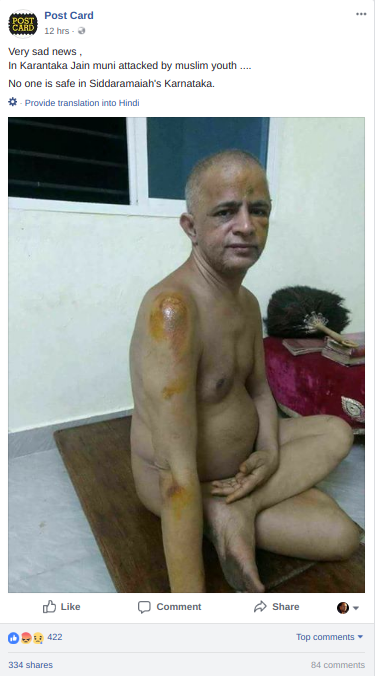 Alt News found that Jain Muni, Mayank Sagar, had a minor accident when a bike hit him and caused a shoulder injury. The incident happened in March 2018 in Kanakapura, Karnataka. It was reported that he recovered from the incident.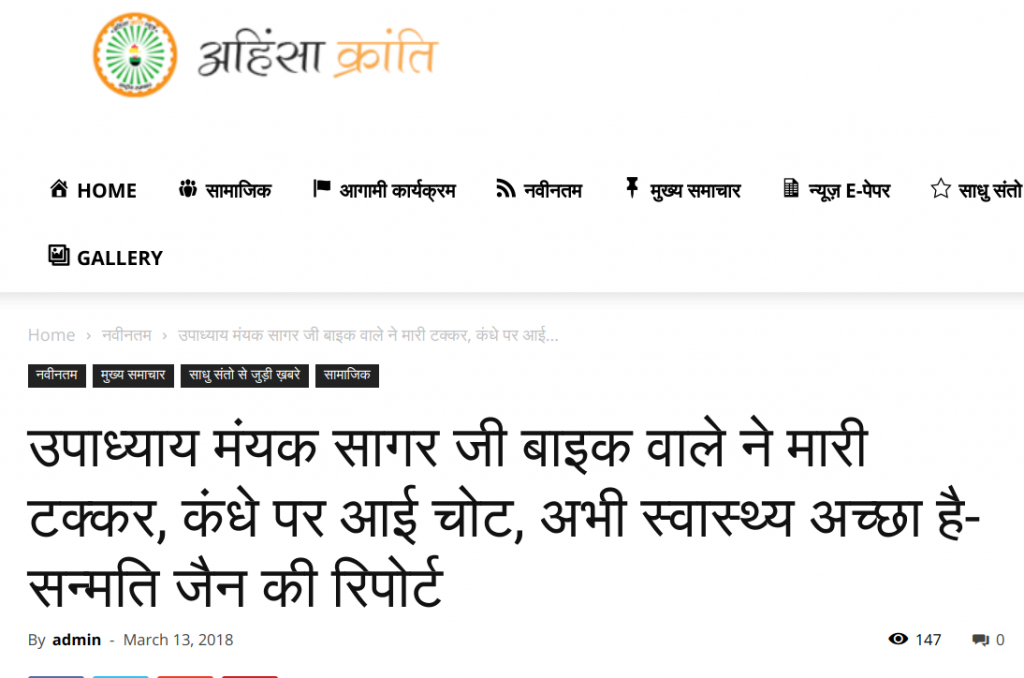 The news was reported by Jain publication, Ahinsa Kranti. The editor of the publication, Mukesh Jain, while speaking with Alt News confirmed the news and denied the incident had anything to do with members of the Muslim community. Jain Muni Mayank Sagar had reached Shravanabelagola in Karnataka on February 4, 2018, for the Mahamastakabhisheka. He was on his way back from Shravanabelagola when the accident happened. Ahinsa Kranti reported the issue on March 13, 2018.
Image 2
Alt News did a reverse image search and found the image of the man bleeding heavily from his head in an article published by the news website Royal Bulletin on September 9, 2017. According to the report, the man was injured badly during a domestic dispute with his wife in Bhopa village of Muzaffarnagar district, UP. The report claimed that the police refused to take action calling it a "husband-wife matter". The editor of Royal Bulletin in a conversation with SMHoaxSlayer confirmed that the image was taken by a journalist associated with the newspaper. The EXIF or MetaData of the image on Verexif, a website for verifying the EXIF data of images, reveals that it was clicked from the Nikon Coolpix A10 camera. Social media websites wipe off the EXIF data (Metadata), hence the image posted on the website is original.
Image 3
A Google reverse image search shows that this image was shared earlier on the internet in a different context. The image was shared by a Google Plus account named रमेश राजाराम (Ramesh Rajaram) on April 2, 2018, claiming that Bhim Army workers attacked passengers in an auto in Mandipur, Rajasthan.
However, the same image was earlier used in a Twitter post that says students were thrashed by central forces.
#तानाशाही केंद्र सरकार द्वारा न्याय की मांग कर रहे देश के #छात्र_भाई_बहनों_पर_चले_एक_एक_लाठी_का_हिसाब_लूँगा_इसके लिये किमत जो चुकानी पड़े चुकाऊँगा। दोस्तों हिम्मत नहीं हारना है भाजपा को भागना है pic.twitter.com/J5J8Ss85m5

— Pintu yadav king (@PINTUYADAVKING2) April 1, 2018
Alt News was unable to find details of the third image but it is at least three years old. The other two images also pertain to different incidents. The claim that a Jain monk was beaten by Muslims in Karnataka is false.
Donate to Alt News!
Independent journalism that speaks truth to power and is free of corporate and political control is possible only when people start contributing towards the same. Please consider donating towards this endeavour to fight fake news and misinformation.