A video of a man speaking on a hand-held loudspeaker standing amid a queue of people is viral on social media. He says, "अभी भी वक्त है हिन्दुओं, सौदा कर लो, अल्लाह के वसूल से माफ़ी मांग लो. वरना तुम्हारी लाश चिता में भी नहीं जलाया जाएगा. तुम्हारी लाश चील, कुत्ते, गीदर खाकर ख़तम करेंगे. तुम्हें दावत देता हूँ, कलमा पढ़कर मुसलमान हो जाओ, अगर नजात चाहते हो, अगर मुक्ति चाहते हो, तो तुम कलमा पढ़कर मुसलमान हो जाओ."
(Translation: Hindus, there is still time. Make a deal. Ask for forgiveness from Allah. Your dead body will not be burnt even in a cheetah. Your dead body will be eaten up by eagles, dogs and hyenas. I invite you to become a Muslim by reading the Kalma…If you want to be saved, if you want liberation, then become a Muslim by reading the Kalma.)
A few lines have been superimposed on the video which states, "इन्होंने तुम्हारा भविष्य तय कर दिया है, बस मोदी के हटने की देर है. हर हिंदू भाई तक पहुंचाएं इस सच्चाई को. आँखे खोलकर देखो और कान साफ करके हर हिंदू सुनें. आपके फोन में जितने भी WhatsApp नंबर है सभी को शेयर करें हर हिन्दू भाई को भेजें". (Translation: They have decided your future, it is just a matter of time for Modi to leave. Spread this truth to every Hindu brother. Each Hindu should see this with eyes wide open and listen to this carefully. Share it with all the WhatsApp numbers you have on your phone and send it to every Hindu brother.) Several social media users have shared the video claiming that the incident is from India.
In response to a tweet by journalist Rana Ayyub, in which she shared a link for her article in The Washington Post headlined 'In Modi's India, hatred toward Muslims is being inflamed by authorities', Vikas Singh Boby (@TheVikasBoby), the district spokesperson of BJP Delhi, shared the viral video with the caption, "Your uncle is openly threatening to kill Hindus, your Victim Card has been exposed. Fix your holy books and everything will be fine." The tweet has received over 35,000 views and has been retweeted 940 times. (Archive)
ये आपके चच्चा जान खुलेआम हिन्दुवों को मारने की धमकी दे रहा है, तुम्हारा Victim Card एक्सपोज़ हो गया है।

अपनी आसमानी किताब ठीक करो सब ठीक हो जाएगा। https://t.co/s1RKKgj6zr pic.twitter.com/izYUTGr5Yk

— Vikas singh Boby (@TheVikasBoby) May 11, 2023
Another Twitter user, @YOGIAJAY_108, shared the video stating tagging PM Modi and wrote, "Hindus, retweet this video as much as possible so that this video reaches Yogi ji and the Modi government. If the government has to deal with these jihadis, then we Hindus are ready to stand shoulder-to-shoulder with the soldiers to deal with them. We wanted peace in the country by driving the jihadis away from the country. @pmoindia". The tweet has over 17,000 views and has been retweeted 1,000 times. (Archive)
हिंदुओं इस वीडियो को ज्यादा से ज्यादा री ट्वीट करो जिससे मोदी सरकार योगी जी तक यह वीडियो पहुंच जाए,सरकार को अगर इन जिहादि से निपटना है तो हम हिंदू इनसे निपटने के लिए सैनिक के साथ कंधे से कंधा मिलाकर साथ देने को तैयार हैं जिहादी को हम देश से भागा कर देश में शांति चाहते।@pmoindia pic.twitter.com/8jvqJoEXcF

— AJAY_🇮🇳_YOGI (@YOGIAJAY_108) May 8, 2023
User @manoj38840 also shared the video stating that as soon as 'Hindus lost Karnataka', Muslims have started making open threats. (Archive)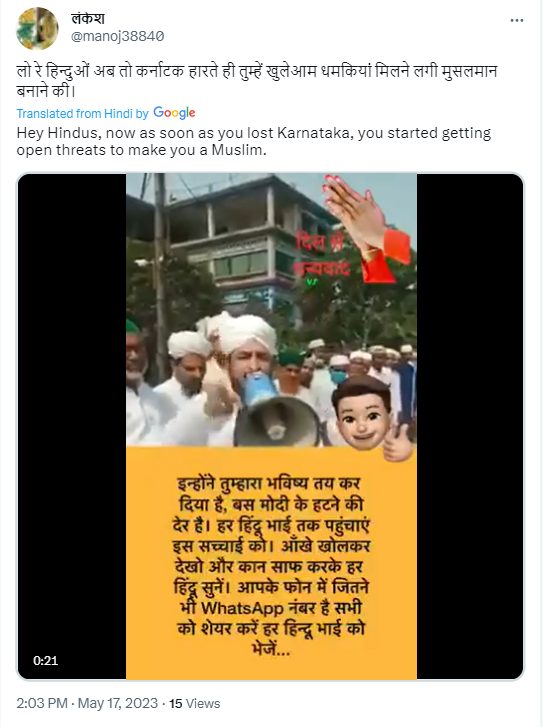 A video also went viral on Facebook. Several users shared a video titled 'बंगाल में हिन्दू नरसंहार और शेख़ मुजीब-उर-रहमान का इतिहास!' The viral clip is included in the video.
Alt News also received several requests on its WhatsApp helpline (76000 11160) to verify the authenticity of the video.
Fact Check
First, we broke down the video into key-frames using Invid software and then reverse-searched one of them on Google. This led us to the longer version of the viral video which was posted on April 30, 2021, on YouTube, titled 'Dr Syed Irshad Bukhari gave Mubahila Challenge to Vile Narsinghanand Saraswati from Bangladesh'. Taking a cue from this, we performed a keyword search and identified the speaker in the viral video as Syed Irshad Bukhari.
According to Bukhari's Facebook page and I.C TV YouTube channel, he is an Islamic scholar and the director general of the Islamic Research Centre (IRC), Dinajpur, Bangladesh. The YouTube channel is run by the IRC.
This slideshow requires JavaScript.
At the very outset (at the 0:20-minute mark in the 7-minute video), Bukhari states that people have assembled in Dinajpur, Bangladesh, after the Namaz prayers to condemn the controversial speeches given by Yati Narsinghanand Saraswati. Hence, the claim that the incident happened in India is false.
At the 3:12-minute mark, Bukhari calls for arrest of Yati Narsinghanand by the Government of India over his controversial remarks against Prophet Mohammad.
The video description says "Likewise @Mufti Salman Azhari Allama Dr Syed Irshad Bukhari gave Mubahila Challenge to Vile Gustakhe Rasool Narsinghanand Saraswati from Bangladesh Allama Dr. Syed Irshad Ahmad Al Bukhari challenged Narsinghanand of Mubahila from Bangladesh and gave severe warnings to the staunch Indian Hindutva Pandit Swami Narsinghanand Swaraswati for insulting Rasulullah. To maintain the peace and order of our country, if we want to be free from Corona, the Government of India should arrest this malicious person immediately #ArrestNarsinghanand."
Yati Narsinghanand Saraswati, the head priest of the Dasna Devi temple in Ghaziabad, is a Hindutva ideologue who has been accused of and charged with delivering hate speeches against the Muslims on several occasions. This Alt News report is a detailed account of his life, career and Right Wing activism.
A few months before Bukhari's video was posted on YouTube, Yati Narsinghanand made several Islamophic comments and abused Prophet Mohammad in a TV debated hosted by News State TV on March 12, 2021.
To sum up, a video is doing rounds on social media where a man is asking Hindus to repent and convert to Islam. Several social media users have shared the video claiming or implying that the incident happened in India. However, our fact check revealed that the video is almost 2-year old and the man in the viral video is Dr. Syed Irshad Ahmad Al Bukhari who gave the speech in Bangldesh condeming Yati Narsinghanand's controversial speeches.
Donate to Alt News!
Independent journalism that speaks truth to power and is free of corporate and political control is possible only when people start contributing towards the same. Please consider donating towards this endeavour to fight fake news and misinformation.