"After Burhan Wani Gauri lankesh also killed how sad", tweeted Ashish Singh. He further retweeted a tweet which said, "Hame chahiye azadi jihadiyose Jai Shree Ram,Jai Shree Ram". In another tweet, Ashish Singh retweeted a Bangalore Times tweet about Gauri Lankesh's death with the comment, "Jaisi karni vaisi bharni". Ashish Singh's twitter profile picture is a selfie with Maharashtra CM Devendra Fadnavis. Ashish is followed by PM Modi on Twitter. Other senior ministers in the Union Government like Ravi Shankar Prasad and Vijay Goel also follow his Twitter handle. His Twitter bio describes him as "India272Pune , ( IIT Bombay,IIMP) – Political Strategist , Cartoonist I am Hindu and Team PM Modi". Ashish was one of the many who adhere to the right-wing ideology and started spewing venom after senior journalist Gauri Lankesh was shot dead at her home in Bangalore.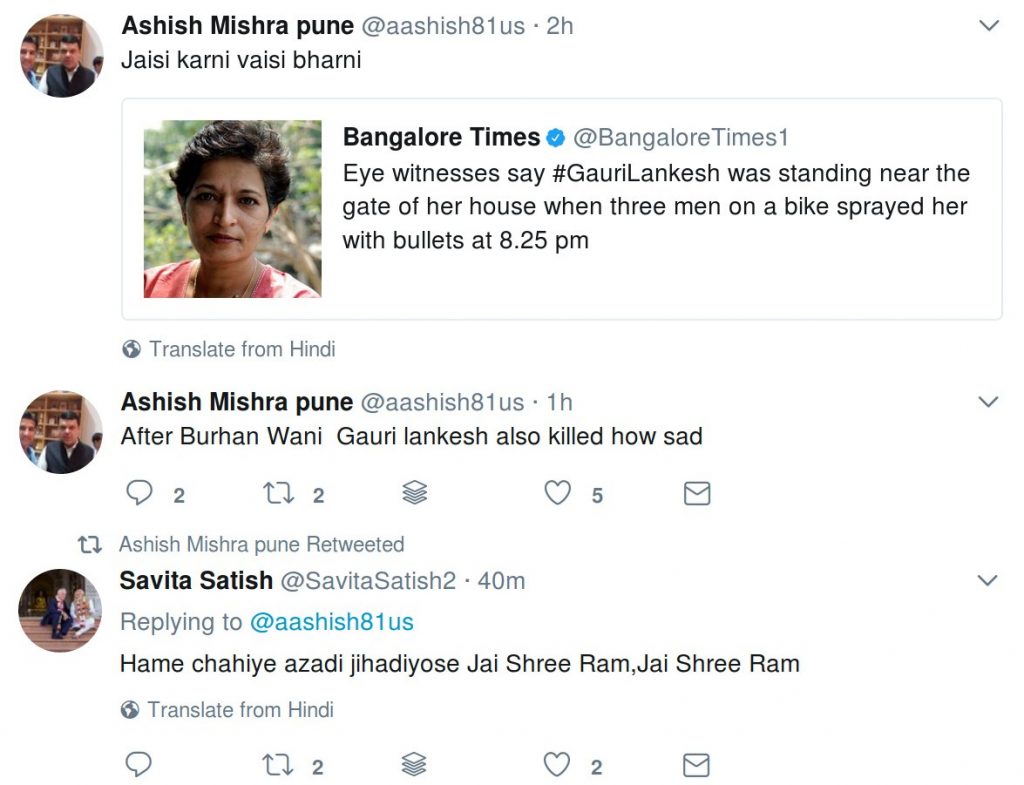 Another account that is followed by PM Modi and Union Minister Giriraj Singh tweeted, "एक कुतिया कुत्ते की मौत क्या मरी सारे पिल्ले एक सुर में बिलबिला रहे है। 😜😜 अब ये कौन कह रहा है किसी शिष्य ने गुरु दक्षिणा में #GauriLankesh को वही दे दिया जिसकी शिक्षा वामपंथी अपने शिष्यों को देते है? (Translation: A bitch died a dog's death and all of her litter is crying in the same voice)"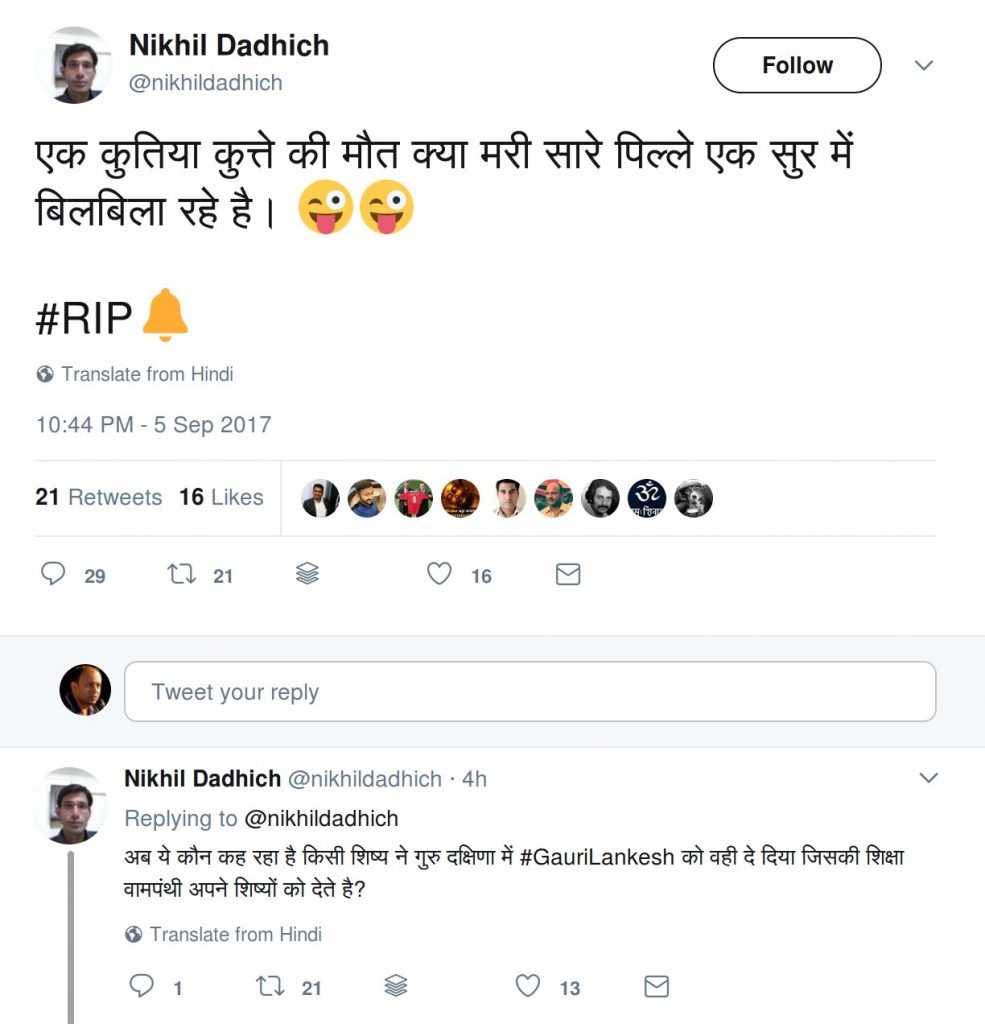 A journalist Jagrati Shukla wrote, "So, Commy Gauri Lankesh has been murdered mercilessly. Your deeds always come back to haunt you, they say. Amen." Jagrati Shukla has a history of hateful tweets against Dalits, Sikhs and other sections of the society.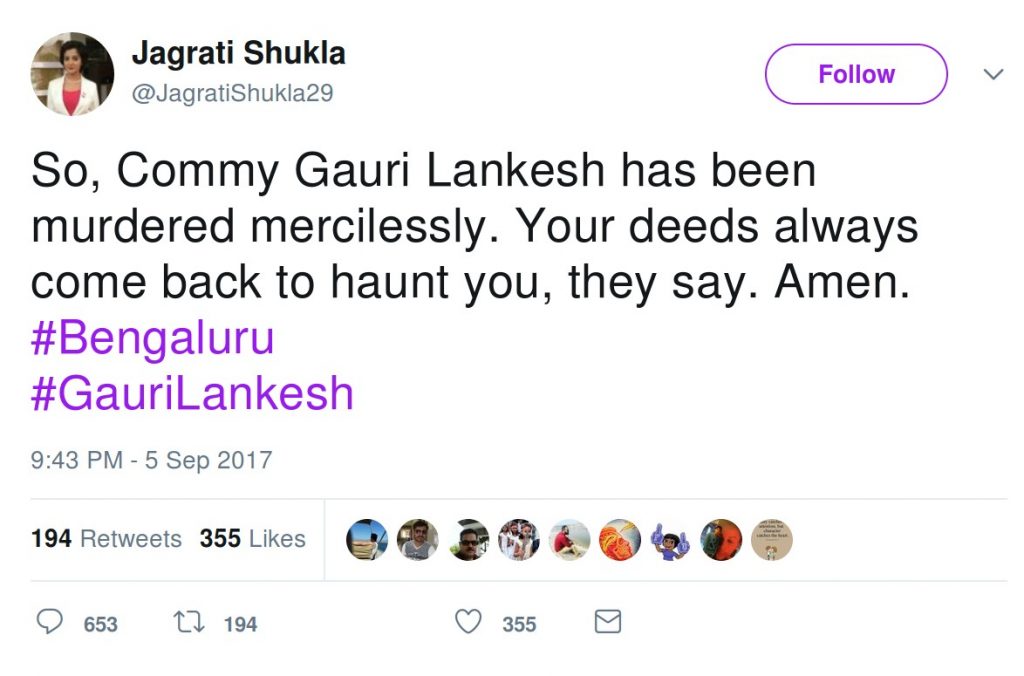 Another senior journalist who is the editor-in-chief of Vishwavani Daily and former OSD to BJP MP Ananth Kumar couldn't resist labelling her as a Naxal Sympathiser while announcing her death.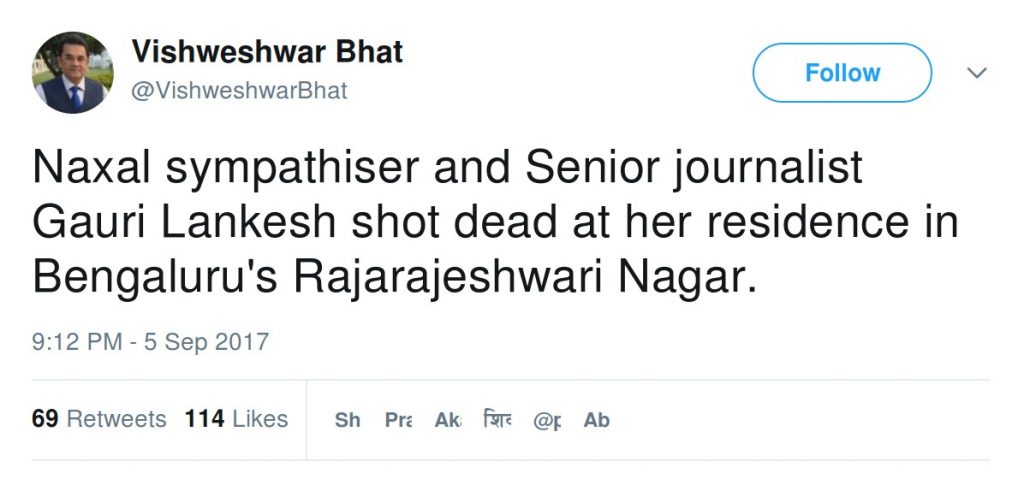 Rita who claims to be a former presenter on All India Radio and is followed by PM Modi on Twitter gave not one but multiple labels. Apparently, that was the most important thing to do in this hour of grief.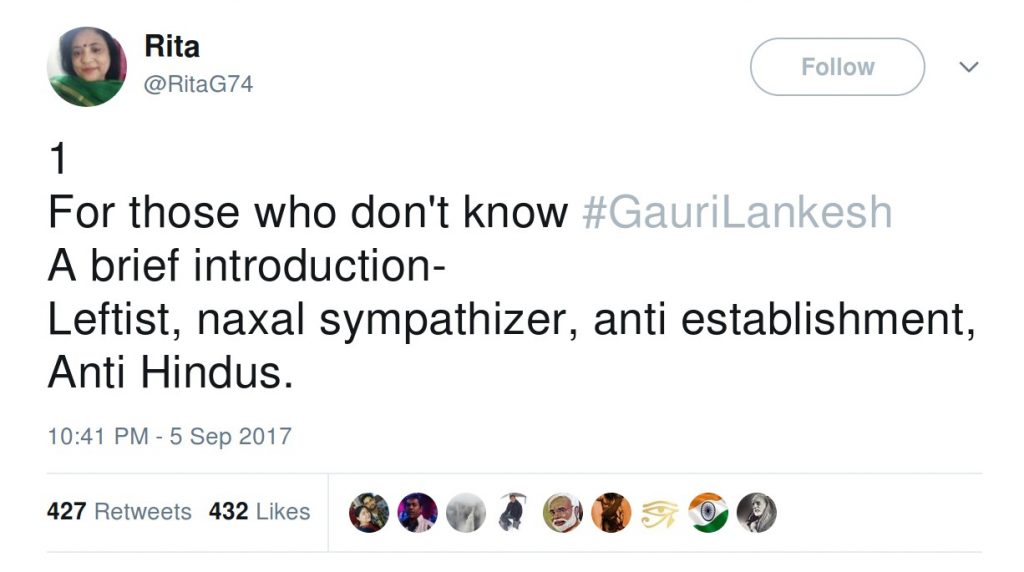 Oxomiya Jiyori which is yet another account followed by PM Modi on Twitter said "God had different plan for group of Bharat tere tukde Honge" while commenting on Gauri Lankesh's pictures with JNU students Kanhaiya Kumar and Umar Khalid. Those masked men who actually raised those slogans in JNU have never been arrested but the propaganda is being used to malign and justify Gauri Lankesh's murder.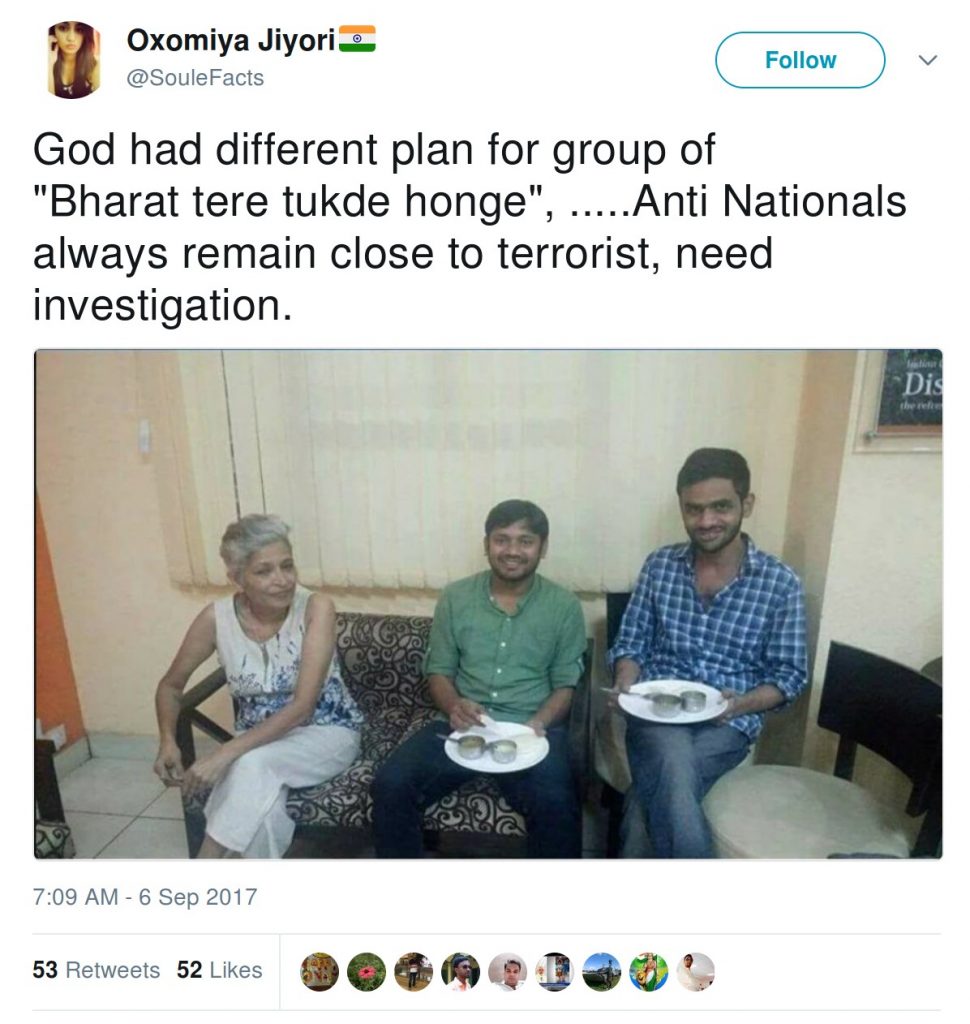 The list is endless as who all among the right-wing thought that the horrifying murder of a person is the right time to spew all the venom they had against them because of ideological differences. There are many more on Facebook and Twitter who said things that are so hateful that it cannot be reproduced here. Is this the same hateful ideology that consumed Gauri Lankesh?
Donate to Alt News!
Independent journalism that speaks truth to power and is free of corporate and political control is possible only when people start contributing towards the same. Please consider donating towards this endeavour to fight fake news and misinformation.