Tejashwi Yadav, former Deputy Chief Minister of Bihar and son of RJD chief Lalu Prasad put out this letter on the evening of December 17, purportedly written by the Deputy Election Commissioner in Gandhinagar. The letter was addressed to the State Election Commission of Gujarat and had been doing the rounds of social media since the morning of December 18, the counting day of the elections. The letter alleged that EVMs were being hacked with the help of telecom companies. Here is the tweet by Tejashwi Yadav.
Doing rounds on whatsapp.. Authenticity you verify pic.twitter.com/2fjH1Yejou

— Tejashwi Yadav (@yadavtejashwi) December 17, 2017
Tejashwi's tweet was retweeted by his father and RJD leader Lalu Prasad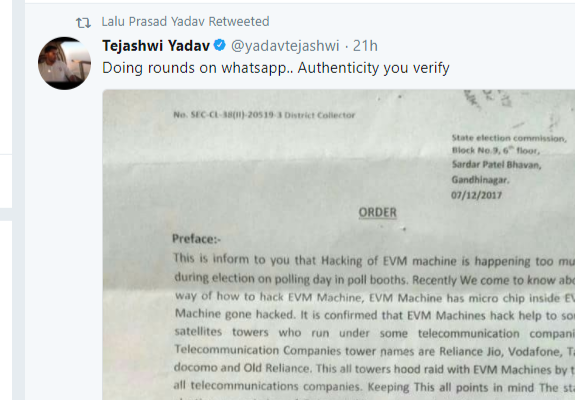 Expectedly, the letter turned out to be fake. The Gujarat State Election Commission has confirmed on record that they have not received any such letter. They have further clarified that there is no Deputy Election Commissioner in Gandhinagar by the name of K L Parmar. Kapil Dave, journalist with Times of India confirmed the same. Hiren Upadhyay, journalist with Ahmedabad Mirror tweeted that the Ahmedabad crime branch had filed a complaint against unknown persons in the case.
Social media messages on internet ban on 18th Dec in Gujarat are fake said@CEOGujarat.@timesofindia pic.twitter.com/i3UZGuu9qV

— Kapil Dave (@KapildaveTOI) December 16, 2017
This is not the first time that an RJD leader has tweeted a fake image. In August 2017, for an RJD rally at the Gandhi Maidan in Patna, RJD chief Lalu Prasad tweeted this image of the turnout at the rally.
No "Face" will stand in front of Lalu's "Base". Come & Count as much as u can in Gandhi Maidan, Patna #DeshBachao pic.twitter.com/sXoAcpwNKw

— Lalu Prasad Yadav (@laluprasadrjd) August 27, 2017
Alt News exposed how the image was photoshopped in order to claim a much higher turnout than what was actually the case.
The opposition which often accuses the ruling party of adopting foul tactics like resorting to fake imagery to influence voters is itself not immune to such tendencies. The RJD has been caught again trying to pass off fake pictures as real. In this case, Tejashwi Yadav tried to play up the fear mongering among some sections over the reliability of the Electronic Voting Machines (EVMs), alleging they have been tampered when there is no evidence on record to suggest mischief. In doing so, he circulated a fake letter that was viral on WhatsApp and Facebook. Moreover, Tejashwi Yadav tweeted with the text 'authenticity you verify' when he as a senior leader of a party has all the means to verify this information before putting it out on social media.
Donate to Alt News!
Independent journalism that speaks truth to power and is free of corporate and political control is possible only when people start contributing towards the same. Please consider donating towards this endeavour to fight fake news and misinformation.