On Alt News, we have run several stories about fake videos and fake news that get propagated via social media. Considering the amount of fakery out there, my personal belief at this point in time is that an individual who inadvertently forwards a fake video or a fake piece of news which is viral on social media, he or she shouldn't be charged under IPC sections that could lead to a jail sentence if convicted. Ignorance cannot be a reason to get jailed. Moreover, if we start jailing people for fake WhatsApp forwards, a huge population of India will have to be relocated to jails including some in my extended family. Instead, a hefty fine could be a good deterrent.
However, a website or a social media account like a Facebook page that repeatedly and deliberately spreads fake news, videos, images must face the most severe legal consequences that the law can afford in such cases. But the problem is that so many of these fake news websites keep their owner's identity hidden and it is difficult for those who are not very technically savvy to find out who exactly is running the website. If you go and file a complaint with the police stating that such a website is running fake news, the police, in general, do not seem to be interested enough to investigate into these fakes news sites or take action against the individuals behind such fake sites. As a result, we have tens of fake news sites out there today generating random fake content, a lot of which is dangerous for the unity and integrity of the country.
In order to help people in finding the individuals behind various fake news sites, we will run a series of stories so that neither the aggrieved party nor the police has to struggle much in their investigation. While revealing the details of the website's owner, we'll also briefly explain the methodology that was used so that others can benefit from this. Let us start with DainikBharat.org as the first test case. We have caught DainikBharat.org propagating fake news on at least three occasions.
Fake right-wing propaganda against Ravish Kumar, claim his sister's been suspended due to corruption charges –
go.altnews.in/2qt2w4s
How fake news branded News Laundry's Madhu Trehan as a leftist for her non-existent comments on Baahubali –
go.altnews.in/2pVTLzO
While researching a fake fatwa, I stumbled upon the dark alley of fake news industry –
go.altnews.in/2qsyoG2
There are many other documented cases where Dainik Bharat has been caught spreading fake news including using a 2 year old JNU Election celebration picture to show that students from JNU are celebrating Sukma attack, certain non-existent comments of Fawad Khan and that Pakistan had praised Mamta Banerjee.
DainikBharat.org is a repeat offender and the victims of this fake news campaign should know who's behind this website. Usually, I start by looking up the WHOIS information for a domain name which gives the details such as name, address, phone number and email address using which a domain name was registered, i.e. if those details are not masked/hidden using a paid service. This is publicly available information. In fact, every bit of information that'll be presented in this post is publicly available if one knows where to look. By the end of this post, we'll see how the owner of Dainik Bharat website possibly has a FIR against him even before Dainik Bharat started. In this specific case, the whois information is available => https://www.whois.com/whois/dainikbharat.org. Similarly, one can go to the whois website and look for information regarding any domain. Let's look at the whois information for DainikBharat.org.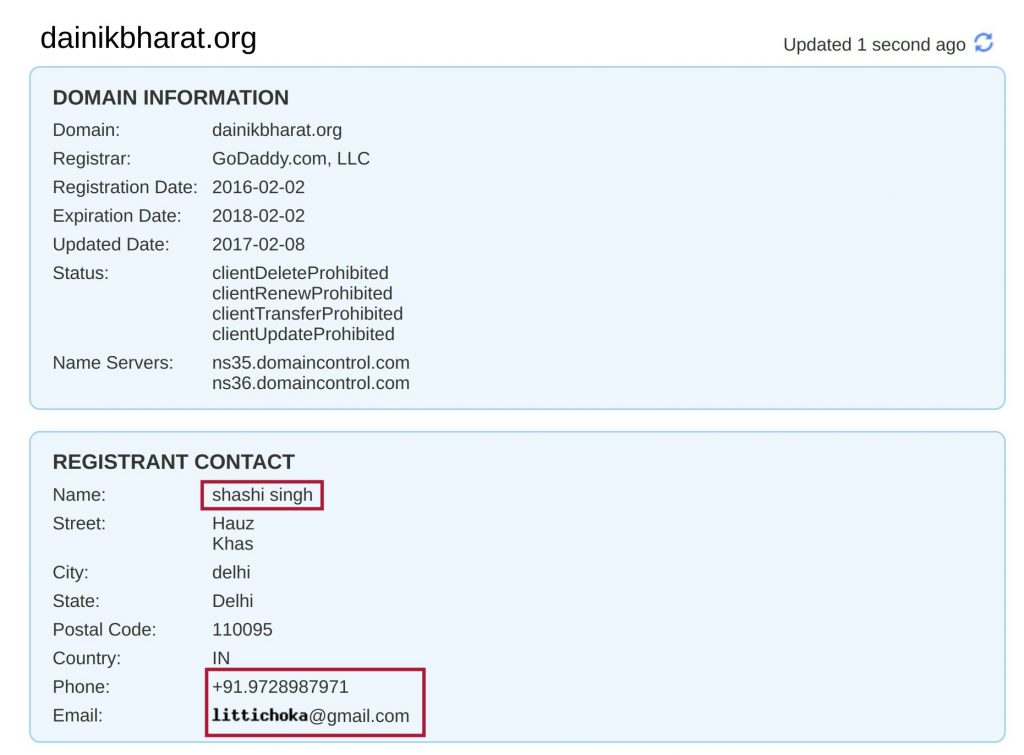 According to this, the name of the person registered is Shashi Singh, the email address is [email protected] and phone number is +91.9728987971 and the domain was registered in February 2016.
I also typically use a service called Wayback Machine which takes snapshots of websites at various point of time in the past. I use it to see what the initial version of a website looks like. This is what DainikBharat.org looked like in February 2016. It is the oldest snapshot of DainikBharat available on web.archive.org => http://web.archive.org/web/20160207052035/dainikbharat.org. If you scroll down the archived version of the website, this is what you get.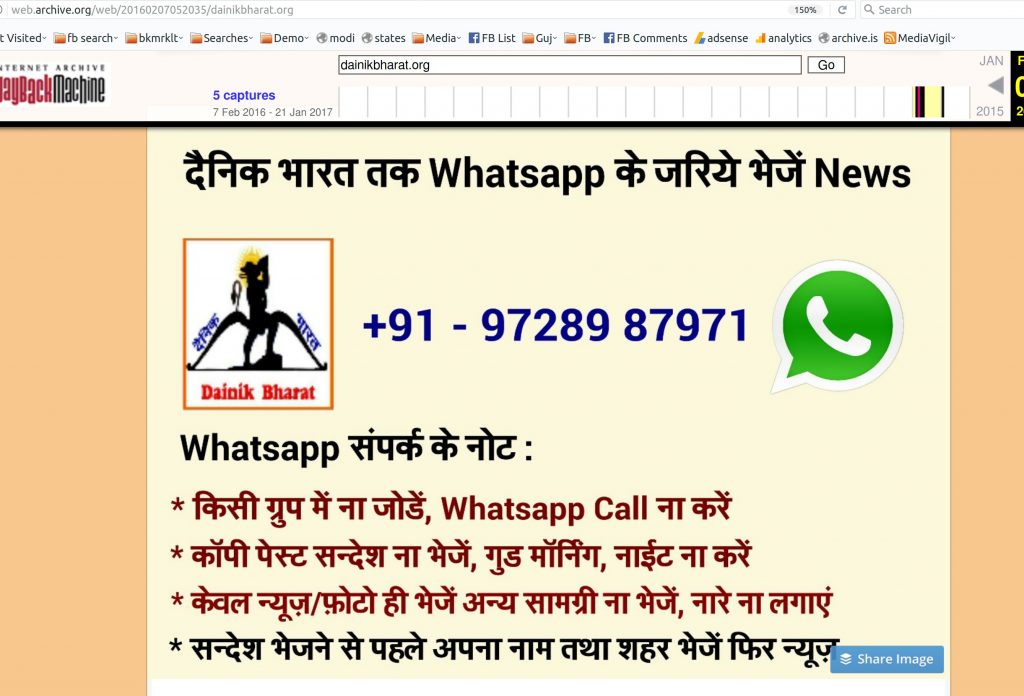 So, the owners of Dainik Bharat had advertised a WhatsApp number on the initial version of their website, which matches the phone number that they gave during domain registration. While the name Shashi Singh is very common and [email protected] doesn't seem like an email address that'll be used for official correspondence, the phone number "9728987971" is a unique piece of information that we can further delve into. If we look up this number on truecaller, nothing concrete comes out. It shows that the name is "Vicky Vicky" which doesn't sound like a real name. So we google the number and this is what we can see, the number has been mentioned on the Dainik Bharat Facebook page at least a couple of times.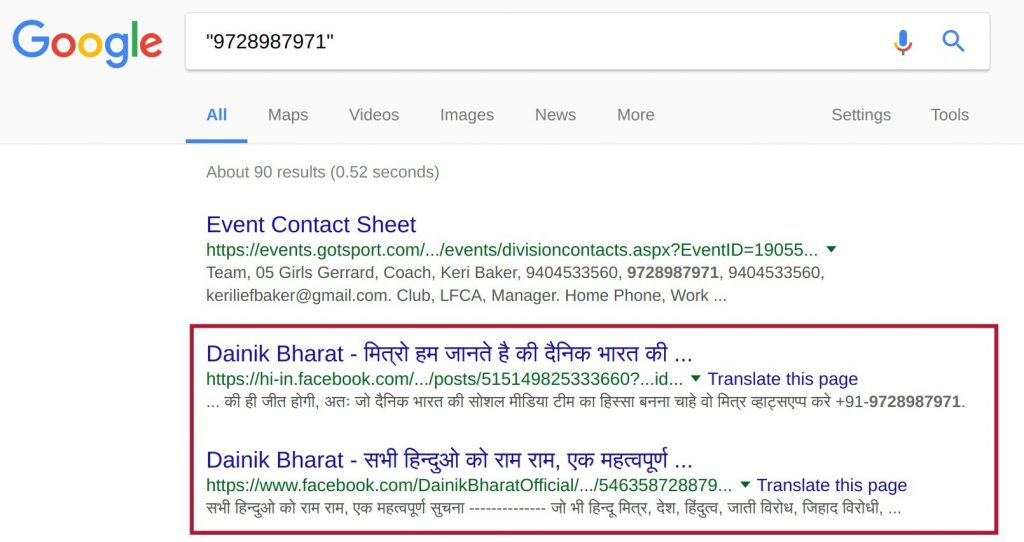 We open one of the posts that is mentioned in the Google Search results.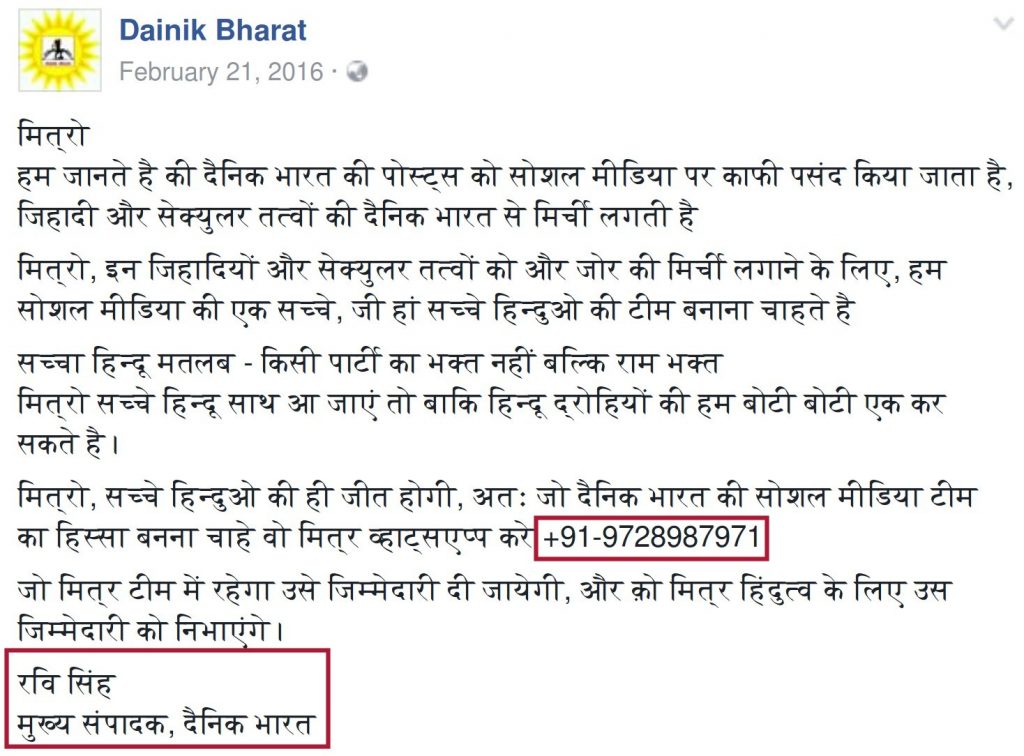 This post again mentions the same WhatsApp number as seen earlier and in addition, states that Ravi Singh is the Chief Editor of Dainik Bharat. We next google '"ravi singh" dainik bharat'.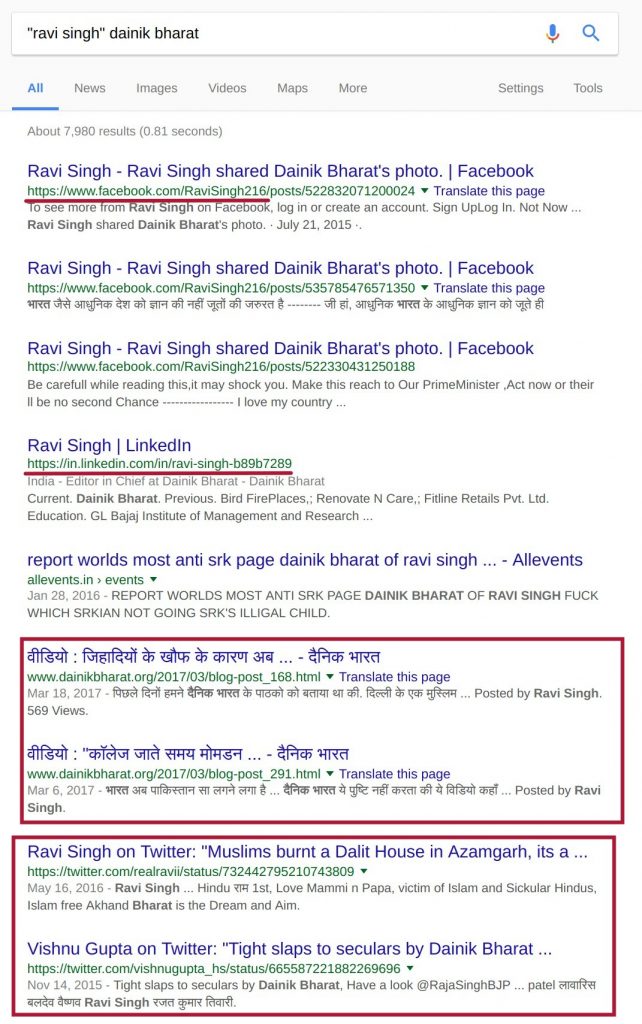 This search throws up a Facebook page (https://www.facebook.com/RaviSingh216), a LinkedIn Account, couple of mentions of "Ravi Singh" in the Dainik Bharat website itself and couple more Twitter links. We will use each one of those to garner more information about Ravi Singh. Lets start with the LinkedIn Account => https://www.linkedin.com/in/ravi-singh-b89b7289/.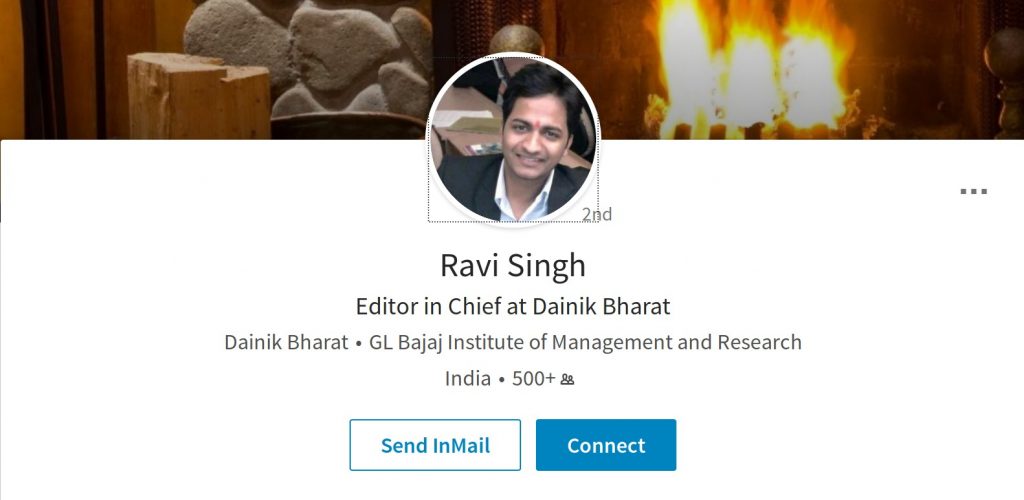 Now we have a face to the name. Ravi Singh in his LinkedIn profile has mentioned that he's the Editor in Chief of Dainik Bharat. But who is Ravi Singh and who are his associates? To find out more, we'll look at the Facebook Page that we saw in the Google Search Results above (https://www.facebook.com/RaviSingh216). Unfortunately, this Facebook page is deleted. Thankfully for us, Google caches various elements on the Internet for an undefined period of time and they happened to have cached Ravi Singh's now deleted page => http://bit.ly/2qS45sB. In case Google decides to delete links that have been long dead from its cache, its best to take a backup of the cache itself. For that, we will use a service called "archive.is" which is much like the web.archive.org service we saw earlier. While web.archive.org is an automated website snapshot service, archive.is backs up websites on demand. We have backed up the Google cache of the now deleted Ravi Singh Facebook page here => http://archive.is/IiMpd.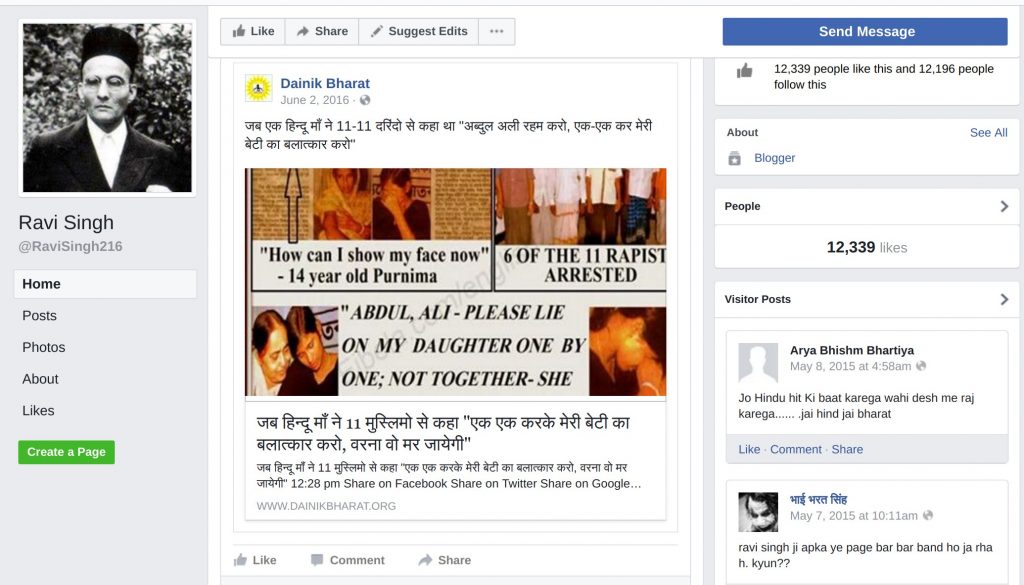 The Google Cache version of Ravi Singh's Facebook page sports a picture of RSS ideologue VD Savarkar. If you scroll down the page, you'll see multiple shares of the DainikBharat website which would indicate that we're probably looking at the same Ravi Singh who claims himself to be the Chief Editor of Dainik Bharat website. If we scroll further down, we will see a certain set of pictures which Ravi Singh has shared from a page called Hindu Sena. In these pictures, they seem to be advertising a T-shirt with the slogan "Being Hindu" which they sold to their supporters.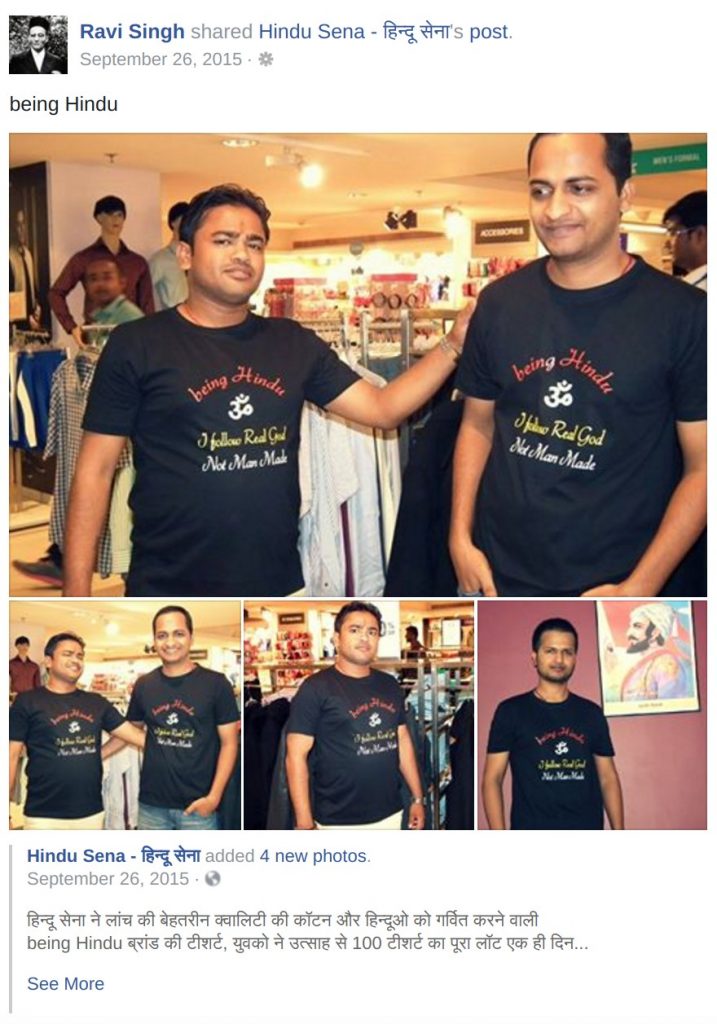 Thankfully, for us, the Hindu Sena Page still exists and hence we can access those pictures here => https://www.facebook.com/HinduSenaOfficial/posts/891274427588221. We downloaded the pictures are they're now available here.
The shorter guy is Vishnu Gupta who calls himself the Founder and National President of Hindu Sena. He's been charged with multiple acts of physical assaults and vandalism in the past. More recently, he was in news because his group celebrated Donald Trump's Birthday, fed cake to a large poster featuring Donald Trump and did a 'Havan Pujan' praying for Donald Trump's victory a few days later.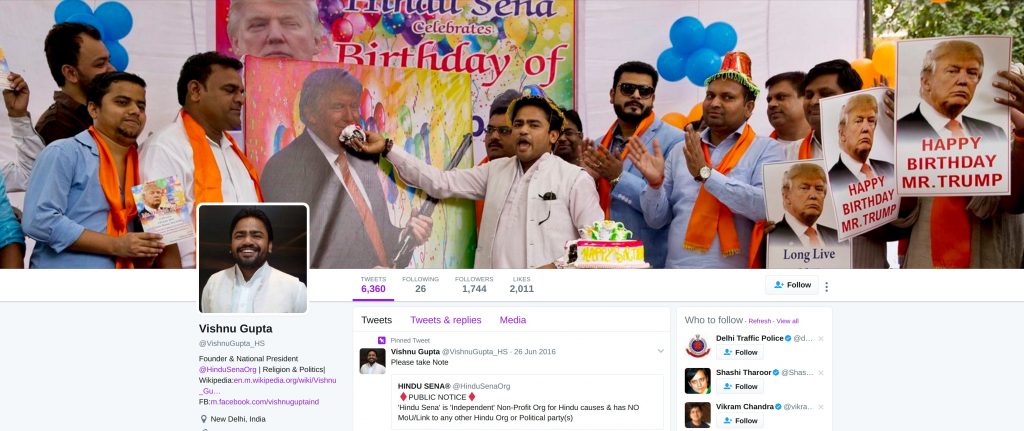 Zooming into the picture will show that the guy Vishnu Gupta is standing with is Ravi Singh himself. Below, we compare Ravi Singh's LinkedIn Picture with a cut-out of the guy standing with Vishnu Gupta. We see that the features are uncannily similar.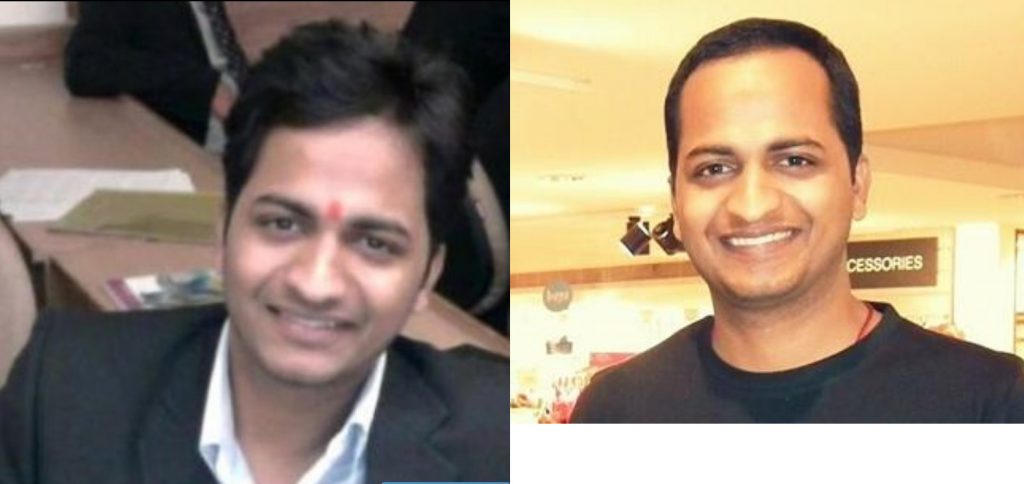 In fact, Ravi Singh was even acknowledged by the 'USAHindus4Trump' Twitter handle.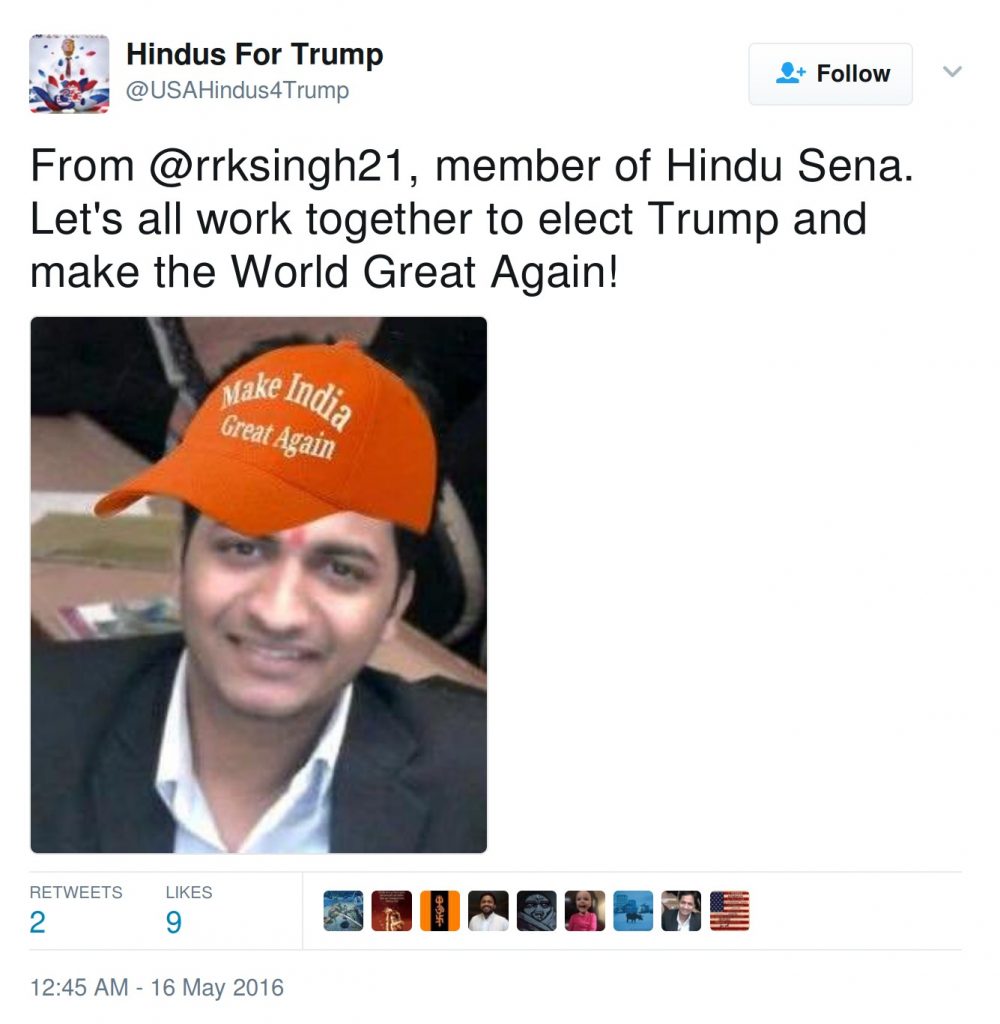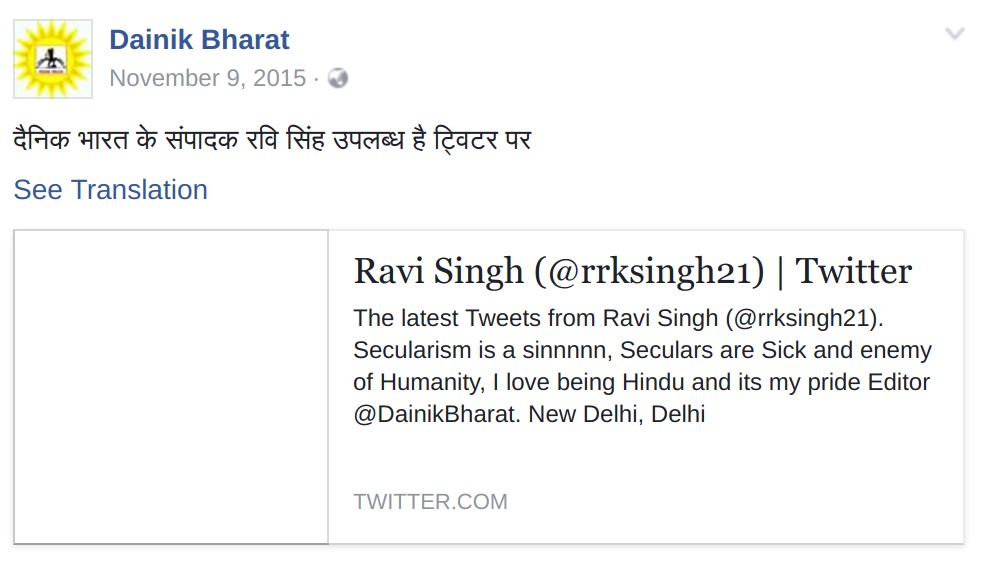 Ravi Singh's Twitter handle has now been renamed from @rrksingh21 to @realravii, and one can see that he's posted videos and images of the prayer for Trump that the Hindu Sena Group had carried out on his Twitter profile.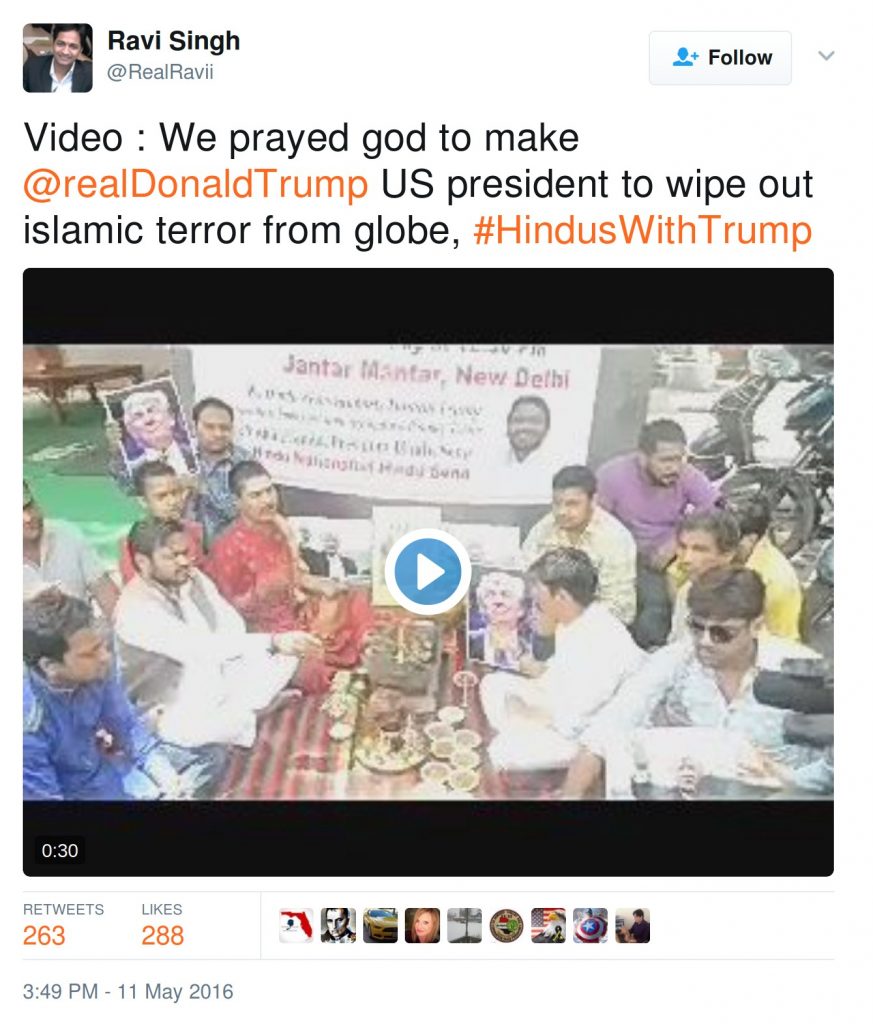 What else can we find about Ravi Singh? According to Ravi Singh's LinkedIn profile, before starting the Dainik Bharat venture, Ravi Singh used to work in a company called 'Renovate n Care' as a Business Development Manager. When we googled '"ravi singh" renovate n care', Google threw up another phone number 7053161976. Truecaller associates that number with Ravi Singh. Upon Googling 'renovate n care 7053161976', we found Ravi Singh's email address => [email protected].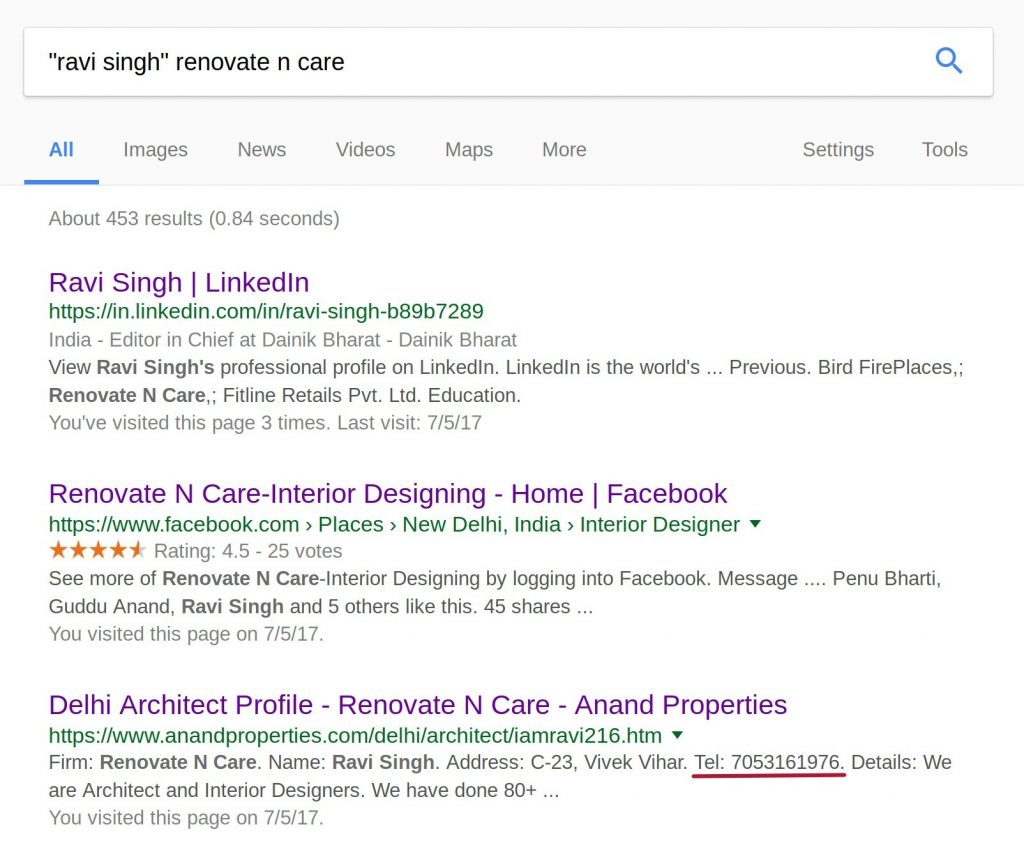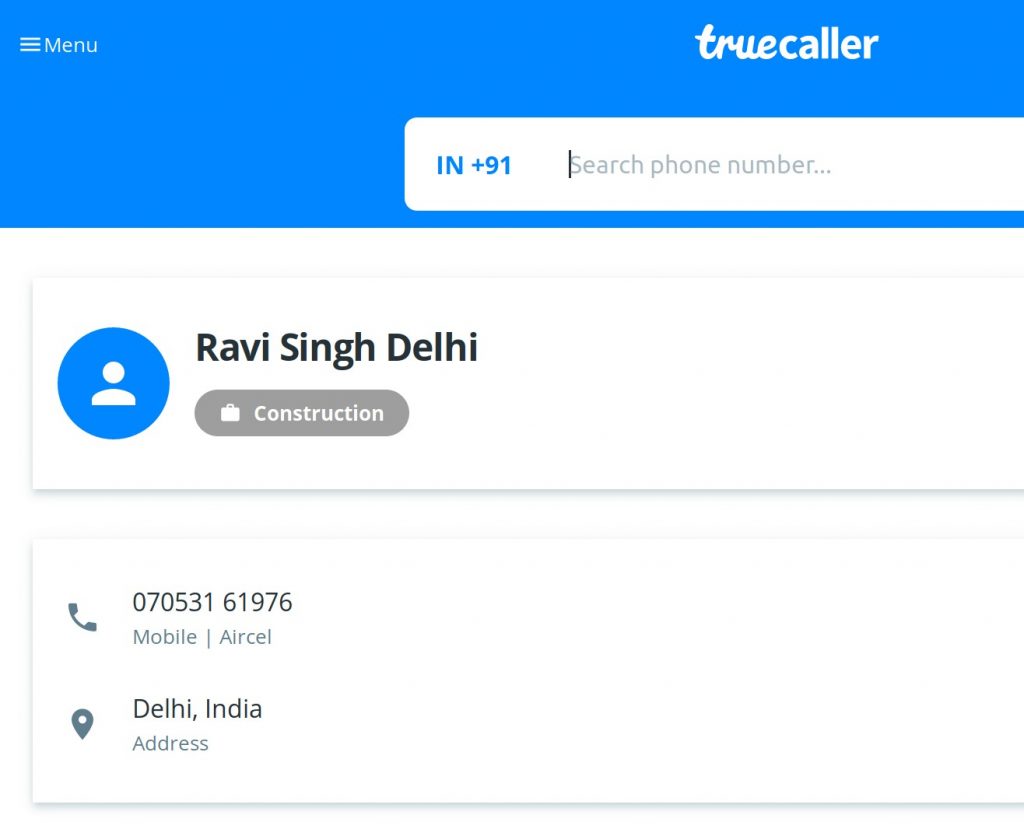 Typically, people tend to reuse usernames across multiple social media accounts. So, we googled for "iamravi216" which is the username Ravi Singh has for Gmail. This is what we found. Apparently, a Twitter account @iamravi216 had put out a fake picture of KV (Kumar Vishwas) with a girl and that a FIR has been failed against this person. That person's name is also Ravi Singh and the name was mentioned in the FIR.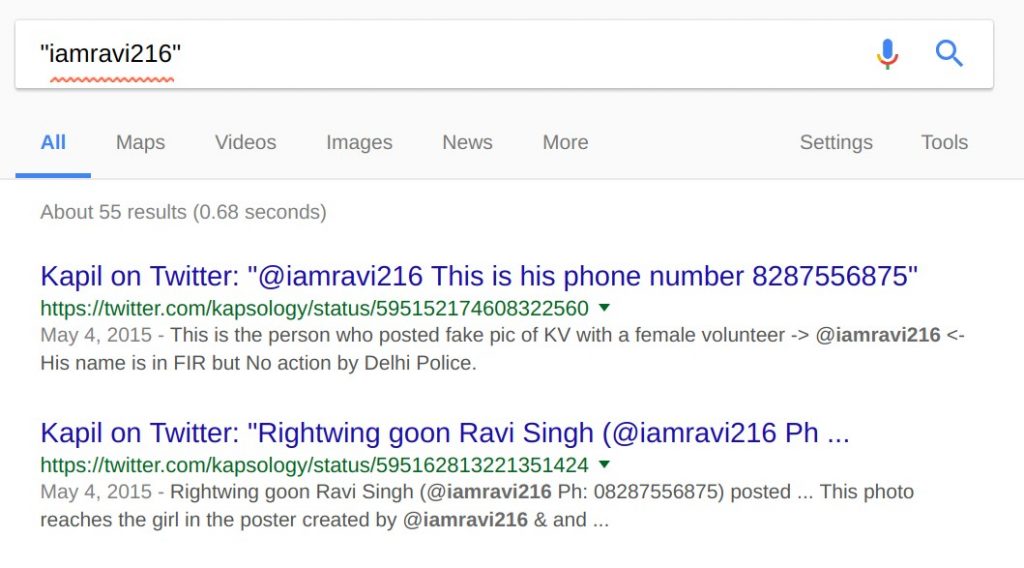 Here are the screenshots of the relevant tweets.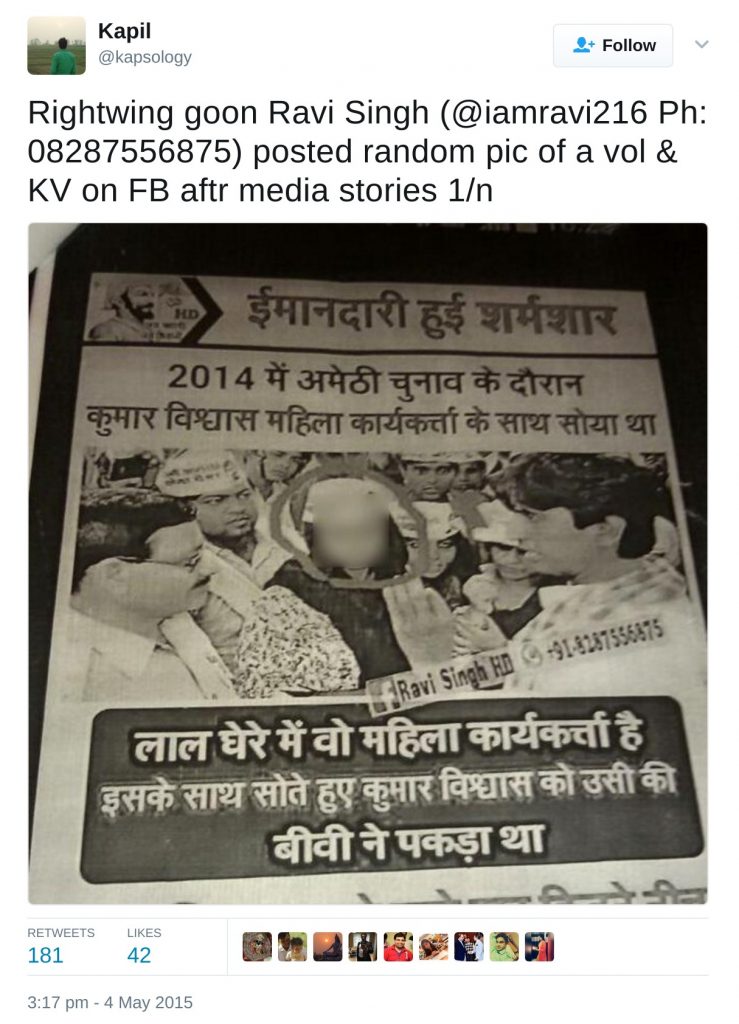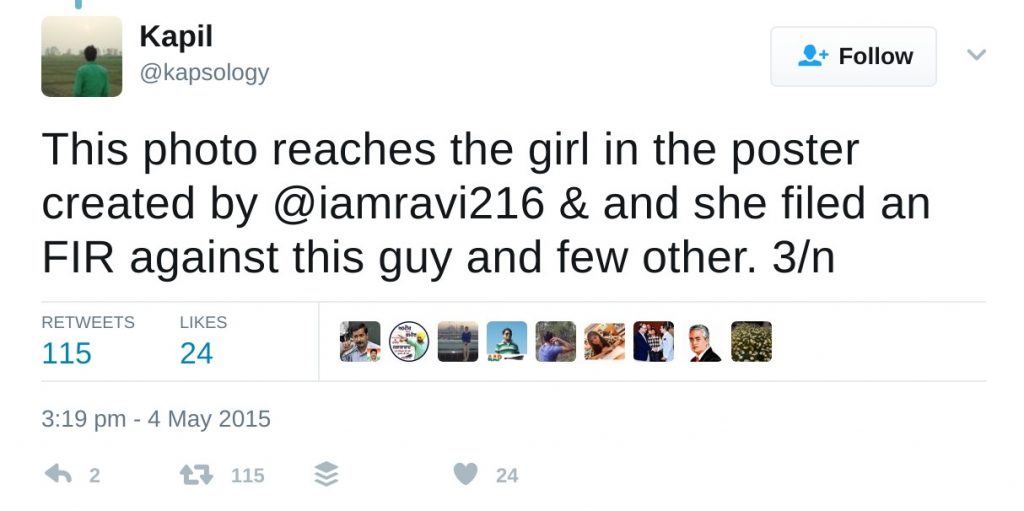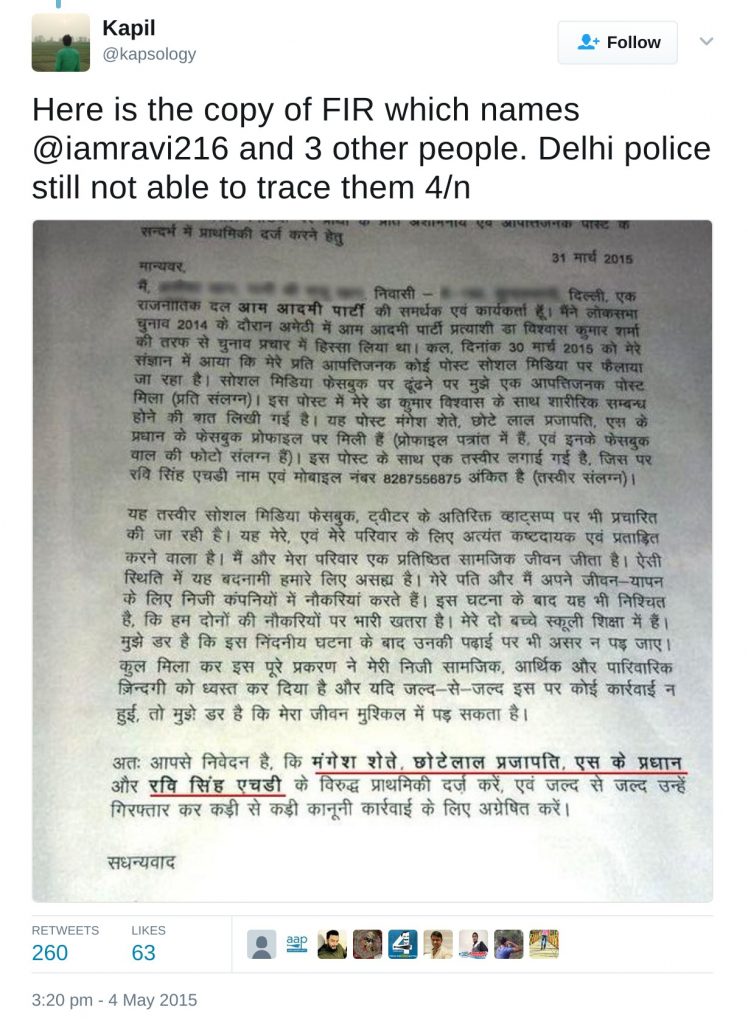 In the second tweet above, it is mentioned that Ravi Singh originally posted this picture on his Facebook page "facebook.com/ravisingh216" which we earlier saw that it was the Facebook Page of Dainik Bharat editor Ravi Singh. If Delhi Police had the inclination, they could have found the guy back in 2015 thus preventing him from making the Fake News Site Dainik Bharat which he registered in 2016. However, due to lack of any inclination on the part of Delhi Police, now we have a full fleged fake news website which is in the top 4000 websites in India according to Alexa Rankings. To put things in perspective, a rather popular media watchdog website NewsLaundry has an Alexa Ranking of 6131 which is close to 2500 notches below that of DainikBharat. Alt News in a short span of 3 months has achieved a rank of 7971 in India.

We've found out who Ravi Singh is. His two phone numbers are 9728987971 and 7053161976, his email address is [email protected], his present Twitter account is @realravii and that he possibly has an FIR against him for distributing a fake pic of an AAP volunteer with Kumar Vishwas and stating that they had an affair. There is also the FIR that JNU students filed against DainikBharat.org for circulating an old picture of election celebrations and stating that they were celebrating the Sukma Naxal attack on CRPF Jawans. In the very first set of Google Results, we saw Ravi Singh's name come up in Dainik Bharat's website. When we followed that lead, we found that the present Facebook account that Ravi Singh is using is => https://www.facebook.com/profile.php?id=100008537796839.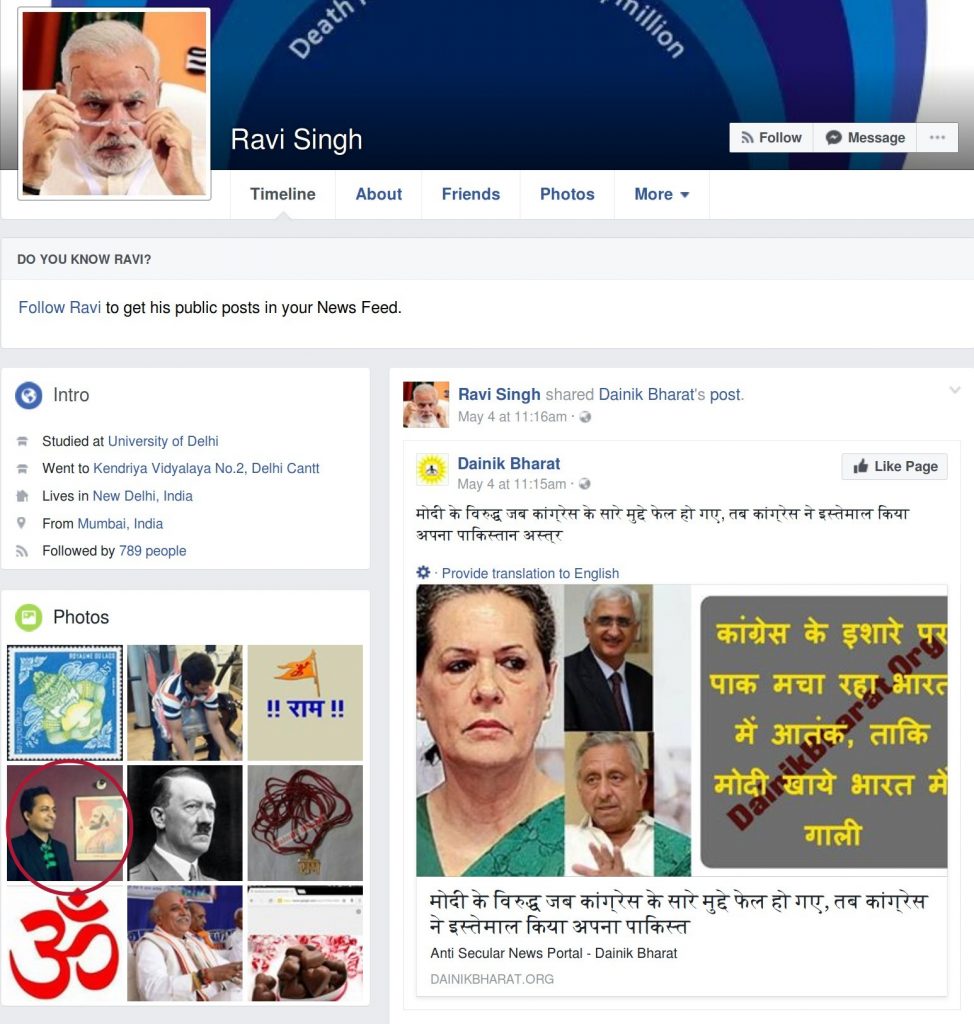 We also might have found 'Shashi Singh' in whose name the domain has originally been registered. Shashi Singh could be the third guy posing with the "Being Hindu" t-shirt along with Vishnu Gupta and Ravi Singh. We found out his Twitter profile because Vishnu Gupta would often mention/tag Shashi Singh in his tweets. Shashi Singh's Twitter handle is @solicitorShashi.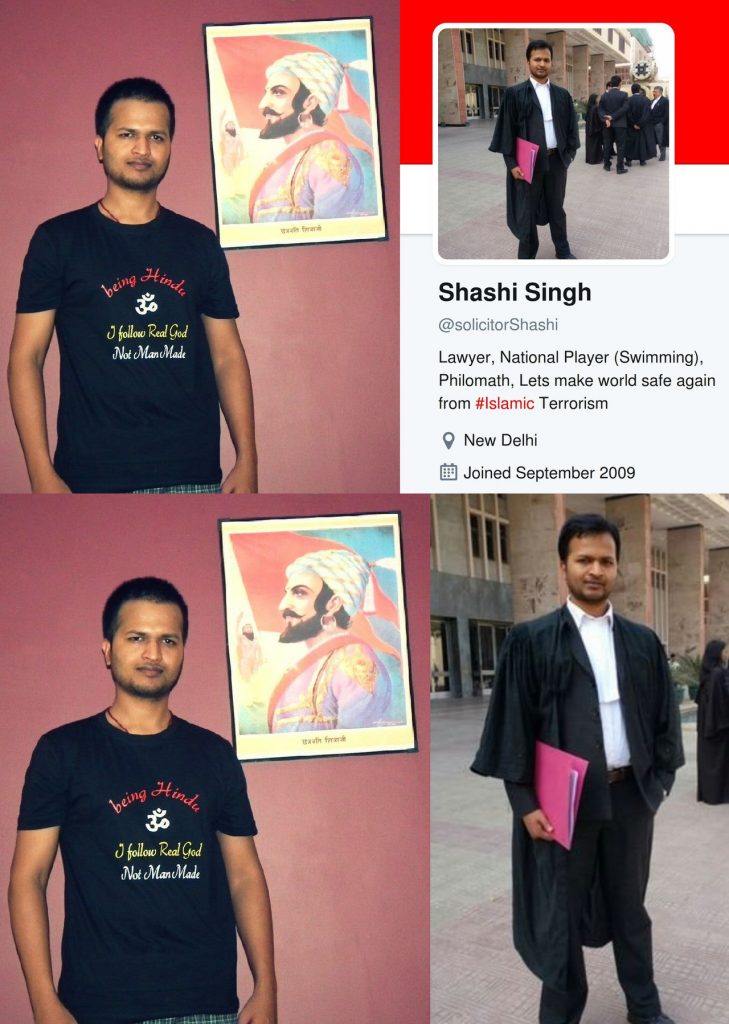 So, we have both Shashi Singh whose name the DainikBharat.org domain is probably registered in and Ravi Singh who is the Editor-in-Chief of the website. Hopefully, next time an FIR is filed against them, Delhi Police will have enough information to proceed with the case. Or does Delhi Police already have this information, all of which is available publicly as evident from this post, and doesn't want to proceed against them for political reasons? We'll find out sooner than later. Considering the amount of fake news DainikBharat.org generates, another police complaint must be around the corner.
We'll go for a bigger fish in our next story in this series
Donate to Alt News!
Independent journalism that speaks truth to power and is free of corporate and political control is possible only when people start contributing towards the same. Please consider donating towards this endeavour to fight fake news and misinformation.