The stated objective of the Ministry of Home Affairs (MHA) or Home Ministry is to deal with internal security of the country. A major part of that involves dealing with police, law, order and rehabilitation. Delhi Police comes directly under the purview of MHA. On 22nd February 2017, male cops in Delhi Police were caught on tape grabbing, pushing and punching female students, again and again, during a students' clash in Ramjas college, Delhi.
Many alleged that Delhi Police was partisan in their approach and favoured the ABVP members and did not do enough to stop the rampage by ABVP members at Ramjas college. Many ABVP members were caught on tape assaulting other students, however, no action has been taken against them. Here's a video of one ABVP activist Diksha Verma assaulting AISA National President Sucheta De without any apparent provocation.
However, when Kiren Rijiju was questioned regarding the misconduct of Delhi Police and lack of action against the marauding ABVP students, as a Minister of State for Home Affairs, he chose to lecture the students on freedom of expression (FOE) and how "How anti-Indian slogans will not be allowed". Not a word regarding the role of Delhi Police.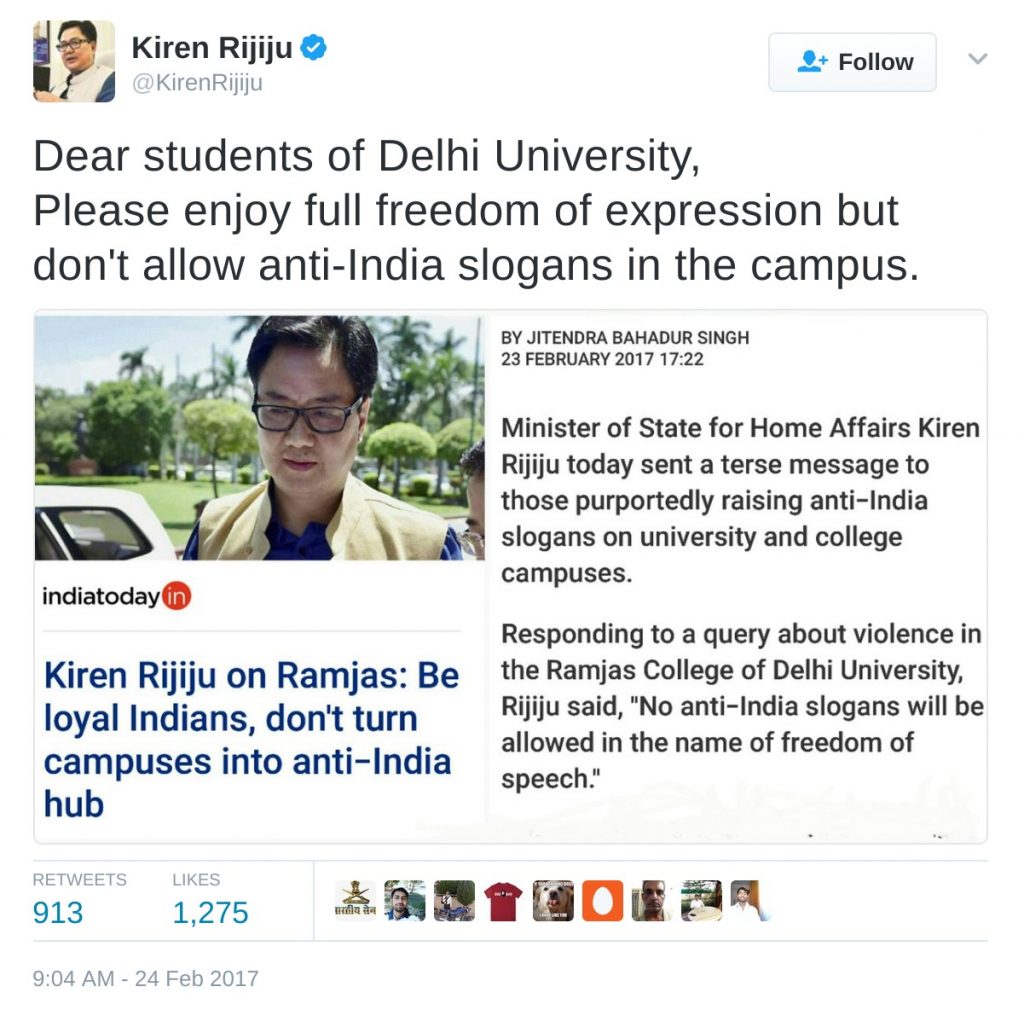 In the aftermath of the student clashes, one Delhi University student Gurmehar Kaur who is the daughter of a Kargyl martyr spoke out against ABVP. In response, she was trolled, abused and was given rape threats. That was followed by a single screenshot of a 9 month old video of hers appealing for peace between India and Pakistan being taken out of context and she had to face another barrage of trolling, this time ably supported by celebs such as Virender Sehwag and Randeep Hooda. Couple of BJP MPs also stepped in with Pratap Simha comparing Gurmehar with Dawood and Vijay Goel egging on Sehwag and Hooda (Goel deleted his tweet later).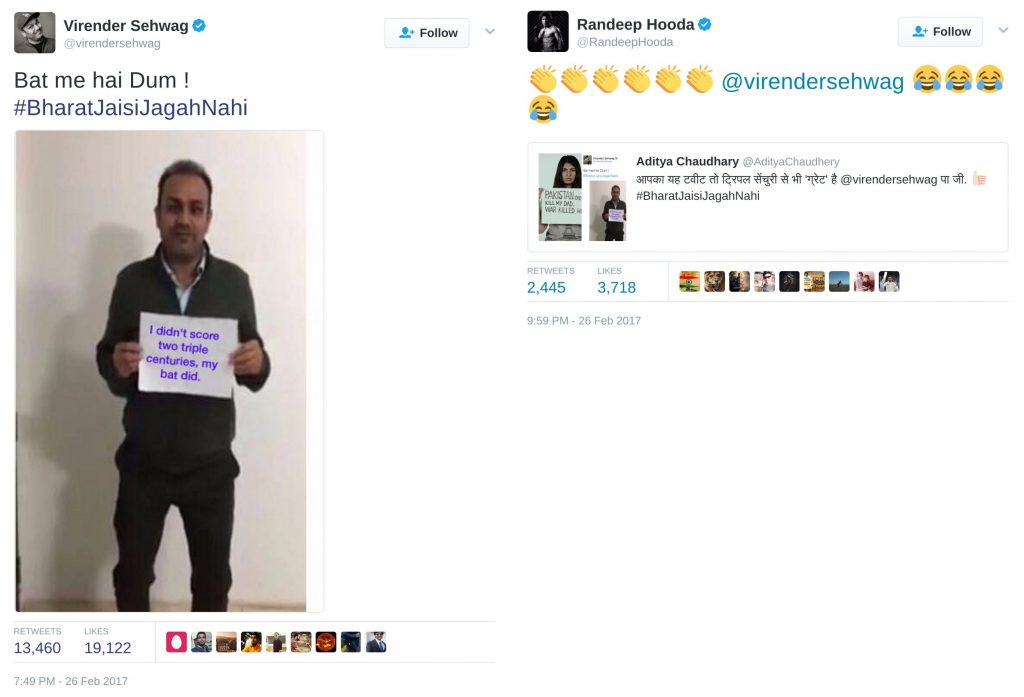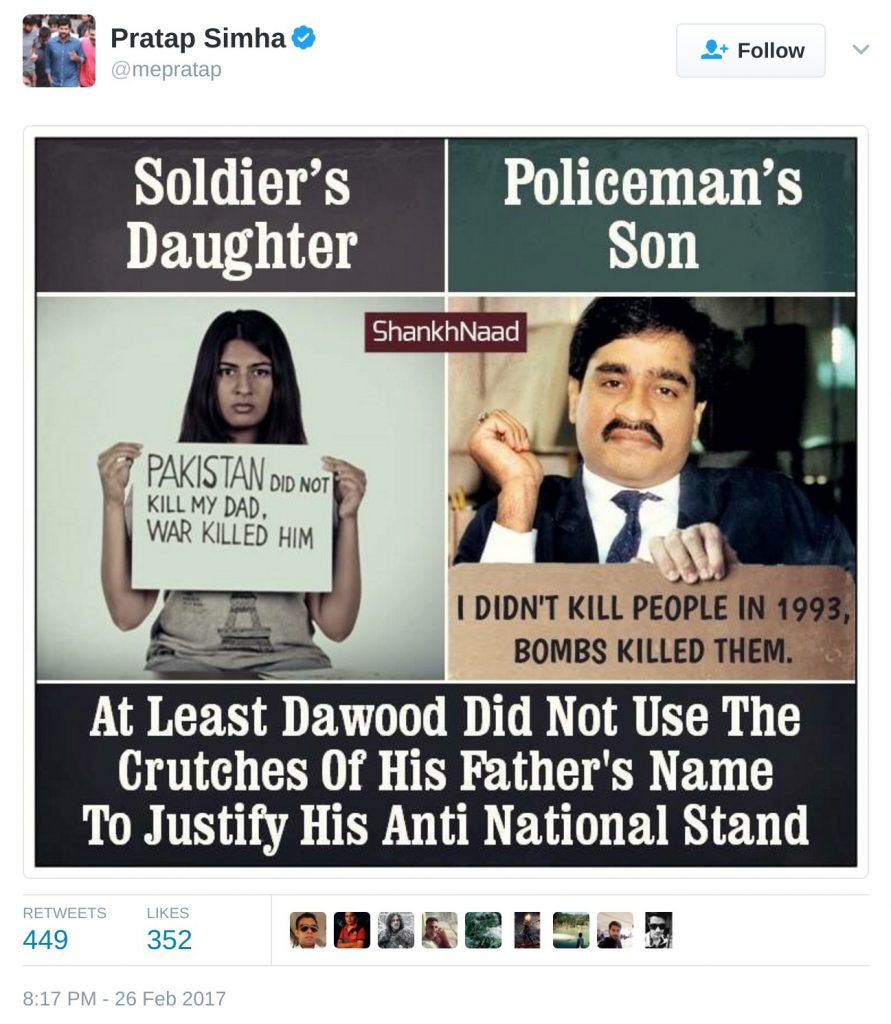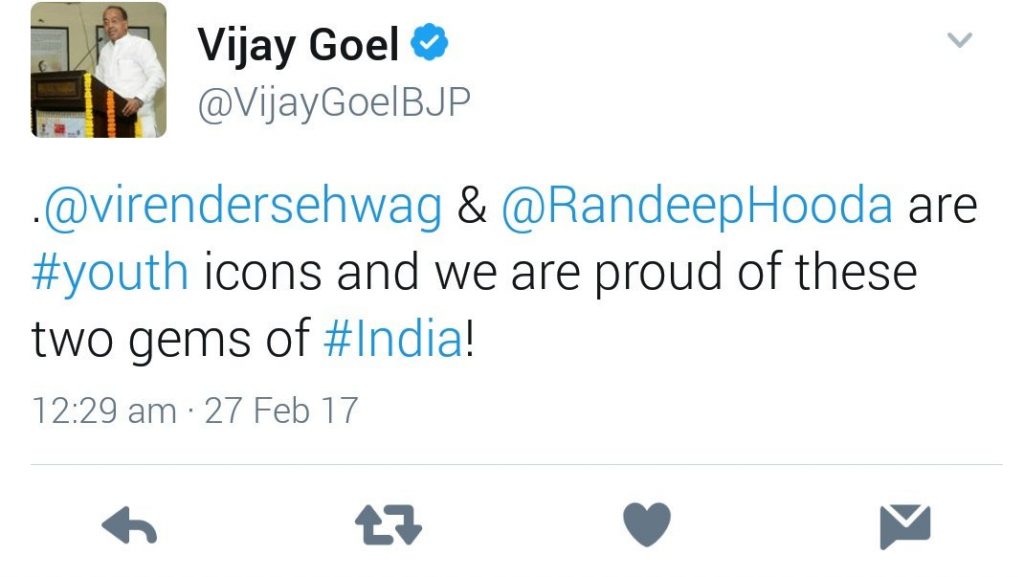 This was in addition to entire BJP IT cell burning the midnight oil trolling a 20 year old student for having an opinion of her own. After Gurmehar was trolled and abused endlessly, Kiren Rijuju in his morning tweet opined that it was Gurmehar whose mind was 'polluted' and as a Minister of State for Home Affairs again had nothing to say about the way she was abused on social media, nothing about how women have to face such predatory behaviour regularly on social media. He also talked about how a strong Army force prevents a war and that India never attacked anyone but a weak India was always attacked. When Barkha Dutt questioned him as to how is this a debate regarding the valour of our forces, he tweeted, "Everyone has right of views but she said Pakistan didn't kill our brave martyr & India should shun war. India never perpetrated violence!".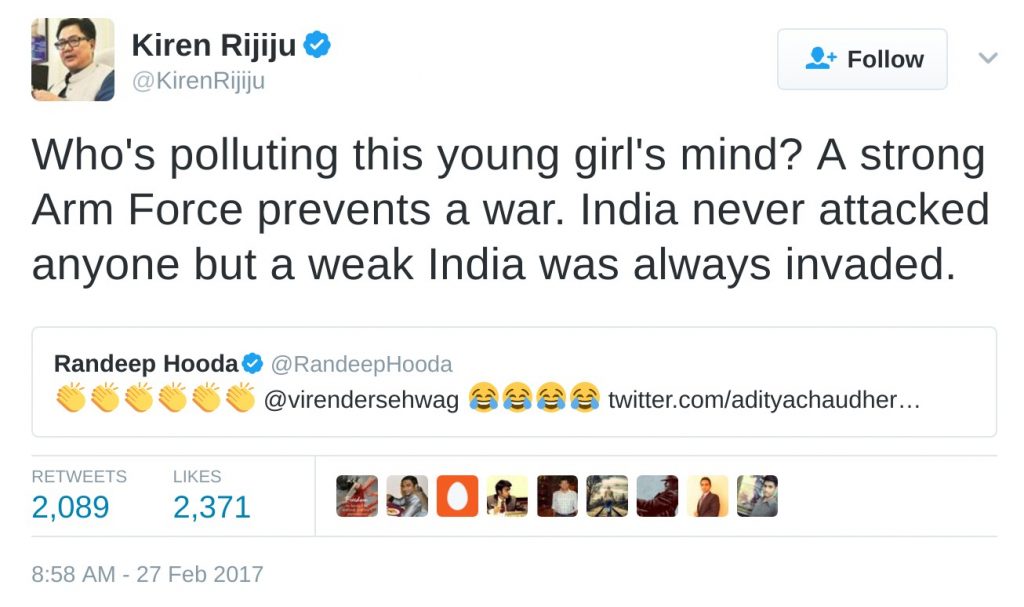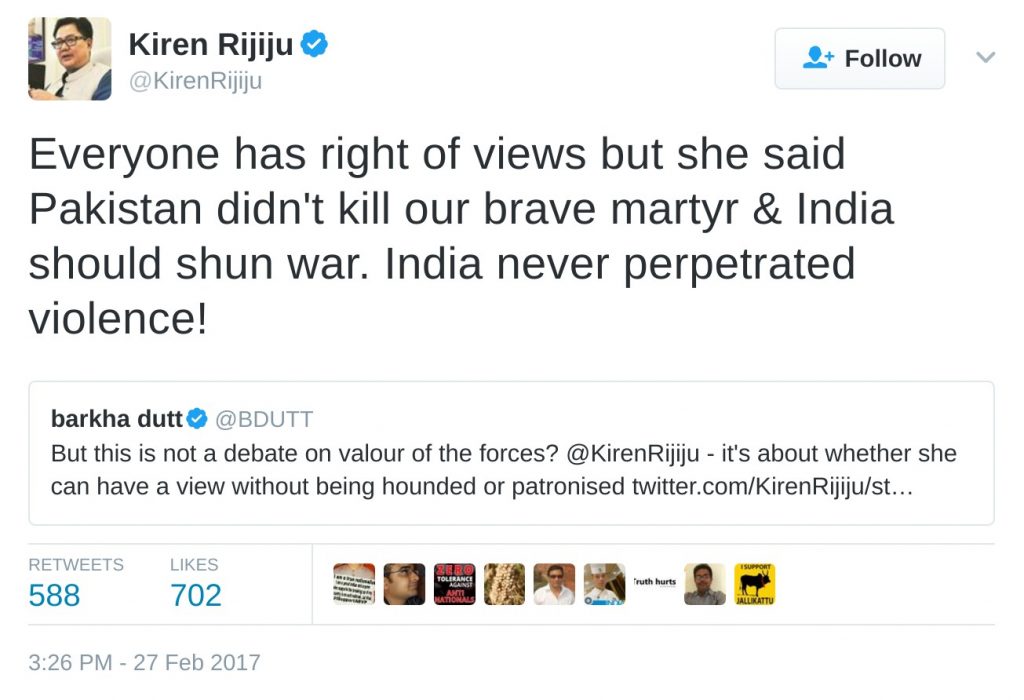 At this point of time, it would be appropriate to present the entire transcript of Gulmehar's video to show how the esteemed Minister has no clue about what this 20 year old's message was and is basically faffing about in thin air. As can be seen from the below transcript, Gulmehar's message was a genuine appeal for the Governments of two countries to find ways to make peace.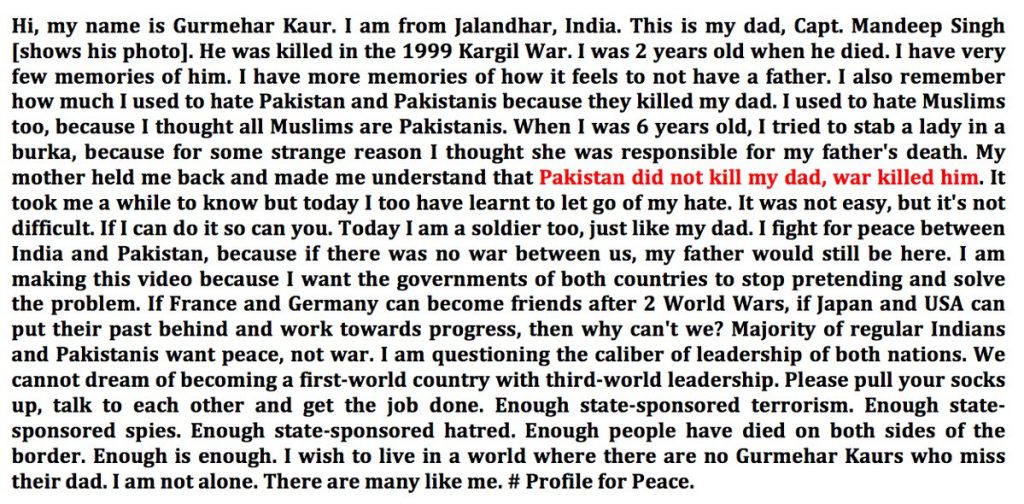 In fact, Kiren Rijiju's claim that "She said Pakistan didn't kill our brave martyr & India should shun war. India never perpetrated violence!" is a result of fixating on exactly 9 words taken out of context from her 347 word message. As we mentioned in an earlier post, those words were actually the words of her mother trying to tell her angry-conflicted daughter that it is the war that killed her husband, and not Pakistan. The little girl had just tried to attack a burqa-clad woman thinking that it was the woman who was responsible for her father's death and the mother was trying to hold her daughter back and trying to calm her down. The mother was probably trying to express is that it is the war and the politics of wars that consumes people. The nuance of the mother's statement clearly escaped everybody including Kiren Rijiju.
While Kiren Rijiju could possibly be excused for making some uninformed comments influenced by the propaganda war by some of his own colleagues, how does one not notice that as a Minister of State of Home Affairs, he always seems eager to skip over issues of law and order, whether it'd be the conduct of Delhi Police in Ramjas College or the conduct of trolls on social media giving out rape threats, and comments about everything else under the sky but the subject of his ministry. Kiren Rijiju would do well to recall that he isn't the Minister of Troll Affairs, but Home Affairs.
Donate to Alt News!
Independent journalism that speaks truth to power and is free of corporate and political control is possible only when people start contributing towards the same. Please consider donating towards this endeavour to fight fake news and misinformation.