मरीज़ महिला के साथ बलात्कार करने पर एक डॉक्टर का लाइसेंस रद्द हो गया। अब वह दुनिया की सबसे बड़ी पार्टी का राष्ट्रीय प्रवक्ता है #पात्रा (A doctor's license was revoked after he raped a woman. Today, he is the national spokesperson of the biggest party in the world. #Patra- translated). This grave allegation has been leveled on Dr. Sambit Patra, who is the national spokesperson of the BJP and a well known face on TV news channels.
A Facebook page I Support Ravish Kumar posted this message on June 26, 2018. The page is followed by more than one million users. At the time of writing, this message accompanied by a sketch of Dr. Patra has been shared more than 12,000 times. The message has also been shared by individual users and on numerous groups on the platform.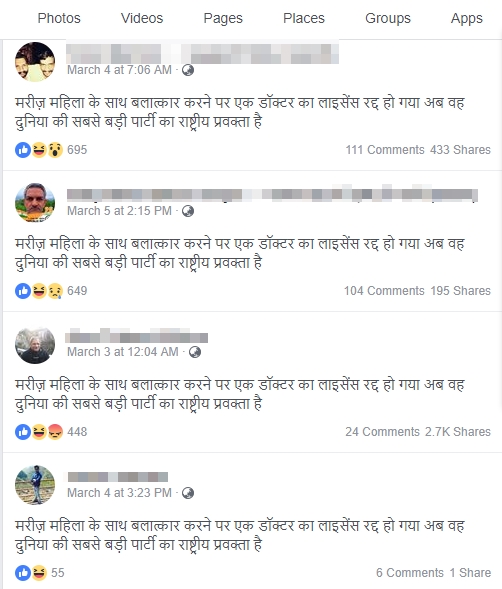 The message has circulated widely on Twitter as well with a number of users posting it.
महिला मरीज के साथ बलात्कार करने के जुर्म में जिस डॉक्टर का लाइसेंस रद्द हुआ, आज वही डॉक्टर विश्व की सबसे बड़ी पार्टी
भाजपा का प्रवक्ता है !

नाम – डॉक्टर संबित पात्रा

😡😡😡

सिर्फ याद दिला रहा हूँ !!
क्यों की समझदार को इशारा काफी होता है !

— Prof.R.S. Jadhav (@jadhav_prof) March 8, 2018
Dr. Patra rubbishes charge
Alt News searched English and Hindi publications for news reports in this regard, but could not find anything related to this allegation. Alt News then reached out to Dr. Patra who termed the allegation absurd. "I am contemplating defamation against verified handles and websites which are spreading such kind of unfounded, uncouth and untruth information", he said.
The Facebook page I Support Ravish Kumar mostly posts anti-BJP content, and has been caught spreading misinformation in the past as well. Earlier this month, it posted a photograph of an elderly person assaulted by the police in public, claiming it was an incident from Rajasthan wherein a farmer was beaten up after he failed to repay a loan. The image was actually from Gujarat and the person being beaten up was accused of raping his daughter-in-law.
Social media is no stranger to misinformation of various kinds, but an allegation of rape is not only disturbing and serious but also libellous. The fact that it was posted by a popular page and shared thousands of times is testimony to the popular tendency of instantly believing information received on social media, especially if it concurs with one's political values, beliefs and biases.
Donate to Alt News!
Independent journalism that speaks truth to power and is free of corporate and political control is possible only when people start contributing towards the same. Please consider donating towards this endeavour to fight fake news and misinformation.