A set of images has been shared widely on social media, which shows a damaged school bus of Sanskriti school in Pune, with a shattered windshield. Those who have shared it have claimed that this is the handiwork of the Congress party which has resorted to vandalism in order to enforce the Bharat bandh it had announced for September 10 to protest the record high in fuel prices.
Among those who have shared these images with the aforementioned claim include Anil Shirole who is a BJP Lok Sabha MP from Pune, who tweeted that school children have been targeted and public property has been damaged.
So called 'Opposition Parties' u have every right to protest but misguiding youth, targeting innocent school children, destroying public property & trying to instill fear in citizens for ur own cheap political gains is really deplorable. Shows Pathetic desperation of ur leaders pic.twitter.com/ioYcSWewfg

— Anil Shirole (@AnilShiroleBJP) September 10, 2018
Rishi Bagree,who is a vocal supporter of Prime Minister Narendra Modi who follows him on Twitter also posted this claim along with the pictures.
Congress Goons targeting innocent school children, destroying public property & trying to instill fear in citizens for cheap political gains is really deplorable #BharatBandh pic.twitter.com/DllTx6hXDu

— Rishi Bagree 🇮🇳 (@rishibagree) September 10, 2018
Another right-wing social media user Sankrant Sanu attempted to communalise the issue by suggesting that the attack had something to do with the name of the school. On Facebook, pages which are supportive of the BJP have posted these pictures claiming that Congress goons are responsible for this vandalism. The post by the page Rohit Sardana Fans Club has been shared over 12,000 times so far. Another page, Modi Nama too uploaded these pictures with the claim, which has been shared over 6500 times.
The photographs of the damaged bus of Sanskriti School were also used by India Today and Republic TV who claimed that it was the result of the Bharat bandh.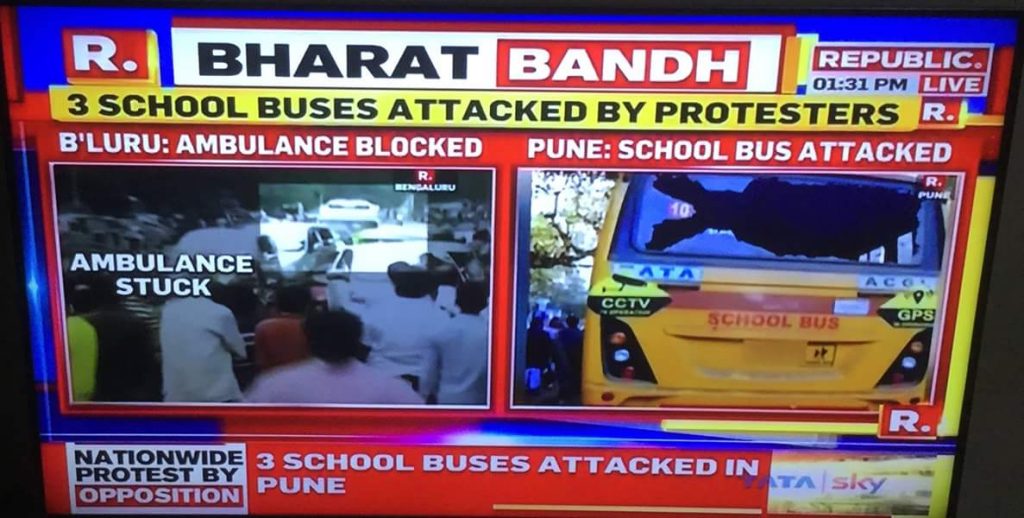 What is the truth?
Two of the images of the damaged bus presented in this article and shared on social media are of the Sanskriti school at Undri in Pune. Alt News spoke to Praneet Mungali who is a trustee of the school. Mungali clarified, "Last night, one of the school buses which was parked in one of our parking spots was vandalised. Because we have a fleet of more than 100 buses, once every couple of months, there are such instances wherein there is attempted robbery or vandalism. This is not the first time that such a thing has happened. However, the bus was sent to pick up students in the morning due to exams. Some of the parents clicked photographs of the damaged bus and subsequently, rumours started spreading on social media."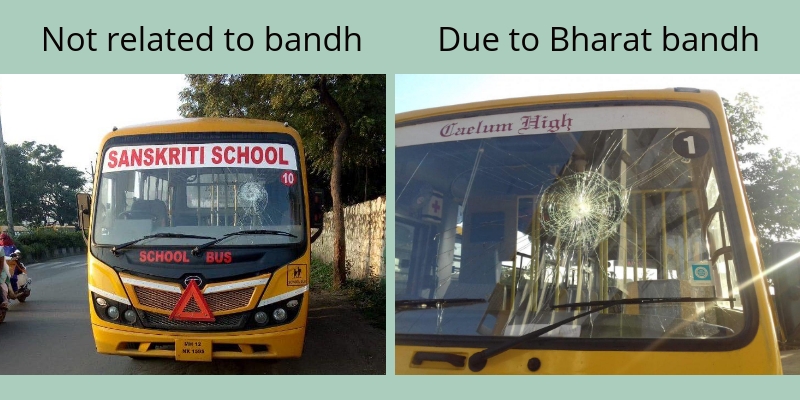 He added that parents of the school children have been intimated regarding the incident, asking them not to panic. "We sent a message to parents on the official school app saying there is nothing to worry, as parents were concerned. We have also informed the police about the incident." A screenshot of the message sent by the school management to parents is posted below.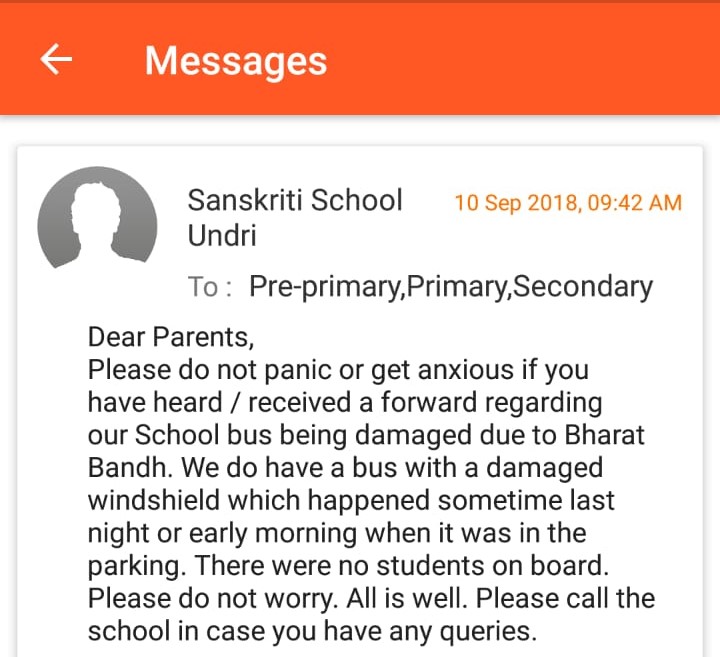 Readers may note that an incident of a school bus being attacked due to Bharat bandh protests did indeed occur, but the school bus which was attacked over Bharat bandh protest belongs to Caelum school in Pune.
While it is true that the school bus of Caelum school in Pune was indeed attacked during Bharat bandh, the photographs of the damaged school bus of Sanskriti school are misleading as they had been vandalised the previous day i.e. on September 9 and had nothing to do with the bandh. However, these images ended up being shared widely on social media and even broadcasted by mainstream media.
Donate to Alt News!
Independent journalism that speaks truth to power and is free of corporate and political control is possible only when people start contributing towards the same. Please consider donating towards this endeavour to fight fake news and misinformation.