A video of a middle-aged man in wedding attire standing alongside two brides in a temple is circulating widely on social media.
Both women claim that the man is their father and he coerced them to marry him by threatening to poison them. The video is shared with the claim that a father is marrying his two daughters. The claim further opines that the family is from the Hindu community, hence this will "not cause any outrage".
Twitter user Mohammad Tanveer shared the video with a caption in Hindi that reads, "A father forcibly married both his daughters. One is 20 and the other daughter is 19… Since they are Hindus, no one will be offended." This clip gained over 60,000 views. (Archived link)
एक बेटी की उम्र 20 तो दूसरी बेटी की उम्र 19 दोनो
बेटियों से एक पिता ने जबरन शादी कर ली खैर ये पिता भी हिंदू हैं बच्ची भी हिन्दू हैं और अब ये पति पत्नी हैं अब किसी की भावनाएं आहत नहीं होंगी pic.twitter.com/fRfqvMT8be

— मोहम्मद तनवीर محمد تنوير (@Iam_TanvirMts) July 12, 2022
Another Twitter user, Anushka Ambedkar, also shared the video. This clip gained over 8,000 views. (Archived link)
एक बेटी की उम्र 20 तो दूसरी बेटी की उम्र 19 दोनो
बेटियों से एक पिता ने जबरन शादी कर ली खैर ये पिता भी हिंदू हैं बच्ची भी हिन्दू हैं और अब ये पति पत्नी हैं अब किसी की भावनाएं आहत नहीं होंगी pic.twitter.com/7d2BVAvsNX

— ANUSHKAअम्बेडकर100K (@Anushka_INC) July 12, 2022
Twitter user Jabir Husain also tweeted the video with the same claim. (Archived link)
एक बेटी की उम्र 20 तो दूसरी बेटी की उम्र 19 दोनो
बेटियों से एक पिता ने जबरन शादी कर ली खैर ये पिता भी हिंदू हैं बच्ची भी हिन्दू हैं और अब ये पति पत्नी हैं अब किसी की भावनाएं आहत नहीं होंगी @zehraavadh pic.twitter.com/ozb6eIWggg

— Jabir Husain (@JabirHu77384802) July 12, 2022
The footage is widely shared on Facebook and Twitter.
Fact-check
We performed a reverse image search on a still from the viral video. This led us to a video uploaded on June 26 by a YouTube channel named SATISH SINGH TV. Since the time of its upload, the video has gained over one lakh views. We also noticed that this channel has uploaded several videos of similar nature.

Alt News reached out to Satish Singh, who runs the YouTube channel. He explained to us that these videos are scripted and are made for the purpose of entertainment. Singh added that he was not the creator of the aforementioned viral video. He merely uploaded it.
He shared a link to a YouTube channel named Neha_Singh. This channel also posts similar content on YouTube. We noticed that the same scripted video had racked up over 8 lakh views on this channel.
Upon close observation, we noticed that the YouTube channel Neha_Singh had posted many such videos shot at the same location. The background (temple) in the viral video can be spotted in several videos (1, 2, 3, 4) by channel. The collage below shows the same.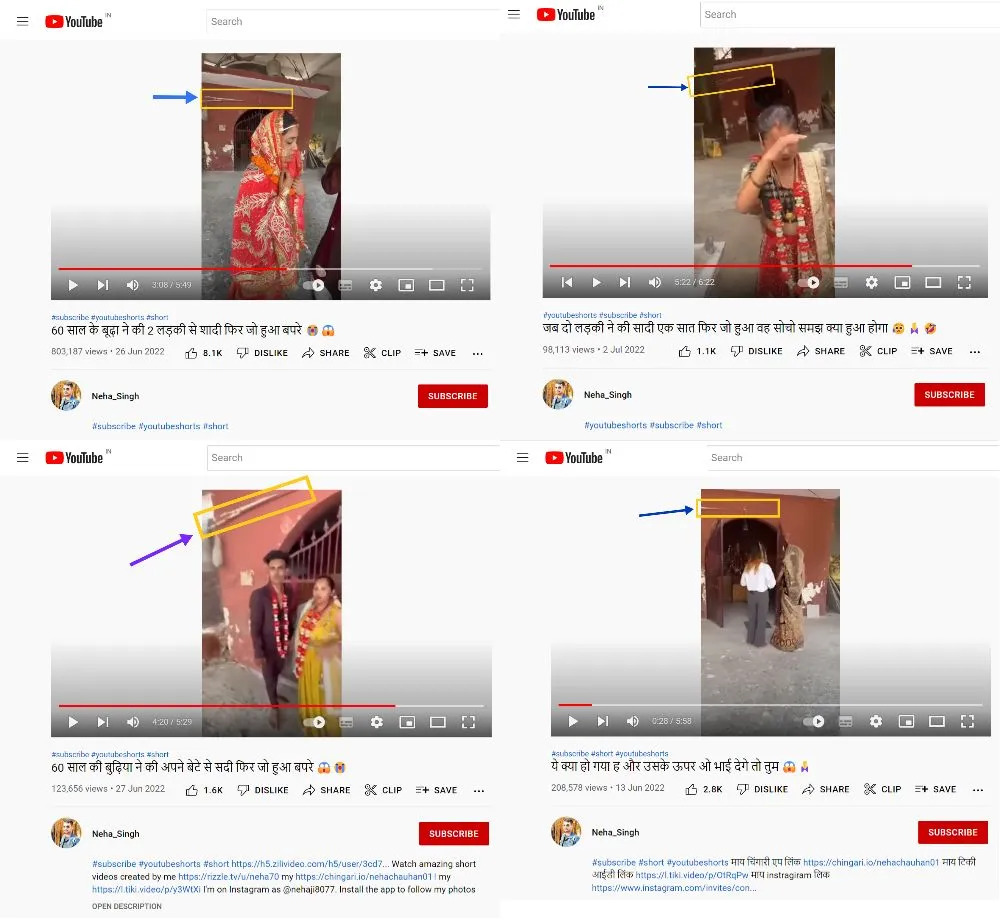 After rummaging the content of this channel, we found a video with a similar title as the viral claim. This video contains a disclaimer that says that it has been created for the purpose of entertainment.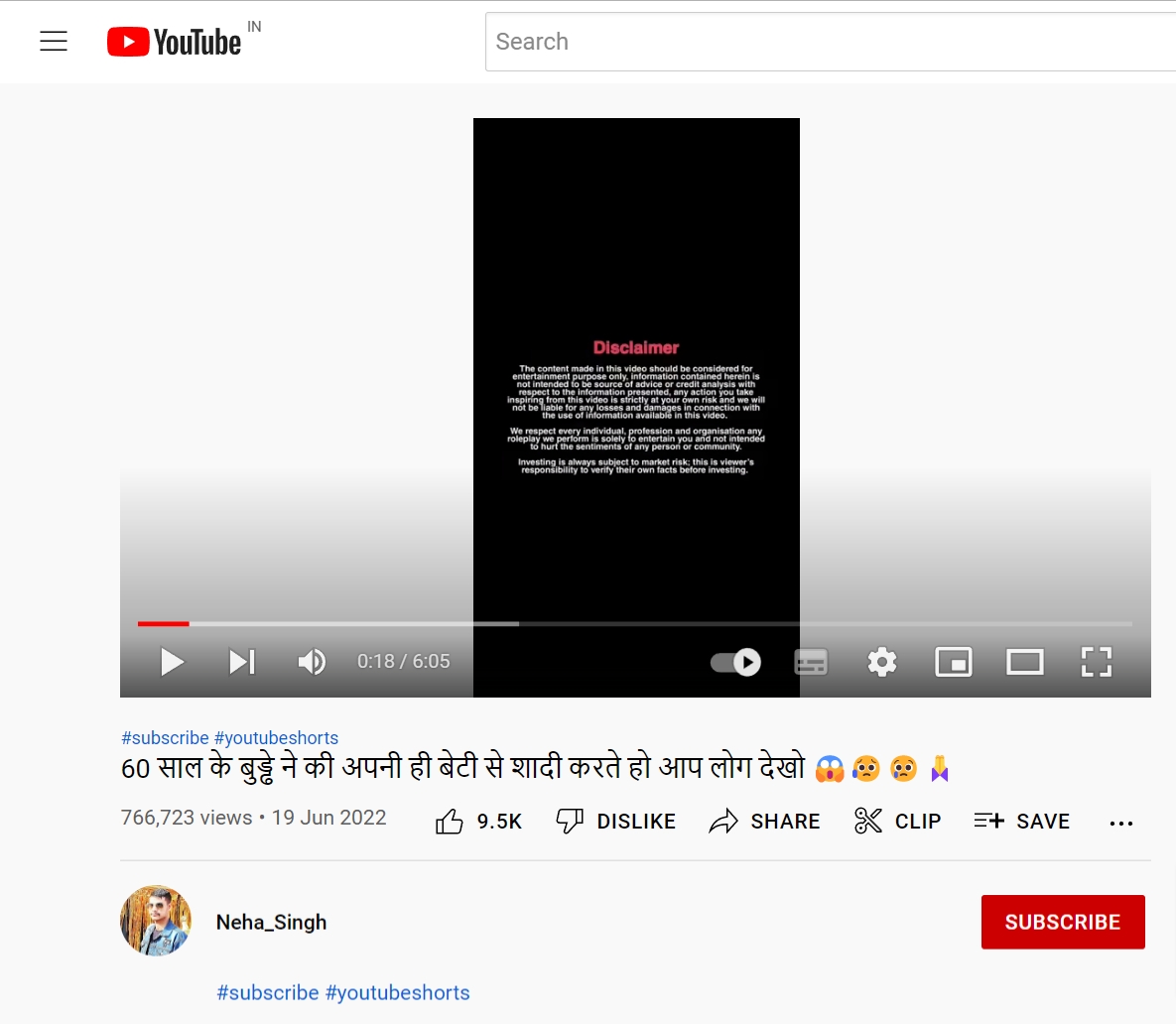 To sum it up, various social media users shared a scripted video, claiming that a Hindu father forcibly married his two daughters in a temple. Alt News has documented several instances where social media users have shared scripted videos believing them to be genuine.

Donate to Alt News!
Independent journalism that speaks truth to power and is free of corporate and political control is possible only when people start contributing towards the same. Please consider donating towards this endeavour to fight fake news and misinformation.