A 2:20 minute-long video clip that resembles CCTV footage is viral on social media. The video shows a tailor misbehaving with a female customer while taking measurements. Displeased by his behaviour, the customer gets into an argument and subsequently leaves the store. The video then shows a burqa-clad woman entering the store. The tailor attempts to do the same with her but she takes off her burqa and reveals that she is a police officer. The tailor panics and starts apologising to the officer. The video ends with the police officer grabbing the tailor and taking him out of the store and closing its shutter.
This video clip is being shared with a Hindi caption that makes an appeal to Hindu women to refrain from visiting Muslim shops. It insinuates that the tailor in the video is a Muslim.
हिन्दू बहिन बेटियों से निवेदन हैं कि, मुस्लिमो की दुकान पर न जाये ये गलत मानसिकता के लोग है, इनकी गन्दी सोच है अतः इनसे कपड़े, मेहंदी और हेयर कटिंग न करवाएं..
🙏 pic.twitter.com/nplOQ6ipUP

— प्रशांत सिंह रघुवंशी® PS Raghuvanshi 🇮🇳 (@prashantica) March 29, 2022
Some users have shared only the last 45 seconds of the video when the second woman comes into the store.
हिन्दू बहिन बेटियों से निवेदन हैं कि मुस्लिमो की दुकान पर न जाये। ये गलत मानसिकता के लोग है इनकी गन्दी सोच हैं।
इनसे कपड़े की सिलाई , मेहदी और हेयर कटिंग न करवाये। pic.twitter.com/R0ZZ5Urofu

— YOGENNDRA SINGH (@YOGENDRASINGH11) March 26, 2022
हिन्दू बहिन बेटियों से निवेदन हैं कि मुस्लिमो की दुकान पर न जाये ये गलत मानसिकता के लोग है इनकी गन्दी सोच हैं,
इनसे कपड़े व मेहदी और हेयर कटिंग न करवाये !!🙏🙏 pic.twitter.com/n2eGLvDMR2

— विनोद कुमार सिंह रैकवार (@vksinghraikwar) March 29, 2022
The video has been widely shared on Facebook.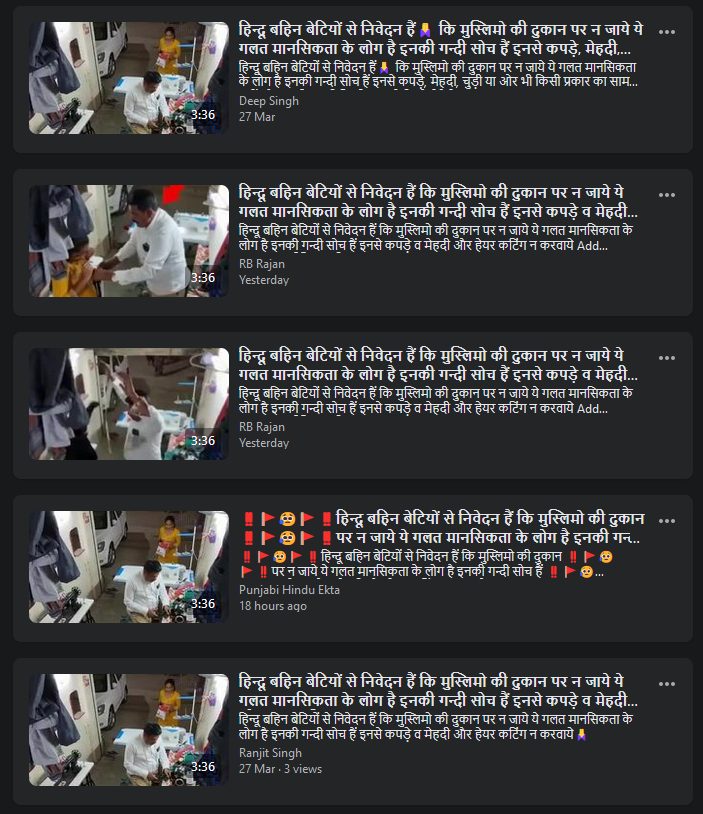 Scripted video
We observed the video carefully and noticed some logical fallacies:
1. At 0:27 seconds, just after the first customer leaves, the tailor makes a gesture to celebrate his 'win'. This looks dramatised.
2. There are multiple cuts in the video to show that some time has passed since the first customer has left. However, in the time-stamp of the CCTV footage, it is clearly visible that the second customer appears merely a few seconds after the first customer has left.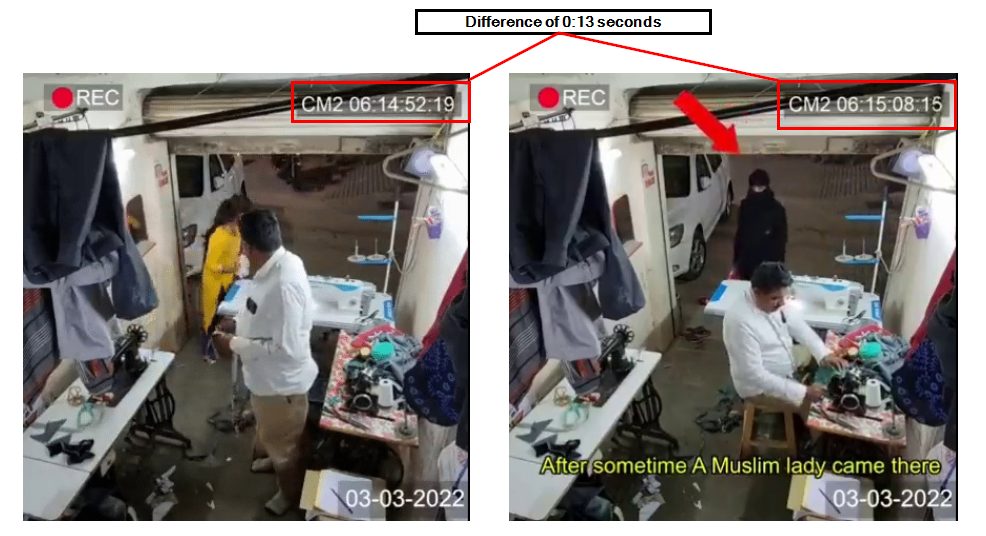 3. The purported police officer working "undercover" has no backup.
4. The video ends with the message "Be brave girls and take a stand against these things".
All these observations point toward the fact that the video could be scripted.
Taking these clues, we performed a keyword search on YouTube and came across the same video uploaded as YouTube shorts. The video was uploaded one day ago.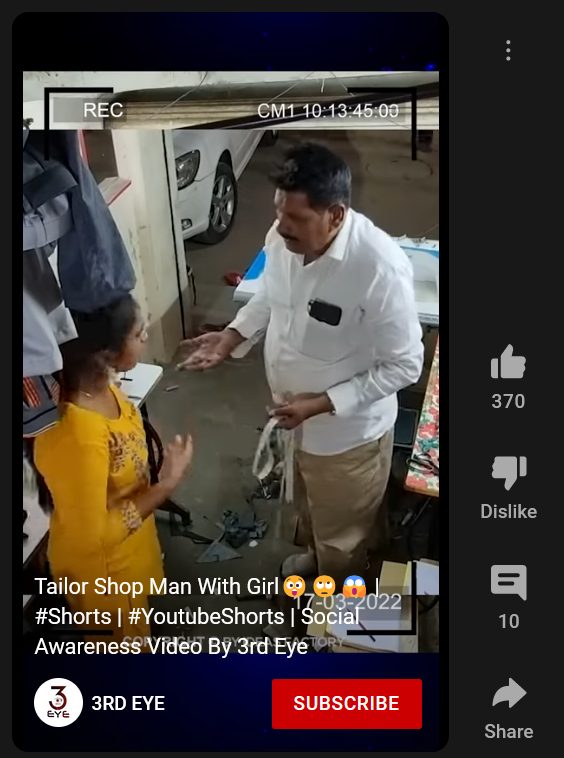 We then checked the YouTube channel that uploaded the video and noticed that the channel has many such videos and the thumbnail of these videos have an arrow similar to the one in the viral video.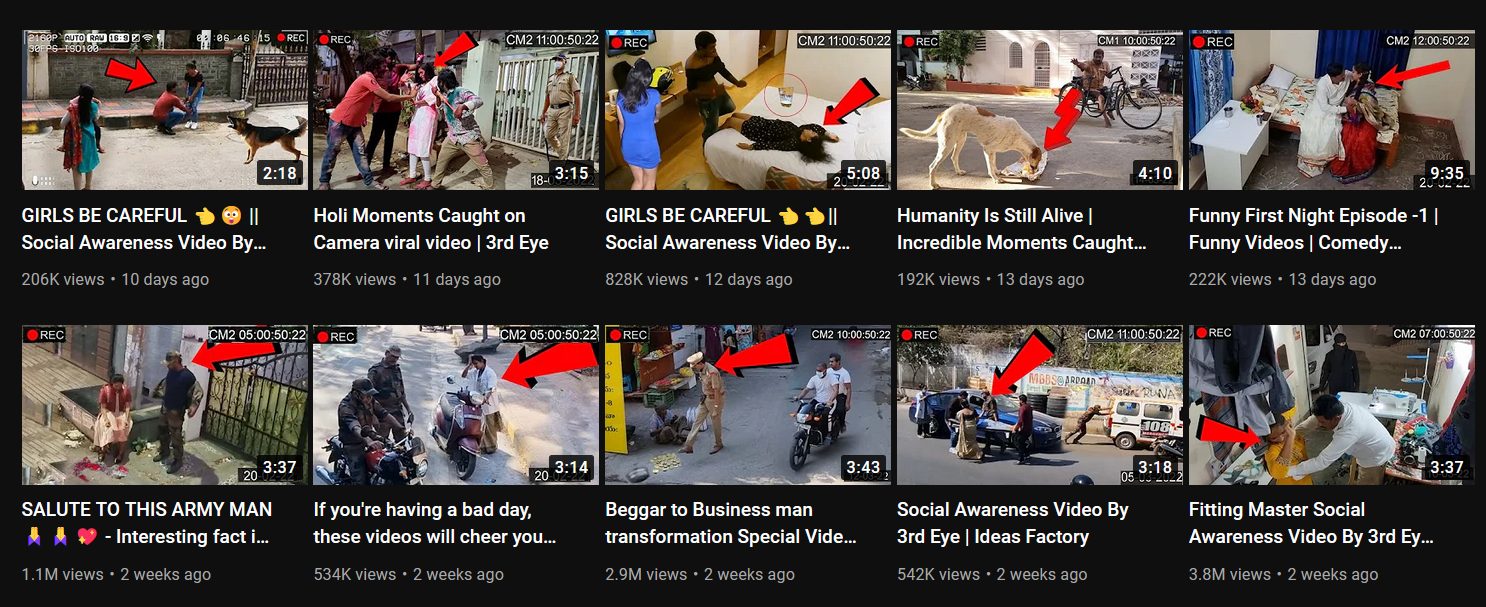 We also found the original video on the same YouTube channel uploaded on March 12. Both the title and description of the video describe it as a 'social awareness' video.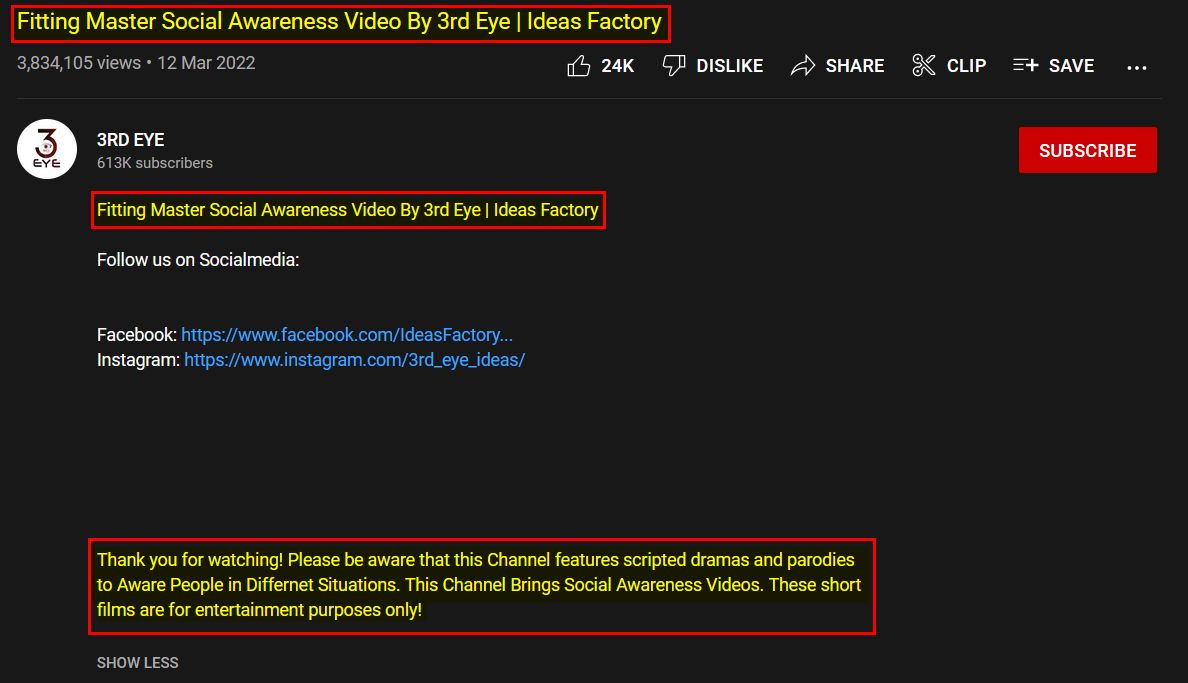 Hence, a scripted video was shared with an anti-Muslim claim. This is not the first time that such videos have gone viral on social media. Alt News has debunked many such videos that are reshared with false, anti-Muslim claims.
Donate to Alt News!
Independent journalism that speaks truth to power and is free of corporate and political control is possible only when people start contributing towards the same. Please consider donating towards this endeavour to fight fake news and misinformation.