On June 23, Patanjali Ayurved announced the launch of coronavirus medicine 'Coronil' and hailed it as an "Ayurvedic cure" for coronavirus. The company's face Ram Kisan Yadav, popularly known as Baba Ramdev, claimed that Coronil provides "100% cure" for the viral infection. Soon after, leading media outlets broadcast shows on Coronil and referred to it as a "breakthrough" in coronavirus treatment. The government, however, asked Patanjali Ayurved to stop advertising or promoting Coronil. According to a statement by the Ministry of AYUSH, "Facts of the claim and details of the stated scientific study are not known to the Ministry." The legal provisions cited in the statement suggest that Patanjali Ayurved is also barred from selling the drug as of now.
A widespread claim on social media suggests that "doctor Mujahid Hussain" has been fired from the AYUSH Ministry for halting the advertisement and sale of Coronil. VHP spokesperson Vijay Shankar Tiwari tweeted the claim in Hindi, "पतंञ्जलि निर्मित कोरोनिल पर रोक लगाने वाले 'डॉक्टर मुजाहिद हुसैन" को आयुष मंत्रालय ने हटा दिया." He further wrote people like Dr Hussain defame both the AYUSH Ministry and Ayurveda. He later took down his tweet but not before it garnered thousands of likes and retweets. An archived link of his tweet can be viewed here.

A Twitter account @RealPushpendra impersonating journalist Pushpendra Kulshreshtha also tweeted the same. His tweet was retweeted over 5,000 times.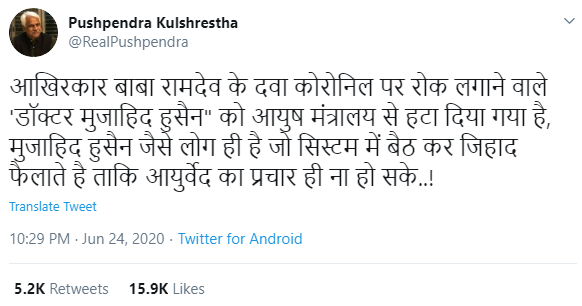 False claim
There are no legitimate media reports which mention any doctor by the name "Mujahid Hussain" who was discharged from his duties at the AYUSH Ministry for stopping the sale of Coronil. According to the latest update to the controversy, Patanjali Ayurved has submitted its reports to prove the "efficacy" of the drug. Union Minister of State in the AYUSH Ministry Shripad Naik said that the government will look into the report and decide about giving final permissions to the company. Alt News recently published a sci-check inferring that none of the scientific proofs given by Patanjali Ayurved suggests that Coronil is an effective treatment for Covid-19.
The Ministry of AYUSH debunked the misinformation floating on social media. It shared a screenshot of the tweet by @RealPushpendra and wrote that the ministry has "not removed any doctor or medical officer from duty or service at any time in the recent past."
It is clarified that the @moayush has not removed any doctor or medical officer from duty or service at any time in the recent past. pic.twitter.com/Tr8KoQpsY9

— Ministry of AYUSH🇮🇳 #MyLifeMyYoga (@moayush) June 25, 2020
Misinformation viral
The false claim which targets the Muslim community is viral across social media platforms. Tweets by @Dikshapandey22, @Sudhir_mishr and @AshishJaggi_1 garnered over 3,500, 700 and 2,200 retweets respectively. All three handles are followed by BJP spokesperson Tajinder Pal Singh Bagga.
The claim is also viral on Facebook. It received close to 4,800 likes from the page 'Subodh Sharma'. From another page 'Modi Fan's', it drew 1,400 likes.
Alt News has also received several fact-check requests on its WhatsApp helpline number (+91 76000 11160).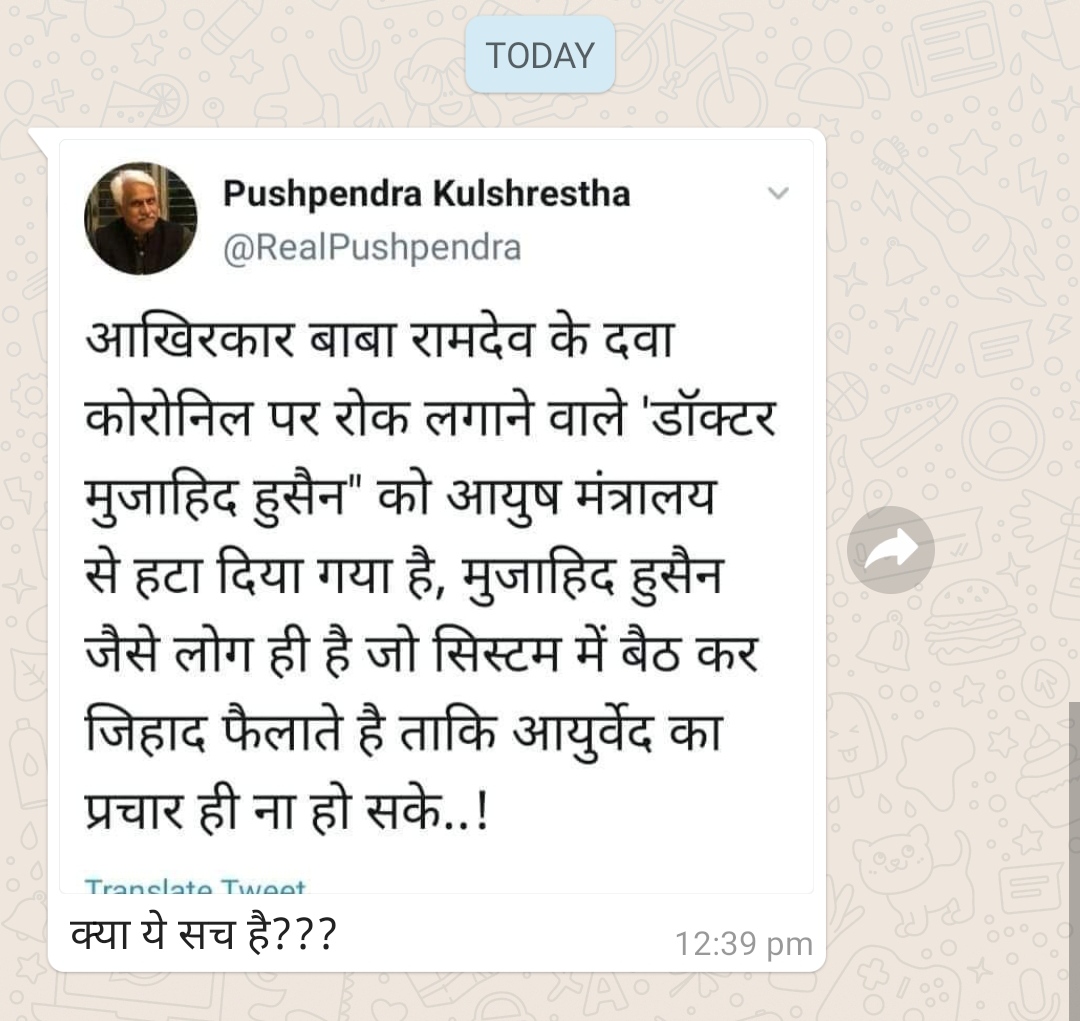 Donate to Alt News!
Independent journalism that speaks truth to power and is free of corporate and political control is possible only when people start contributing towards the same. Please consider donating towards this endeavour to fight fake news and misinformation.