A video showing three women tackling several men who were apparently trying to harass them is viral on social media with the claim that the incident occurred in Paris in a metro underpass. The men seen in the video are migrants, according to X (formerly Twitter) user @DalviNameet. "….Unfortunately for these migrants, these 3 women were all serving French para-military," the user wrote while sharing the video. Their tweet received over 360000 views. (Archive)
This video is so soothing….Yesterday somewhere in Paris on a Metro Underpass.. A few Migrants were doing what they do best … Taharrush (roughly translates to mass molestation of women)… Unfortunately for these migrants, these 3 women were all serving French para-military.💜 pic.twitter.com/cI7ulAuMLX

— Madridista (@DalviNameet) November 15, 2023
The video was quickly given a communal spin. User @AmitLeliSlayer tweeted the video and wrote, "The Slim migrants tried to tease three girls, they didn't know the girls were from French para military". The word 'slim' here is understandably a pejorative term for Muslims. (Archive)
The Slim migrants tried to tease three girls, they didn't know the girls were from French para military 🤭😂🤭😂pic.twitter.com/FG2N8IT6Xy

— Boiled Anda 🥚🇮🇳 (@AmitLeliSlayer) November 15, 2023
Verified account @AstroCounselKK tweeted the video with the caption, "…Yesterday somewhere in Paris on a Metro Underpass… This bunch of Piecefool Migrants were doing what they do best .. Taharrush ( roughly translates to mass molestation of women ). Unfortunately for these PieceFools, these 3 women were all serving French para-military personnel". The word "peaceful" is also used by Right Wing users as a pejorative for Muslims. (Archive)
Shocking beyond words if true ..
Europe downfall is inevitable as predicted by me

Yesterday somewhere in Paris on a Metro Underpass..

This bunch of Piecefool Migrants were doing what they do best ..
Taharrush ( roughly translates to mass molestation of women ).

Unfortunately… pic.twitter.com/xOdq1XKfvs

— AstroCounselKK🇮🇳 (@AstroCounselKK) November 15, 2023
Verified user @ajaychauhan41 linked it to the ongoing conflict between Israel and Palestine. He claimed that the women in the video were Israeli and the men were 'pro-Hamas pro-immigrant refugees '. (Archive)
फ्रांस में एक अंडरपास पर 3 इजरायली लड़कियों ने 10 हमास समर्थक आप्रवासी शरणार्थियों को "लातों के भूत, बातों…" वाली भाषा में समझाया कि जब आप इसरायली लड़कियों पर हाथ डालते हैं तो क्या होता है!
Must watch video. pic.twitter.com/IWjjx6d8SA

— हम लोग We The People 🇮🇳 (@ajaychauhan41) November 15, 2023
This video has been shared with the same claim by several users. (Archives- 1, 2, 3, 4, 5)
This slideshow requires JavaScript.
Alt News also received several fact-check requests for the video on its WhatsApp helpline (7600011160).
This slideshow requires JavaScript.
Fact Check
A man can be seen in the viral video wearing a sweatshirt with the text CUC written on the back.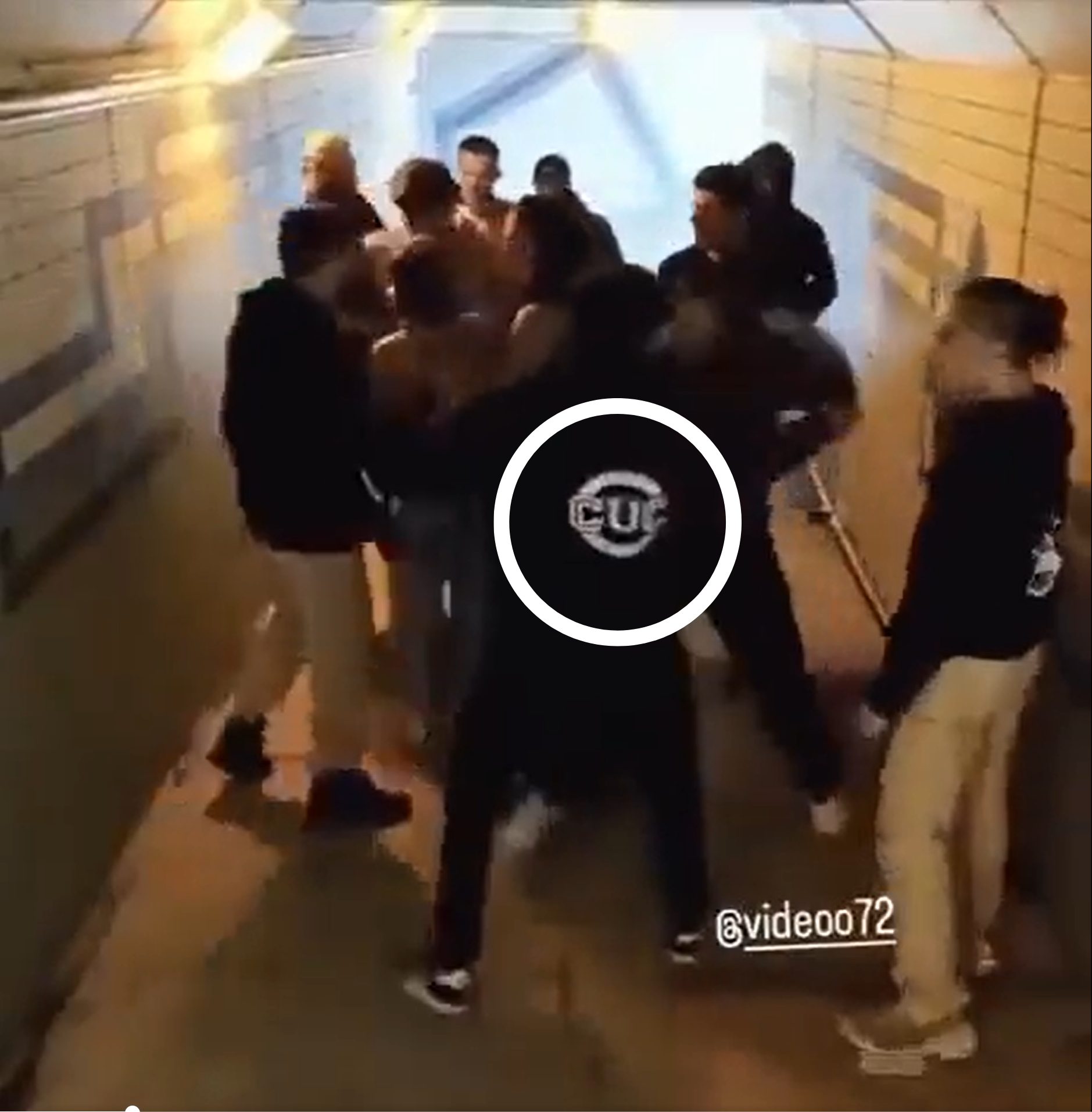 Upon a relevant keyword search, we came across an Instagram page called Campus Univers Cascades. The page posted the viral video on November 2, with the caption Street Fight and the hashtags like #cucteam and #choreography.
View this post on Instagram
According to the page's Instagram bio, Campus Univers Cascades is a French stunt school consisting of stuntmen, fighters and performers. According to its official website, Campus Univers Cascades is a professional training centre dedicated to stunt techniques in cinema and shows.
In a separate Instagram video on the same page, a man can be seen performing stunts while a sweatshirt with "CUC" written on the back, identical to the one featured in the viral video.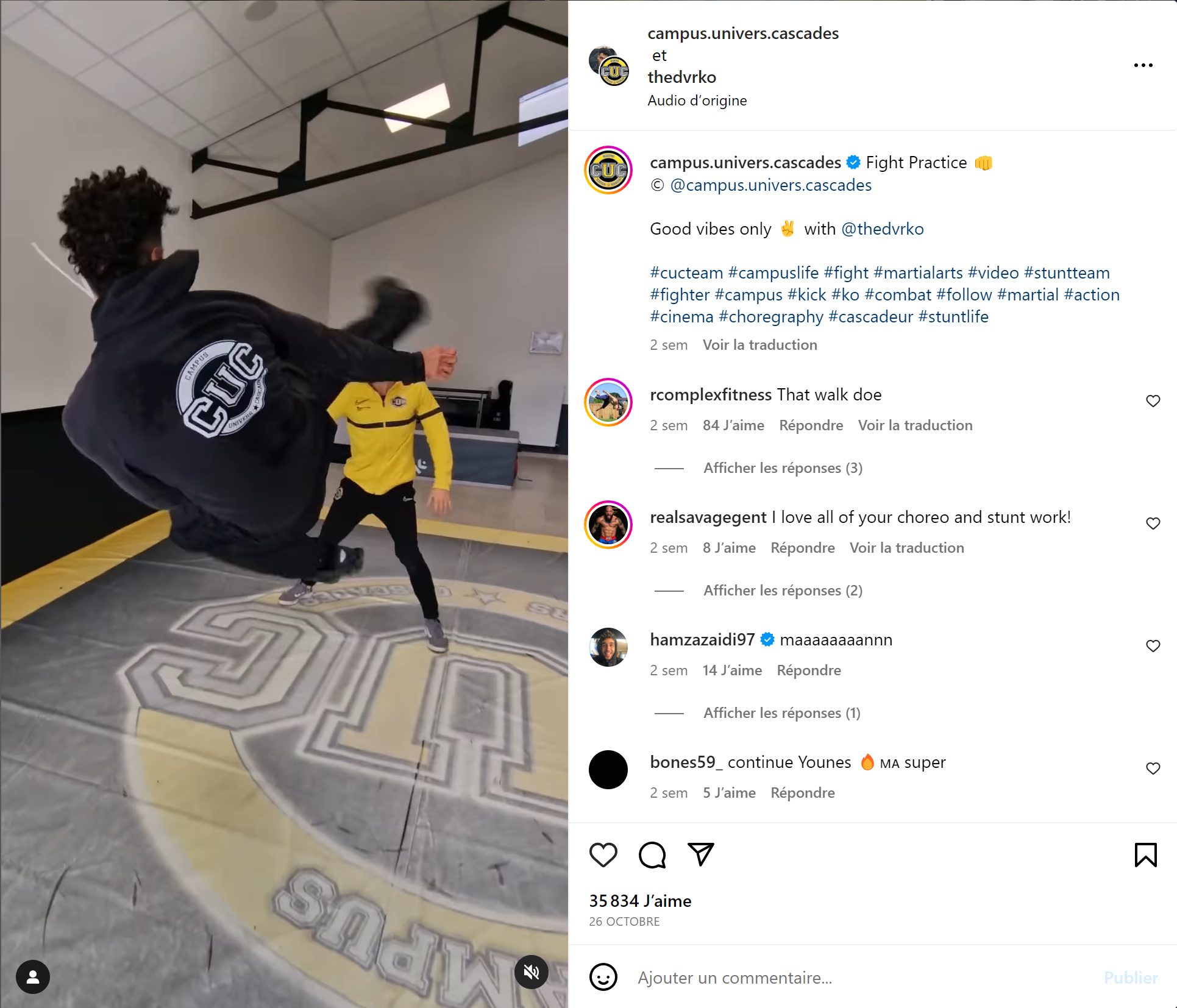 For further clarification, we reached out to the founder of Campus Univers Cascades, Lucas Dollfus, who refuted the viral claims and confirmed that the video was staged with stuntmen from their school. "This is a video produced with our stunt students as part of a training exercise on the theme of "street fight". The goal is to bring maximum realism to this staging but this is just a stunt and movie ! Everything is prepared in advance and everything is choreographed." He added that he was sorry that the video was being misinterpreted online.
Thus, a staged video wherein stuntwomen belonging to a school are seen performing acts of self-defence is falsely viral with a communal claim. The men seen in the video belong to the CUC team and are not Muslims or supporters of the Palestinian militant group Hamas, as claimed by several social media users.
Donate to Alt News!
Independent journalism that speaks truth to power and is free of corporate and political control is possible only when people start contributing towards the same. Please consider donating towards this endeavour to fight fake news and misinformation.