"People taking down Lenin's statue … not in Russia; it is in Tripura. 'Chalo Paltai'" was the text of a tweet by BJP National General Secretary Ram Madhav along with a picture in which one can see a statue of Russian communist revolutionary Vladimir Ilyich Ulyanov, better known as Lenin being razed. While Ram Madhav has deleted this tweet, a screenshot of the same can be seen below.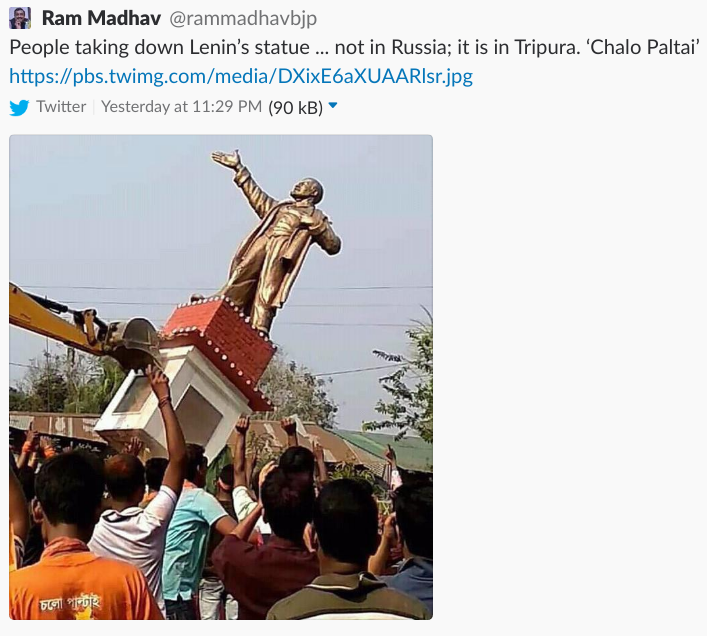 According to Indian Express, the aforesaid incident took place in the heart of Belonia town in Tripura's extreme south at 2.30 pm on Monday, 48 hours after the assembly election results were announced.
In South Tripura's Belonia, a statue of Lenin razed amid chants of 'Bharat Mata Ki Jai'. This, less than 48 hours after the BJP stormed to power ending a 25-year-long Left rule.

More here: https://t.co/Q7a4EsiuSh pic.twitter.com/335YDvXTb7

— The Indian Express (@IndianExpress) March 5, 2018
When this issue was brought to the notice of Tathagata Roy, the Governor of Tripura, instead of condemning an act of vandalism and hooliganism responded with whataboutery, indirectly justifying the events.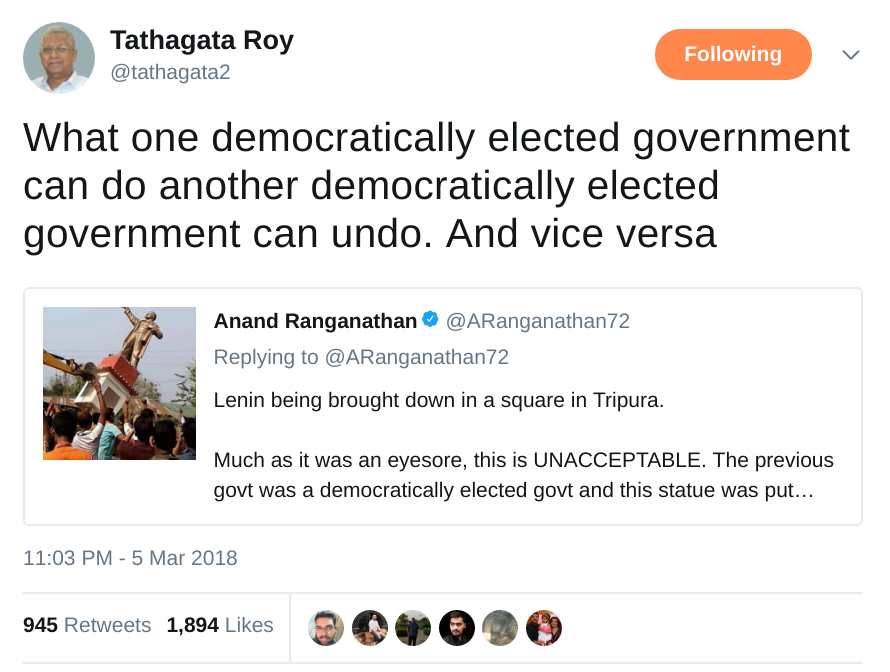 Tathagata Roy is not new to controversy on social media. In the past, he sent out a tweet urging a Twitter user to appreciate 'what Hindus did in 2002'.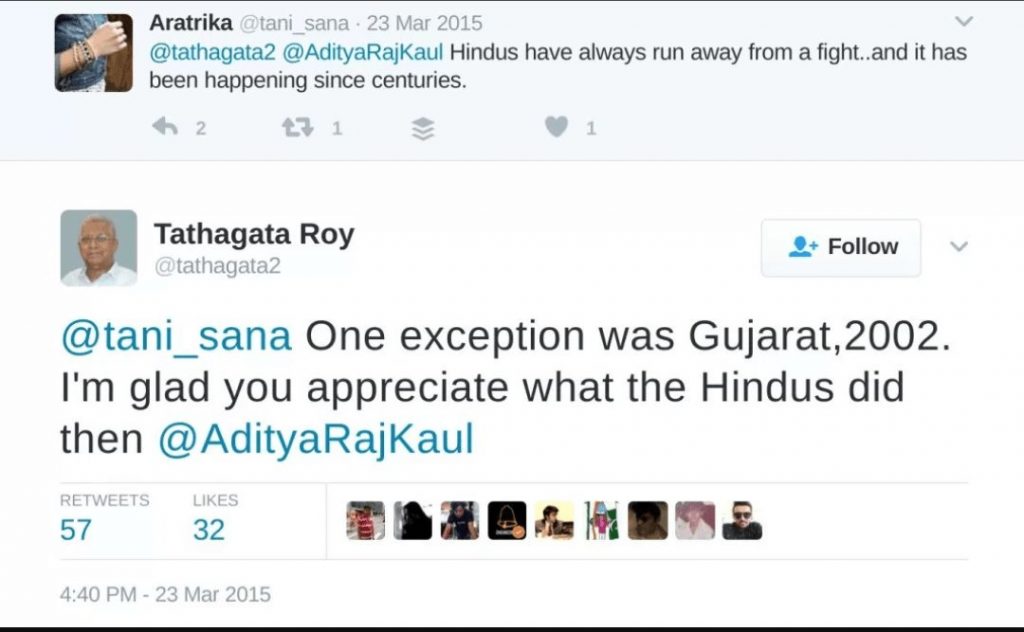 Delhi BJP Spokesperson Tajinder Bagga tweeted, "लाल गुलामी छोड़ कर बोलो वन्दे मातरम" with the same picture, a tweet which again comes across as celebratory in nature. Ironically, Tajinder Bagga is the founder of a right-wing organisation called "Bhagat Singh Kranti Sena", Bhagat Singh who was reportedly reading a book on Lenin just before he was hanged to death.
लाल गुलामी छोड़ कर बोलो वन्दे मातरम pic.twitter.com/FzZO8nQLSs

— Tajinder Bagga (@TajinderBagga) March 5, 2018
Filmmaker Vivek Agnihotri meanwhile quoted a poem by Faiz Ahmad Faiz, the founder of Communist Party of Pakistan, to celebrate the falling of a statue of a Communist icon.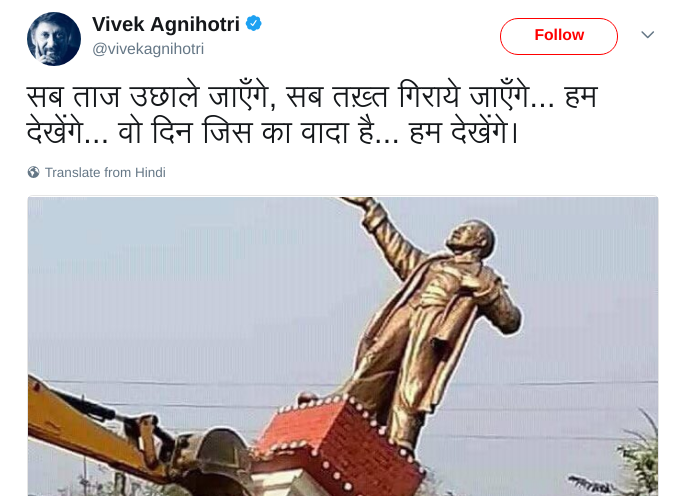 Makarand Paranjape, a professor at Jawaharlal Nehru University, termed this act of vandalism an "Amazing spectacle", while quoting Ram Madhav's now deleted tweet.
Amazing spectacle, Sir! https://t.co/OGIdeYhv7b

— Makarand R Paranjape (@MakrandParanspe) March 5, 2018
Nupur Sharma, the editor of right-wing portal OpIndia, was of the opinion that such an act of vandalism was a democratic act, "With the communist's exit, their idol should go too". Can an electoral loss be a justification of demolition of iconography related to the losing party?
It is the people who elect a government. It is these people decided to throw the communists out. With the communist's exit, their idol should go too. Democracy works both ways :))

— Nupur (@UnSubtleDesi) March 5, 2018
Many people whom PM Modi follows on Twitter either celebrated the falling of the statue or defended it. Abhishek Mishra who is followed by PM Modi on Twitter suggested that the demolition of the statue should be a moment to pride and not defensiveness.
People started circulating what other's country did with Lenin statues. Why we always play in Defensive Mode ? Our people demolished it, We feels proud for this.

— Abhishek Mishra (@Abhishek_Mshra) March 5, 2018
This tendency to applaud and encourage the desecration of iconography was illustrated by another BJP leader from Tamil Nadu. BJP National General Secretary H Raja tweeted that the statue of social reformer EV Ramaswamy Naicker (Periyar) would be pulled down. Following an uproar, he deleted the Facebook post.
BJP leader deletes Facebook post warning Periyar statue will be demolished too https://t.co/py8nSdCHwt pic.twitter.com/s2xNG6iygA

— NDTV (@ndtv) March 6, 2018
The fall of the Left in Tripura is a watershed moment for the politics of the state and the verdict of the people is probably a manifestation of the desire for change. The razing of the statue of Lenin, however, is a shameful act which deserves to be unequivocally condemned. Instead, what has been witnessed is widespread approval of such vandalism from those who are on the other end of the ideological spectrum, egged on by senior leaders of the BJP.
Donate to Alt News!
Independent journalism that speaks truth to power and is free of corporate and political control is possible only when people start contributing towards the same. Please consider donating towards this endeavour to fight fake news and misinformation.