A video, seemingly of a school/college classroom, is being widely shared on social media. The clip features a few male students who can be seen hitting and bullying a female student in Hijab. The boys can be seen kicking her, hitting her with a stick and throwing things at her.
X (formerly Twitter) Blue user Shirin Khan (@Shirinkhan0) shared the above-mentioned video with the following caption, "This clip can give anyone shivers. A girl wearing a headscarf is being abused by a group of boys. All this is happening in a classroom. They are nothing less than a terror!st in the making." The tweet had received over 10,000 views and 500 retweets. The user has now deleted the tweet. (Archive)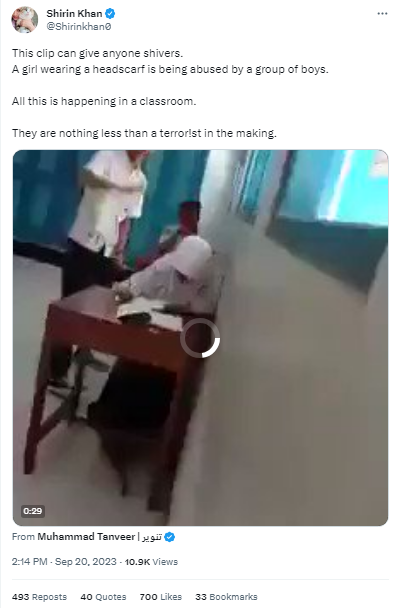 Alt News received several requests on its WhatsApp Helpline to fact-check this video. One of the requests also carried a text in Hindi that can be translated as: "This is a video of some college and it is such a college where Hindu boys and girls study together. See how these boys with Sanghi mentality behave with Hijabi girls. I agree that studying is very important but not at all in this type of college".
Similar posts were shared by some on X (formerly Twitter) and Facebook.
This slideshow requires JavaScript.
Fact Check
We broke down the video into several keyframes and ran a reverse image search on some of them. This led us to a tweet by user @Narasi_winda on September 10. The tweet carried the viral video in question and a caption in Indonesian that can be translated as: "When and where this happened is unclear. What is certain is that all forms of VIOLENT ACTIONS like this MUST STOP ‼️" Under the same tweet, another user commented and shared a link to a news article while mentioning that the incident is from 2020.
Tahun 2020https://t.co/PFR2x70DAy

— 🌸 Bebeb Bubu 🌸 (@NyaiiBubu) September 10, 2023
While trying to open the link to the news article, we faced an error many times, so we ran a keyword search using the keywords from the news article's title. This led us to several news articles related to the viral video.
We came across a news report by the Indonesian news outlet TribunJabar.id from February 13, 2020, with the title: "Current Condition of Middle School Student Victim of Bullying in Purworejo, She Was Hit and Kicked by 3 Students in Class". The report mentioned that the female Hijabi student was a victim of bullying in a middle school at Purworejo — a town in Java, Indonesia. The school authorities took legal action against the male students who could be seen physically assaulting her in the video. The report also mentioned that the incident happened at the Muhammadiyah Need Middle School, Purworejo (SMP Muhammadiyah Butuh Purworejo).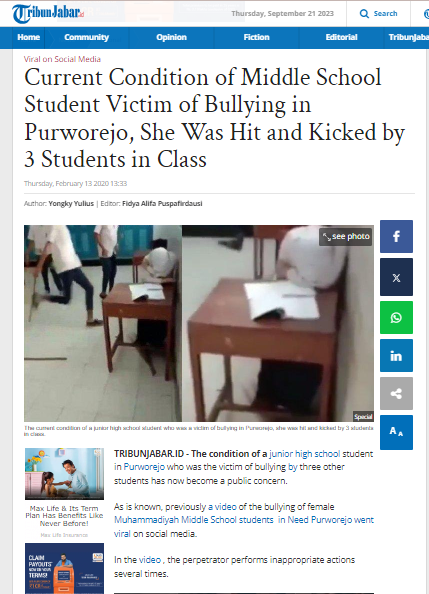 Another news report by Lira Media mentioned that the three boys who bullied the Hijabi girl were charged under the Child Protection Act and were facing a penalty of 3.5 years. The report also mentioned that the victim who was bullied was a student with special needs.

Our above findings prove that the viral video is of an incident that dates back to 2020 and one that happened in Indonesia. As per the news reports available, the incident has been dubbed to be a case of bullying of a student with special needs and not one of a communal nature.
Donate to Alt News!
Independent journalism that speaks truth to power and is free of corporate and political control is possible only when people start contributing towards the same. Please consider donating towards this endeavour to fight fake news and misinformation.