Two videos are being shared on social media where structures, seemingly temples, can be seen being demolished. In one video, one can also see that a number of people have gathered at the scene of demolition and are chanting 'Om Namah Shivay'. Social media users claim that the visuals are from Tamil Nadu. Some claimed that the Tamil Nadu government had to withdraw the demolition order for the 200 years old Shiv temple after the devotees protested against it.
Twitter Blue user Gopal Goswami (@igopalgoswami) tweeted one of the two videos on June 22 with a caption in Hindi that can be translated as: "Everyone has to bow down when it comes to faith. The Tamil Nadu government withdraws order to demolish 200-year-old Lord Shiva temple in Coimbatore". (Archive)
विश्वास के आगे सब नतमस्तक होते हैं, तमिलनाडु सरकार ने कोयंबतूर के २०० वर्ष पुराने भगवान शिव के मंदिर को तोड़ने का ऑर्डर वापस लिया। pic.twitter.com/fTKw2dPFFL

— Gopal Goswami (@igopalgoswami) June 22, 2023
Another Twitter user, 🏴‍☠️ Devil King 🏴‍☠️ (@Devil_King_TP), also shared the above video quote-tweeting another tweet of his where the user had shared the other temple demolition video in question. The tweet has received over 50,000 views and has been retweeted over 1,000 times. (Archive)
After huge protest, Tamil Nadu govt stops the demolition of 200-year-old Shiv temple.
The 200-year-old temple, spread over an area of 4,000 square feet is situated in Coimbatore Corporation's 7th ward -Goldevins, Duraiswamy Nager, Ramalakshmi Nagar region.
year-2022 https://t.co/OH13kyYaf4 pic.twitter.com/v9xAjDNINJ

— 🏴‍☠️ Devil King 🏴‍☠️ (@Devil_King_TP) June 22, 2023
Some other users, such as @bhagwakrantee and @ajaychauhan41, also shared the two videos with similar claims.
This slideshow requires JavaScript.
Fact Check
We noticed that in the quote tweet @Devil_King_TP mentioned "year-2022" seemingly indicating that the video is from 2022.
With the help of InVID software, we broke down both videos into multiple keyframes and ran a reverse image search on them. This led us to several instances that confirmed that both videos were from 2022.
Video 1:
The video is not a recent one. We found that last year also, these videos were shared with similar claims that the DMK government in Tamil Nadu had ordered the demolition of temples and rolled back the orders after protests from devotees. Ashwini Shrivastava, who is a journalist according to his Twitter bio, shared one of the two videos in question on August 5, 2022. He also shared his tweet as a reply to a tweet by Anshul Saxena, where Shrivastava claimed that the anti-Hindu DMK government had demolished yet another temple. (Archive)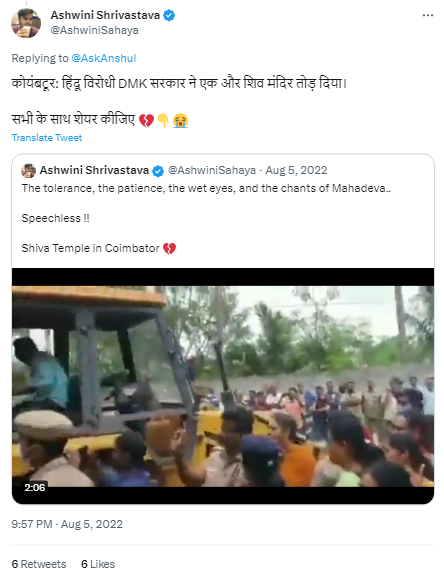 We also came across news reports that mentioned that the demolitions were made as per court orders.
The first video, where a bunch of devotees can be heard chanting "Om Namah Shivay" as a temple gets bulldozed is from Veeriyampalayam Road near Ramalakshmi Nagar in Coimbatore. According to a Times of India report, the city corporation started pulling down a temple in that area after the high court ordered the demolition in June 2022 in response to a petition saying that the temple was encroaching on the road.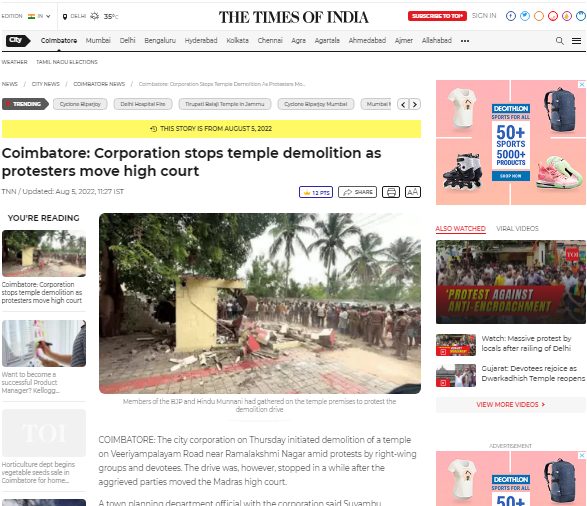 Following the court order, a team of officials reached the spot to carry out the demolition. Some locals, including BJP members who were aware of the developments, had gathered to protest against it. The police were also present to maintain law and order. According to the assistant town planning officer, east zone, the demolition had to be stopped after devotees squatted on the temple premises.
Meanwhile, a plea was made in the high court against the demolition, and the final court order is still pending. As of now, the demolition process is on hold.
Video 2:
In the second video as well it can be seen that a temple is being demolished. Through reverse image search, we came across an India Today article from January 11, 2022. The title said: "Temple demolition video sparks controversy in Tamil Nadu, cops clarify". As per the report, the demolition was carried out in Tamil Nadu's Tambaram near Chennai which sparked a controversy as several Hindu outfits called the DMK government anti-Hindu.

Addressing the controversy, the Tambaram commissioner issued a clarification saying that other structures were also being pulled down along with the temple in accordance with the 2015 Madras high court directive. The police clarified that all structures which were identified as encroachments built over water bodies were being demolished. Then Tambaram police commissioner M Ravi said a portion of a church compound was also demolished, not just the temple and warned the public against sharing any content that might disturb communal harmony.
Therefore, the videos of temple demolition in Tamil Nadu that are being shared are from last year and the demolitions were part of anti-encroachment drives which were carried out as per the high court's orders. The DMK government did not order or roll back the demolitions, as is being claimed.
Donate to Alt News!
Independent journalism that speaks truth to power and is free of corporate and political control is possible only when people start contributing towards the same. Please consider donating towards this endeavour to fight fake news and misinformation.