Over the course of a 2-part article, Alt News documented 15 cases where the TrueIndology twitter account has fabricated history via tools such as photo-shop, fake/misleading pictures and a fertile imagination. In TrueIndology's WordPress blog post, some of our claims had been contested. Strangely, TrueIndology deleted this defence from his WordPress blog. This piece will look at how Trueindology's contestations are self-defeating and we will also regale our readers with some more of TrueIndology's fakery. Finally, we will see the social media reactions in support of TrueIndology.
Let's start with some more of TrueIndology's fakery. Since this is a continuation of our last article (Link to Part 1 & Part 2), we have started the numbering of the cases from where we left off last time.
Case 16
Claim: Badshah Khan was opposed to Muslim league and Pakistan. On 12 August 1948, Pakistan fired upon his unarmed party men (Khudai Khidmatgar) killing 600.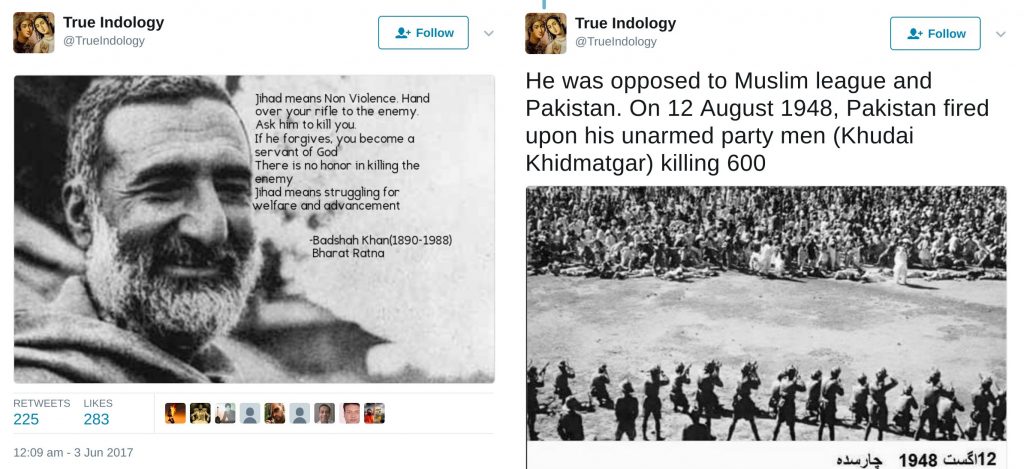 Reality: The picture in TrueIndology's tweet is a photo-shopped version of the scene from a 1982 movie called Gandhi which was produced and directed by Richard Attenborough. The scene itself depicts the Jallianwala Bagh massacre.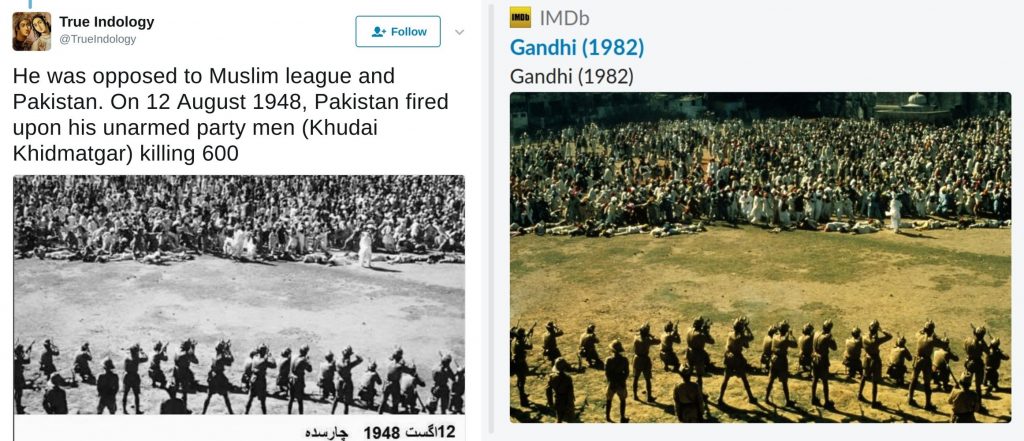 The above scene can be seen in this YouTube video clip at exactly 3 minutes and 40 seconds, a screenshot of which is reproduced below.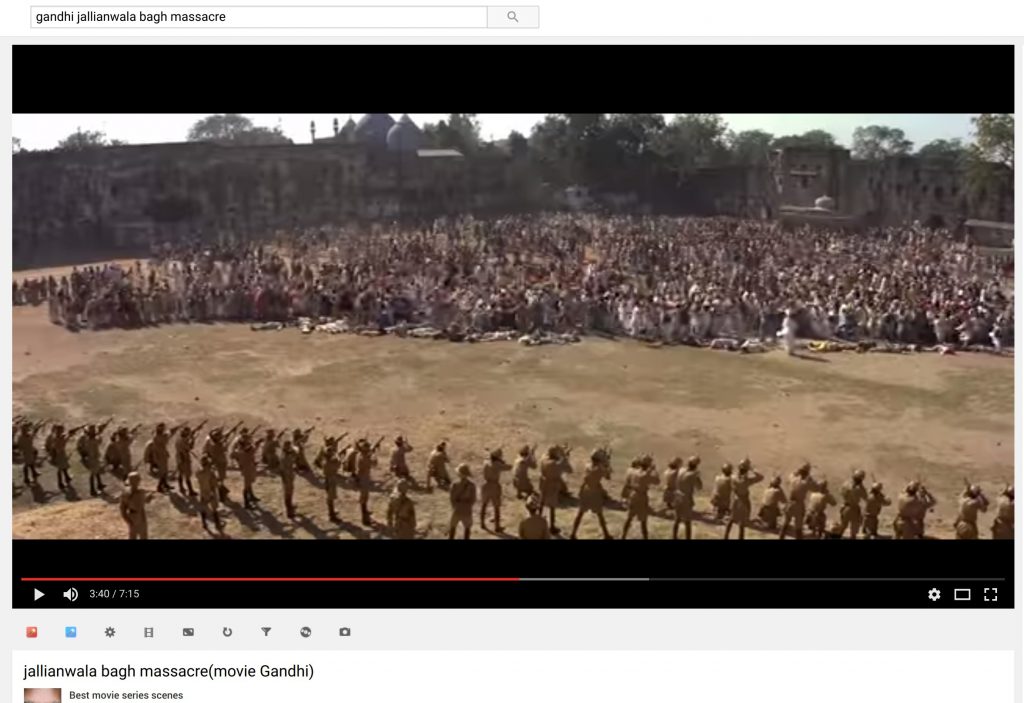 While the Babrra Massacre did happen, the picture used in this case is no way related to the massacre.
Case 17
Claim: In 1931, when congress constituted a committee, the flag recommended was a saffron flag. This flag was rejected by Nehru as "communal".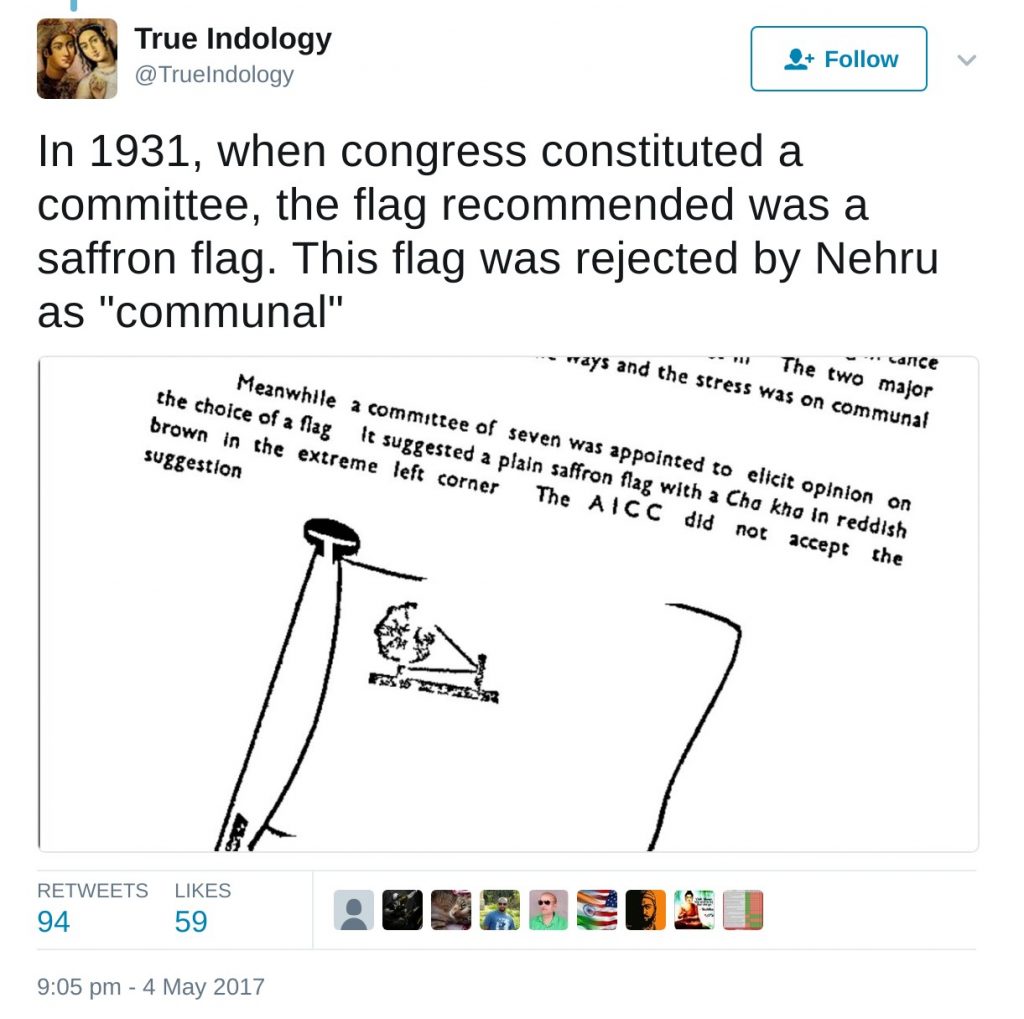 Reality: Nehru was part of the seven member committee which recommended the saffron flag.
The quote in TrueIndology's tweet has been taken from a book called "Glimpses of Indian National Congress: From Inception to Attainment of Freedom" by TN Kundra and published in 1996. The quote is from pages 142 and 143, a screenshot of which can be seen below. The copy of book available on Google doesn't carry the image of the flag shown in TrueIndology's tweet.
A seven member committee was indeed formed to deliberate upon the flag. According to a report of the National Flag Committee, the committee included Sardar Vallabhai Patel, Maulana Abdul Kalam Azad, Master Tara Singh, Pundit Jawaharlal Nehru, Principal D.B. Kalelker, Dr. N.S. Hardiker and Dr. Pattabhi Sitaramayya.

As the above report states, it was the tricolour which was initially rejected as communal and not the saffron flag. As a result, a committee was formed to examine the objections to the tricolour. The committee felt that multiple colours in the flag were being given various interpretations including religious connotations which was a cause of much consternation among people and hence the 7 member committee recommended a single colour flag, a Saffron flag. This decision of recommending a saffron flag was a unanimous decision of the committee, which included Pandit Nehru.

Thus, TrueIndology's claim that Nehru rejected the saffron flag by branding the colour as communal is untrue.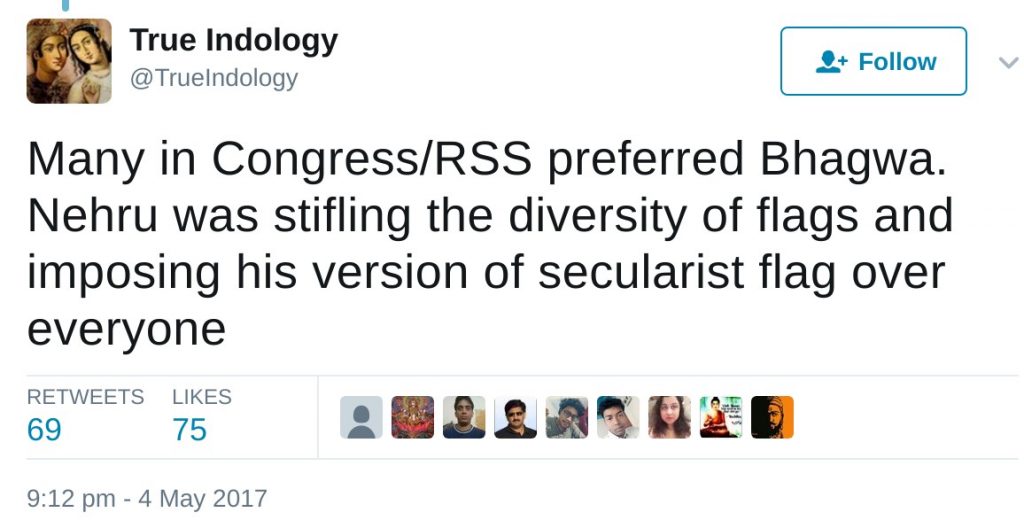 Rebuttal
In TrueIndology's rebuttal, Claim 2 and Claim 7 published in the part 1 of our exposé have been contested. While trying to defend its claims, TrueIndology has provided further proof of its fakery.
Case 7
Claim (1 & 2): Ganesha on the footsteps of Ghazni mosque/A marble statue of 3 headed Brahma discovered on the footsteps of the old Friday mosque in Ghazni, Afghanistan.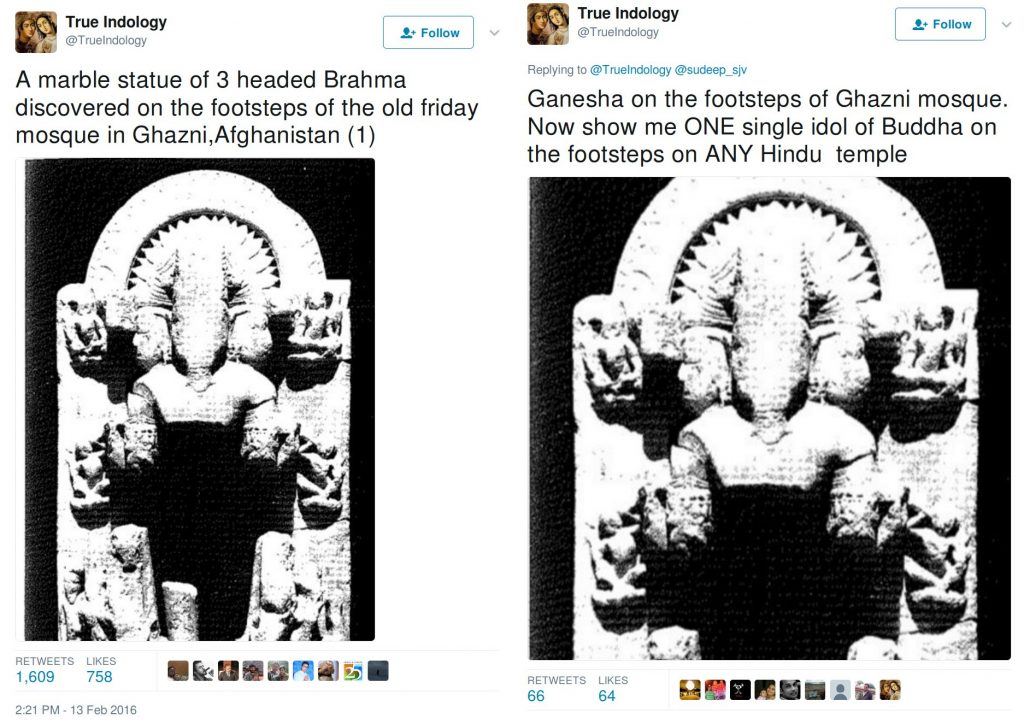 Alt News claims: This statue of Brahma was not found on the footsteps of a mosque.
TrueIndology counterclaim: Statue was found on the entrance of the royal Ghaznavid Mosque inside the palace of Sultan Mas'ud III.
Reality: TrueIndology provides documentation that the statue was found in northern part of the hall. UNESCO documentation further shows how the mosque was near the King's room.
Firstly, TrueIndology's rebuttal calmly skips over the fact that the Twitter account was claiming the same statue to be both Ganesha and Brahma. TrueIndology has exhibited such behaviour in multiple cases like passing off a Dronacharya picture as that of Bhai Singha Purohit in Case 11 or passing off an ivory statue of Buddha as that of Hindu Shahi King of Gandhara in Case 13.
Regarding TrueIndology's claims that the Brahma statue was found at the entrance of the royal Ghaznavid Mosque, TrueIndology article refers to work by Japanese Archaeologist Kuwayama in her book 'Across the Hindukush (2002)' which TrueIndology has also previously tweeted. In this, it can be clearly seen that the statue was found "in the northern part of the hall at the palace of Sultan Mas'ud III" (underlined with red).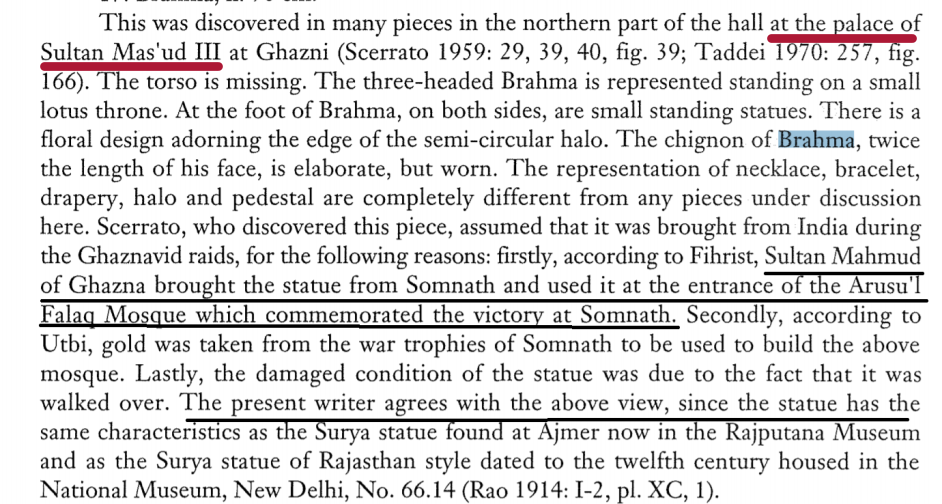 Further, in documentation available on Ghazni on UNESCO's website, it is clearly mentioned on Page 23 in which they describe the palace and state that the mosque was discovered near the King's room.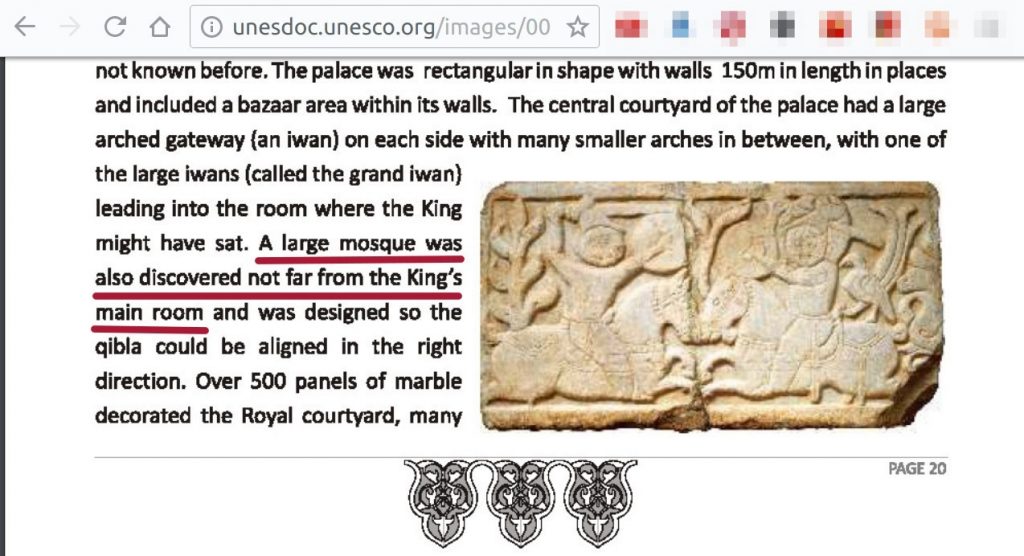 Considering that the statue was discovered in northern part of the central hall and the mosque was near the King's room, the statue could not have been discovered at the footsteps of the mosque.
This demolishes TrueIndology's first rebuttal.
Case 2
Claim: 1000 yr old Varun Dev temple in Karachi (Pakistan) now used as a toilet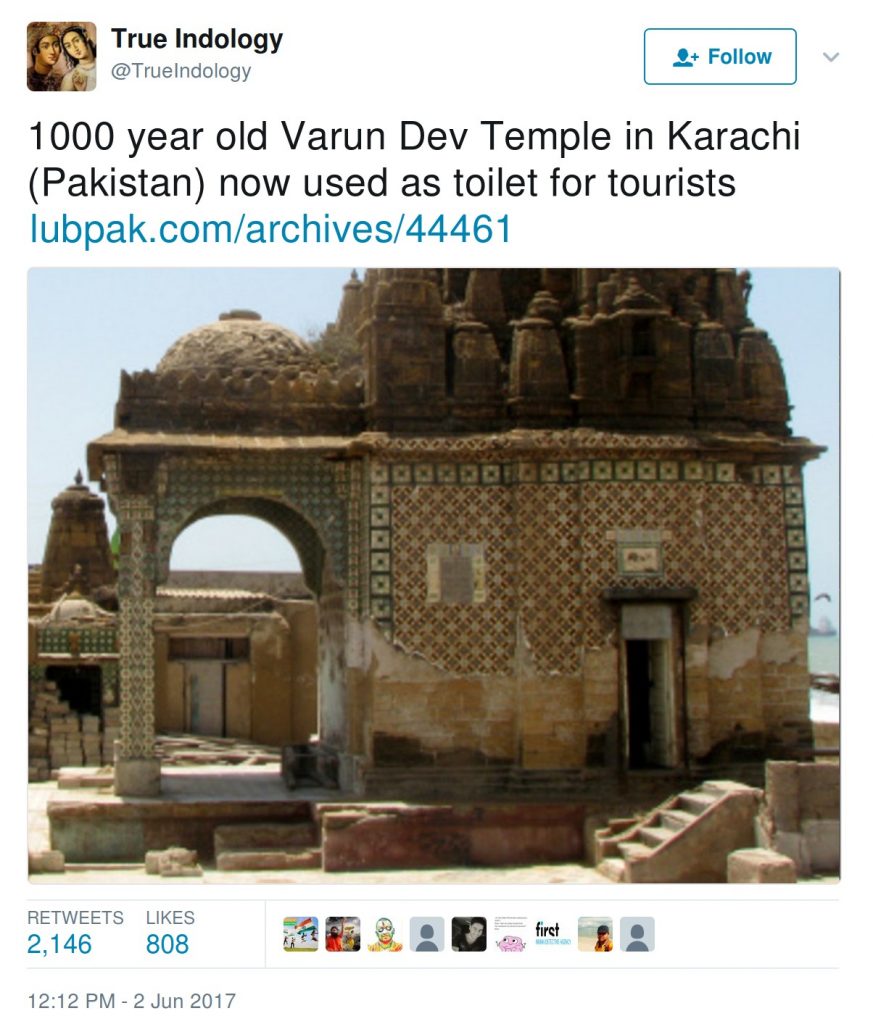 Alt News Claim: The Varun Dev temple located in Manora island near Karachi is under restoration and not being used as a toilet.
TrueIndology counterclaim: Parts of temple were used as toilet until Feb 2016.
Reality: TrueIndology's tweet on June 2, 2017 claims that the temple is being used as a toilet "now". TrueIndology failed to provide any evidence of it being used a toilet "now". In fact, TrueIndology's counter claim is contradictory to the original claim.
This whole story is based on a Daily Times report on March 12, 2008 in Daily Times where it was stated that "temple's decayed appearance reflects a lack of care, and its walls and rooms serve as a toilet for visitors to Manora's sandy beach". The historian in TrueIndology presents an article that is 9 years and 3 months old as the present status of the temple via the tweet on June 2, 2017 despite there being ample evidence of the temple having gone through renovation and restoration.
In Dec 2015, the temple received $250,000 funding from the US Ambassador Fund for Cultural Preservation (AFCP) and its restoration started in collaboration with the Sindh Exploration and Adventure Society (SEAS).
April 2017 story in Daily Times states, "Consul General Grace Shelton visited the Shri Varun Dev Mandir – a historic Hindu temple dedicated to the Lord of the Seas (Varuna) and believed to be the only temple dedicated to the Lord of the Seas in Pakistan – today at Manora Island. She appreciated the preservation efforts for the temple, made by Sindh Exploration and Adventure Society (SEAS) under a U.S. government-funded project."
It is amply clear that TrueIndology's claim on June 2, 2017, of the temple being used as toilet "now" is a complete misrepresentation of history as a 2008 article is being cited to describe a situation in 2017.
TrueIndology supporters
In all, Alt News has now presented 17 cases where TrueIndology has misrepresented history. We have also shown above how TrueIndology's rebuttal was self-contradictory and self-defeating. Despite such monumental skulduggery on the part of TrueIndology, this anonymous Twitter account found many sympathizers. We are listing a few of the reactions in support of TrueIndology.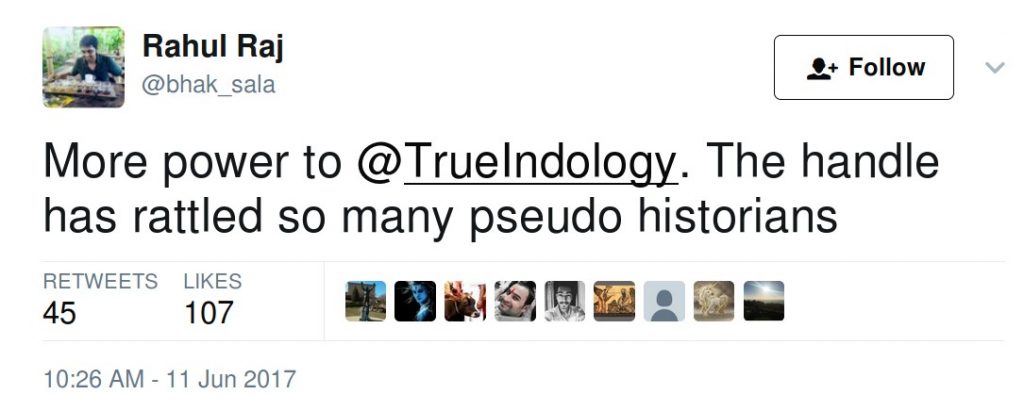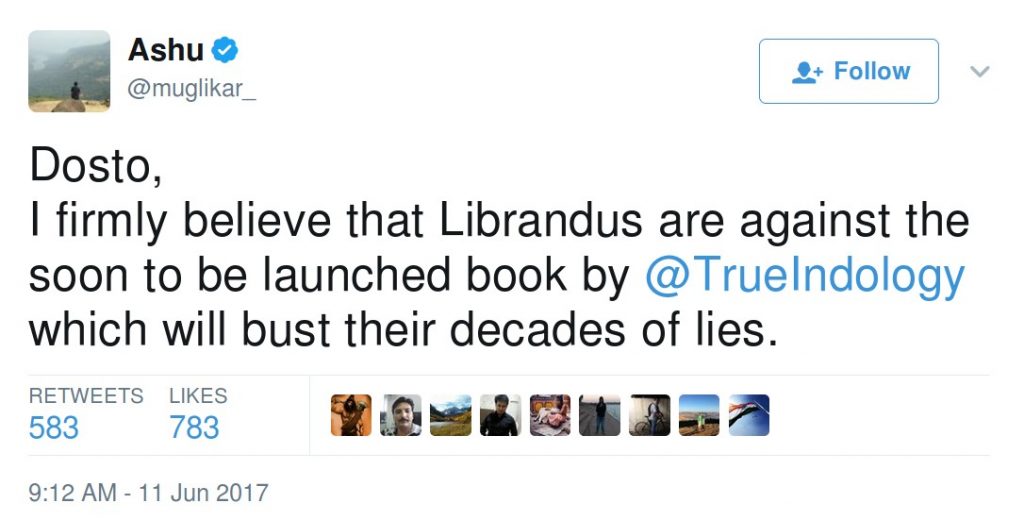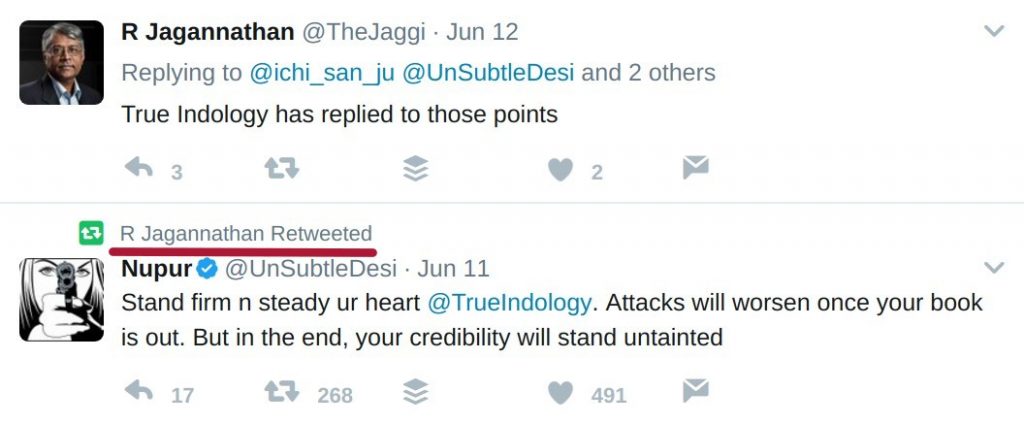 From Editorial Director of Swarajya Magazine R Jagannathan to OpIndia Co-Founder Rahul Raj (@bhak_sala), many prominent right-wingers on Twitter came out in support of TrueIndology. However, it is perplexing as to why these people are staking their reputations for an anonymous Twitter account which is clearly duplicitous.
Unless TrueIndology starts faking history again or updates the blog post which is stuck at "To be continued", this will be the last part of the TrueIndology series. Links to the previous two parts are provided below.
Donate to Alt News!
Independent journalism that speaks truth to power and is free of corporate and political control is possible only when people start contributing towards the same. Please consider donating towards this endeavour to fight fake news and misinformation.