On January 15, Bharatiya Janata Party social media head Amit Malviya tweeted a video of a group of men talking about the Shaheen Bagh protesters. They alleged that women participating in the sit-in protest are being paid to demonstrate against the Citizenship Amendment Act and the proposed National Register of Citizens. A man in the video further claimed that the protest was "sponsored" by the Congress party. Malviya reiterated the claim in his tweet.
Shaheen Bagh protest is sponsored… सारा कांग्रेस का खेल है… pic.twitter.com/JOKIO2qK7P

— Amit Malviya (@amitmalviya) January 15, 2020
Times Now broadcast the video tweeted by Malviya with the disclaimer that it "does not vouch for the authenticity of the video". In its broadcast, Times Now's Megha Prasad said, "It looks like a sting operation, this particular video. It's of course been shot with a hidden camera and it tries to show that people who are there at Shaheen Bagh are perhaps being paid for doing this sit-in dharna but again I am saying it is not for us to either corroborate or confirm any of this. We do not even know from where the BJP has got this video. Is it their own video, is it their own sting, have they sourced it from anyone?".
#Breaking | @BJP4India's @amitmalviya makes a SENSATIONAL charge at @INCIndia.

'Congress is funding the protests at Shaheen Bagh', claims BJP.

TIMES NOW's Megha Prasad with details. pic.twitter.com/0PHQOIMR7j

— TIMES NOW (@TimesNow) January 16, 2020
Prasad continued, "Amit Malviya has not given the credit to anybody. So one is just assuming at this stage, perhaps, they have been able to manage something like this."
Primetime debates on India Today and Republic TV also focused on Malviya's video. Republic TV asked "Is Shaheen Bagh a paid protest?" and ran the hashtag #ProtestOnHire.

My Nation, a portal that has links to the BJP's Rajya Sabha MP Rajeev Chandrashekar, published a report on the unverified video and asserted, "Now, you can also add that fact that they are being bribed to take part in the protests."

OpIndia, another Right-wing propaganda website, picked up the story too and said: "Even though OpIndia could not verify the authenticity of the video, it certainly raises doubts about the credibility of the organized Shaheen Bagh protests."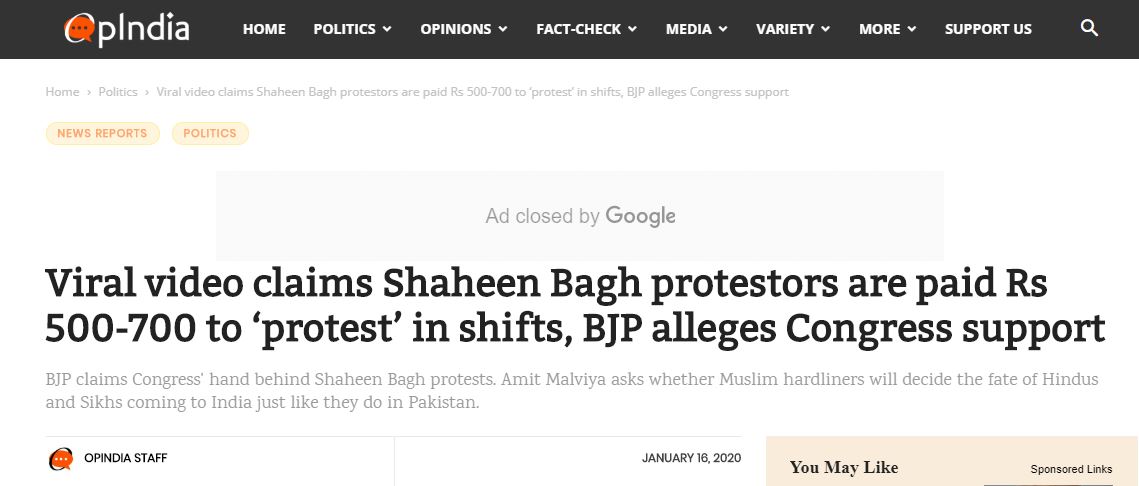 Several other prominent Right-wing handles like BJP Gujarat MLA Harsh Sanghvi, BJP Mahila Morcha's Priti Gandhi, former Shiv Sena member Ramesh Solanki, BJP Delhi IT cell head Punit Agarwal, and filmmaker Ashoke Pandit amplified the video with identical claims.
Location of the video
We watched the video frame-by-frame. In one frame, a mobile number printed on one of the posters on the wall is visible. The number is "9312484044".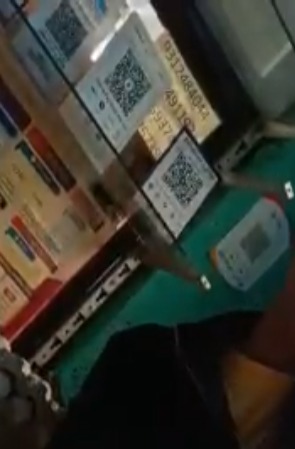 A Google search for this number revealed that it belongs to a shop named "Kusmi Telecom Center." The image of the shop on Google Maps corroborates with details in the video: The wall is the same colour. The wall in the video also looks like it's in a mobile shop, based on the data plan posters seen in the background.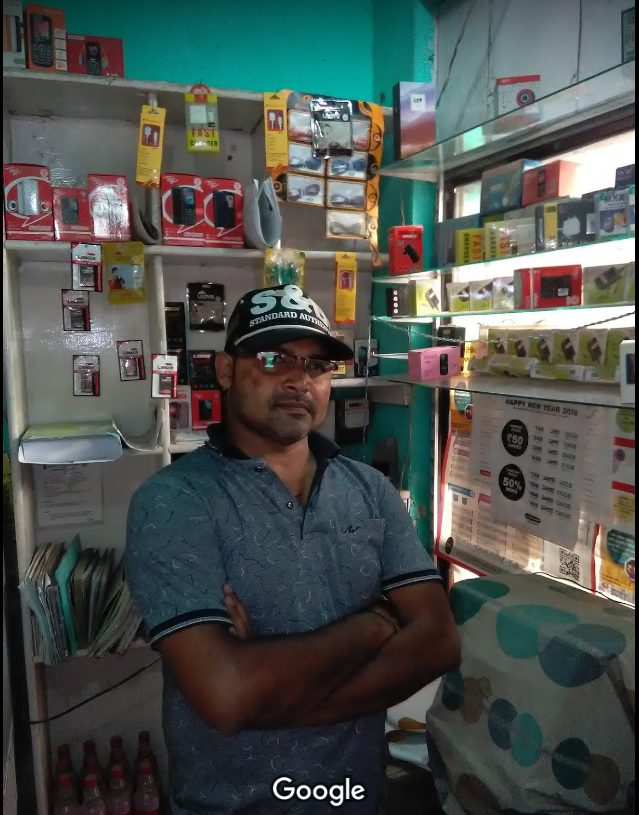 'The video was shot at my shop, claims are unreliable'
The "exposé" on the citizenship law protests was, in fact, shot eight kilometres away from Shaheen Bagh in South Delhi's Pul Prahladpur. The area falls under the Tughlakabad constituency. The video was made at shop number 134, called Kusmi Telecom, located at F-block in Mittal colony — just a few minutes' walk from the Tughlakabad metro station.
The Tughlakabad urban area sits on the hillocks of South Delhi, so its streets slope randomly. The main commercial street in Mittal Colony's F-block ends at an uphill intersection. Kusmi Telecom is located at this junction.
Ashwani Kumar, 38, runs the shop with his sectagenarian father. He sells data plans, print-outs, chips, eggs and cigarettes. The shop, with big red advertisements for Airtel and Vodafone, does not stretch beyond 8-10 square feet. Its walls are painted teal, and a wall-clock featuring BJP leaders, prominently Narendra Modi, faces the customer.
Kumar and his father vehemently denied that the video was shot in their shop — until four days later when he admitted it had been. While he denied shooting it himself, too many things don't add up.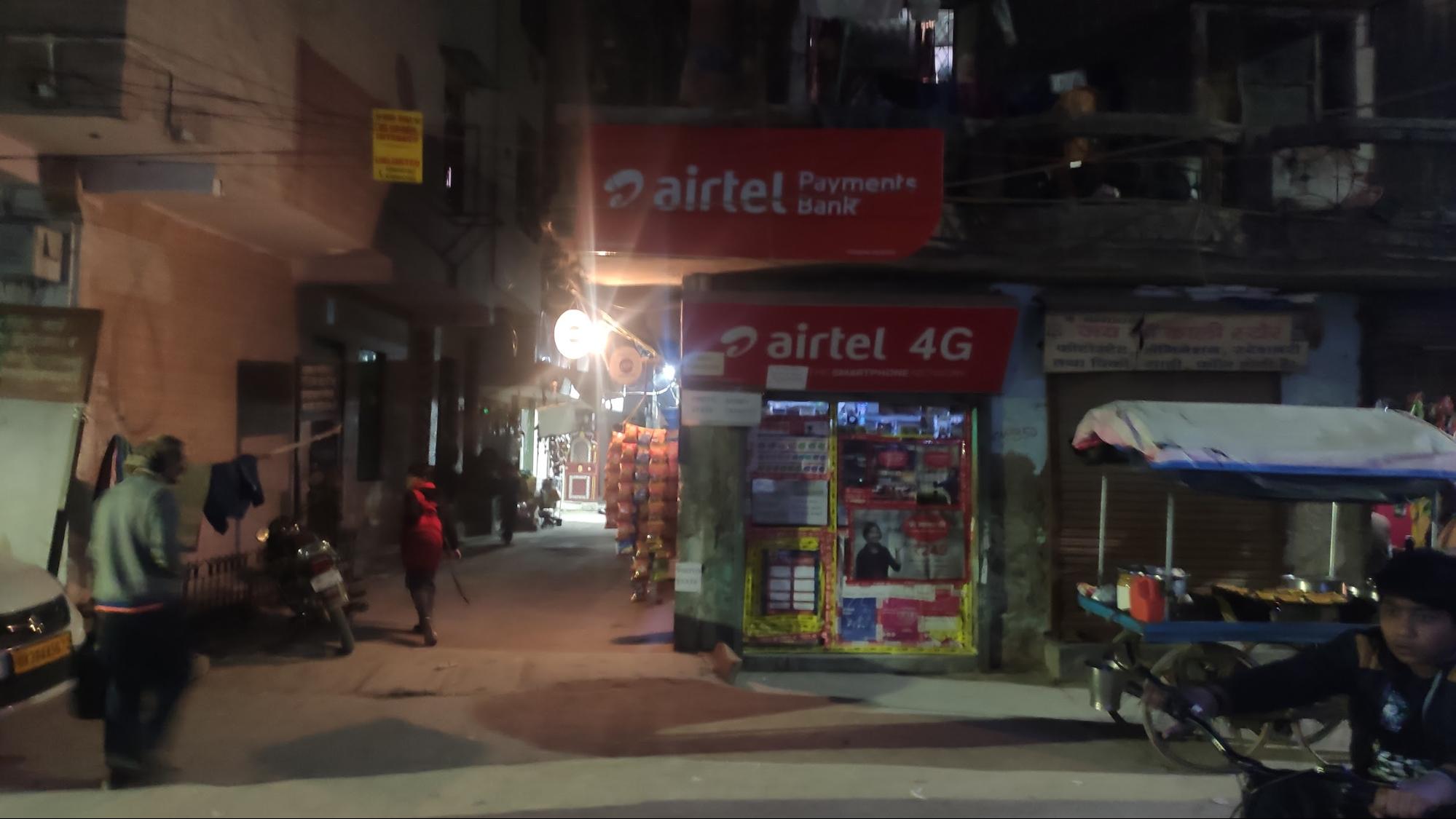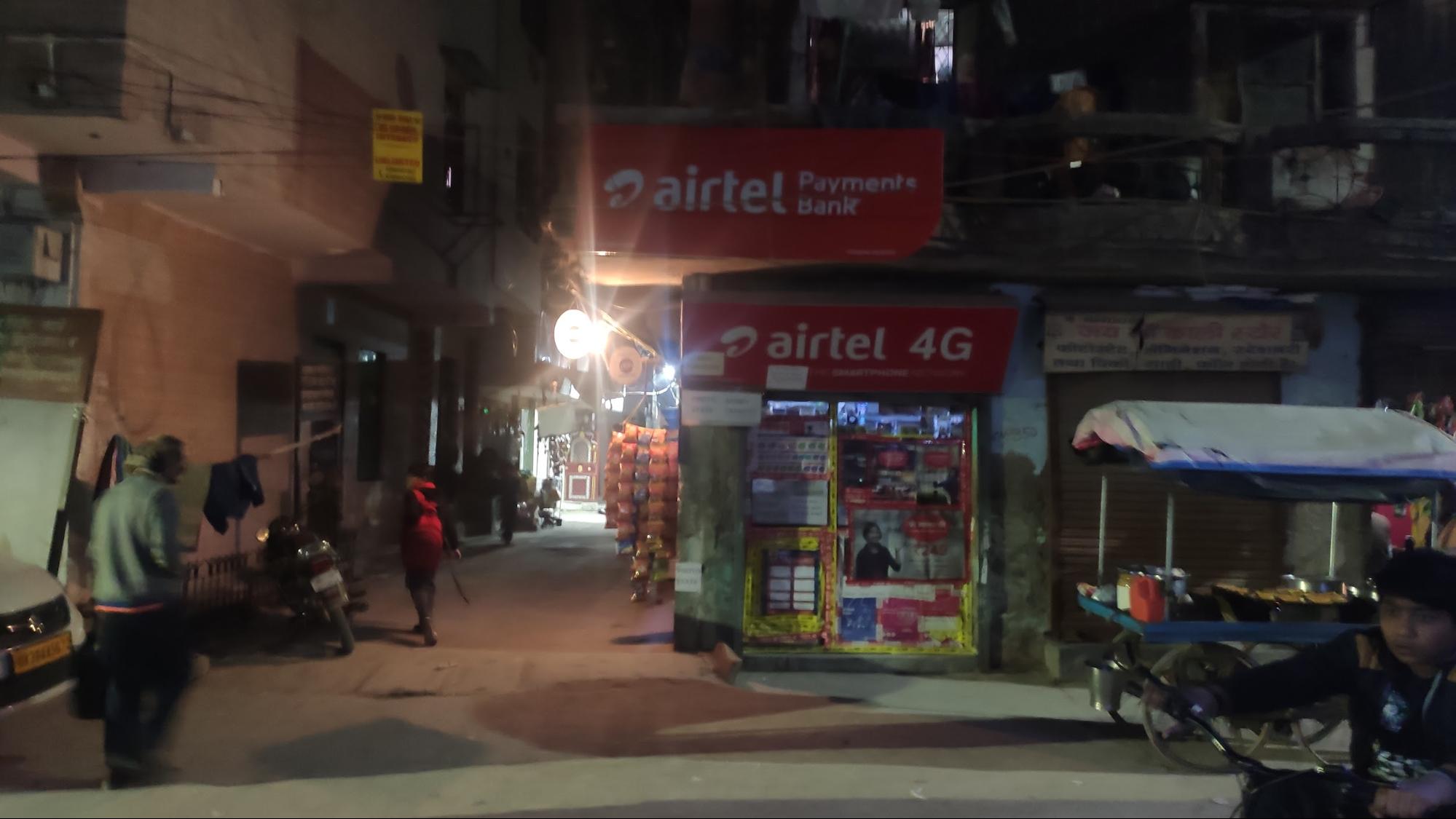 Easing Kumar into conversation, we discussed election issues.
"To be honest, the leaders do not care much about the elders and the widows here, be it MLA or MP," Kumar said. "All of them come once every five years, asking for votes. I take people to their leaders and get their work done. I work for the people."
Kumar's father, with thick-rimmed glasses and a winter cap, agreed.
Ashwani Kumar likes to call himself a "karyakarta", or a worker. Given the BJP paraphernalia in his shop, can he be described as a "BJP worker"? "Only 'worker' will do," he grinned, "although I've belonged to the BJP since the beginning."
Several stacks of documents lay on the shelves of his shop — paperwork of people that Kumar helps. He took them out and put them on the table. "Look, this person did not get their pension," he pointed to a piece of paper. Kumar said both the AAP MLA and BJP MP are approachable representatives. When you go to them with problems, as Kumar does, "they treat you well and listen to you".
Discussing the CAA and the NRC, both father and son support it. "I don't understand why there's so much protest about it," said the father. The son added: "If the government had made a law, it must be right. Those people are educated. They must be thinking about the country."
And what about the people who are protesting against the law? "There are all kinds of people. There was firing at Jamia today, for instance," Kumar said, his implication being it was a protester who fired — which is untrue. "The Muslims living here [Mittal Colony] are also fine. They are peace-loving."
His father interjected: "There are 125 crore people, who knows what kind of people are getting into this country?"
When I brought up the "exposé" on Shaheen Bagh — that the protest is "sponsored" and women were being paid to protest — Kumar said, "It is wrong to say such things about people. It is all hearsay, and people just like to spread it further. It can also be a lie."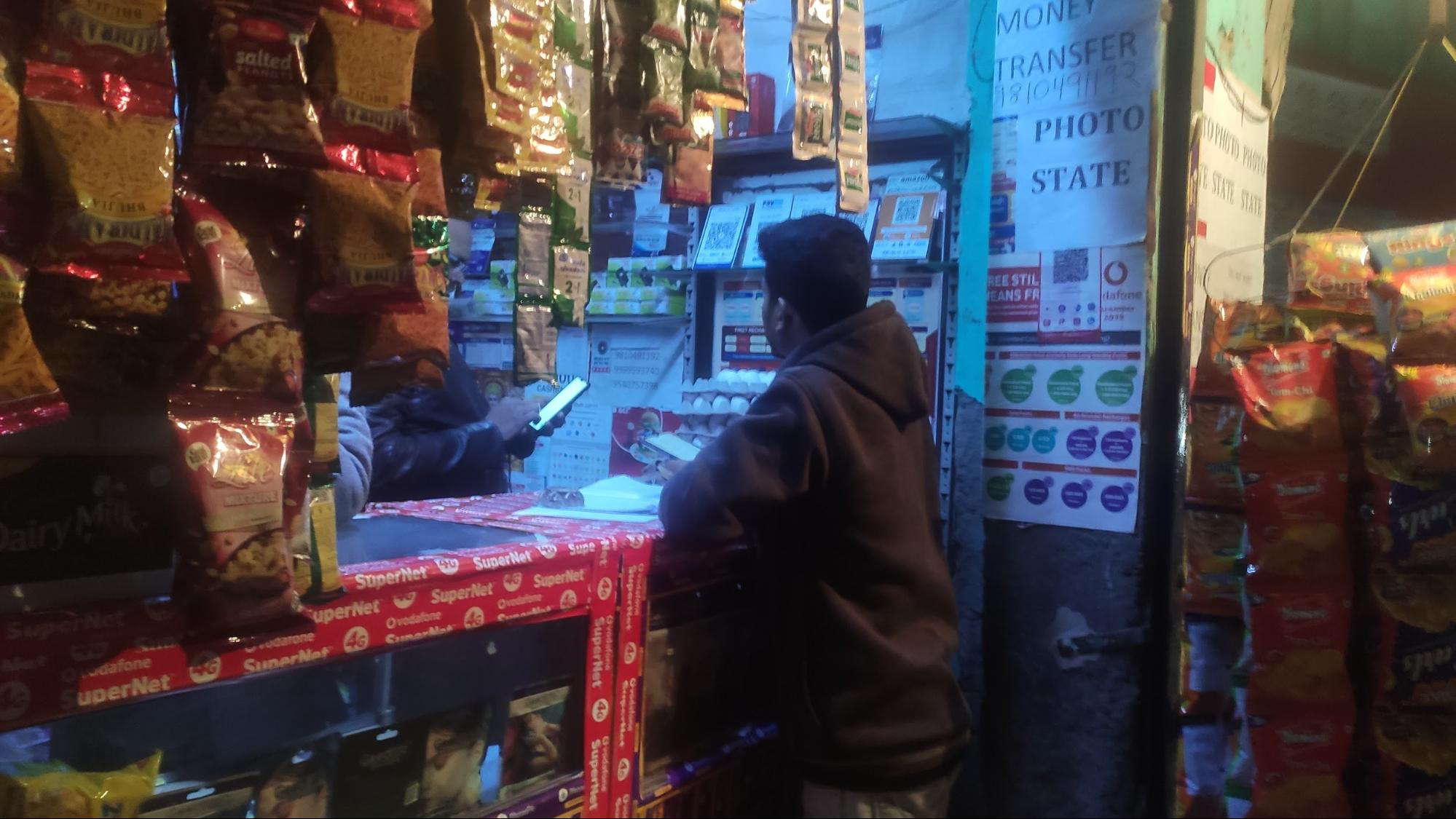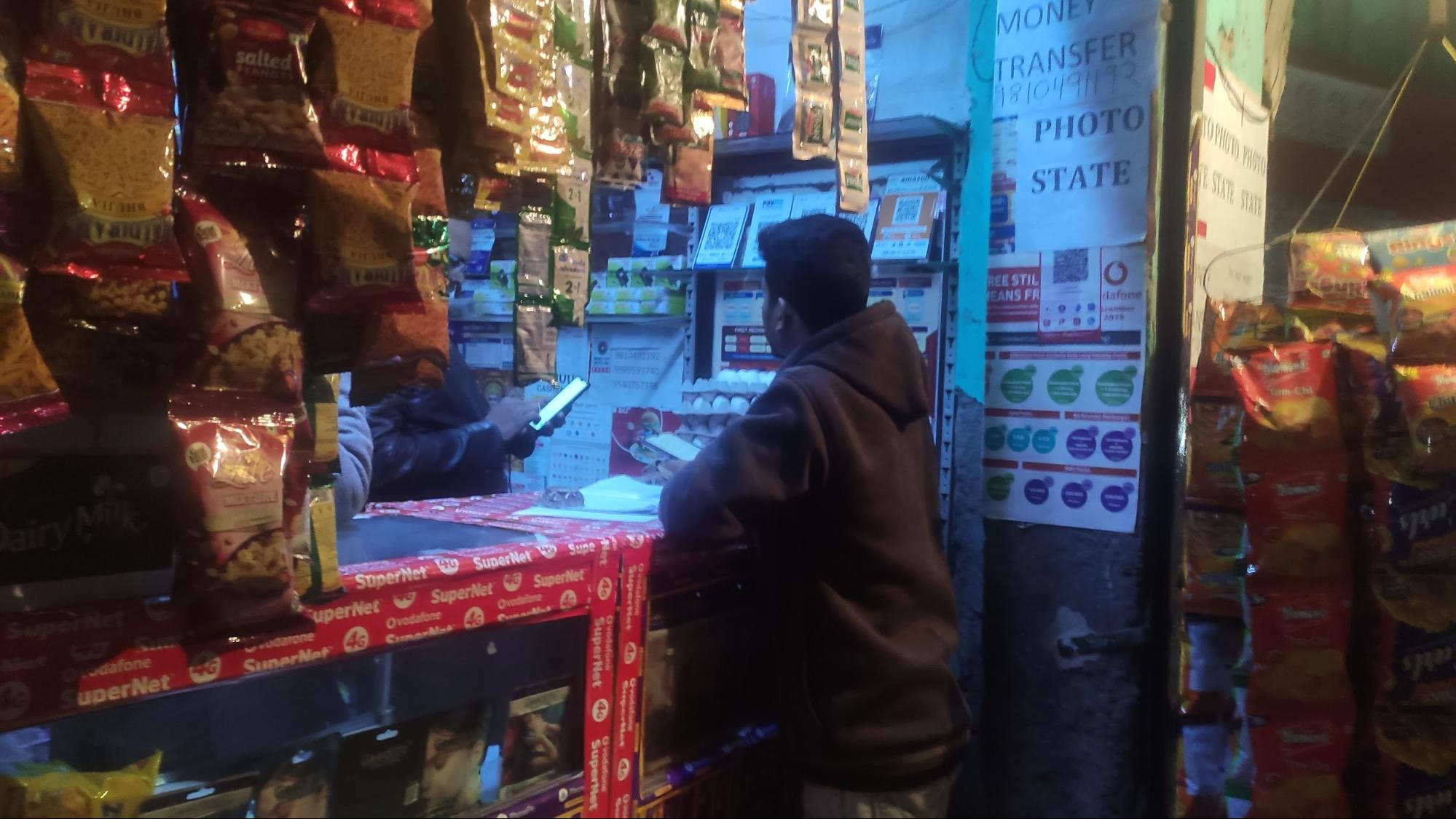 From the first 20 minutes of conversation, certain things are clear.
First, the "exposé" spread by the BJP was shot at this shop. The visuals in the video gel perfectly with the interiors: the walls, the eggs, the numbers, etc.
Second, there were three voices in that video: the accuser, visible on camera, and two others, who couldn't be seen. To my mind, one of the voices sounds exactly like Kumar's father — it's distinctly hoarse and crusty. In fact, it sounds like it's Kumar's father who says "sab Congress ka khel hai" in the video. This was later quoted in Amit Malviya's tweet and repeated on Times Now.
Similarly, Kumar's voice, with its accent and flair, fits with the voice in the video that emanates from directly behind the camera.
Third, the video is clearly shot on a phone, not a sting camera. Its original frame (see here) is a typical phone-sized frame that was shrunk when Malviya shared it online.
Adding these up, could it be that Ashwani Kumar shot the video himself?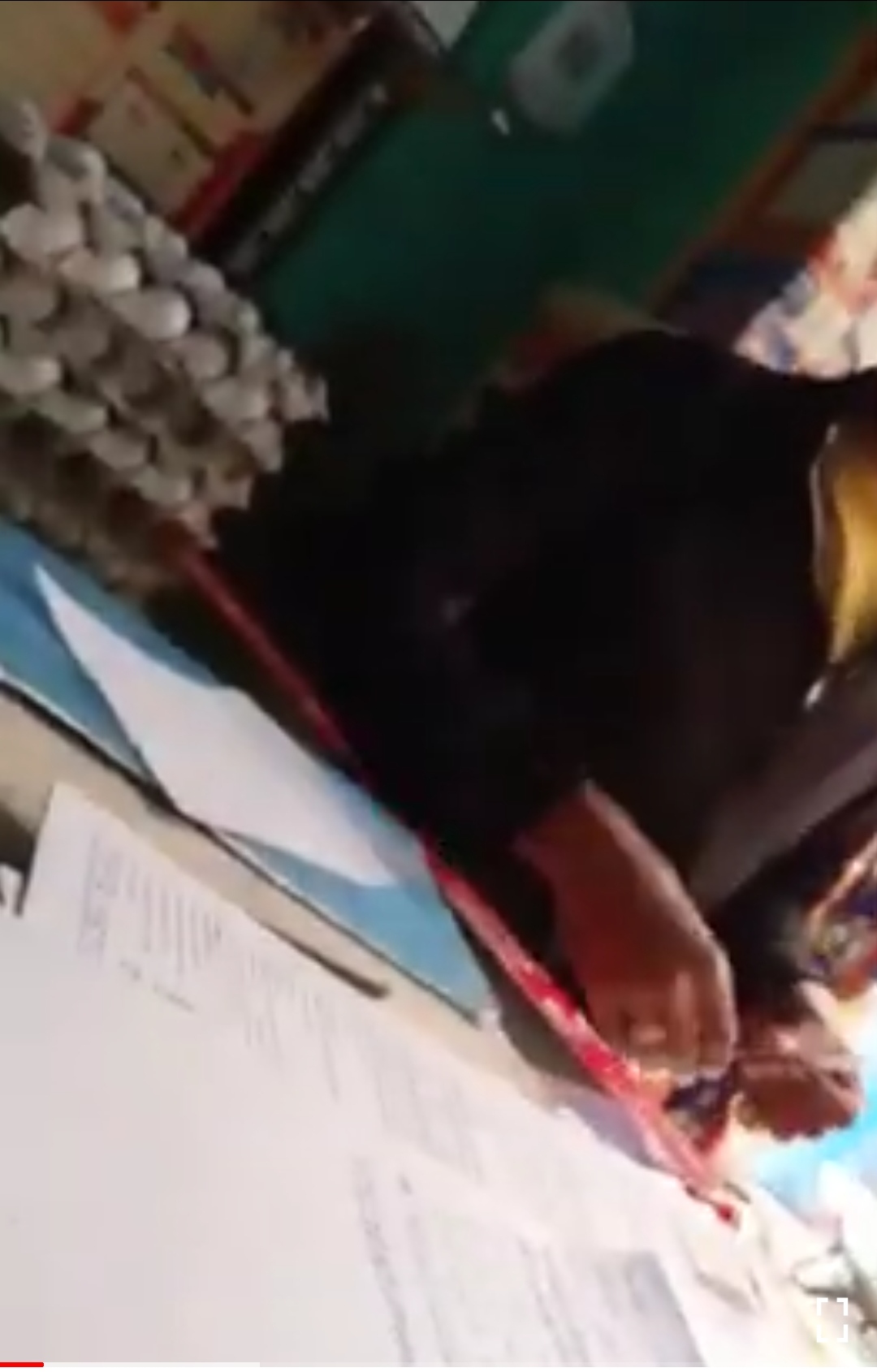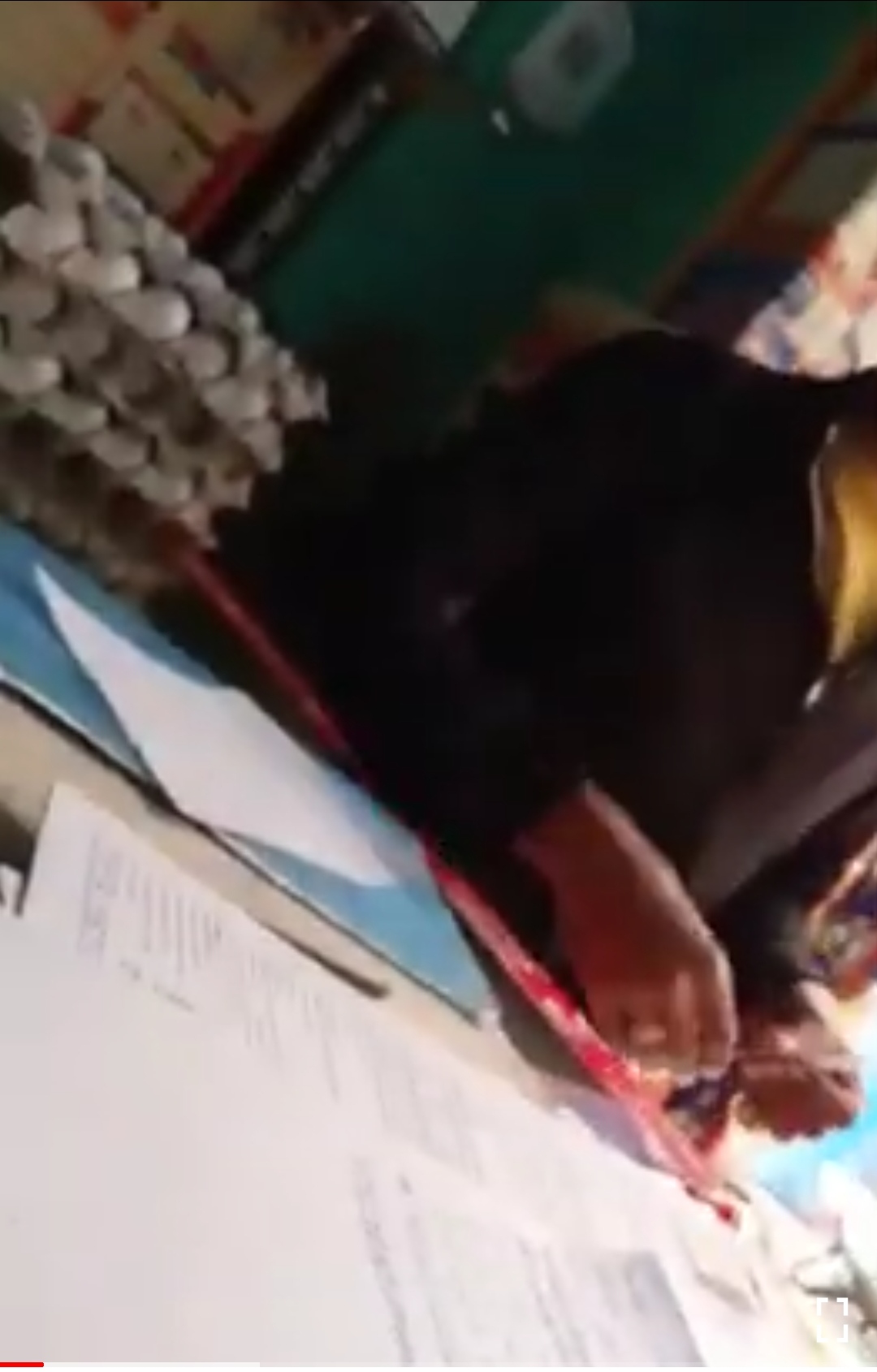 When asked if the video was shot in his shop, Kumar got antsy and denied it vehemently. "Two people can go to any shop, talk nonsense, shoot a video and make it viral. It is not a difficult thing to do."
So was that video shot at your shop? "No," he asserted.
The conversation might have looped from election issues to Shaheen Bagh, but Kumar was now fully aware that we're investigating the BJP video. He turned defensive, claiming he has no affiliation to any political party. He began cursing and grabbed my notebook, striking off the bit where I had written "BJP karyakarta" under his name. He then ripped out the pages with my notes.
As I smoked a cigarette that I'd bought from his own store, Kumar even shot a video of me(Newslaundry reporter), saying, "Look, this man is smoking at my shop without my permission."
He then said: "Wherever that video might have been shot, you should know one thing. That boy in it did not know anything. He was a kid. He couldn't tell his elbow from his ass. And by the way, I have nothing to do with the BJP, the AAP or the Congress." The "boy" refers to the person in the "sting" video who says Shaheen Bagh's women are being paid to protest.
Till the last minute of our meeting, Kumar remained incensed and refused to concede that the video was shot at his shop. Finally, four days later, he told me over the phone: "The video was indeed shot at my shop," he said, "but it was another person who shot it covertly from outside. And what was said in it is unreliable."
It is hard to believe Ashwani's caveat — that the video was shot from outside the shop by an outsider. In the video, the accuser, who is standing outside and across the desk, looks inside while addressing the comments of the person behind the camera.
Additionally, at 1:24 in the video, the camera zooms out and it becomes clear that the person shooting the video is inside the shop. A person standing outside would have to stretch his hands all the way to the inside to shoot that frame. Such gymnastics would hardly go unnoticed, and would be far from being "covert", which Kumar claimed it was. When I posed this to him, he said his father might not have noticed it because he is an "elder".
'There is no proof, it is common sense'
About 50 metres away from Ashwani Kumar's shop, the neighbourhood was decorated with BJP flags. A particularly large party flag was hoisted on the terrace of one of the houses.
This is the home of Bhanwar Singh Rana, a local BJP worker in Pul Prahladpur. A stout man with a ready smile, Rana believes that women in Shaheen Bagh are being paid to protest. He cannot prove it, he claimed, but it is "common sense". "If the protest is honest, why are they making women sit on the road?"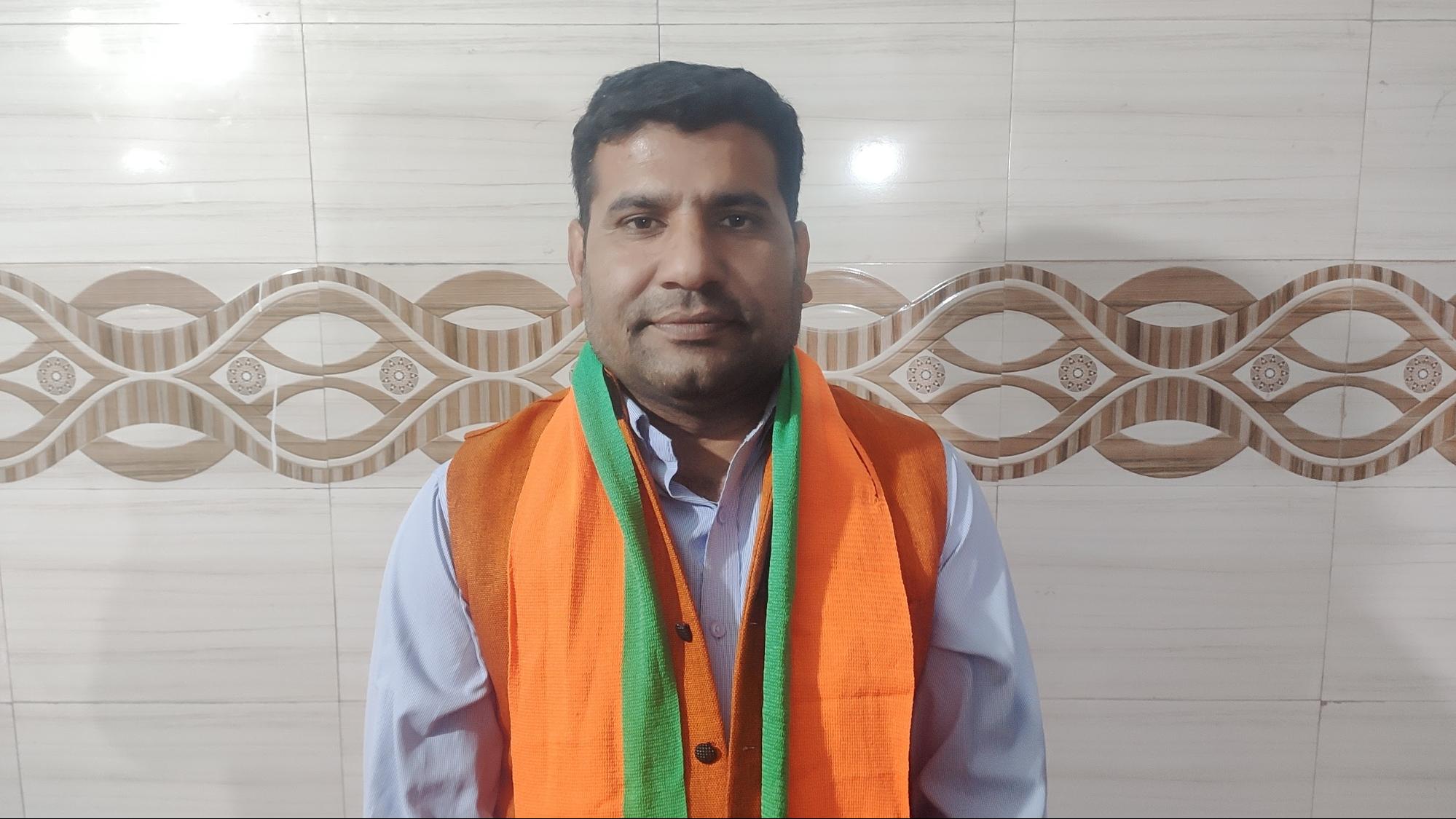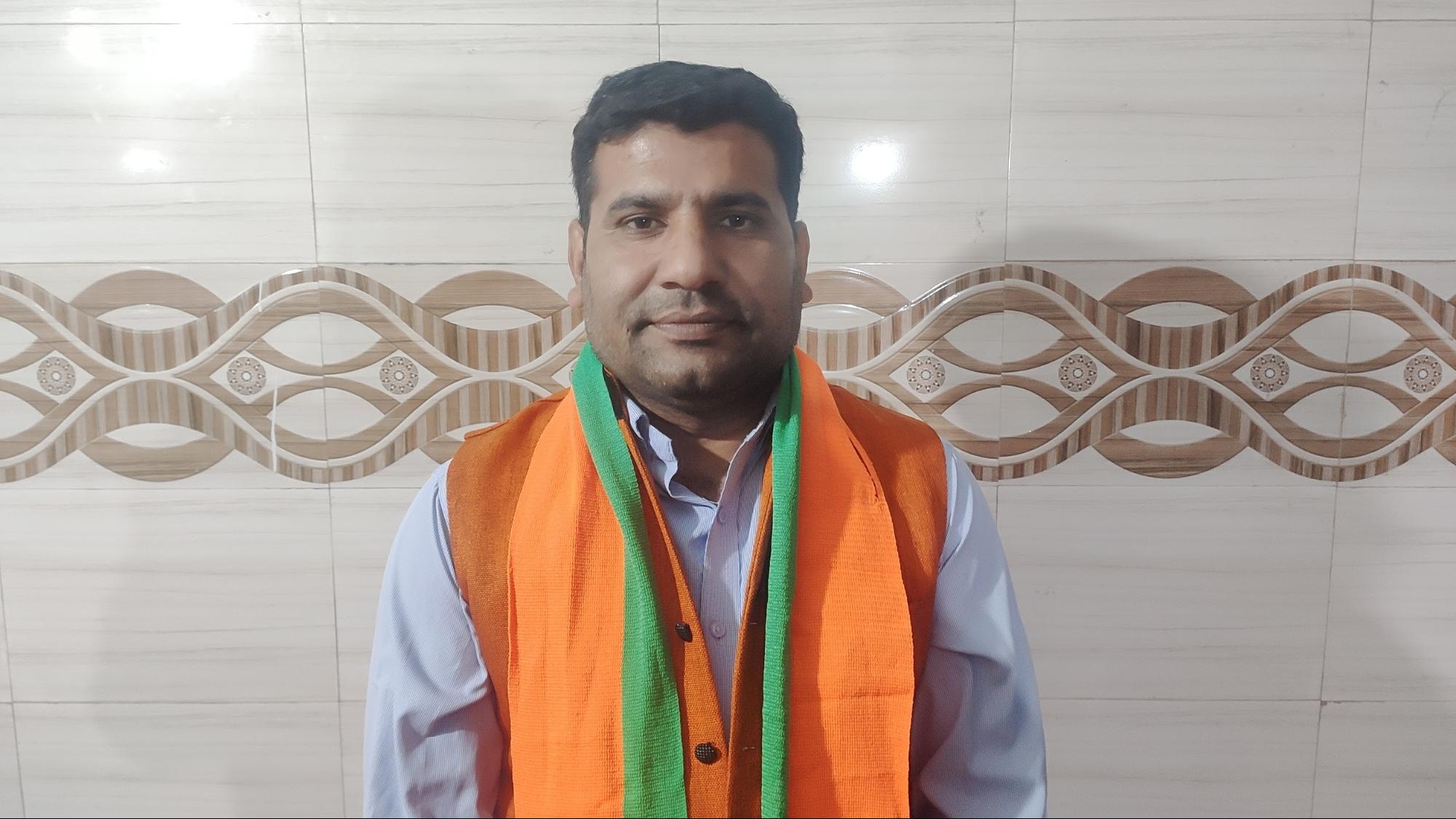 Nearing the end of an hour-long conversation on politics, the BJP, news and newsmakers, Rana said he likes Republic Bharat.
Isn't that the channel that did the Shaheen Bagh sting on women, I asked him, deliberately and incorrectly. He smiled, turned to an acolyte seated beside him, and asked mischievously: "Do you know who did that sting?"
Rana answered the question himself: "He is from our street only. There is a shop in our neighbourhood. One boy stood there and talked, and someone made a video of him."
When I asked Rana to introduce this shop owner to me(Newslaundry reporter), he said he couldn't. "That person has told me not to reveal his identity. I don't know who the boy is, but I know the shopwalla. He's close to me."
Rana gave me Kumar's answer when I probed further. "A person who was standing outside the shop made the video, not the shop owner," he claimed. "You keep that video with yourself. You come to me after February 8, after the elections, and I'll introduce you to the shop owner," he grinned.
The exposé that wasn't
This AltNews-Newslaundry investigation would have been unnecessary if the news outlets that carried this "sting" as news — and even conducted primetime debates on it — had done their own investigation in the matter.
Here's basically what happened: three people in a corner of Delhi made unproven claims about a protest eight kilometres away, one of them filmed it, the governing party spread it on social media, and channels like Times Now, Republic and India Today debated it on national television. These tall claims — from which the shopkeeper distanced himself, and which the BJP couldn't back with evidence — might have attracted eyeballs and generated advertising revenue, but they also lent credence to baseless, unverified claims.
These became a part of an online misinformation campaign to portray the women at Shaheen Bagh as paid protesters. A morphed image and an old video were used for this. These representations came handy in the political domain, like when Home Minister Amit Shah remarked that Delhi voters should "press the voting button so hard that the current is felt in Shaheen Bagh", or when a BJP minister made a crowd chant "desh ke gaddaron ko, goli maaro saalon ko", effectively endangering the lives of adults and children at the Shaheen Bagh protest.
We reached out to Amit Malviya for his comments. This story will be updated if and when he responds.
[Alt News and Newslaundry are independent platforms that focus on misinformation and propaganda in the mainstream media. You can support AltNews and subscribe to Newslaundry.]
Donate to Alt News!
Independent journalism that speaks truth to power and is free of corporate and political control is possible only when people start contributing towards the same. Please consider donating towards this endeavour to fight fake news and misinformation.