A video where a man with a face mask can be seen allegedly suffocating a patient is widely circulating on social media. One Drshiv Poojan Mathur shared the video on Facebook and claimed, "लोगो को मारा गया जिससे कोरोना मरीज़ के आंकड़े बड़े ताकि हॉस्पिटल को भी पैसा मिले (People are being killed so that the number of coronavirus patients increases and hospitals gain money.)" The post has drawn close to 800 shares.
Another user M Patel Patidar shared the video with the same claim. From Bilal Sarkar's account, the video has drawn 18,000 shares however he had posted a different message — "पता नहीं ये वीडियो कहाँ का है? लेकिन कोरोना कि आड़ में बहुत बड़ी साजिश हो रही है! (Don't know where this video is from but there is a big conspiracy in the guise of corona.)"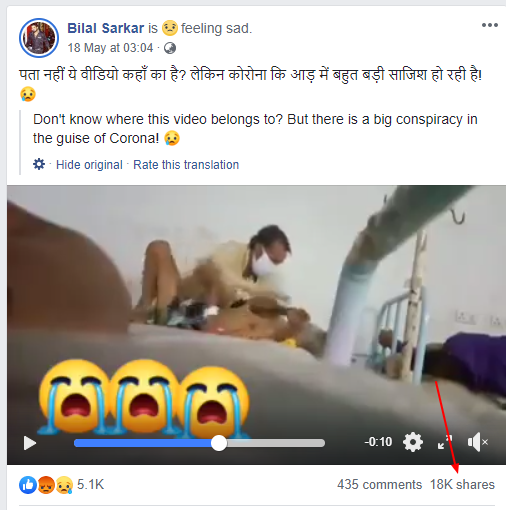 Alt News has received several fact-check requests for the video on its official mobile application.

Fact-check
A Twitter search with the keyword 'শ্বাসরোধ' which means 'suffocation' led us to a tweet from May 19, 2020, where a report on the video was shared. The report was penned by Bangladesh-based sokalersongbad.com and it said that an elderly man Mansur Mollah was strangled in a hospital bed on April 21, 2020, after a fight broke out between two parties. He died the next day. The incident took place in Faridpur's Dadpur in Boalmari, Bangladesh.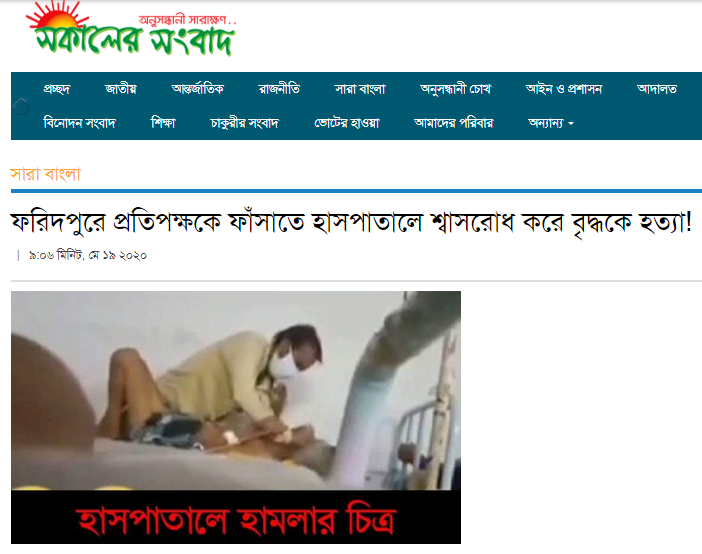 However, we found that the initial reports of the incident have no mention of the video. In fact, the video does not match the details of the incident.
According to a report published in dhakatimes24.com on April 22, "Boalmari Police Officer-in-Charge (OC) Aminur Rahman said Abu Bakkar, son of Fazal Khar of Dadpur village, had an argument with Kibria Mollah, son of Soleiman Mollah, on Tuesday [April 21] evening when they were playing cricket. Due to this, Fazal Khar's people attacked the people of Chhelaman Mollah at night. At that time, his neighbour Mansur Mollah got hit in the head when he tried to stop the fight. He was rescued and taken to Faridpur General Hospital. He died at around 1 am while undergoing treatment."
Another report published in The Daily Prothom Alo also says that Mansur Mollah was injured during a fight that broke out during a cricket match between a few youths on April 21. He succumbed to his wounds in the early hours of April 22.
A Facebook search with the keywords 'ভিডিও মনসুর মোল্লা' – Video Mansur Mollah – took us to a post by Hasan Moila, a resident of Bangladesh's Dhaka. He wrote on May 18 that the video is being falsely linked with the incident concerning Mansur Mollah. He shared photographs of Mollah's injuries saying that the man in the video does not have similar wounds. He also wrote that Mollah had a thick beard which covered his neck but the man in the video does not have a beard.
Several people commenting on Hasan Moila's post shared links where the video was shared with a completely different context.
On May 14, Rajesh Sarkar from Sylhet, Bangladesh, shared the video and wrote that it shows a son strangling his father. The video carried the logo of slynewsbd.com. The outlet had shared the same video with identical narrative.
The claim that the video shows a son strangling his sick father with his bare hands is viral in Bangladesh. However, a YouTuber from the country said that according to her, the son was trying to force-feed medicine to his father. If one carefully watches the video, the elderly man's hands are never near his neck. He either tries to close his mouth or push the man (maybe his son) using his hands.
A video was viral on Bangladeshi social media ecosystem and picked up by several media houses from the country that published it with false claims. The same video is now viral on Indian social media with the false claim that patients are being killed in hospitals to show a surge in coronavirus deaths.