A video of a crowd raising slogans of 'Allahu Akbar' on the streets is viral on social media. It has been claimed that Muslims staged a demonstration to halt the prayers at 'Kalimath Temple' in Kolkata and demand the closure of the temple. A Twitter account called 'Dharmo Rakshati Rakshitah' made the same claim while tweeting the clip. It garnered over 2,100 views at the time of writing. (Archive link)
कोलकाता में काली मठ मंदिर में पूजा रोकने के लिए चिल्लाते हुए हजारों की तादाद में मलिच्छ कौम (मुस्लिम), यह वही मठ है जहां श्री रामकृष्ण परमहंस जी द्वारा की जाती थी पूजा । अब ये (तथाकथित शांति प्रेमी)मंदिरों को बंद कराने की मांग कर रहे हैं। यह हमारे अपने देश में क्या हो रहा है?👇 pic.twitter.com/aKV0no7k8v

— धर्मो रक्षति रक्षितः🚩🙏 (@Dharm_3317) October 22, 2021
One Sourabh Srivastava tweeted the video with a similar message. (Archive link)
👆🏻👆🏻*कोलकाता में काली मठ मंदिर में पूजा रोकने के लिए चिल्लाते हुए हजारों की तादाद में मलिच्छ कौम (मुस्लिम), यह वही मठ है जहां श्री रामकृष्ण परमहंस जी द्वारा की जाती थी पूजा । अब ये (तथाकथित शांति प्रेमी) मंदिरों को बंद कराने की मांग कर रहे हैं। यह हमारे अपने देश में क्या हो रहा pic.twitter.com/2IKbao7tZ1

— सौरभ श्रीवास्तव 🚩हिंदी🚩 हिंदू 🚩हिन्दुस्थान (@Sourabh3507) October 22, 2021
Facebook user 'ರಜನಿ ಕಟ್ಟೇ' also posted the visuals with the same claim.
🔥Hundreds of Muslims shouting to stop Poojas at Kali Matha Mandir in Kolkata, once poojas conducted by Sri Ramakrishna Paramahamsa. They (so-called peace lovers) want to close the Mandir. What is this happening in our own country? Where are we? People of India to awake soon from their long sleep and observe what is happening around us. 🚩🙏

Posted by ರಜನಿ ಕಟ್ಟೇ on Thursday, October 21, 2021
Several users on Twitter and Facebook amplified the video. We received a few verification requests on the Alt News official mobile application.
This slideshow requires JavaScript.
Fact-check
We found that the person filming the video is speaking in Bangla in a Bangladeshi dialect. Some users have also replied to the viral post stating that the video is from Feni, a town in Bangladesh.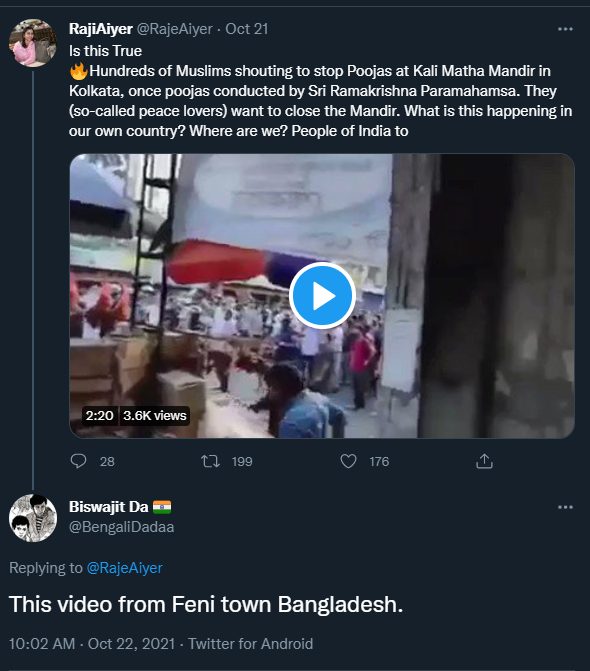 We performed a keyword search and came across an October 16 video report by Bangla TV. The location visible in this report matches the one in the viral video. However, the Bangla TV video was recorded at night. On October 16, another Twitter user shared the same video as a dispute between the Hindu-Muslim community in Feni, a town in Bangladesh.
We also came across a story by bd news 24, which said that the dispute broke out after serial attacks on the Durga Puja pandal in Feni.
Bangladeshi media outlet Prothom Alo also gave coverage to the row on October 17. According to the article, the District Puja Utsav Council had formed a human chain outside the Kali Mandir on Trunk Road in connection with the attacks on the temples. This sparked clashes between the people returning from Boro Masjid after offering prayers and members of the Pooja Council, injuring more than 15 people. Local police also resorted to lathi-charge to control the situation, with district police personnel sustaining injuries. Several other Bangladeshi outlets covered the incident. (Link 1, Link 2)
Given below are some images of Feni's Boro Jaame Masjid taken from Google to show the similarities.

Bangladeshi YouTube channel 'JazaKallah Media' posted this video on October 16 in connection with the clashes.
It is worth noting that the incident occurred against the backdrop of a spate of violence against the minority Hindu community in Bangladesh after an alleged incident of the Quran being desecrated during Durga Puja festivities in Kumila, part of the Chittagong Division in Bangladesh. Six people reportedly died in the violence.
To sum it up, a video depicting clashes between Hindu and Muslim communities in Bangladesh was shared on Indian social media with the false claim that Muslims in Kolkata staged a demonstration to get a temple closed.
Donate to Alt News!
Independent journalism that speaks truth to power and is free of corporate and political control is possible only when people start contributing towards the same. Please consider donating towards this endeavour to fight fake news and misinformation.