A gruesome video of a group of men hacking a man to death with axes has been linked to the post-poll violence in West Bengal. Alt News has not attached the video in this report or provided any links owing to its graphic nature.
Hindu Jagran Manch state president (UP) Chaudhary Amit Singh shared the clip on Twitter and wrote, "TMC workers dragged my husband out of the house and dared him to say Jai Shri Ram. My husband was killed in Gangnapur Ranaghat while they kept saying 'where are your BJP people now?', 'where are your Hindus now?'" The quote has been ascribed to the wife of Uttam Ghosh, a BJP worker, who was allegedly killed in the violence.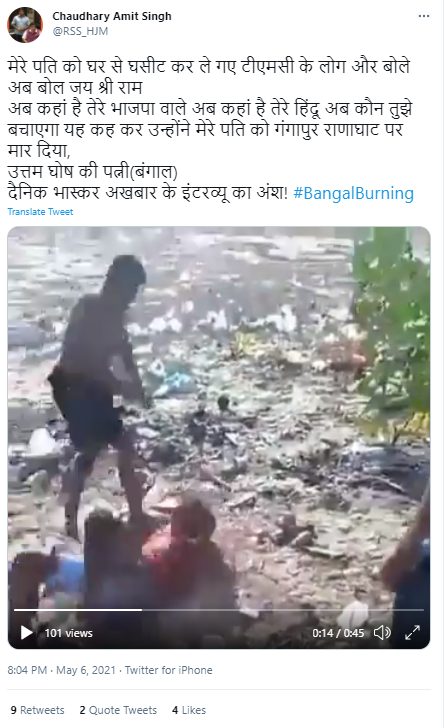 The video has also been shared on Facebook with the same Hindi text, "मेरे पति को घर से घसीट कर ले गए टीएमसी के लोग और बोले अब बोल जय श्री राम अब कहां है तेरे भाजपा वाले अब कहां है तेरे हिंदू अब कौन तुझे बचाएगा यह कह कर उन्होंने मेरे पति को गंगापुर राणाघाट पर मार दिया, उत्तम घोष की पत्नी (बंगाल) दैनिक भास्कर अखबार के इंटरव्यू का अंश! #BangalBurning."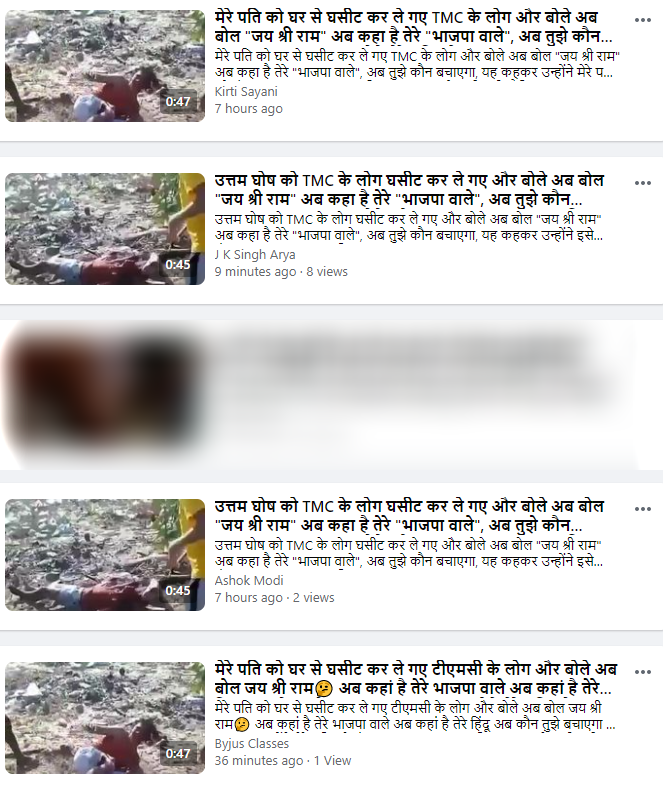 Alt News has also received multiple verification requests for the video on its WhatsApp number.
This slideshow requires JavaScript.
Ironically, the text overlayed on the video reads in Hindi, "Modi in your rule there is no need of law and order."
Old video from Brazil
Alt News used InVid to break down the video into multiple frames and performed a reverse image search of one of the frames on Yandex. We found various articles which claimed that the video shows a murder that happened at Praia do Futuro in Fortaleza, Ceara in Brazil on December 30, 2018.
Most of the articles were published on local online news portals such as Jornal de Brasilia, R7, Esqueria Diario, and Monolitos Posts.
The article published in Monolitos Posts gives a detailed account of the incident. According to the outlet, the victim's name was Wesley Tiago de Sausa Carvalho and that the suspects involved were all identified by the Civil Police of the State of Ceara, two of whom were arrested. The police report mentions that the teen was killed with axes, hoes (gardening equipment) and stones. Furthermore, according to the investigation, Wesley Tiago was killed in a dispute between members of two rival gangs. The names of the two arrested were made public – José Carlos Evangelista dos Anjos and Luciano Alves de Souza – while the other two suspects Abraão Jhonny Alves de Freitas and a woman identified only as Carine were absconding.
A video from Brazil was therefore falsely linked to the post-poll violence in West Bengal. Alt News had earlier debunked the video in 2019. Since West Bengal results sparked violence in the state, social media has been inundated with disinformation. A photo of a woman injured in Bangladesh was also linked to the violence.
Donate to Alt News!
Independent journalism that speaks truth to power and is free of corporate and political control is possible only when people start contributing towards the same. Please consider donating towards this endeavour to fight fake news and misinformation.