Several social media users have posted a one-minute video that shows a group of Muslims praying on the street. The man recording the video says, "Don't these people fear corona? This should be stopped (Translated from क्या यहाँ कोरोना का दर नहीं? इसको भी रोकना चाहिए)." In the last 20 seconds of the video, the man says that this happened near a mosque in Patparganj, East Delhi district. He also points to the cops and says, "Police are alert as well (translated from पुलिस भी तेनाप है)."
On May 13, several Twitter users posted the viral video — Vice President of 'Hindu Struggle Committee' Diksha Kaushik (archive link), BJYM Telangana spokesperson Roop Darak (archive link) and Twitter handle @effucktivehumor (archive link).
Darak's tweet has been retweeted over 1,500 times and the video has been viewed more 36,000 times. Kaushik's tweet has been retweeted over 1,000 times.
Somewhere in Delhi pic.twitter.com/bu8i7yKd8R

— Roop Darak HINDU (@iRupND) May 14, 2020
Similarly, several Facebook users also posted the viral video along with Hindi text. Facebook page 'Modi Nama' wrote, "This is the situation at New Delhi's Patparganj mosque. Here the law is broken in broad daylight and Arvind Kejriwal is asking for suggestions [to tackle coronavirus] (translated from यह हालात हैं दिल्ली के पटपड़गंज के रोड पर जो मस्जिद बनी हुई है उस पर सरेआम कानून की धज्जियां उड़ाई जा रही है और अरविंद केजरीवाल बोल रहे हैं कि आप हमें सुझाव दो हमें क्या करना चाहिए)." The post has been shared over 4,000 times and viewed over 1.2 lakh times. (archive link)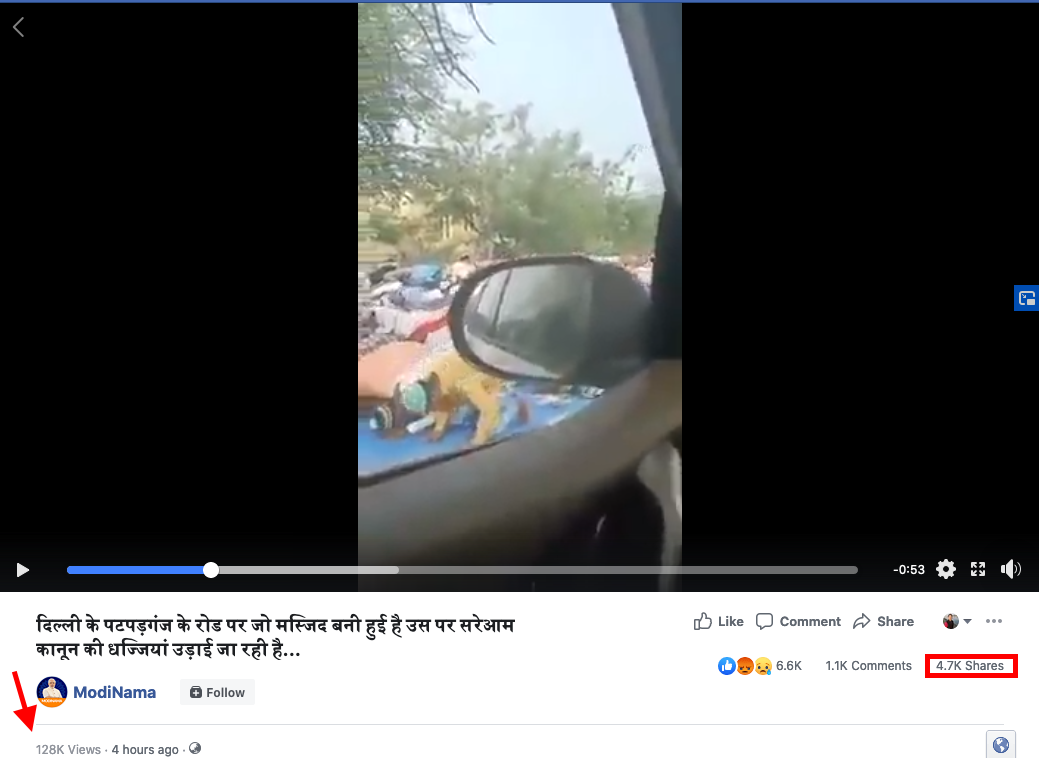 Alt News received several requests to fact-check this on WhatsApp (+917600011160) and on our official Android application.
Old video passed off as recent
Alt News performed a keyword search 'पटपड़गंज' on Twitter and found that a longer version of the same video was posted by Abhishek Dubey, IT and social media head of BJP Delhi, on March 20. At the 16th second mark, the man behind the camera can be heard saying, "Today, on 20th…"
दिल्ली के उप मुख्यमंत्री @msisodia जी के पटपड़गंज विधानसभा में #कोरोना का कोई डर नही है जहाँ पूरी दुनिया इस महामारी के डर से बाहर नही निकल रही है वही यहाँ 100 से ज्यादा लोग नवाज़ अदा कर रहे दिल्ली के मुख्यमंत्री @ArvindKejriwal आप बोलते हो को 20 से ज्यादा लोग एक साथ ना निकले pic.twitter.com/0w8OjRPIMy

— Abhishek dubey (@mrabhishekbjp1) March 20, 2020
The video was shared one day prior to Janta Curfew and four days before Prime Minister Narendra Modi announced countrywide lockdown from March 25 to curb coronavirus. However, it is noteworthy that the Delhi government had banned religious, social and political gatherings of more than 50 people on March 16.
On May 11, Twitter account of DCPEastDelhi replied to a Twitter user who had posted the viral video. "This is totally false. An old video is being used with a malicious intent to spread rumour," wrote the police.

This is totally false. An old video is being used with a malicious intent to spread rumour.

Please verify before posting and spreading rumours.@DelhiPolice

— DCP East Delhi (@DCPEastDelhi) May 11, 2020
Thus, almost a 2-month-old video of Muslims praying in public in New Delhi has been passed off as a recent occurrence.
Donate to Alt News!
Independent journalism that speaks truth to power and is free of corporate and political control is possible only when people start contributing towards the same. Please consider donating towards this endeavour to fight fake news and misinformation.