A gruesome video of two men hacking another with an axe has been shared on social media in the backdrop of the coronavirus pandemic. It is being claimed that the video represents the recent incident from Rajasthan's Jaisalmer where a man named Rewat Singh was hacked to death. According to Dainik Jagran, Singh had taken part in PM Modi's 'thali bajao' event on March 22 which enraged some locals who attacked him on April 4, subsequently leading to his death a few days later. Singh's nephew filed an FIR naming Shahid Khan, Sadik Khan and Hamtullah.
The video viral on social media has been shared with the following message, "राजस्थान के जैसलमेर जिले में उपद्रवी तत्वों ने रेवंत सिंह को बेरहमी से मार दिया, रेवंत सिंह का कसूर यही था कि उन्होंने मुस्लिम बाहुल्य क्षेत्र में ताली बजा कर, प्रधानमंत्री के मुहिम का समर्थन किया, यही है देश की गंगा-जमुनी तहजीब."
The same video has also been shared with a different message claiming that "jihadi terrorists" in Jaisalmer, Rajasthan's Pokhran village killed Rewant Singh because he objected to them flouting lockdown. The Facebook page विश्व हिन्दू रक्षा संगठन-बिहार shared the video with this claim in Hindi: "लॉक डाउन के दौरान जिहादी आतंकवादियो को घर से दूर रहने को कहना पड़ा भारी एक हिंदू भाई रेवत सिंह तंवर माडवा ( पोकरण) की हत्या कर दी प्रशासन से निवेदन है कि दोषियों तुरंत गिरफ्तार करें। सब्र टूट गया तो सम्भालना मुश्किल हो जाएगा." The post has received over 700 shares.
[Warning: Since the video is brutal in nature, we are not adding it to the report. Those who wish, can watch it here. Viewer discretion is advised.]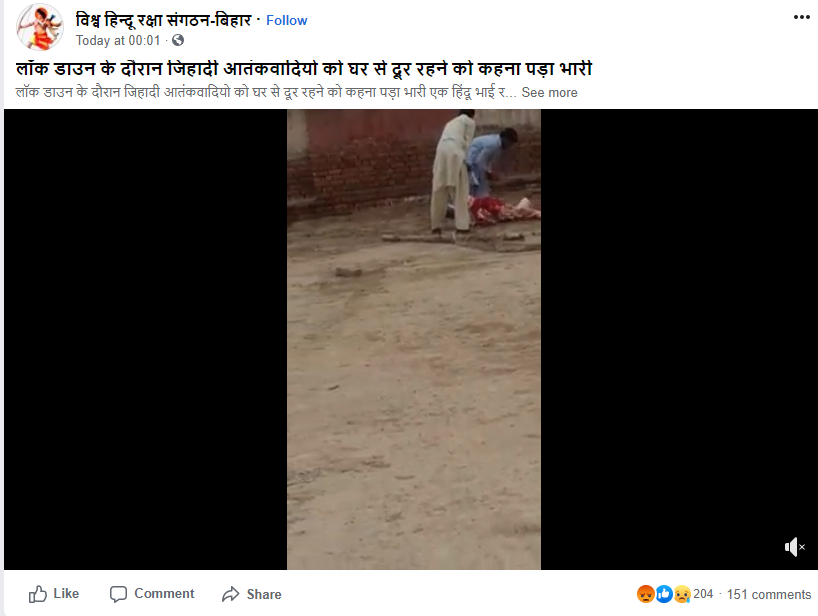 Alt News has received several fact-check requests on its official mobile application.
Video from Pakistan
Alt News broke down the video into multiple keyframes using InVid and performed a reverse image search on Google. This led us to a tweet where the same clip was shared by a Pakistani user on April 1. Another user replied to this tweet and wrote that the two men responsible for the brutal act have been arrested.
اللہ ان کو غارت کرے ایسی اذیت ناک زندگی جئیں یہ دونوں کے دنیا والوں کے لئے عبرت کی مثال بن جائیں

— Aisha Aazar (@AishAazar2017) April 1, 2020
The same video was also uploaded on YouTube on March 24. As per the description, one Noman Shahid was attacked in Pakistan's Gojra district. The description also carried the words " Chak 179 GB."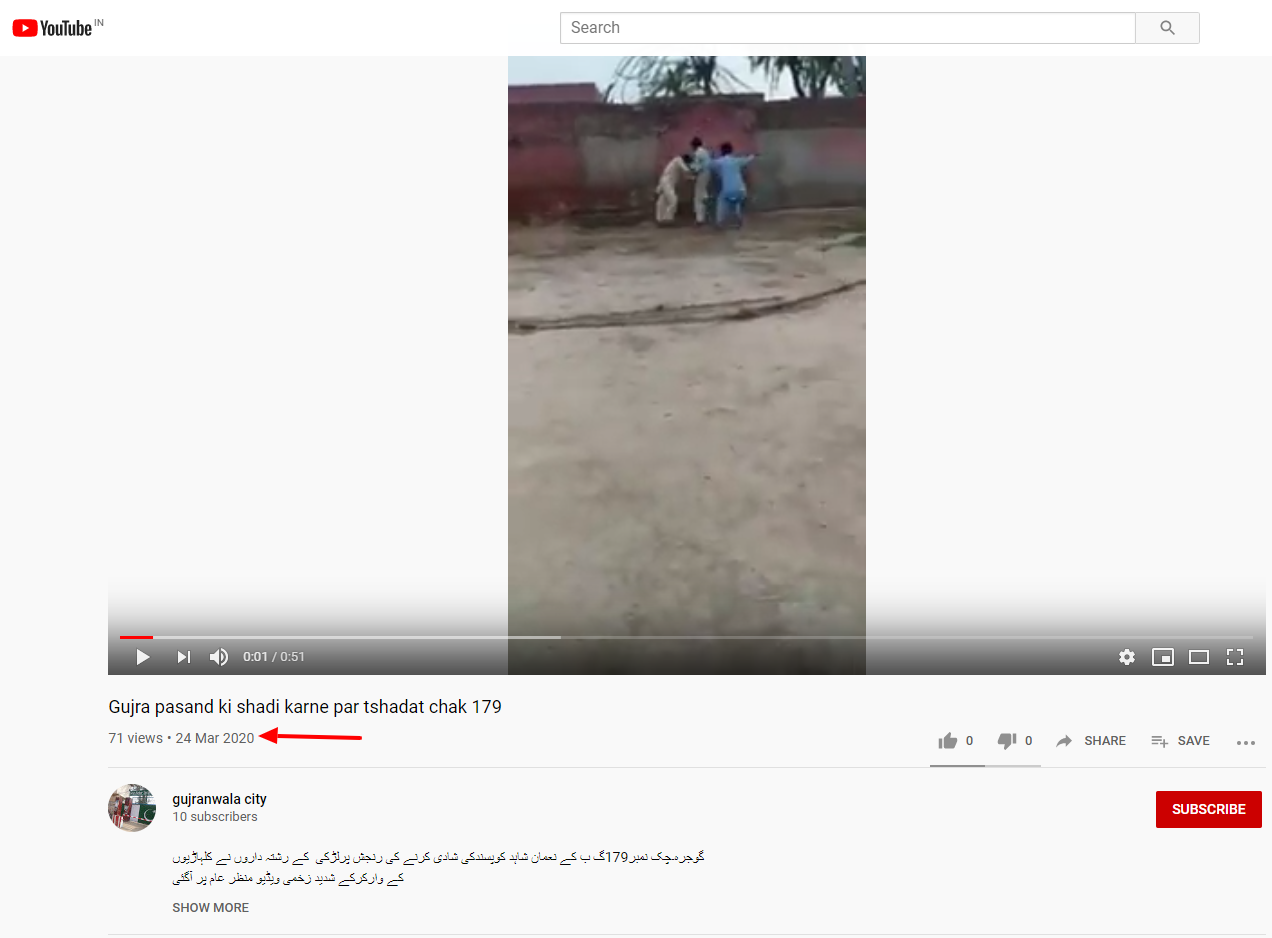 A subsequent keyword search led us to reports by Pakistani media outlets. The incident was reported by The Nation on March 25: "Two men allegedly chopped both legs and both arms of a boy of Chak 179 GB, Gojra on Tuesday." Gojra is located in Pakistan's Toba Tek Singh in Punjab.
According to a report in The Express Tribune from March 31, the man was attacked by his in-laws with an axe because they disapproved of his marriage to a woman in their family. The survivor, who was critically injured, was identified as Noman Shahid. The woman he married was Sana Bibi.
"The case was lodged by the victim's father Shahid Riaz. Police arrested Rizwan and Shahid and started a search for their accomplices. A police official said the third suspect, Arsalan, is hiding in southern Punjab," the report further states.
The incident was also covered by Indian media. According to PTI, the man was 23 years of age and was left without a limb in the attack. Police officer Waqar Shoaib Qureshi said that Noman was admitted at Faisalabad Allied Hospital's intensive care unit.
Therefore, a video of honour-based violence in Pakistan's Punjab was falsely linked to an incident in Rajasthan's Jaisalmer where a man was allegedly hacked to death by a group of Muslim men.
Donate to Alt News!
Independent journalism that speaks truth to power and is free of corporate and political control is possible only when people start contributing towards the same. Please consider donating towards this endeavour to fight fake news and misinformation.