A video of a mob stone-pelting and firing shots in a narrow alleyway has been widely shared across social media platforms. National executive member of BJP Kisaan Morcha, Amit Dixit, shared the video claiming that "gangster" Akram attacked a doctor and his family in Uttar Pradesh's Aligarh. "Jihadi Akram is absconding," he further wrote (archive). His tweet received close to 2,000 retweets.
डरी हुई #बच्ची अपने पिता से कह रही है
पापा #पुलिस को कॉल कर दो plz…..#अलीगढ़ up में #गैंगस्टर रहे #अकरम ने छोटे से विवाद में #डॉक्टर_के_परिवार पर साथियों के साथ हमला कर के डॉक्टर को गोली मार दी।

जिहादी #अकरम अभी भी फरार
दोषियों पर कड़ी कार्यवाही हो@myogiadityanath जी pic.twitter.com/iht5EfOhEH

— AMIT DIXIT (@AMITDIXIT4BJP) May 14, 2020
Several people commenting on Dixit's tweet stress on the need for retaliation by Hindus and how the community needs to protect itself from such attacks since many assumed that the person who was attacked was Hindu.
One N K Khaitan who is followed by BJP spokesperson Tajinder Pal Singh Bagga shared the video (archive) and wrote, "A doctor is fighting for his life after gangster Akram Tippa shot at the doctor. (गैंगस्टर अकरम टीपा की गोली से घायल एक डॉक्टर जिंदगी और मौत की जंग लड़ रहा हैं!)"
Below is a tweet by Ashutosh who is followed by PM Modi. As of this writing, his tweet naming the perpetrator Akram Tippi has garnered over 2,000 retweets.
Scenes from Muslim Majority area Hamdard nagar, Aligarh.

Heavy firing and stone pelting reported.

Gangster Akram A K.A Tippa shot one doctor who is critical and admitted in Hospital.

Akram is absconding and Aligarh police is looking for him. pic.twitter.com/YRogAS3A0C

— Ashutosh🇮🇳 (@iashutosh23) May 13, 2020
The clip is viral on Facebook as well. One Ajay Sehrawat who has a verified account and identifies as ex-MTV roadies contestant wrote, "Scenes from Muslim Majority area Hamdard nagar, Aligarh. Heavy firing and stone pelting reported. Gangster Akram A K.A Tippa shot one doctor who is critical and admitted in Hospital. Akram is absconding and Aligarh police is looking for him. #religionofpeace." An archived version of his post can be viewed here.
From the Facebook pages 'Nationalist Sumit राष्ट्रवादी सुमित' and 'Expose The Deshdrohis', the video has drawn 1,100 and 1,700 shares respectively.
Misleading posts
A quick Google search with keywords 'Aligarh doctor violence' led us to multiple media reports. According to an article published in The Times of India (TOI), the victim, Dr SU Khan, was travelling with his wife and son Aman on a bike when they collided with an autorickshaw in Aligarh's Hamdard Nagar on May 13. "After Khan reportedly advised the auto's driver Akram alias Tippa to drive more carefully, the latter got aggressive and allegedly started hurling abuses and manhandled the doctor," the report adds.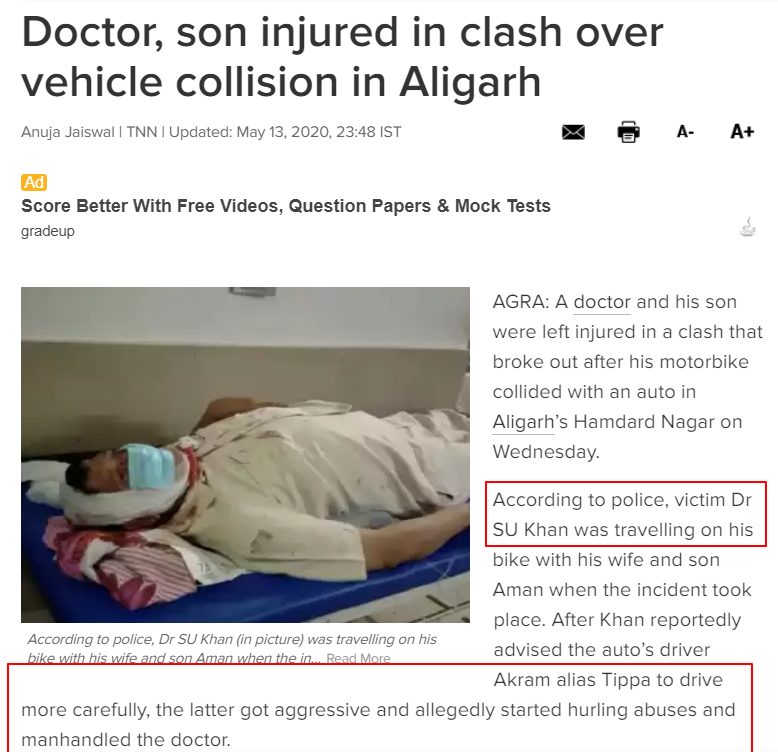 The report further states that Akram fired a bullet which hit Aman's hand and "a relative of Akram allegedly hit the pistol's butt on Khan's head". The father-son duo was admitted to the hospital for treatment. The police has been quoted as saying that an attempt to murder case has been registered and raids are being conducted based on video evidence to nab the accused.
Dainik Jagran identifies Khan as a teacher. However, Alt News confirmed with Civil Lines police that Khan is a doctor by profession. According to Dainik Jagran, Khan and Akram are neighbours. After the road collision, Akram attacked Khan at his residence. His son suffered a bullet wound on his arm while Khan's head was injured with the pistol's butt. These events transpired at around 12 pm. According to the report, Akram returned to Khan's residence with 15-20 people at around 4 pm. Shots were also fired. Khan's family members pelted stones in retaliation. In the concluding paragraph, the report says that the police has booked Akram, Asad and a few unidentified men for violence and attempt to murder.
A video report by Mojo carries Khan's statement where he says that Akram came to his house and fired at him. Further in the report, SP City Aligarh Abhishek Kumar gives similar details as provided in Dainik Jagran's report. He says that whlle the police took Khan and his son to the hospital, Akram came back with a mob, went to Khan's place and fired at his family members. A relative of Khan told the channel that Akram has "criminal" tendencies. "He came back with 10-12 people. We were 5-6. The mob began firing and we tried to stop them using stones. They threatened to kill us in 24 hours," said the relative.
Therefore, a video of violence that took place in UP's Aligarh on May 13 has been shared on social media with messaging highlighting the Muslim identity of the perpetrator but not the victim's identity. This misled several users who believed that the attack had a sectarian angle.
Donate to Alt News!
Independent journalism that speaks truth to power and is free of corporate and political control is possible only when people start contributing towards the same. Please consider donating towards this endeavour to fight fake news and misinformation.