[Warning: This viral video is graphic in nature. We request our readers to watch at their own discretion.]
On March 21, the murder of a deputy pradhan in Bogtui village in West Bengal's Birbhum district triggered a chain of events that resulted in at least eight houses in the area being attacked and set on fire, killing eight people, including women and children.
Against the backdrop of the Birbhum violence, a video is viral on social media, where burnt bodies can be seen lying on the road next to a bus. It is being shared with the claim that after the death of TMC leader Bhadu Sheikh, a Muslim mob burnt Hindus in their houses alive. It also asks PM Modi to impose the President's rule in West Bengal. It also alleges that lakhs of Hindus have been killed in Bengal and many Hindu women have been raped during the Bengal election.
TMC नेता भादू शेख की मौत के बाद बवाल,मुस्लिम भीड़ ने घर बंद कर हिन्दुओं ज़िंदा जलाया: अब तक 12 की मौत। कब से बोला जा रहा है कि मोदीजी को राष्ट्रपति शासन लगा देना चाहिए बंगाल में.. लाखों हिन्दू मारे जा चुके हैं बंगाल में.. लाखों हिन्दू औरतों का बलात्कार हो चुका है बंगाल में चुनाव pic.twitter.com/pM4rYEDdRt

— Dev Arya (@DevArya97349704) March 23, 2022
Another Twitter user shared the same video with a caption in Hindi, claiming that the victims of the Bengal incidents are Hindus.
बंगाल में ज़िंदा जला दिए गए लोगों की रूह कपाँ देने वाली तस्वीरें हैं, लेकिन मुख्यमंत्री मौन हैं, इनसे सवाल कोई नहीं पूछेगा, क्यों कि एजेंडा गड़बड़ा जाएगा !😥यह विडीयो 🧕🏼ममताबानु के महान बंगाल में हालि मे हुई हिंसा का है ….जीस में एक ही परिवार के १२ से ज्यादा सनातनी हिंदुओं को pic.twitter.com/WZUq8yp6zD

— 🦁Prashant Rajput🔱 अखंड _भारत_हिंदूराष्ट्र🚩🔱📿 (@Prashan27429870) March 23, 2022
Several Twitter users(@ManuRamDa, @AviiSuhani77, @subashk41062196) have shared this video with various Hindi captions. Alt News has also received multiple requests on its official WhatsApp helpline number to verify the authenticity of these claims.
This slideshow requires JavaScript.
Fact-Check
The viral post contains two misleading claims, the first one being that the victims of violence in Birbhum were from the Hindu community and that the viral video represents the violent event that happened in Birbhum, In this fact-check, we will examine both claims.
Were Hindus killed in the Birbhum incident?
The attempt to communalise the violence that occurred in Birbhum by suggesting that members of the Hindu community were brutally killed by a Muslim mob has been already debunked by Alt News. The accused and the victims are both from the minority community.
Video-Verification
By taking clues from visible parts in the viral video, we performed a keyword search in Hindi, which led us to an article by Jagran about a bus accident In Odisha. This report was published in February 2020. We noticed that the image used in Jagran's report had a bus that looked similar to the one seen in the viral claims.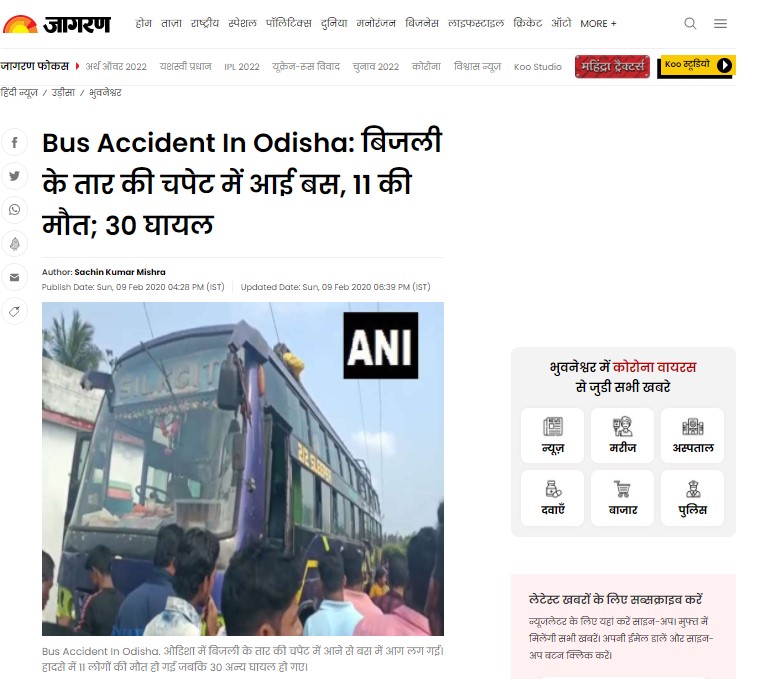 We also found a video report on YouTube titled "9 Killed, Several Critical And Injured As Bus Comes In Contact With 11KV Live Wire In Ganjam" which had visuals similar to the ones seen in the viral claims. This video was posted by Kanak News on February 9, 2020.
Below is the comparison between a still from a viral video and the video we found on Youtube.

According to The Indian Express, 9 people were killed and 19 were electrocuted in Dankalpadu village under Chikiti block in the state of Odisha after a bus carrying people came in contact with a sagging 11KV live wire.
Thus, the viral video has no connection to the Birbhum violence and is found to be a bus accident from Odisha. Furthermore, the communal angle of the Birbhum incident happens to be false as both the victim and the accused have been identified to be from the minority community.
Donate to Alt News!
Independent journalism that speaks truth to power and is free of corporate and political control is possible only when people start contributing towards the same. Please consider donating towards this endeavour to fight fake news and misinformation.