A one-minute video of a man being assaulted by a group of four is circulating on WhatsApp. Out of the four men, one has an axe. As per social media claims, a Hindu man was assaulted by Muslims in Rajasthan's Malpur. Alt News received multiple requests to verify this claim on our WhatsApp helpline number (76000 11160).
This slideshow requires JavaScript.
[Viral Text in Hindi: ये है शैतानों का राज. एक हिन्दू भाई को 4 मुस्लिम मिलकर धारदार हथियार कुराडी से इस तरह बुरी तरह मार रहे है यह वीडियो राजस्थान के टोक के मालपुर का है इसे आगे से आगे शेयर करें ताकि यह बदमाश पकड़े जाएं और इन को कड़ी से कड़ी सजा मिल पाए]
The video has also been shared on Twitter with English text. Alt News has not linked the video in this report due to its graphic nature.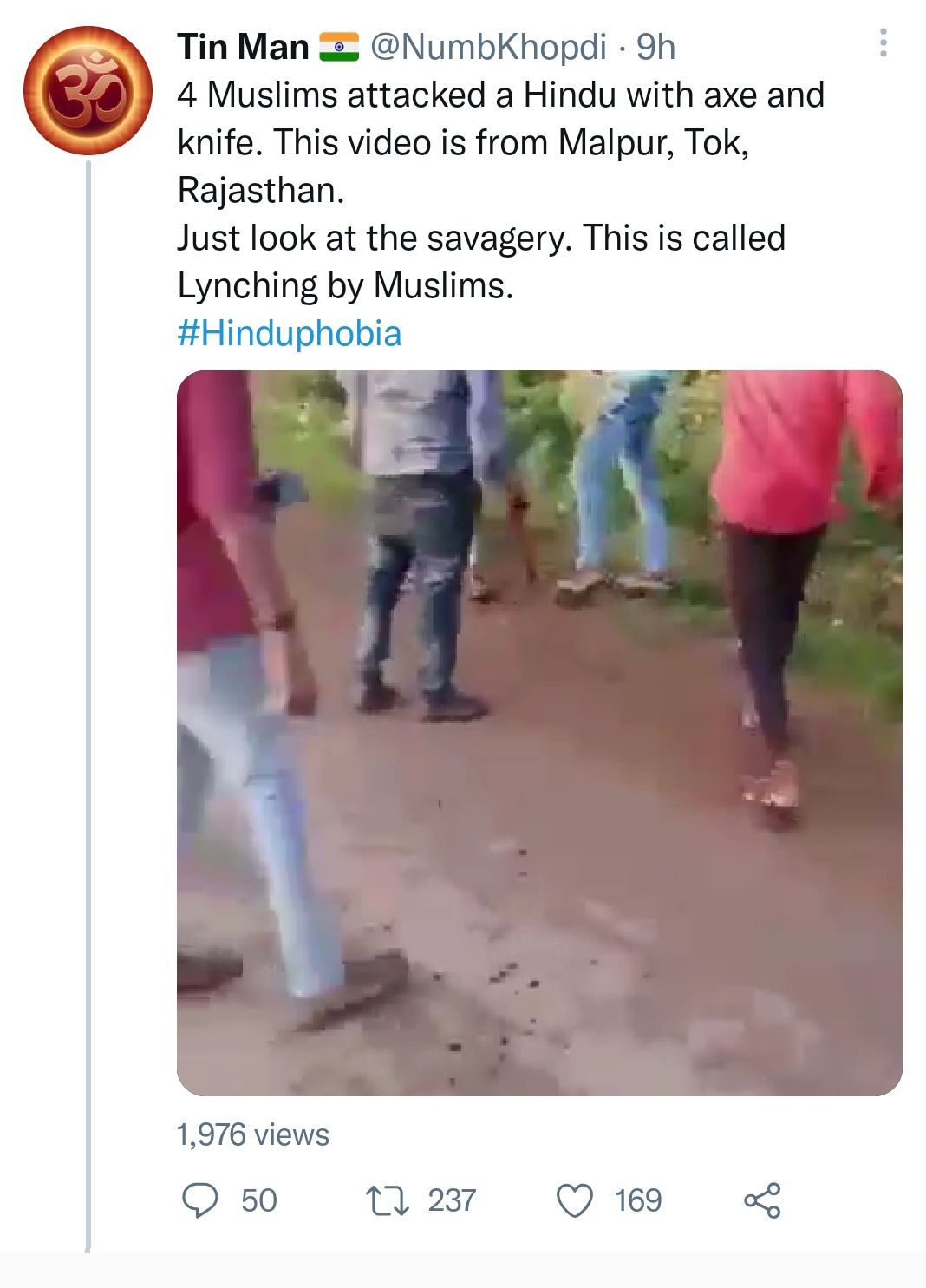 The screenshot below shows the first frame of the video.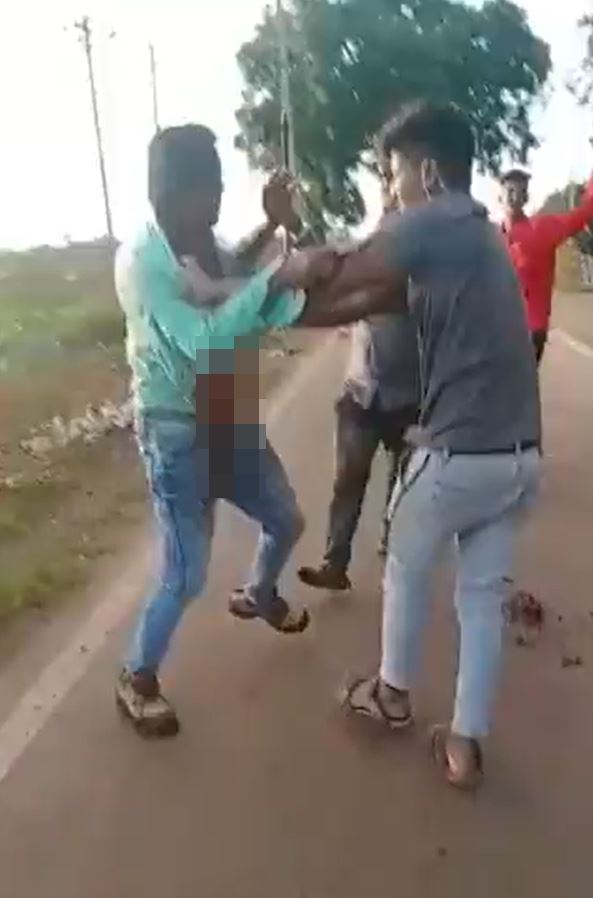 VIDEO VERIFICATION
Alt News watched the video multiple times and assumed that it could be from Karnataka based on the language spoken by the people. However, neither reverse image searches nor keyword searches in Kannada helped us verify the video. Extending our search to Facebook, we found GOA Reportcard's August 8 post that said, "Gangster Tiger Anwar Shaikh murdered at his native place in Savannur district of Karnataka. He was killed brutally with an axe." This post includes two gory images.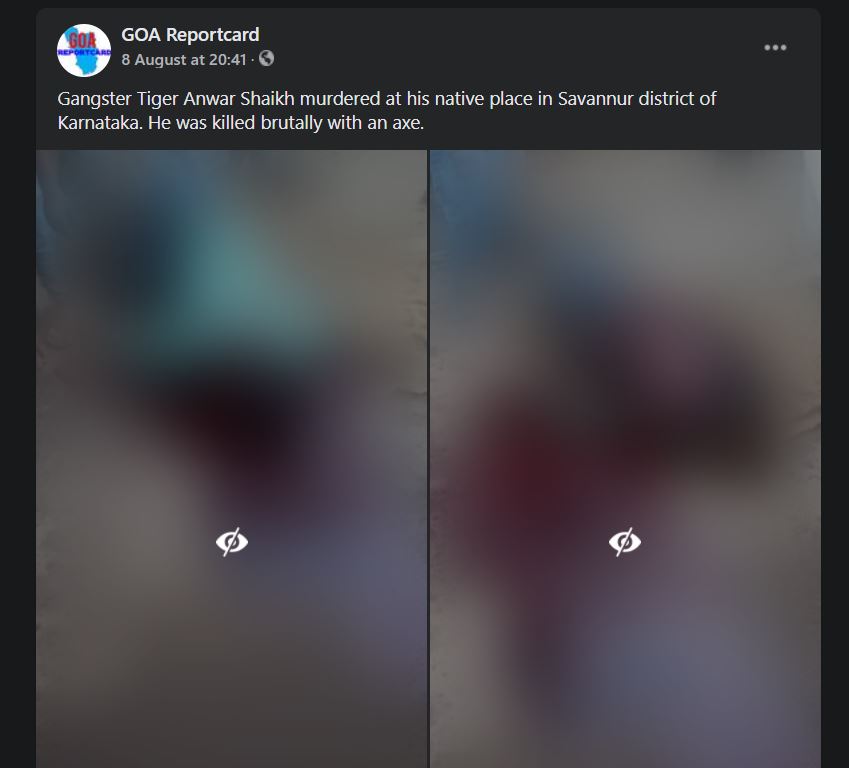 Using this as a clue, we performed a keyword search and found a report by the Goa-based news outlet Herald. It said that the viral video shows the murder of notorious criminal Anwar Shaikh alias 'Tiger' at Karatagi Cross, Savanur, Karnataka on August 8.
Savanur Circle PI Devanand Naik told Herald that the four men involved were brothers and have been arrested. The accused Imran Chowdhary (28), Tanveer Chowdhary (24), Abir Chowdhary (22), and Rehan Chowdhary (20) are residents of Savanur town, Haveri district, Karnataka.
Alt News spoke with Haveri SP Hanumanth Rai, "All the parties involved were Muslim. The incident happened due to a personal tiff. The social media claim that it incident is communal is totally false."
This was also reported by The Goan which quoted Naik stating, "As per preliminary investigation a person named Imran attacked Anwar in a matter related to some money transaction." According to the outlet, Anwar had a total of 26 criminal cases registered against him and several court hearings were ongoing.
The video was earlier fact-checked by Aak Taj.
To sum it up, a video of Anwar Shaikh's murder by men belong to the same community is being shared on social media with the false claim that it shows a communal incident in Rajasthan. The incident is from Karnataka.
Donate to Alt News!
Independent journalism that speaks truth to power and is free of corporate and political control is possible only when people start contributing towards the same. Please consider donating towards this endeavour to fight fake news and misinformation.