A 25-second-long video clip of a group of men, who appear to be Muslims, breaking the gates of a structure is widely circulating on social media. This viral clip is being shared on social media with the claim that Muslims in Andhra Pradesh's Guntur demolished an ancient Hindu temple.
Twitter user @yogeshDharmSena shared the clip with a caption in Hindi that can be translated as, "Jihadis demolish ancient temple in Andhra Pradesh 😡 Wake up Hindus, wake up this is happening in independent India…"
आंंधप्रदेश में जिहादियों ने प्राचीन मंदिर को तोड़ा😡जागो हिंदुओ जागो यह स्वतंत्र भारत में हो रहा है… pic.twitter.com/BIIedtjQIz

— योगी योगेश अग्रवाल (धर्मसेना) (@yogeshDharmSena) October 15, 2022
Author and freelance columnist Anshul Pandey also shared the clip on Twitter with similar claims. The user later alleged that Twitter forcibly deleted his tweets. (Archive.)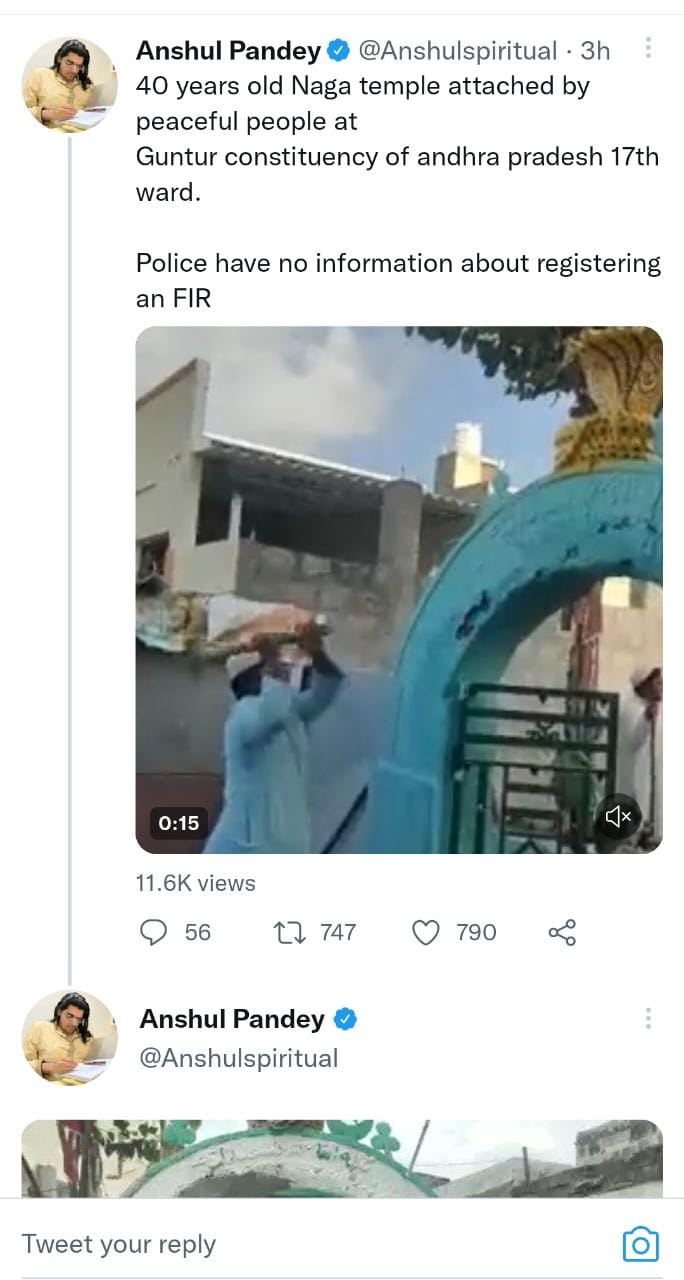 Columnist Tarek Fatah quote-tweeted Anshul Pandey's original tweet which was apparently 'forcibly' deleted by Twitter. Tarek wrote, "Smashing a 40-year-old Hindu Temple in the Indian state of Andhra Pradesh." Tarek Fatah has a history of spreading communally charged misinformation.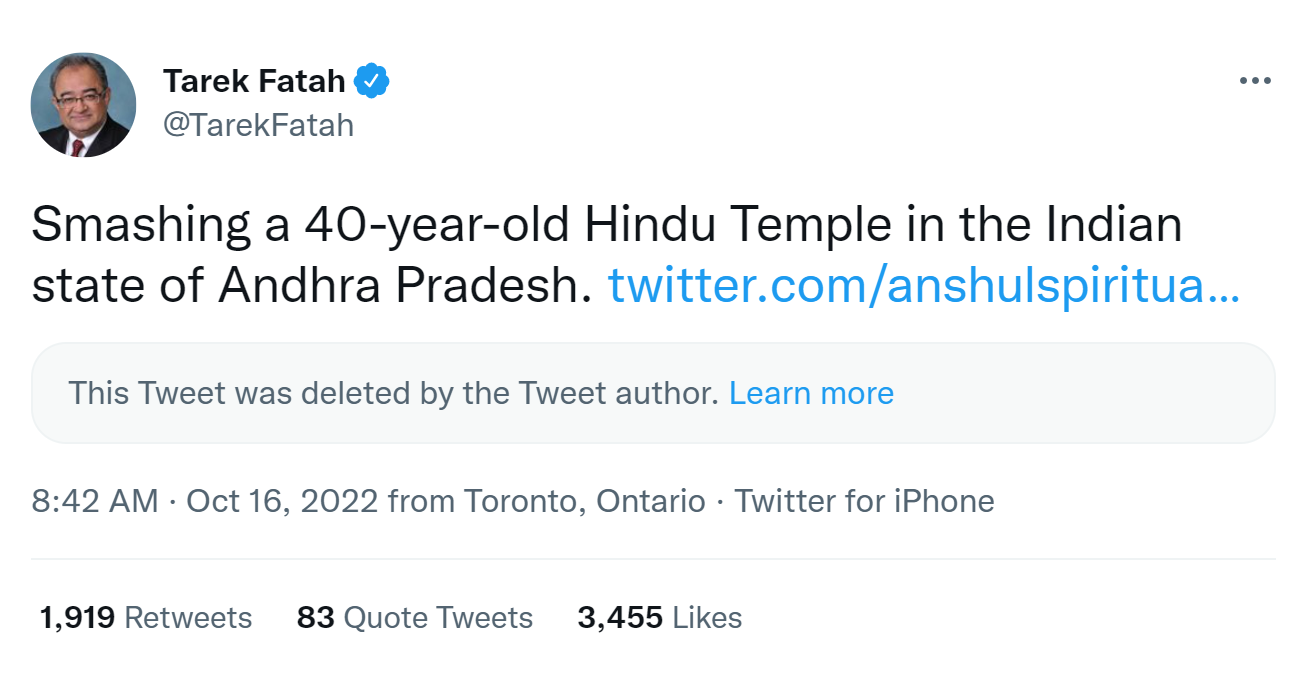 Like Fatah, another Twitter user, @MrSinha_, who also has a history of sharing misinformation, tweeted about the incident. Sinha did not share the viral clip in his tweet.
Users @arpispeaks, @IVijay_Pathak, @sudhirshiv567, @Chitransh57, @FltLtAnoopVerma and @TriShool_Achukamong others have shared the viral clip with similar captions.
This slideshow requires JavaScript.
This clip is also viral on Facebook with similar claims.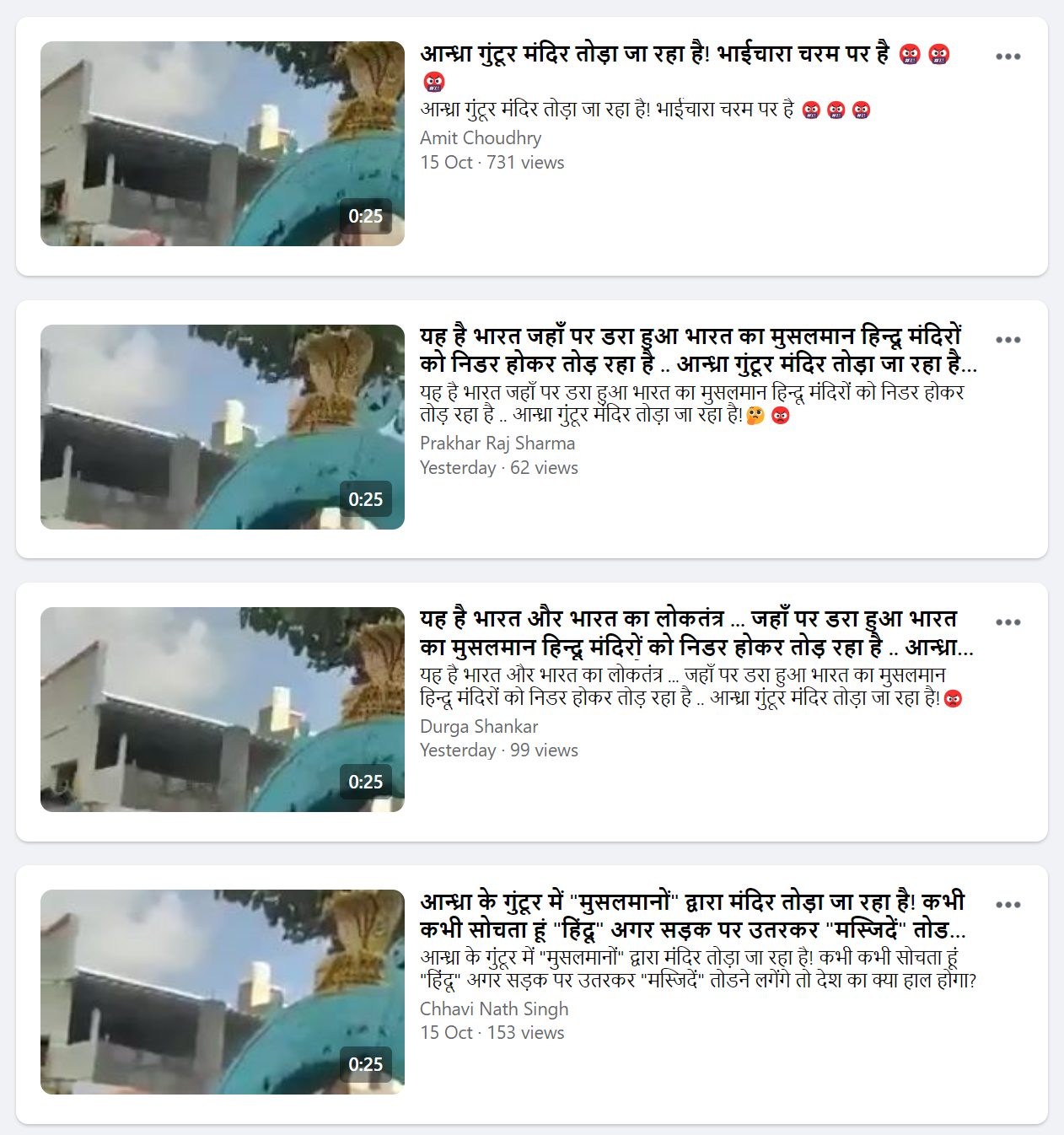 Fact-check
We performed several searches in Telugu using relevant keywords and came across multiple videos related to the incident on Facebook. Shaik Nagul Meera, whose bio says that he is the zonal in-charge of BJP's minority in Andhra Pradesh, had shared a series of updates related to the matter.
In a video he shared on his Facebook page on October 13, he referred to the religious structure as Dargah 'Hazrat bajibaba Nishan'. The Facebook post does not identify the structure as a temple. However, it does say that Hindu-Muslim sentiments are attached to the place.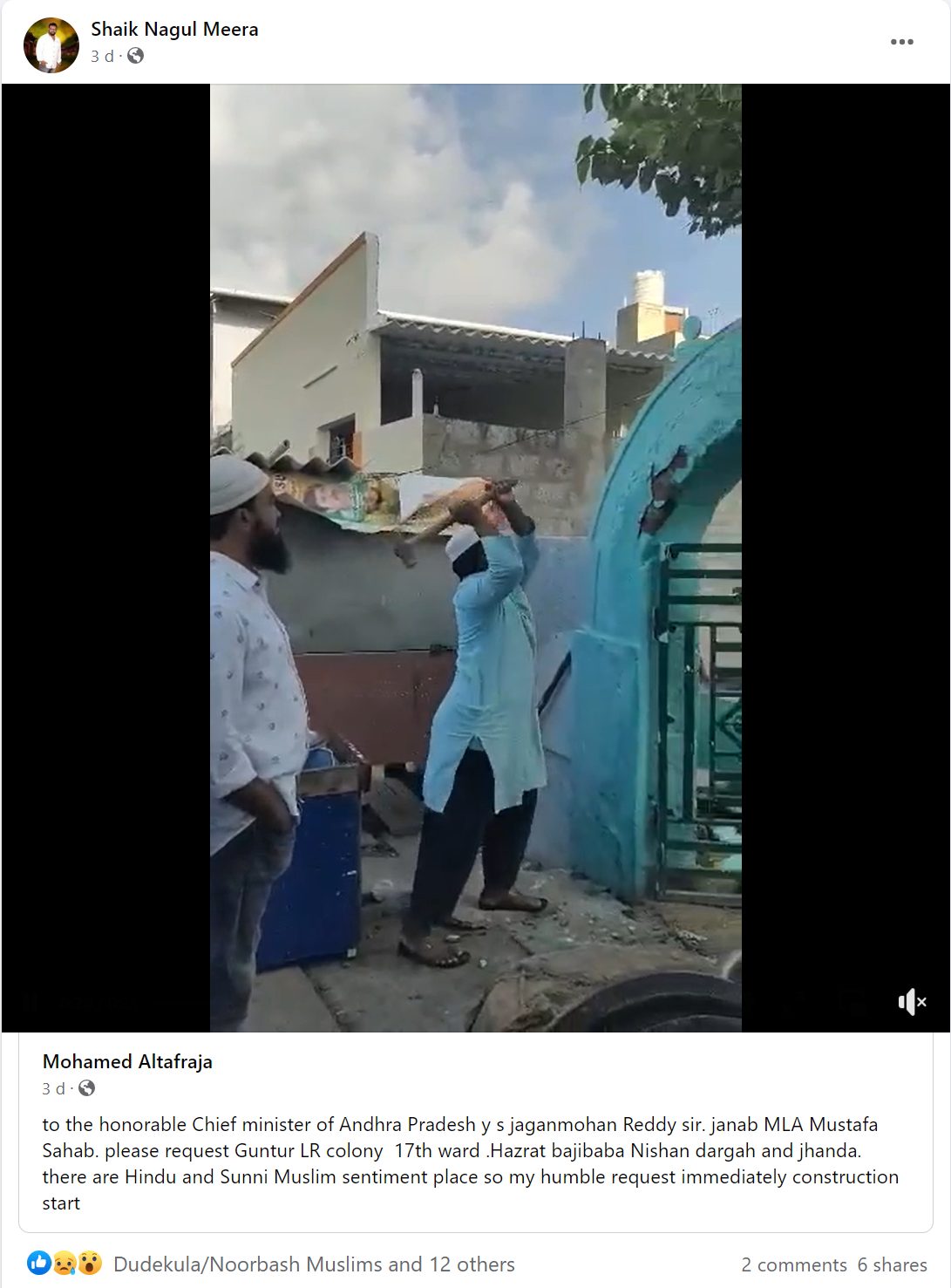 Alt News reached out to Shaik Nagul Meera who told us over phone that there were several symbols in the place that signified the existence of a Dargah. He said, "some anti-social elements came here and demolished these structures with the intention to build a mosque there. The news spread all over the locality and the police were informed."
Explaining further, he said, "The land belonged to a man who died of Covid. The people who demolished the structure claim that it was the man's wish to build a mosque there and his daughter had handed over the land to them for the purpose," added Shaik Nagul Meera.
We found another video on Facebook where some women speaking to the camera have shared their grievances over the incident. The women in the video say that they have been going to the LR colony Third Line Ward 17 Dargah for the last 40 years and caste or religion have never been an issue. They also allege that some of the men who tried to bring down the structure had misbehaved with them.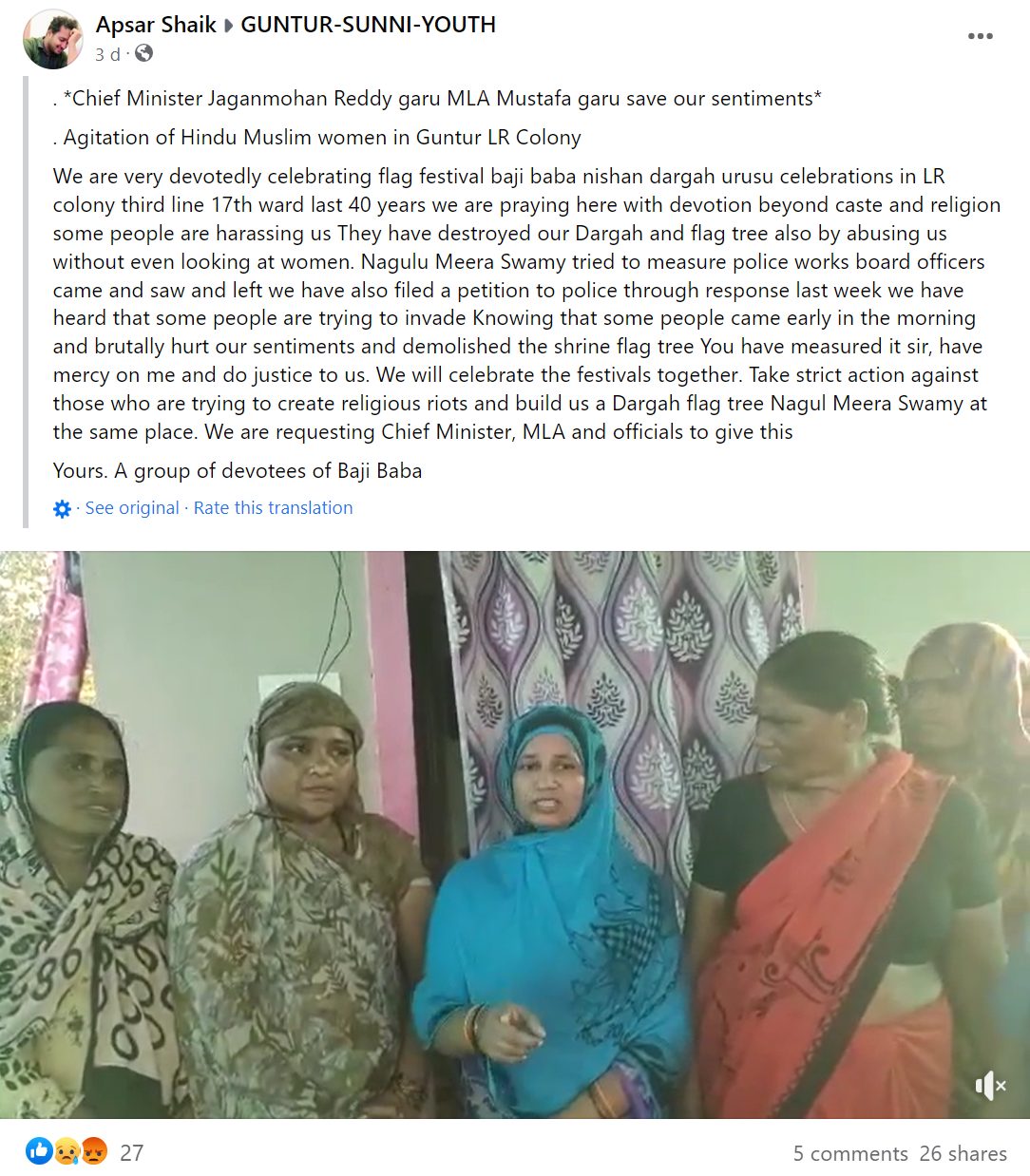 Alt News spoke to a local of L R Colony named Shahin. He explained the origin of the structure in question: "There was an ailing man called Esu Ratnam who was cured by Baji Baba. Once he got better, Baji Baba instructed him to build a shrine on his land in the name of the Baba. Hindus and Muslims visited the place and presented their offerings to the shrine for 40 years. The old man recently passed away in Covid. After his death, some people claimed that he had sold his land to them and a mosque would be built. These people came on October 7 and told us that all the objects associated with the Baba should be removed. They claimed that Esu Ratnam asked them to build a mosque here. They got into an argument with us."
Shahin added that Ratnam's niece took care of him in his old age. She and all the locals objected to this takeover-bid. "We went to the administration to complain about the harassment. Later, a representative from the Waqf Board visited the site."
A video of the Waqf Board inspector's visit is also available on Facebook.
గుంటూరు నగరంలో ఉన్న నాయకులకు, ప్రజా ప్రతినిధులకు, ముఖ్యంగా గుంటూరు తూర్పు ఎమ్మెల్యే గారికి, 17 వ వార్డు కార్పొరేటర్ గారికి ఈ విషయంలో జోక్యం చేసుకుని స్థానికులు, భక్తుల మనోభావాలను పరిగణనలోకి తీసుకుని న్యాయం చేయాలని కోరుకుంటున్నాను….

ఎవరి రాజకీయ స్వలాభం కోసం ఇలా గ్రూపులు కడుతున్నారు.

40 ఏళ్ల నుంచి ఇక్కడ బాజీ బాబా దర్గా నిషాని ఉన్నది అని స్థానికులు చెబుతున్నారు, నిషాని అంటే తెలియదా వీరికి… పెదకాకాని దర్గాలో కసుమురు దర్గా యొక్క నిషాని, అజ్మీర్ దర్గా యొక్క నిషాని, గుంటూరులో కడప దర్గా నిషాని లు ఉన్నాయి… నేడు ఇవి రేపు ….

ఎవడో రాజకీయ క్రీడకు గ్రూపులు కట్టి వేరు చేసి సునకానందం పొందవద్దని మా మనవి….
(గుంటూరు జిల్లా వక్ఫ్ బోర్డు ఇన్స్పెక్టర్ గారు స్పాట్ కు వెళ్లి ఇన్స్పెక్షన్ చేసినప్పుడు చిత్రించిన వీడియో)

Posted by Shaik Nagul Meera on Wednesday, 12 October 2022
Alt News spoke with Shaik Mukthar Basha, who had inspected the site and reported it to the police. He told us, "People who demolished the shrine did not have any permission and they did it without consulting the administration." Mukhtar confirmed to Alt News that the structure was not a temple.
A report in The New Indian Express published on October 17 refers to the place of worship as 'Bhaji Bhasha Nishani Dargah'. It also mentions that people of all faiths have been offering prayers at the Dargah for the past 40 years.
We also found a news report about a press conference held by police inspector Prabhakar at Lalapet police station regarding the incident. He confirmed that this was not a communal issue and strict action would be taken against those who attempted to instigate religious unrest through social media posts.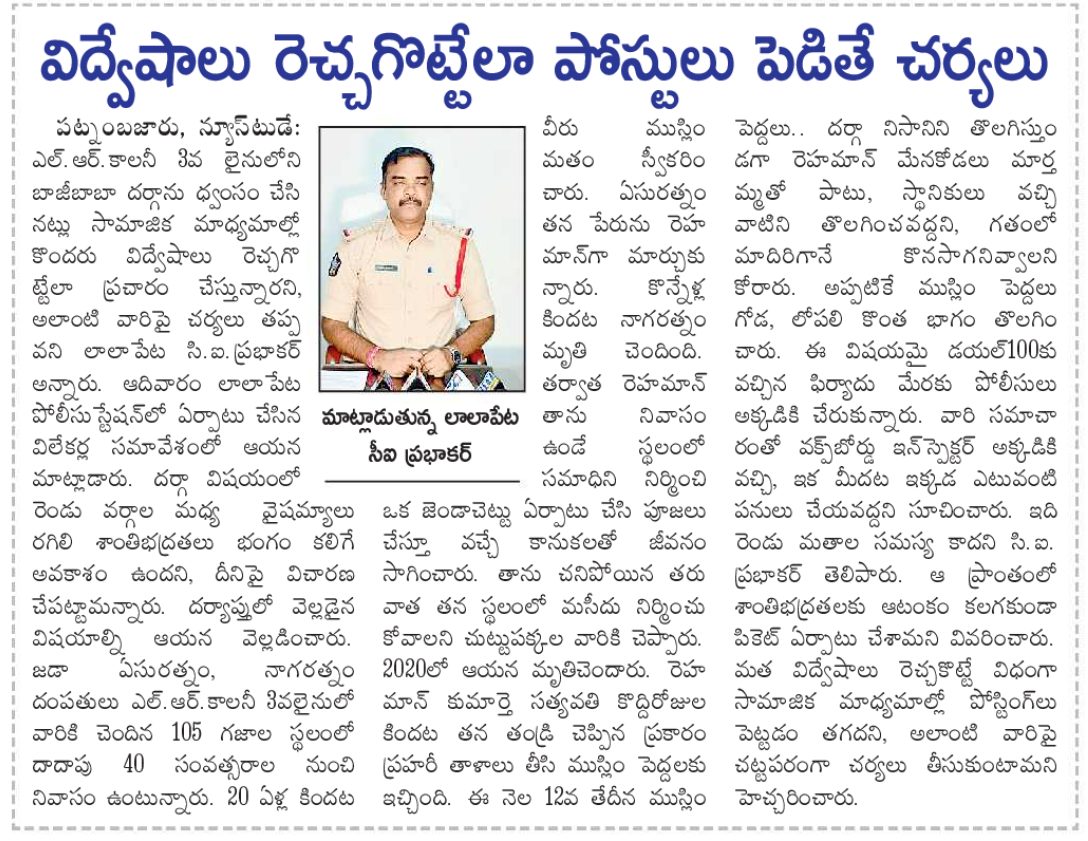 Translation:
Lalapet CI Prabhakar, Patnam Bazar, — in LR Colony Third Lane, some people are trying to spread the news that Baji Bapu Dargah has been demolished to hurt religious sentiments. Whoever is spreading this news to instigate unrest, CI Prabhakar intends to take action against them. On Sunday, at Lalapet PS, there was a meeting where CI Prabhakar spoke on this issue. He said there was a chance of inciting conflict between two parties and disrupting the peace in the area. On inquiry, it was found that Jadha Esu Ratnam and his wife Naga Ratnam belonged to LR Colony Third Lane and owned 105 square yards of land and had been living there for 40 years. 20 years back, they converted to Islam upon which Jadha Esu Ratnam changed his name to Rahmaan. A few years later, his wife Naga Ratnam passed away. Years after her passing, Rahmaan built a grave on his land and hoisted flags on it and started performing religious activities there. The offerings he received from running that grave helped him sustain himself. He used to tell those around him that after his death, they must build a Masjid on that site. In 2020, he passed away. A few days ago, Rahman's daughter, Satyavati, as per her father's wishes to build a Masjid on the site, gave away the house keys to the Muslim elders of the area. On the 12th of this month, the Muslim elders gathered to demolish the existing site and start the process of building a Masjid as per Rahman's wishes. But Rahman's niece, along with a few others, gathered and objected to the demolition. She insisted that the grave site should continue to operate as before. In the midst of this discussion, the demolition has already begun. Police were called to the scene and by that time a part of the site was already demolished. The police informed the matter to the Waqf Board inspector, who instructed the parties to stop any further work on the site. Now, CI Prabhakar insists that this is not a religious conflict and to preserve the peace, a picket has been placed.
He also insists that no one should try to instigate religious unrest through social media posts and anyone trying to do so will face action."
In a tweet, BJP national secretary in-charge of Andaman & Nicobar Y. Satya Kumar referred to the place as a Dargah, and not a temple.
The upper caste Ashraf Muslims in AP's Guntur have demolished with full impunity the dargah revered by BC Nagoor Meera & Dudekula Pasmanda Muslims.

I strongly condemn the act of snatching away the religious rights of BC Muslims & demand strict action against the perpetrators. pic.twitter.com/Wx99dgGmWS

— Y. Satya Kumar (సత్యకుమార్) (@satyakumar_y) October 14, 2022
Alt News spoke with Guntur Urban SP Arif Hafeez, who said, "It is not a temple. It is a small Dargah, in fact, it is not even a Dargah because there is no one buried there. It is a small memorial of a Muslim mentor. This is not a communal incident. This is an issue of the Muslim community of that particular neighbourhood over whether a mosque should be built there or the memorial should remain as it is."
To sum it up, a conflict between two groups within the Muslim community on whether a mosque should be built in place of an existing memorial was shared widely on social media with a communal twist that the Muslim community had demolished a Hindu temple. While it is unclear what exactly transpired before the demolition, there is no doubt over the fact that the structure was not a temple.
Donate to Alt News!
Independent journalism that speaks truth to power and is free of corporate and political control is possible only when people start contributing towards the same. Please consider donating towards this endeavour to fight fake news and misinformation.