A video is viral on social media where one can see an elaborately decorated train at a railway station. A green dome with two minarets on its side and golden swans at the bottom can be seen attached to the front of the engine. There is a banner attached to the side which has 'Urs Mubarrak' written on it in Urdu.
The video is viral with the claim that a train has been converted into a 'Muslim Express' by 'Jihadis', and it is running between West Bengal and Hyderabad.
Twitter user @cbpandey29 shared the video clip with the caption that can be translated as: "A train which is going from Hyderabad to West Bengal has been converted into Muslim Express by Jihadis. The guard says that the train cannot go like this, but the Jihadis are adamant that the train will leave the station like this". (Archive)
हैदराबाद से पश्चिम बंगाल जाने वाली ट्रेन को जिहादीयों ने मुस्लिम एक्सप्रेस बना दिया। गार्ड कह रहा है ऐसे गाड़ी नही जायेगी किन्तु जिहादी अड़े हैं कि गाड़ी ऐसे ही भेजो। यह कौन-सी मानसिकता है? इस न्यूज़ को कोई भी न्यूज़ चैनल नहीं दिखा रहा है …🇮🇳🇮🇳🚩 pic.twitter.com/EsFQJAEAGt

— C.B.Pandey (@cbpandey29) August 4, 2023
Suresh Chavhanke, the editor-in-chief of propaganda outlet Sudarshan News, tweeted the clip questioning how the Railway ministry could tolerate it. (Archive)
रेलवे यह कैसे सहन करता है रेल मंत्री @AshwiniVaishnaw ji ? @RailMinIndia pic.twitter.com/x0tfmxxVsv

— Suresh Chavhanke "Sudarshan News" (@SureshChavhanke) August 7, 2023
Right Wing influencer Mr Sinha (@MrSinha_), who shares misinformation on a regular basis, tweeted the video tagging Union railway minister Ashwini Vaishnaw.
Dear @AshwiniVaishnaw ji, a few times later the waqf board will claim this train as theirs & you won't even have the right to go to court.. pic.twitter.com/ETa3aU9hOb

— Mr Sinha (@MrSinha_) August 7, 2023
Similar claims have been made by several social media users across Twitter and Facebook.
This slideshow requires JavaScript.
Alt News received several requests on its WhatsApp helpline to verify the video.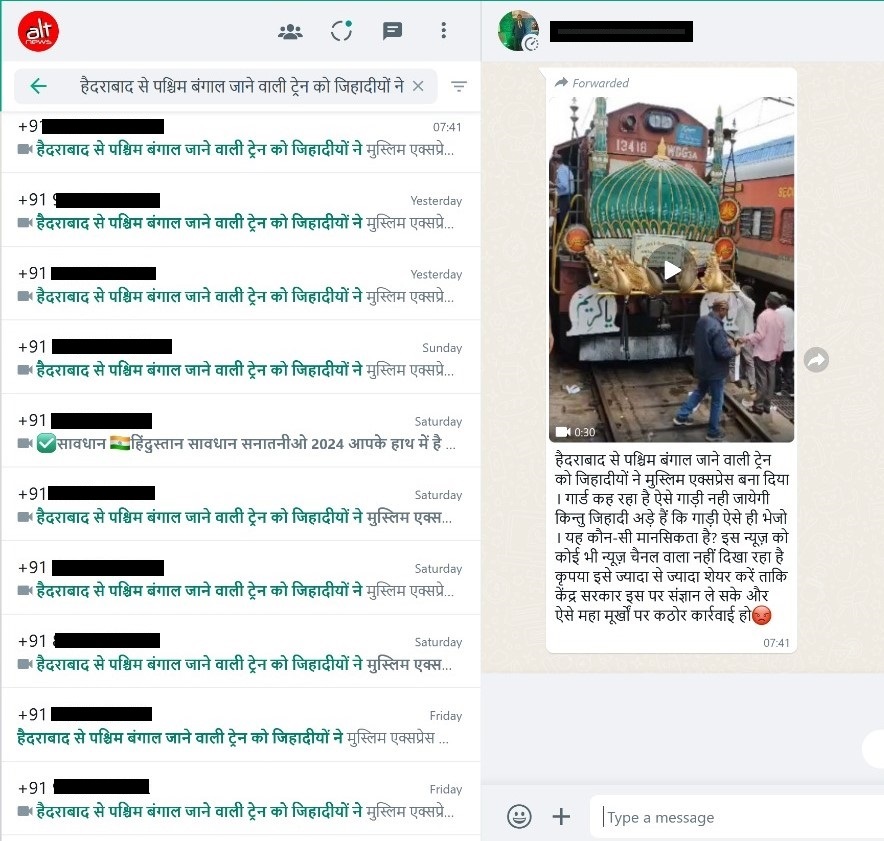 Fact Check
First, we broke down the video into multiple key-frames and ran a reverse image search. This led us to a video posted by YouTube channel @gohash22 which shows the train engine with the same number 13418 WDG 3A at the 0:09 second-mark. The video was uploaded on August 2, 2023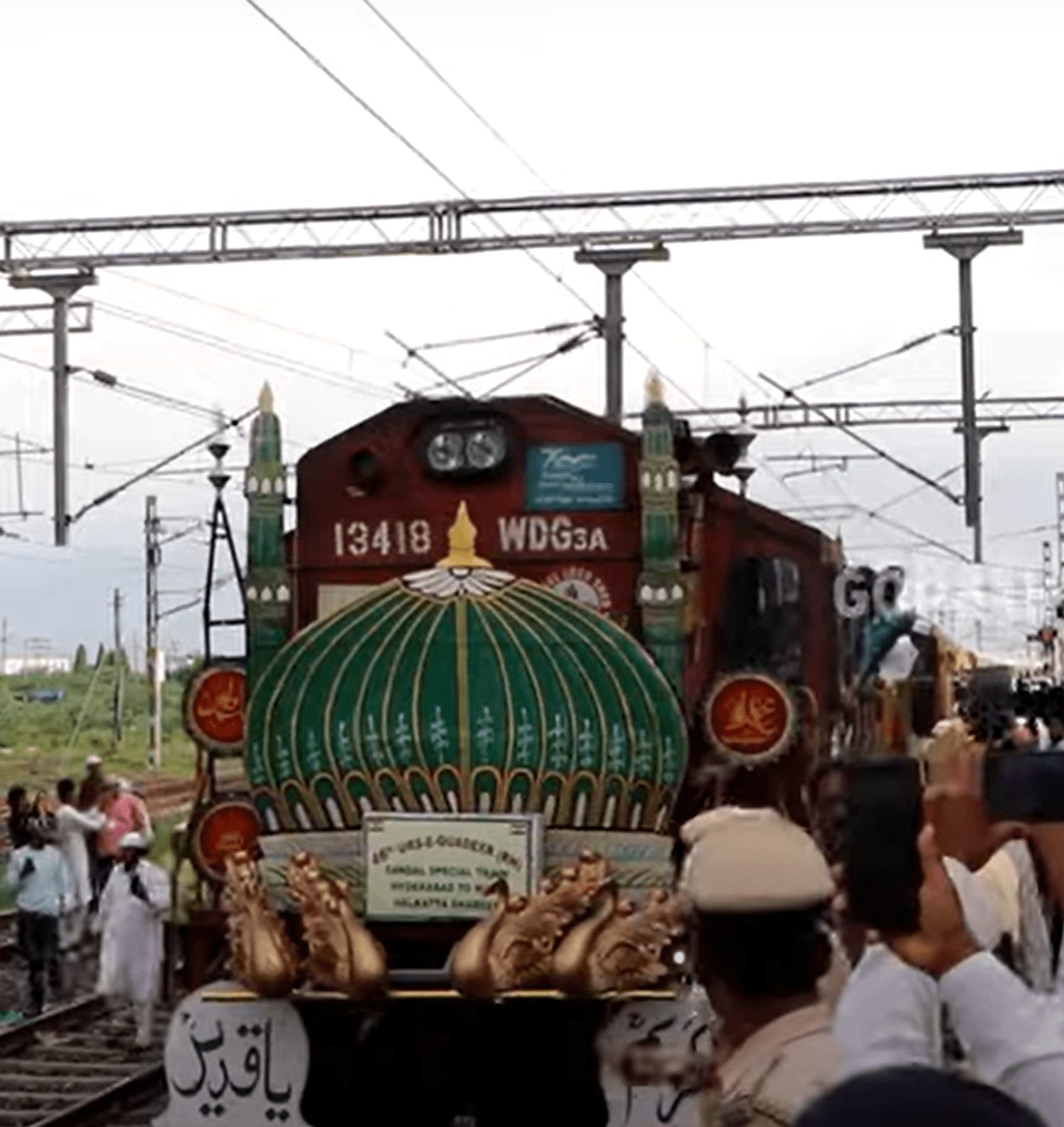 The video talks about the 46th Urs-e-Quadeer to be held at Halkatta Shareef near Wadi Junction at Karnataka. Urs is a festival celebrated by the Muslim community on the occasion of the death anniversary of Sufi saints. Devotees from faraway places arrive at their 'dargah' to celebrate the occasion. A board attached to the front of the train engine has "46th Urs-e-Quadeer' written on it (visible in the above screenshot).
We tried getting more information about the Urs Special train and found out that the official website of South Central Railway had issued a press release on July 27, which said: "In order to clear extra rush of pilgrims attending 46th Anniversary Celebrations of Urs – e – Shareef of Great Saint Hazrath Khwaja Syed Mohammed Badesha Quadri Chisthy Yamani o­n 1st August, 2023 at Halkatta Shareef near Wadi junction four special trains will be run" between Hyderabad and Wadi on August 1 and August 3, 2023.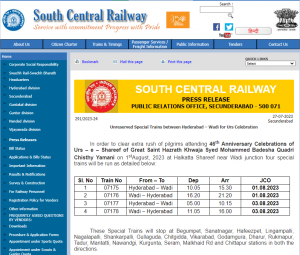 Moreover, this is not the first time such a train has been allotted for Urs. We could find similar announcements from the official twitter handle of South Central Railway in previous years as well. (Archive 1, 2, 3, 4, 5)
This slideshow requires JavaScript.
It is also worth noting that the Indian Railways has been running such pilgrimage trains for several years. A keyword search led us to a news report in Mint from July 2014, which said "In a move set to boost domestic religious tourism, the railway budget presented on Tuesday proposed launching special tourist trains to famous pilgrimage sites across India. The trains will cover places of pilgrimage for Hindus, Jains, Christians, Muslim-cum-Sufis, Sikhs, Buddhists and famous temples."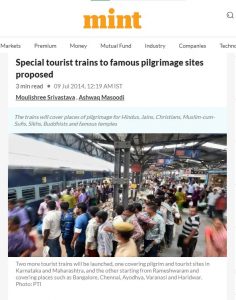 The official website of IRCTC shows details of Pilgrimage Special Train Tour Packages. Some special trains mentioned here include Shri Ramayan Yatra, Ganga Sagar Yatra, Kumbh Special, Bharat Darshan Special. The rail ministry, top officials or IRCTC tweet about these special trains from time to time. Examples can be seen here, here and here.
So to sum up, the viral video shows one of the special trains that ran between Hyderabad and Wadi on August 1 and 3 on the occasion of the 46th Urs celebrations of Sufi saint Mohammad Badshah Qadri. The claim that "Muslims have taken over Indian railways and converted the train into a 'Muslim Express" is false. Special trains are operated by the Indian Railways on several religious occasions round the year to facilitate the travel of devotees.
Shreyatama Datta is an intern at Alt News.
Donate to Alt News!
Independent journalism that speaks truth to power and is free of corporate and political control is possible only when people start contributing towards the same. Please consider donating towards this endeavour to fight fake news and misinformation.