A video of health workers being chased away by an angry mob is doing the rounds on social media. In the video, the mob can be seen pelting stones and hurling abuses at the workers. Alt News has received several requests for the video on its official android application. It is being claimed that the incident occurred in Madhya Pradesh's Indore.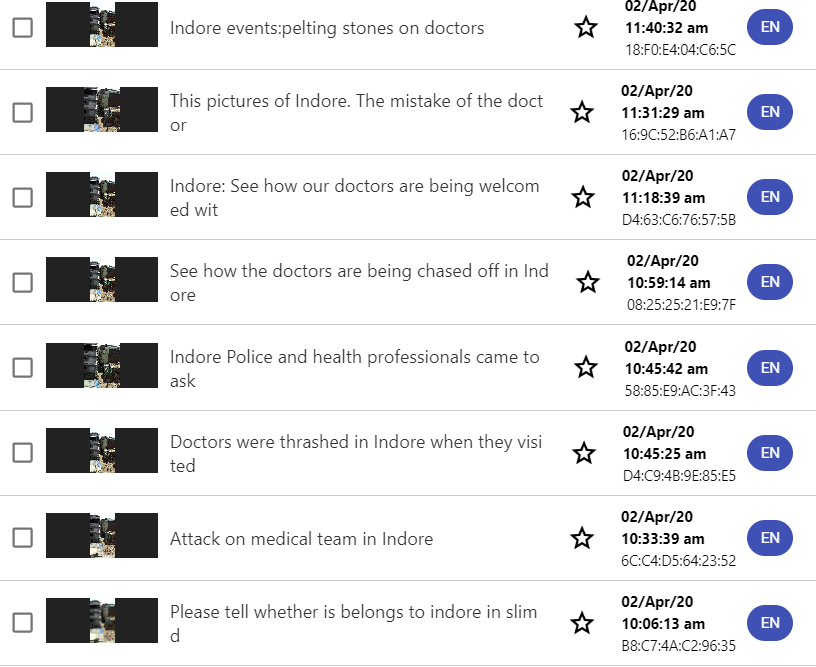 Fact-check
Alt News found that the video is indeed from Indore. The incident took place in Indore's Tatpatti Bakhal area. The video was tweeted by ANI on April 1 along with the caption, "Locals of Tatpatti Bakhal in Indore pelt stones at health workers who were there to screen people, in wake of #Coronavirus outbreak."
#WATCH Madhya Pradesh: Locals of Tatpatti Bakhal in Indore pelt stones at health workers who were there to screen people, in wake of #Coronavirus outbreak. A case has been registered. (Note-Abusive language) (1.04.2020) pic.twitter.com/vkfOwYrfxK

— ANI (@ANI) April 1, 2020
Indore police have reportedly arrested seven people for allegedly chasing away health workers and pelting stones at them. The team was tracing the contacts of a man who had earlier tested positive for coronavirus.
ये है इंसानियत के दुश्मन, ऐसे लोग कोई भी हो पुलिसिया अन्दाज़ में जौरदार जुलूस निकालना चाहिए,अपनी जान जोखिम में डाल कर ईलाज करने गई महिला डॉक्टर को पत्थरों से मारा है @DGP_MP @CMMadhyaPradesh pic.twitter.com/dexHZl0qCU

— Dr.ANAND RAI (@anandrai177) April 2, 2020
There were two teams consisting of doctors and Accredited Social Health Activist (ASHA) and Auxiliary Nurse Midwife (ANM) workers. They were on a visit to the locality when locals started pelting stones. According to the doctors, they had been visiting the locality from the last four days to trace the contact history of a positive case.
#WATCH "We'd been working on screening of contacts for last 4 days.But what we saw y'day we'd not seen earlier.We sustained injuries but we have to do our job and will not be scared," says Dr Zakiya Sayed who was pelted with stones by locals in Indore's Tatpatti Bakhal area y'day pic.twitter.com/XxtS6hgkBl

— ANI (@ANI) April 2, 2020
A case was registered in the matter under Sections 353, 336, 145 and 269 of the Indian Penal Code (IPC), informed the in-charge of Chhatripura police station Karni Singh Saktawat while speaking to The Hindu. Doctor Anand Rai, who is the part COVID-19 combat, had informed the media outlet about a rumour circulating from several days that authorities would pick locals, gather them into buses and inject them with the virus. While it cannot be said with certainty that such false rumours caused panic among locals, the possibility cannot be ruled out.
Donate to Alt News!
Independent journalism that speaks truth to power and is free of corporate and political control is possible only when people start contributing towards the same. Please consider donating towards this endeavour to fight fake news and misinformation.