A photograph of a policeman pinning down a Hindu priest has been widely shared by several prominent social media users. National spokesperson of Vishva Hindu Parishad, Vijay Shankar Tiwari, claimed that the cop was Superintendent of Police (SP) of Madhya Pradesh's Rewa district, Abid Khan.
कहा जा रहा है कि रीवा में मंदिर के पुजारी को शयन आरती करते समय पुलिस ने पीटा तथा पूजा का सामान बिखेर दिया,यहां के एस पी आबिद खान हैं,दोषी पुलिस वाले को तत्काल दण्डित किया जाए। pic.twitter.com/a6UKpV5Ppr

— Vijay Shankar Tiwari (@VijayVst0502) April 3, 2020
A Facebook user Vinay Pandey shared several other photographs of the incident and wrote, "Policemen of Rewa SP Abid Khan beat up a priest who was only praying during Navratri." He suggested that the police action was unprovoked as the curfew imposed to tackle the coronavirus pandemic was being followed. Pandey's post drew over 3,000 shares.
That the cop in the photograph is Rewa SP Abid Khan was also claimed by ABVP's Ambuj Ruby Bharadwaj and Twitter users Upesh Rana, Priya Rathod and Manoj (@alochak_manoj). Arun Yadav's tweet on the incident garnered over 1,700 retweets. Yadav is the IT cell and social media in-charge of BJP Haryana.
Sudarshan News claimed that the priest was alone when he was beaten. The channel highlighted SP Abid Khan's name. Aaj Tak's Chitra Tripathi also claimed that the priest was alone.
मध्यप्रदेश रीवा के मन्दिर में अकेले पूजा कर रहे पुजारी को बेरहमी से मारा.

पैरों से फेंक दिया गया जल और बूटों से कुचला पूजा स्थल.

चीखता रहा पुजारी- "मां के नवरात्रि का अंतिम दिन है., दीपक जलाने आया हूँ साहब"#आबिद_खान हैं रीवा पुलिस के SP..@ChouhanShivraj @CMMadhyaPradesh pic.twitter.com/umTFoFddDT

— Sudarshan News (@SudarshanNewsTV) April 2, 2020
INCIDENT COMMUNALISED WITH FALSE CLAIMS
A keyword search on Twitter led Alt News to a tweet by the official handle of the department of public relations, government of Madhya Pradesh.
रीवा की घटना के संबंध में @IG_Rewa ने जानकारी दी है।

-फोटो में जो पुलिसकर्मी दिखाई दे रहे हैं वह रीवा पुलिस अधीक्षक आबिद खान नहीं हैं।

-लॉकडाउन के दौरान भीड़ इकट्ठी होने की सूचना पर कार्यवाई की गई है।

-अनुचित कार्यवाई पर थाना प्रभारी राजकुमार मिश्रा को लाइन अटैच कर दिया है। pic.twitter.com/0zATVmABPW

— Jansampark MP (@JansamparkMP) April 3, 2020
This tweet carries the statement given by the inspector general (IG) of Rewa district which was initially shared on Facebook. According to the IG, the police officer in the photograph is not SP Abid Khan but inspector of police (TI) Rajkumar Mishra. "This action was taken by station in-charge Rajkumar Mishra and staff to enforce the lockdown. They received information about people gathered in the temple." The statement adds that Mishra has been taken off duty and sub-inspector Shivpujan Singh Bishan has been appointed as the new TI.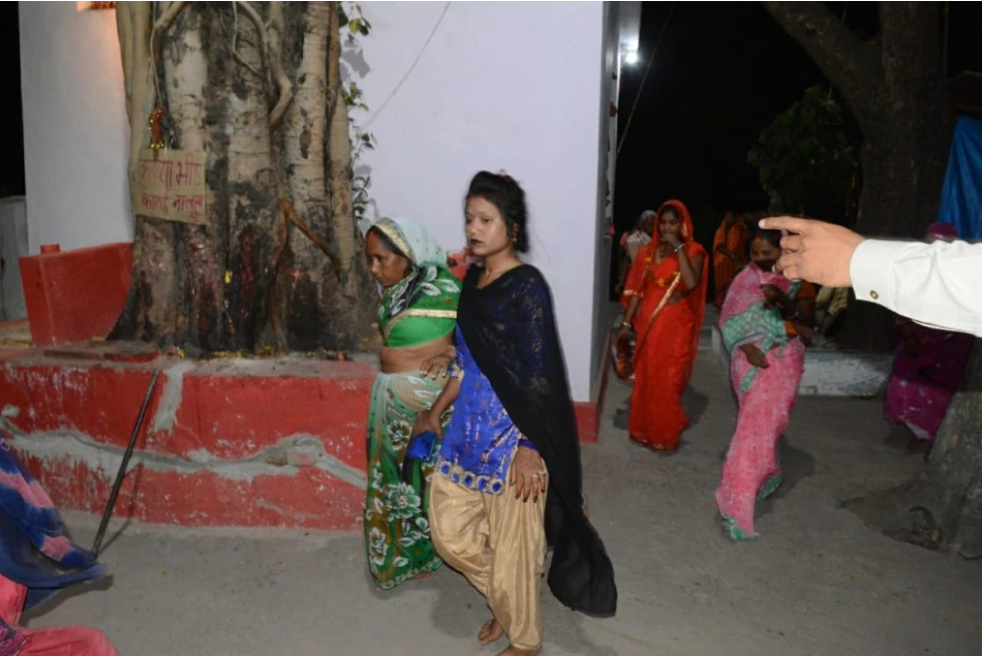 Vishwakarma further added that the stick TI Mishra used to thrash the priest belonged to the priest. This was also informed to Alt News by Rewa police who claimed that the incident has been communalised by certain sections of the media. "It is being portrayed that the action was anti-Hindu but we have been taking similar steps against Muslim gatherings. People offering namaz in several areas were dispersed," informed the police. This too is corroborated by a Patrika report from April 1. As per the orders of SP Khan, the police have been carrying out flag marches in Rewa and closing down mosques where prayers are still being held. The police have also registered cases against 36 persons for flouting lockdown and offering namaz.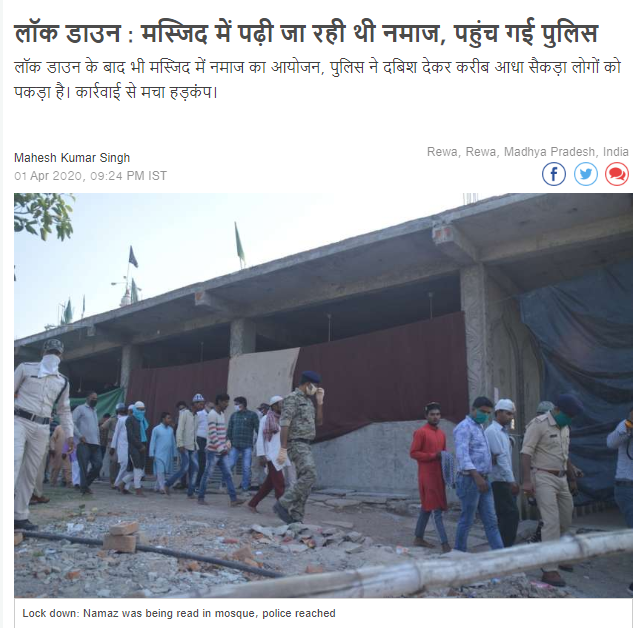 The social media claims attached to the incident are false on multiple counts – 1) the police officer seen thrashing the priest was not SP Abid Khan but TI Rajkumar Mishra, 2) the priest was not praying alone but among a gathering of at least 50 people and 3) the police have not only been cracking down upon Hindu gatherings but action has also been taken against several Muslim places of worships flouting curfew.