Amid the ongoing communal violence in Haryana's Nuh, a clip of a man instigating his followers to kill cow vigilante Monu Manesar in abusive language is viral on social media. Right Wing propaganda outlet OpIndia published a report about the video where they identified the man in the video as YouTuber Ahsan Mewati Pakistani. They claimed he was a resident of India. The article says, "The video host who is resident of Mewat region in Haryana seems to be in love with Pakistan as he has added 'Pakistani' to the name of his YouTube channel." Here is an archive of the report.
This slideshow requires JavaScript.
Several Right Wing influencers tweeted the clip and claimed that the YouTuber was a resident of India. Parody account @TheSquind tweeted the video with the same claim and garnered close to 5,00,000 views and almost 8,000 likes. (Archive)

Army veteran Major Surendra Poonia also tweeted the video and claimed that the YouTuber resided in Alwar, Rajasthan even though he had 'Pakistani' in his name. (Archive)
Warning ⚠️ Abusive Language
मेवात दंगों की साज़िश इस तरह रची गई
यू ट्यूब पर इस एहसान मेवाती पाकिस्तानी ने हिंदुओं को मारने का आह्वान किया था जो उसकी बिरादरी ने अंजाम दे दिया
इसके नाम में पाकिस्तानी …रह रहा है भारत में
यही चरित्र है इनका @police_haryana @gurgaonpolice… pic.twitter.com/QL05KNhfPy

— Major Surendra Poonia (@MajorPoonia) August 2, 2023
Verified user @igopalgoswami tweeted the viral video with the same claim — that the man is a Pakistani, but lived in Mewat. (Archive)
यह जिहादी यूट्यूबर जिसका नाम अहसान मेवाती पाकिस्तानी है परंतु रहता मेवात में है ३ दिन पहले मोनू मनेशर की हत्या करने की बात कर रहा है।

लेकिन दंगे तो यात्रा की वजह से हुए हैं- सिक्युलर जमात pic.twitter.com/ebinCs29h4

— Gopal Goswami (@igopalgoswami) August 2, 2023
Other users, including @ajaychauhan41, verified user @JIX5A and @hindupost, also tweeted the same video with the same claim.
This slideshow requires JavaScript.
The claim that Ahsan Mewati Pakistani is a Pakistani who resides in India is also viral on Facebook.
Fact Check
To begin with, we noted that according to the description on Ahsan Mewati Pakistani's YouTube channel, he attempted to show the "Mewati Culture From Pakistan". This implies that he resides in Pakistan. Although his Facebook page mentions his location as Alwar, Rajasthan, Alt News found enough evidence to prove that he is, in fact, a resident of Pakistan.
Ahsan Mewati Pakistani has a second YouTube channel which is linked to his main channel. We found a video of his interview with a man named Riaz Noor wherein he speaks about his roots. At 4:35 of the video, the interviewer asks about his previous village in India. Ahsan replies that he was in Ghatla village in Alwar district. He is then asked where he is settled in Pakistan. To this he says, "Coming to Pakistan, I settled in district Lodhran, Tehsil Karor Pukka and my village is Shahpur". Lodhran district is in the province of Punjab, Pakistan.
Alt News reached out to Ahsan who confirm his nationality and place of residence. He told us that he was a resident of Pakistan. His ancestors had been from the Ghatla village in Mewat, who then migrated to Pakistan after the Partition in 1947. He informed us that he had never been to Mewat or India.
When asked why he had mentioned Alwar, India as his location on the Facebook page, he said, "One can write anything on Facebook."
There is enough evidence in public domain to corroborate this. His contact number listed on his Facebook page starts with a +92, which is the country code for Pakistan.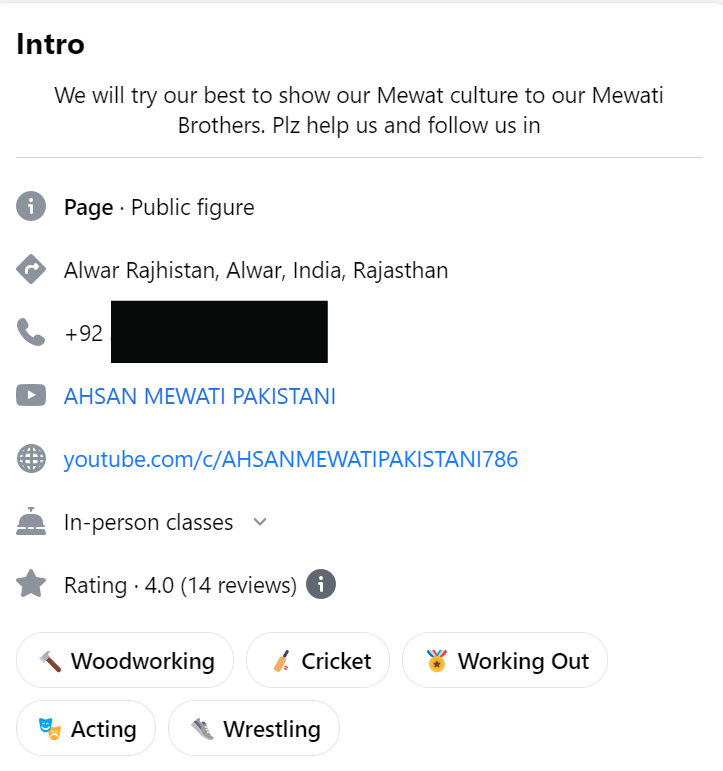 We found another Facebook page belonging to Ahsan Mewati Pakistani where his location is mentioned as Kahror Pakka, Punjab, Pakistan. This address was mentioned by him in the interview as well.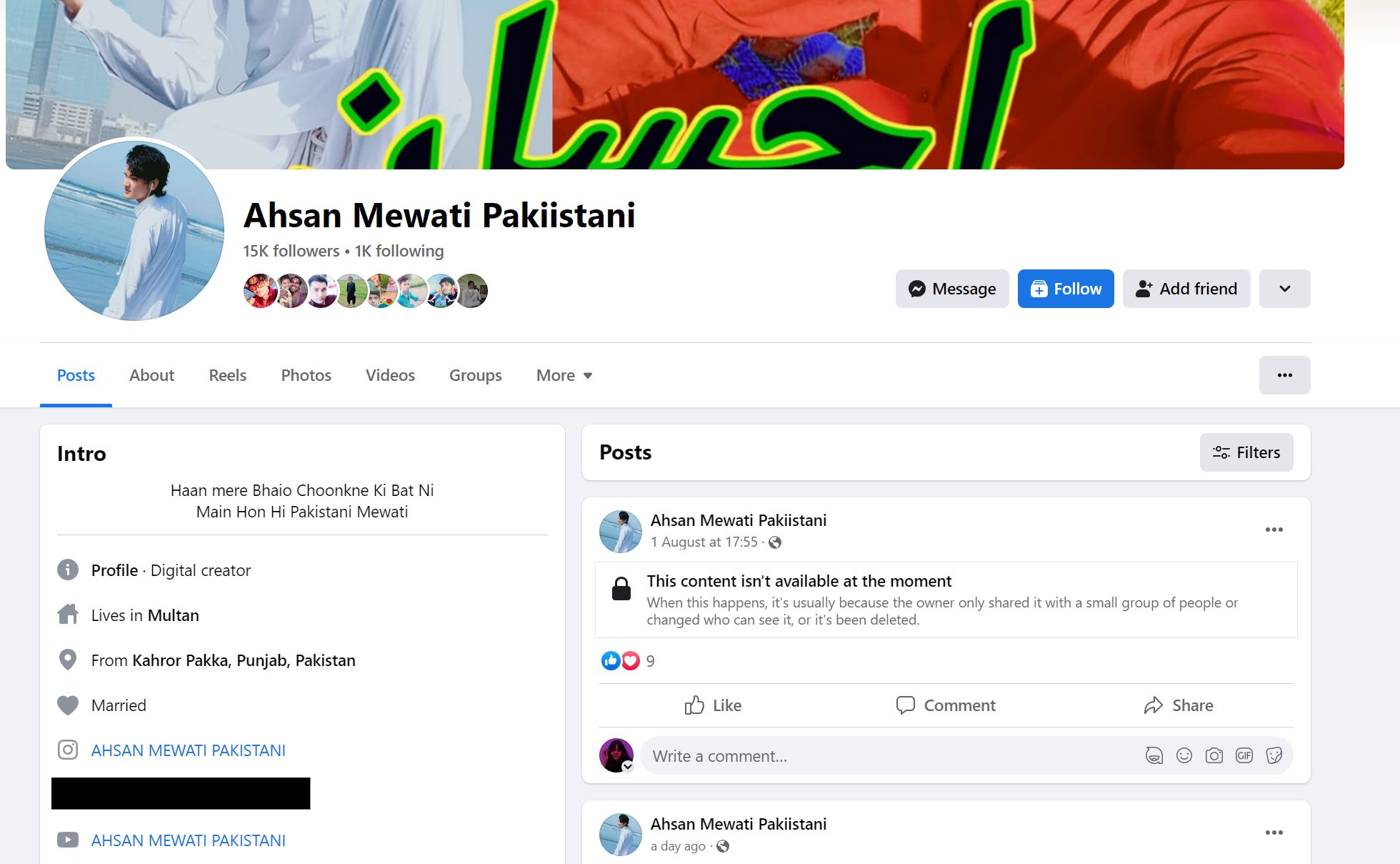 In a Facebook post from March 2022, Ahsan congratulated his elder brother upon joining the police department. The man can be seen wearing a uniform with the Pakistan flag on the sleeve of the shirt.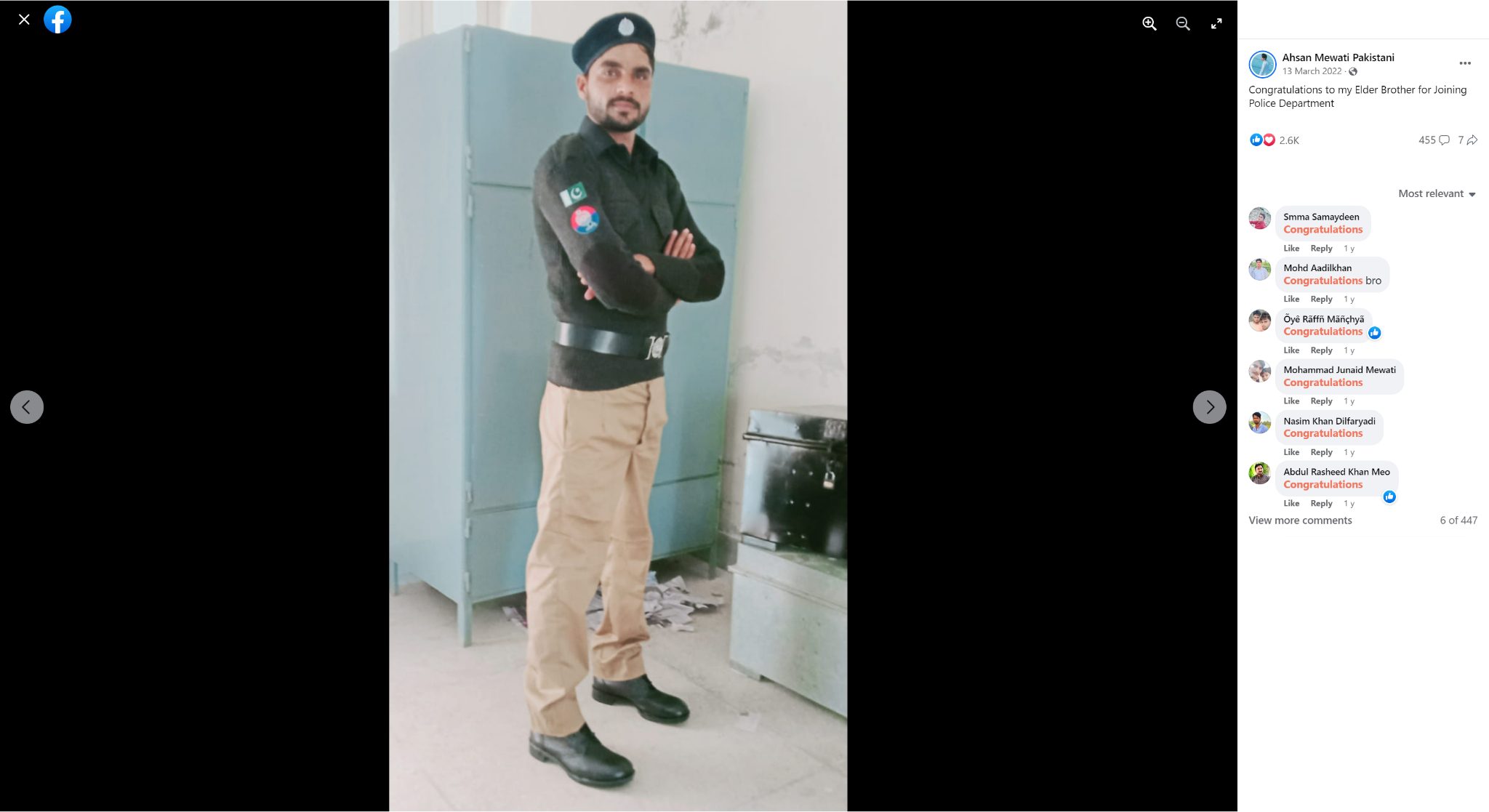 On March 14, Ahsan Mewati Pakistani uploaded a video of a wedding with the caption "PAKISTAN KE MEWAT KI SHAADI". At the 4:00 mark, we noticed a milestone with the name "Kahror Pakka" written on it, which corroborates the details of his home in Pakistan, that he gave in the interview.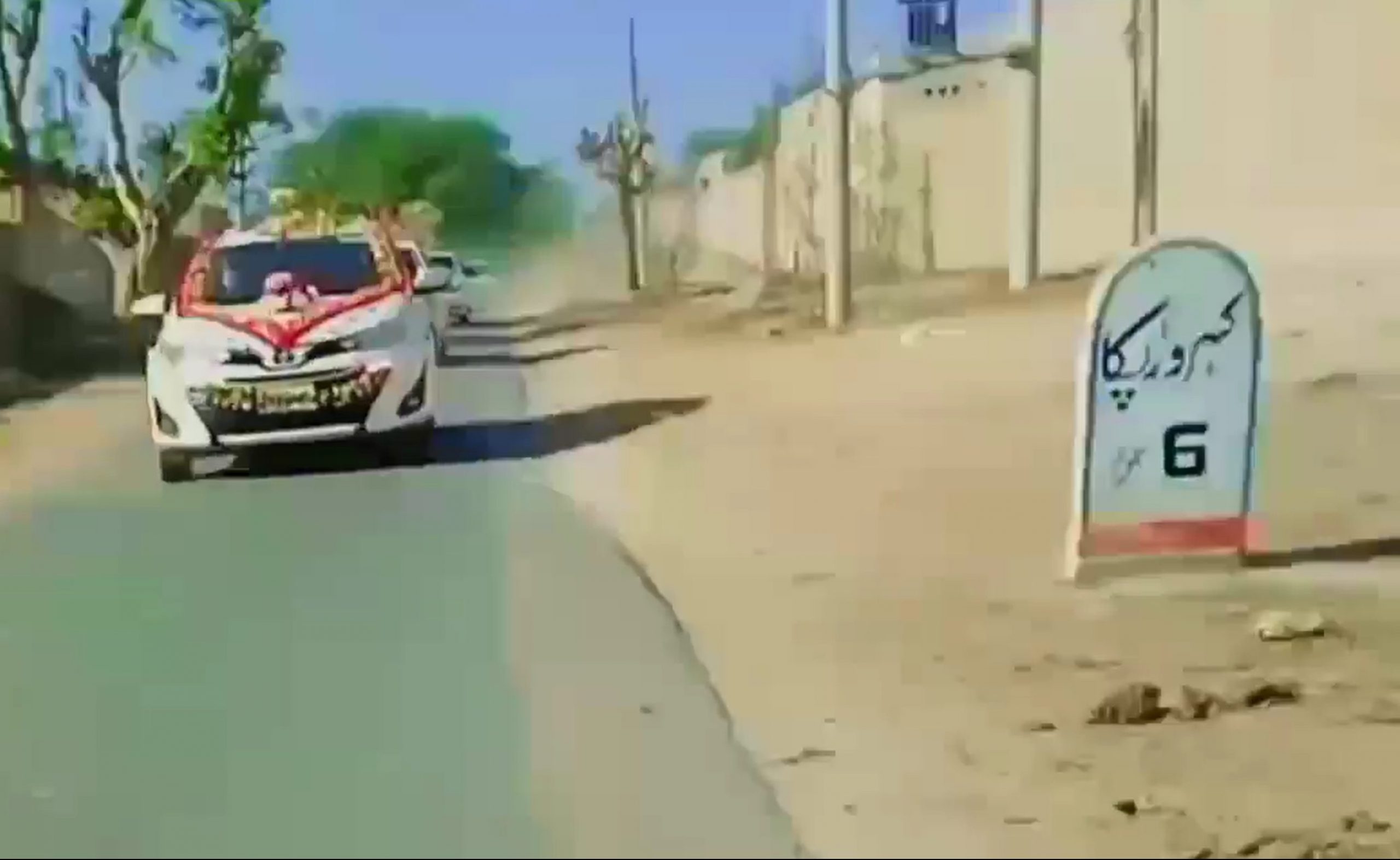 Moreover, we noticed a few cars in the aforementioned video which have the word Punjab at the top of their license plates. According to a notification released by the Punjab government in August 2020, car number plates in the area would only feature "Punjab" on them.
This slideshow requires JavaScript.
In a reply to one of Squint Neon's tweets claiming that he is a resident of Alwar, Alwar Police tweeted that no connection has been found between the individual seen in the video and Alwar in the investigation so far.
उक्त सम्बन्ध में अभी तक की जांच से अलवर से कोई सम्बन्ध नहीं मिला है।
साइबर सेल द्वारा जांच कराई जाएगी व विधि सम्मत कानूनी कार्यवाही की जाएगी।

— Alwar Police (@AlwarPolice) August 2, 2023
To sum up, the man in the viral video, identified as Ahsan Mewati Pakistani, is a resident of Pakistan. The claim made by social media users that he is based in Alwar, Rajasthan, is false. So is the claim by propaganda outlet OpIndia that he is a resident of Mewat, Haryana.
Donate to Alt News!
Independent journalism that speaks truth to power and is free of corporate and political control is possible only when people start contributing towards the same. Please consider donating towards this endeavour to fight fake news and misinformation.