On February 20, Alt News reported that Jagran Media's Vishvas News, a signatory of the International Fact-Checking Network (IFCN), did not follow at least two IFCN codes of conduct —
Commitment to Standards and Transparency of Methodology
5.2 The applicant selects claims to check based primarily on the reach and importance of the claims, and where possible explains the reason for choosing the claim to check.
Commitment to an Open & Honest Corrections Policy
6.5 If the applicant is the fact-checking unit of a media company, it is a requirement of signatory status that the parent media company has and adheres to an open and honest corrections policy.
IFCN is Meta (Facebook)'s fact-checking partner since 2020.
The Alt News report documented 17 instances of misinformation published by Dainik Jagran between January 2021 and July 2022 and pointed out that six of these 17 erroneous reports had not been corrected or updated.
Jagran Media's Vishvas News, an IFCN signatory, defies the global body's norms by ignoring major sources of misinformation. Also, Jagran has failed to abide by an open correction policy, which is a must for IFCN membership | @ArchitMeta @shinjineemjmdrhttps://t.co/pyiN6dgkx4

— Alt News (@AltNews) February 20, 2023
Three days later, Vishvas News responded to our report in an article titled 'Fact Check: Alt News Report Presents False, Misleading Claims And Distorted Facts'.
There are a few things to note about the response:
A. It makes no mention of the two principal allegations brought by us against Vishvas News regarding violation of the IFCN code of conduct, let alone countering them.
B. Alt News pointed out in its report that six of the 17 erroneous stories published by Dainik Jagran, Vishvas News's sister concern, were not updated with corrections. The response says "After being pointed out by Alt News, three stories were rectified as per the Corrections Policy and established SOPs."
C. The response says there was no misinformation in the three other stories. However, it takes up only one of those for an explanation as to why Dainik Jagran stands by its report (a story on 'Pakistan Zindabad' slogans being allegedly raised in Jharkhand). There is no mention of the other two.
D. Alt News had said that it could not find whether corrections had been made to two stories published in Dainik Jagran's print edition. The response says that a corrigendum had been published in the Prayagraj edition for one of those (headline: Woh cheekhta raha, lathiyan barasti rahi) on the very next day of its publication.
E. It says that there was no misinformation in the other print story flagged by Alt News (headline: Assam mein baar aayi nahi, layi gayee thi). It then 'examines the veracity' of the related Alt News story where we had said that the Assam floods were being unjustifiably communalized by the media.
It is worth noting that Alt News had reached out to Bharat Gupta, the CEO of MMI Online Limited, and Rajesh Upadhyay, editor-in-chief and senior vice president at Vishvas News, multiple times before publishing the February 20 article. However, there was no response from either of them.
Vishvas News's Defence of Two Dainik Jagran Stories
Assam Floods Story
In the February 20 analysis, under the subhead 'Communalization of 2022 Silchar floods in Assam', Alt News said, "While reporting on the Assam floods in June, NewsX called the flooding in Silchar 'flood jihad' and blamed Assam's Muslim community for the disaster. Hindi media outlet Dainik Jagran didn't use the phrase 'flood jihad' but its report in July, 2022 stated, "There are signs of a deep conspiracy behind this."
Responding to this, Vishvas News stated, "Citing reports of other media houses on the Assam floods, Alt News has cited Dainik Jagran's July 2022 news report and accused it of giving a communal colour to the floods."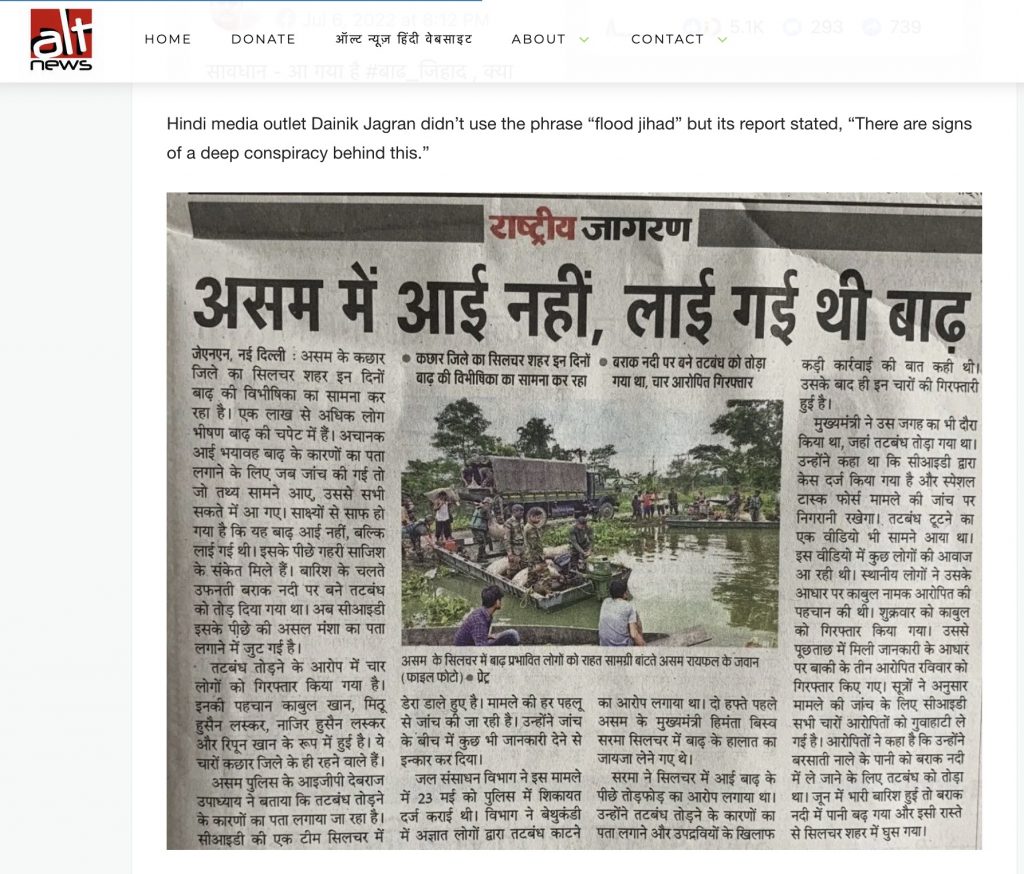 We had examined the Dainik Jagran's July 7, 2022 report because —
The headline claimed that floods were deliberately brought in Assam. The words were not within quotation marks, which suggests that this was the newspaper's finding, and not someone else's opinion
It said, "There are signs of a deep conspiracy behind this" before mentioning the names of four Muslim persons arrested for allegedly breaching an embankment in their village. This suggests that the floods were a communal conspiracy. Readers should note that according to the story, the reasons behind breaching the dyke were still being looked into at the time of the writing of the article.
The report conveniently ignores the fact that the Assam chief minister and the Kachar police super had gone on record refuting any 'communal conspiracy' behind the floods. Both of them made the statement on Wednesday, July 6.
Based on the statements of the CM, police and subject experts, Alt News had concluded, "… on May 23, the irrigation department sent a complaint to the concerned police station about the alleged breaching of the Betukandi embankment which is less than 10 km away from Silchar. The town of Silchar was submerged in water unlike "ever before in its history" around June 19. In the first week of July, four Muslim men were arrested for allegedly breaching the embankment. Local reporters said that the embankment was damaged in May to relieve water logging. More than a month after this incident, Assam's Chief Minister called the flooding in Silchar a "man-made" disaster. Several media outlets then added an anti-Muslim spin by reporting that the floods were a part of the "larger controversy". Instead of reporting on the nuances of the calamity, media outlets and journalists dubbed the incident "flood Jihad" to blame the Muslim community for the floods in Silchar. It is unfortunate that the reports were carried at a time when communal tensions have flared up in several parts of the country."
The Alt News report can be read here.
Pakistan Zindabad slogan in Jharkhand
In the February 20 analysis of how Dainik Jagran frequently put out misinformation, Alt News said, "A video shot during the nomination of Mukhiya candidate Shakir Hussain in Dokidih panchayat of Giridih district in Jharkhand went viral with the claim that slogans of 'Pakistan Zindabad' were raised in the nomination rally. Dainik Jagran published an article on April 23, 2022 in this regard with the headline "गिरिडीह में पाकिस्‍तान जिंदाबाद के नारेबाजी मामले में मुखिया प्रत्‍याशी को भी भेजा गया जेल, 50-60 अज्ञात पर केस"… Jagran claimed that while sloganeering, Pakistan Zindabad slogan was raised and repeated several times consecutively. Nobody raised any objection. Alt News had contacted local residents of Dokidih who said that 'Pakistan Zindabad' slogans were not raised during the procession. Alt News also watched the video carefully in slow motion and analyzed the video in detail. We concluded that slogans of 'Pakistan Zindabad' were not raised but 'Shakir Hussain Zindabad' slogans were raised during the nomination procession of Shakir Hussain, the Dokidih Mukhiya candidate of Giridih district of Jharkhand. Jagran ran the story without verifying the facts."
Responding to this, Vishvas News said, "In our investigation, we found that it's not Dainik Jagran's report but Alt News's claim that is contrary to facts and is an attempt to hide developments that ensued after "Pakistan Zindabad" slogans were raised."
Interestingly, Vishvas News neither independently verified the video in question nor pointed out the supposed 'flaws' in Alt News's analysis of the video. Instead, they added a disclaimer, "We would like to inform the readers that the Giridih matter is sub-judice. Our aim is not to influence the court proceedings in any manner."
Vishvas News's rebuttal of Alt News's findings stands on a statement of the defence counsel. They have said, "According to April 27, 2022, report in Dainik Jagran's Giridih edition, defence advocate Prakash Sahai said in the court, "During the nomination-filing (for the village pradhan election), some people raised slogans of 'Pakistan Zindabad'. However, those people were outsiders and the candidate Shakir was sitting in his vehicle. This is not a case of sedition or of hurting someone's sentiments."
Alt News reached out to Sahai on February 24. He categorically denied the claim made by Jagran. He said, "I never said in court that some people raised slogans of 'Pakistan Zindabad'."
Sahai added that since Shakir Hussain was booked under section 124A (sedition), he made a reference to the iconic 'Balwant Singh vs State of Punjab' verdict in the court in defence of his client, in which some people were accused of chanting 'Khalistan Zindabad', after which they were charged with sedition. When the Supreme Court heard the matter, it did not consider it as sedition.
Coming back to the viral video in question, Shakir Hussain's lawyer Sahai told Alt News, "Dainik Jagran has misinterpreted my argument. While arguing for bail for Shakir Hussain, I said my client isn't even accused of raising anti-India slogans. I then said, if for the sake of argument it is assumed that such slogans were raised even then he can't be charged with sedition based on the legal precedence. More crucially, my client was inside the car."
So, the claim by Dainik Jagran, that "defence advocate Prakash Sahai said in the court, "During the nomination-filing (for the village pradhan election), some people raised slogans of 'Pakistan Zindabad'." is false. Vishvas News's defence of the Jagran story, too, stands on a false claim.
When Alt News did the story (it can be read here) where we said Pakistan Zindabad slogans were not raised, multiple local sources told us that ever since the video had gone viral, Dainik Jagran journalists took keen interest in the matter and tried to influence police proceedings. This appears to be consistent with Jagran's article that was published on April 21, 2022. This report had a sub-heading after the first paragraph which said, 'Based on Dainik Jagran's initiative, raid was launched at night' (दैनिक जागरण की पहल पर रात में ही चलाया गया था छापेमारी अभियान). The report mentioned that after the initiative by Dainik Jagran, Shakir Hussain and others were arrested at midnight.
A day after Alt News published the report on February 20, Dainik Jagran edited their report heavily. The above-mentioned sub-heading was tweaked and the phrase 'Based on Dainik Jagran's initiative' was omitted. Under this sub-heading, the original story said that after the video had gone viral, Dainik Jagran contacted concerned administrative officials, after which they noted the seriousness of the matter and took action. While updating it, this entire section underlining the involvement of Dainik Jagran was removed.
While the story was updated, Dainik Jagran did not mention why the sub-heading and the section mentioned above were changed or removed. This is again a violation of IFCN's dictum of 'Commitment to an Open & Honest Corrections Policy' (Older Report, Updated Report).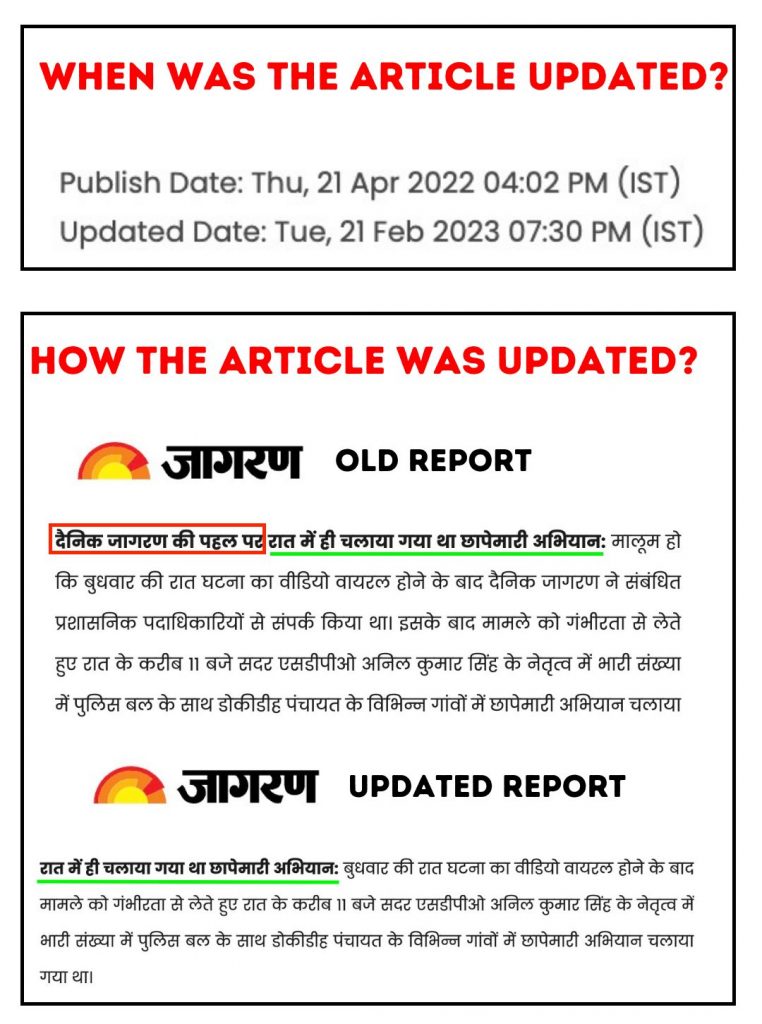 Moreover, all five accused in the case got bail in the sessions court on May 12. This detail has been conveniently ignored in the updated version of Jagran's report and in Vishvas News' rebuttal to Alt News fact check.
To sum it up, not only has Vishvas News failed to independently verify the video in question, both the Dainik Jagran story and the Vishvas News response to the Alt News report stand on a 'statement' by the defence counsel which he never made in court.
Using its privileges as a Facebook fact-checking partner, Vishvas News marked Alt News's post sharing the February 20 article as 'partly false'. The notice was later removed.
Donate to Alt News!
Independent journalism that speaks truth to power and is free of corporate and political control is possible only when people start contributing towards the same. Please consider donating towards this endeavour to fight fake news and misinformation.