"Chhipkali raat ko kide makode khakar subah hote hi gandhi ke tasveer ke pichhe chhup jati hai, theek yahi kaam Congress karti aayi hai" (Lizards after eating ants all night hide behind Gandhi's photograph. Congress has been doing precisely this). This statement has been attributed to actor Nana Patekar, and has been circulating on social media.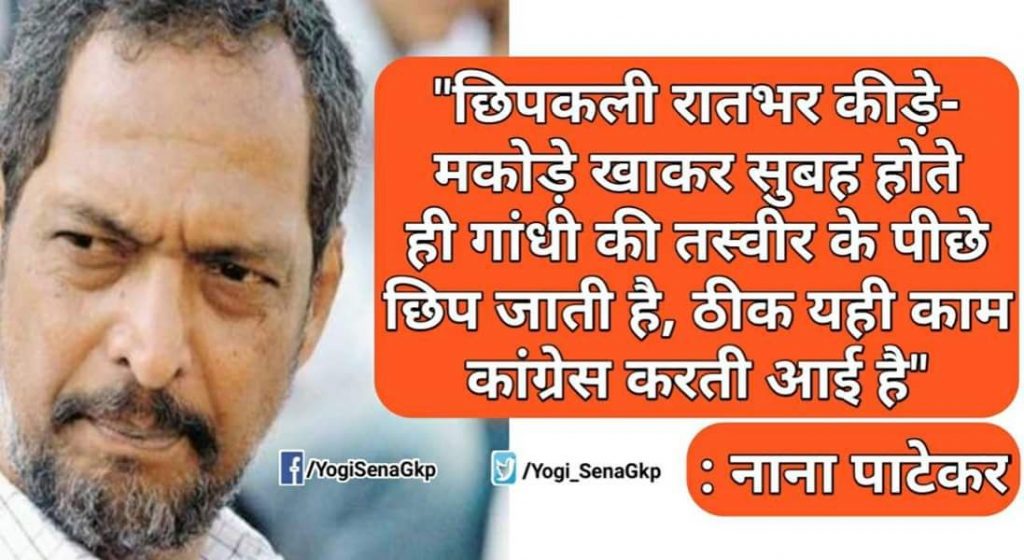 'Yogi Adityanath ki sena' is one of the Facebook pages which has posted the quote with the question "kya aap bhi iss baat se sehmat hain?" (Do you agree with this?). It has been shared more than 5000 times from this page alone.
This quote is patently fake. Alt News spoke to Nana Patekar who said, "Neither have I said any such thing nor is this my view". Alt News found that this particular quote is hardly new and has been doing the rounds of social media for the last few years. The following tweet is from 2013.
छिपकली का हुनर
रात में मोटे-मोटे कीड़े-मकोडों को खा कर अपना पेट भर लेती है और सुबह होने पर किसी गांन्धी-नेहरु की तस्वीर के पीछे छुप जाती है

— Anant Vijay (@anantvijay) December 25, 2013
Different versions of the quote have been used in different contexts by both BJP and Congress supporters to take potshots at each other.
छिपकली रात भर हजारो कीड़ो मकोड़े खाकर सुबह होते ही महापुरुषों की तस्वीर के पीछे जाकर छिप जाती है

यथावत यही चरित्र भाजपा का है

का समझे😂

— यादवCPभाई🇮🇳 (@yadav4indian) October 8, 2017
#छिपकली रात भर हजारो कीड़ो-मकोड़े खाकर,
सुबह होते ही महापुरुषों की तस्वीर के पीछे छिप जाती है !

यथावत यही चरित्र भाजपा का है

Posted by नावेद नायक on Sunday, October 8, 2017
Fake quotes have been floating on the internet for a long time. Almost everyday, a fake quote attributed to a celebrity is brought to our notice. Alt News had unearthed an entire factory of fake quotes which are churned out with alarming frequency, targeting major public figures. Many of these quotes are communal in nature and seek to divide communities and incite tension. There is a need to identify those who are behind such mischief and legal action ought to be initiated against them.
Donate to Alt News!
Independent journalism that speaks truth to power and is free of corporate and political control is possible only when people start contributing towards the same. Please consider donating towards this endeavour to fight fake news and misinformation.