A 45-second clip from Greater Noida is viral on social media which shows a man getting chased by a mob and thrashed brutally with sticks. It is being claimed that the man, who happens to be a local BJP leader, was being beaten up for his remarks on the Manipur violence.
Twitter Blue user Brind Kumar (@brind_kumar) posted this video on July 29, alleging that the BJP leader was arguing about Manipur, which led to the mob beating him up. (Archive)
ग्रेटर नोएडा में भाजपा नेता रोहित पंडित की भयंकर कुटाई हुई! दौड़ा-दौड़ा कर लाठी डंडों से कुटा गया! मणिपुर को लेकर बहस कर रहा था लोगों ने दे दना दन देना शूरू कर दिया।😜😂 pic.twitter.com/ju8Favwvh6

— Brind Kumar (@brind_kumar) July 29, 2023
Other users like (@GauravBadautRLD) and (@SkSolinkapoor) also posted the video with the same claim.
This slideshow requires JavaScript.
This video is also viral on Facebook, with several users claiming that the BJP leader was getting assaulted for his comments on Manipur.
This slideshow requires JavaScript.
Fact Check
Alt News ran a relevant keyword search on Google and came across a report by The Times of India on July 28, which mentioned that the fight had initially broken out between two sides in the village of Ladpura of Kasna area in Greater Noida. The report also identified the man being beaten up as Rahul Pandit, district vice-president of the BJP.
The report did not say that the clash had anything to do with the ongoing situation in Manipur.
We also ran a keyword search in Hindi which led us to an article by Dainik Bhaskar. This story mentioned that the fight had broken out over a land dispute in the village of Ladpura. Villagers had sought to build a temple on a piece of vacant land partially owned by the Lakhpat family. However, the Lakhpat family refused to hand over their land, which led to hostility between two groups in the village.
On July 25, some youths of the village allegedly smeared the name 'Lakhpat' written on a gate constructed outside the village by the Lakhpat family in 2007. This led to a scuffle between the two sides, and Rahul Pandit was badly beaten up with sticks by several villagers for allegedly disrespecting the Lakhpat family, as can be seen in the video.
To examine further, we checked whether the Gautam Buddh Nagar Police Station has issued any report on this altercation, and came across this tweet, which clearly states that the video is in relation to two feuding sides from the village. (Archive)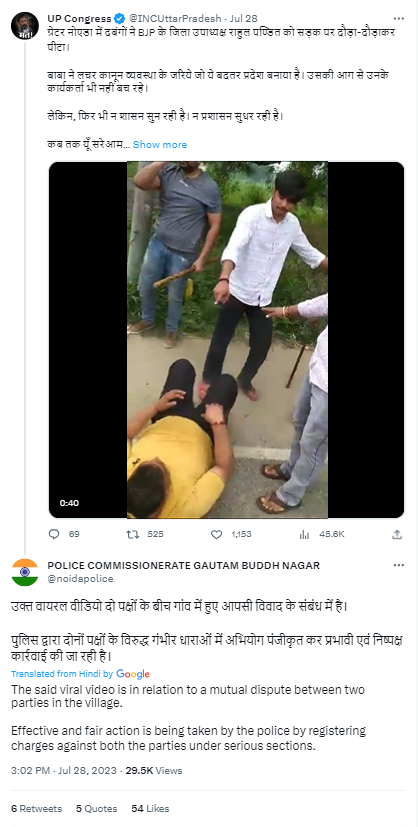 Other news agencies like Free Press Journal and News 24 had also written about the incident on July 28. None of them made any mention of the assaulted person making comments on Manipur.
To sum up, the viral video shows a BJP leader getting beaten up by a group of men in the aftermath of a clash between two groups over a land dispute in a Greater Noida village. The clash or the assault caught on camera has no connection with the Manipur violence.
Prantik Ali is an intern at Alt News.
Donate to Alt News!
Independent journalism that speaks truth to power and is free of corporate and political control is possible only when people start contributing towards the same. Please consider donating towards this endeavour to fight fake news and misinformation.